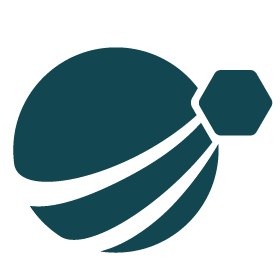 Objectives of the service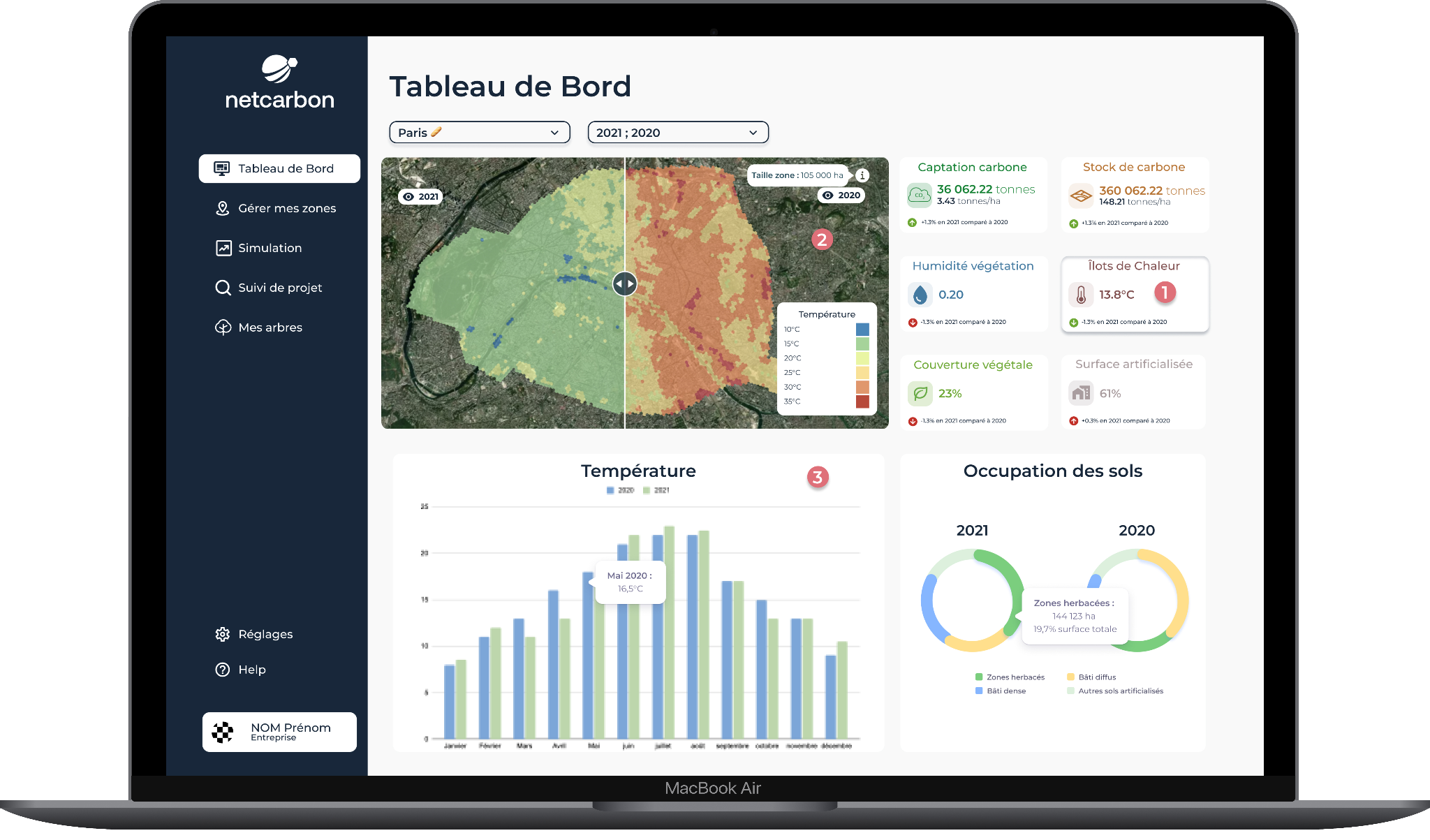 Climate change can be fought using two levers: reducing CO2 emissions and absorbing more carbon. Luckily, vegetation has a superpower - it can capture CO2 from the atmosphere and store it in the soil through photosynthesis. But measuring carbon capture has been complex and costly until now.
Enter netcarbon intelligence platform - our ambition is to revolutionise the measurement of carbon capture. Our algorithm uses satellite data and Artificial Intelligence to measure and improve carbon capture all over the world.
With our technology and user-friendly app, we help cities and the construction sector to implement a low carbon strategy by providing them with the indicators to design a more sustainable development for our planet. Join us in making a difference today!
Users and their needs
Netcarbon intelligence platform addresses the needs of 2 types of customers:
Local authorities: Cities and regions have a regulatory obligation to measure their carbon capture and beyond the regulatory constraints, cities are committed to contributing to carbon neutrality.

Construction sector: all major actors of the building sector must adapt to the new constraints by designing more virtuous projects, with a greater amount of vegetation and therefore, carbon capture.
With the netcarbon solution our customers can :
Assess the impact of their past actions on carbon capture and understand the current level of carbon capture in their territories.

Simulate the impact of building projects on carbon capture and help them comply with regulatory frameworks

Identify areas where vegetation can be added to capture more carbon, estimate the cost and potential carbon capture of the project

Access all these data through a user-friendly tool that provides access to precise data, even for non-experts
Service/ system concept
Netcarbon has developed a unique architecture that allows us to process large volumes of data in order to provide our clients with an accurate measure of carbon capture. Our architecture consists of three elements:
Our Datafactory unlocks the power of satellite imagery with a pipeline that feeds a machine learning model for CO2 flux, all while simulating CO2 storage based on scientific inputs.

With a backend that integrates seamlessly with the datafactory and database, our service delivers custom indexes and simulations, ready to be explored via our front-end tool.

Our customers join us on our journey by harnessing the power of data, with a frontend built on cutting-edge technologies, the application allows users to measure carbon capture but also to understand its distribution across the city. The application also highlights the crucial role of vegetation in the fight against heat islands thanks to the precise measurement of ground temperature. To go further, netcarbon intelligence offers a simulation module to measure the environmental impact of construction projects and find ways to improve them.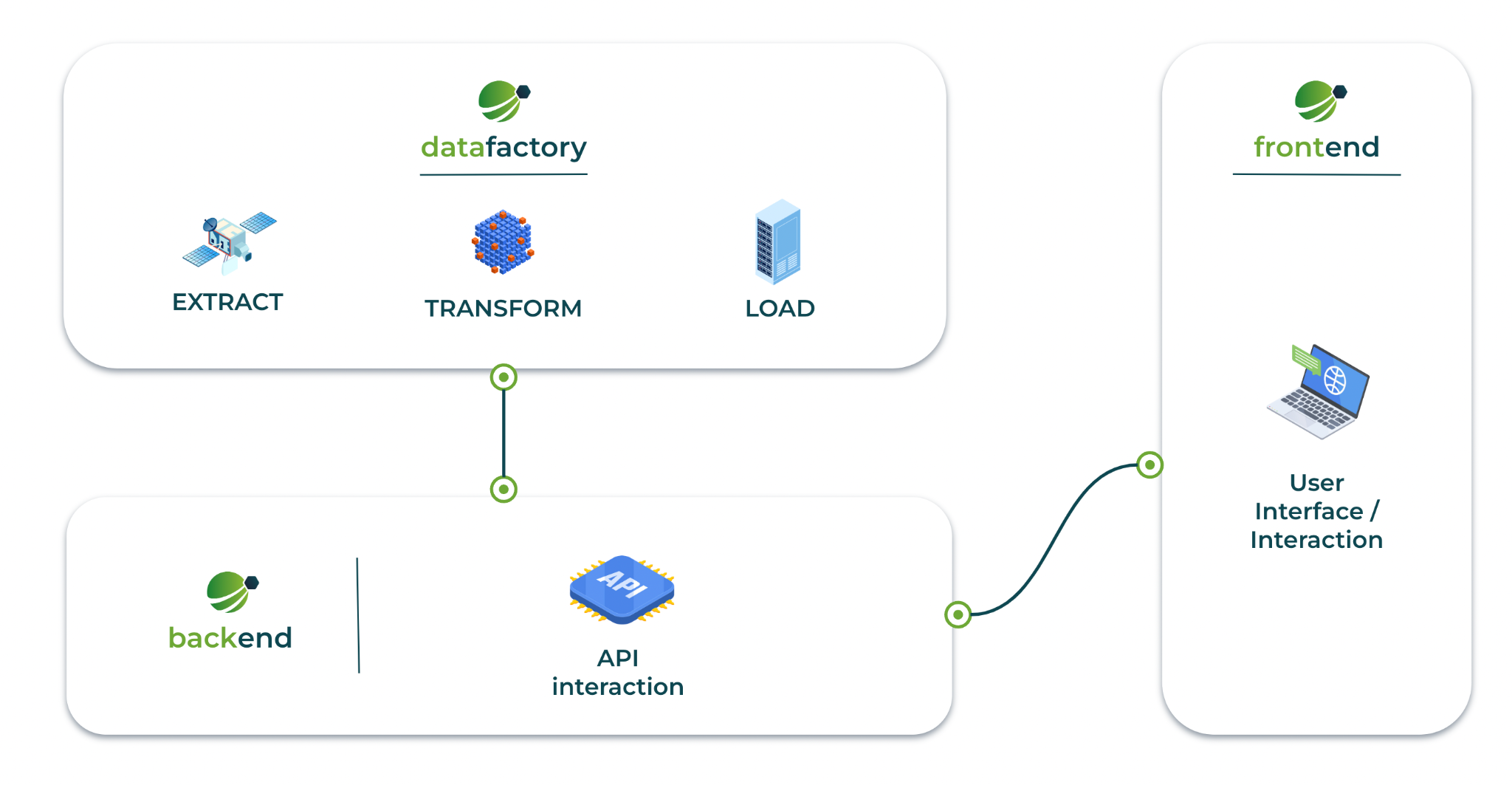 Space Added Value
Satellite data plays a crucial role in our project to assess the carbon sequestration within the territory.
Netcarbon intelligence platform relies on satellite data to calculate the sequestered carbon and analyse the trends. Our algorithm is based on vegetation indicators like NDVI, LAI, and GAI derived from Sentinel2 and Planet data to determine carbon sequestration as well as LandSat 8 data to measure temperature and identify urban heat island.
Additionally, a land use and cover classification from ISRIC is computed to better understand carbon sequestration repartition in the soil.
Current Status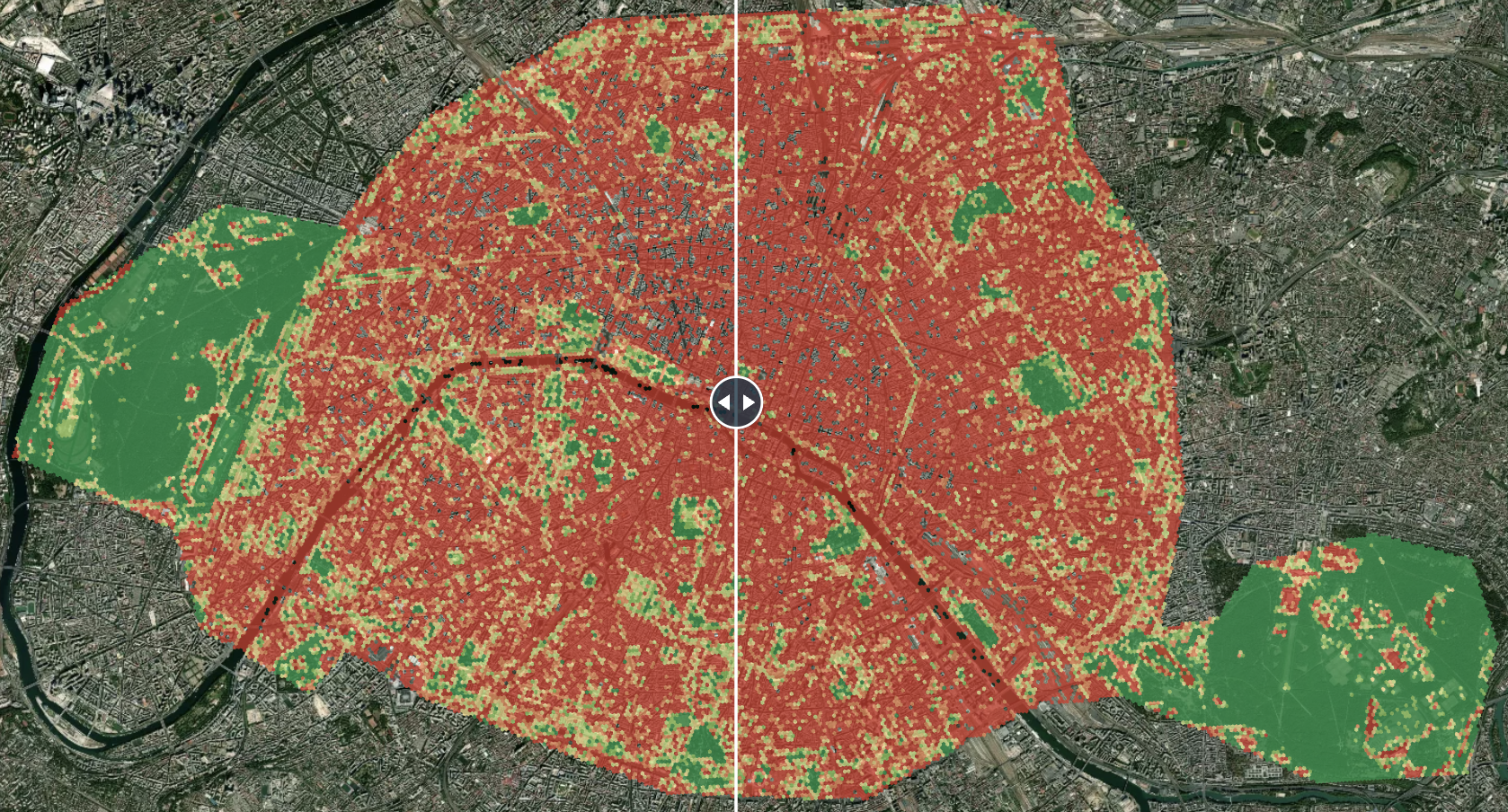 Netcarbon is on the brink of revolutionising carbon capture on a city scale, and it's all thanks to the groundbreaking feasibility study conducted during the Kick-Start phase.
Thanks to 35 workshops conducted with 20 major players in the public and construction sector, we announce partnerships with 11 municipalities across France, covering a massive 15,000 hectares of land, to co-develop the netcarbon intelligence application. Our two-level analysis will explore the current state and evolution of these territories on four key indicators: carbon capture, vegetation cover, soil artificialisation, and heat islands.
But that's not all. We're also simulating the impact of land use projects and identifying innovative scenarios to capture more carbon. These actions are a clear sign that together we can contribute to the fight against climate change !
Status Date
Updated: 15 April 2023
-
Created: 15 April 2023