Objectives of the service
CGG defined and created an innovative Offshore Asset Pollution Monitoring (OAPM) service as a response to repeat enquiries from oil and gas operators for establishing the source of pollution slicks in proximity to assets, from a variety of sources.
Developed by CGG's Satellite Mapping business unit, with support from the European Space Agency, OAPM provides regular, cost effective, satellite-derived information over offshore assets to establish a baseline, and a programme of routine pollution monitoring.
The emphasis of the OAPM service was not on Near-Real-Time delivery of satellite imagery, but regular delivery of high-quality, reliable, value-added information to enhance situational awareness.
OAPM provides unique information to end users, allowing them to:
better manage assets
optimise resource and expenditure
respond more efficiently to incidents
isolate areas in critical need of monitoring and mitigation
Users and their needs
The core users of OAPM are principally offshore oil and gas operators. Over the course of the demonstration project 7 oil and gas operators signed the OAPM evaluation agreement to assess the service. The OAPM project identified a number of user requirements in the oil and gas community for the identification of offshore pollution around infrastructure that may result from operations or third party activity. User requirements were consolidated into broad topics of area of interest, timeliness, quality of deliverables, frequency of deliverables, and confidence of interpretation. These user requirements were found to vary greatly depending on the application of the information within oil and gas companies, i.e. environment, crisis management, operations etc. therefore the user requirements were analysed to establish the most favourable initial requirements for the system. The end user requirements drove the OAPM system development.
The OAPM service has a global remit. For the purposes of the project, OAPM provided a pre-operational demonstration over several different geographical targets, including the North Sea, Gulf of Mexico and Sarawak. CGG were delighted to obtain sustained collaboration and full participation from a significant number of O&G operators, as well as intelligence sharing exercises with government departments throughout the demonstration.
Service/ system concept
OAPM provides end users with an enhanced understanding of the distribution, extent and source of pollution slicks around their offshore assets in a cost-effective manner. The information from the OAPM service was served via web-based delivery mechanisms. End users visualised and interrogated critical slick information layers, which were complemented by summary reports.
The diagram below outlines the high-level system architecture of the OAPM system.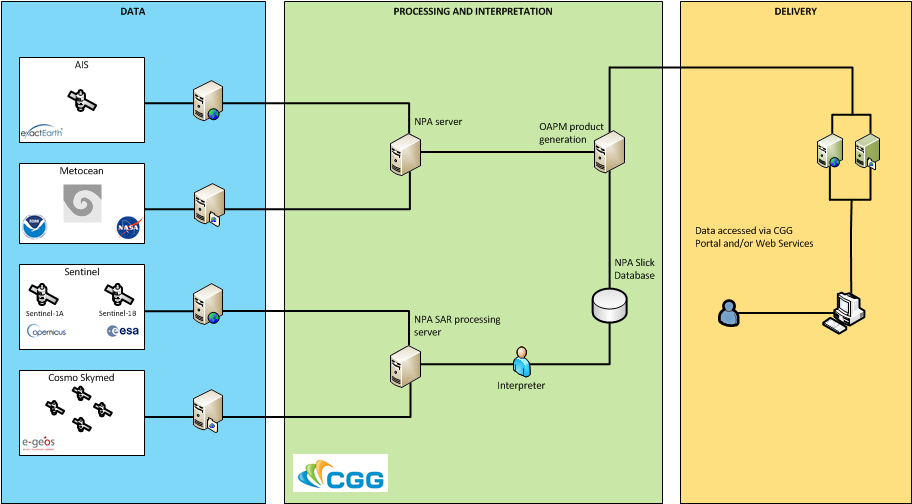 Space Added Value
OAPM integrates two space assets; Earth Observation satellites (principally SAR) and satellite AIS data. Satellite imagery is used to observe the occurrence of offshore slicks - CGG brings world-leading slick interpretation expertise to the OAPM workflow, enabling the generation of high-quality, reliable results. Combining this with satellite AIS data enables the identification of potential pollution sources from local vessel activity. The increasing availability of regularly acquired, cost-effective satellite data significantly enhances the ability of offshore operators to understand the occurrence and evolving behaviour of pollution in close proximity to their infrastructure and in many cases provides the ability to confirm the absence of pollution so that operations continue unhindered.
Current Status
CGG have built a solution for monitoring offshore discharge events in the form of OAPM. A fully satellite agnostic product capable of performing high level image processing at scale. Combined with input from CGG's subject matter experts, OAPM provides interested parties with clear and concise intelligence of offshore discharges and spills in the marine environment.
Throughout the pilot demonstration over 3020 Sentinel-1A and B scenes were processed and interpreted, in addition to tasked high-resolution SAR acquisitions. The online portal provides the OAPM results (some 10,750 slicks) with a consistent viewing mechanism and approach to monitoring pollution surrounding offshore assets within multiple AOIs. The portal is available to all signed-up end users including Oil Spill Response Limited and key oil and gas operators. To ensure that end users receive targeted information, a system of alert or awareness reporting is in place that automatically emails end users when anomalous activity is recorded.
Revenue has already been generated from the solution as of November 2020, and open quotations with a number of oil and gas operators highlight further potential for growth.
For further information on the status of the OAPM project, please contact the Project Manager.
Prime Contractor(s)
Status Date
Updated: 14 December 2020
-
Created: 28 August 2018