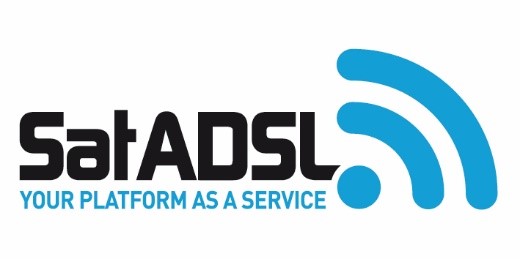 Objectives of the service
The PaaS development is based on the current SatADSL multi-hubs, multi-technologies, multi-frequencies (C-, Ku- and Ka-band) Cloud-based Service Delivery Platform (C-SDP). The SatADSL C-SDP has been developed since 2011 through both self-funded research and development and ESA co-funded activities, in particular the following ARTES projects: SatFinAfrica, SatSoHoAfrica, SatCorpAfrica, ECO, C-HCN. Through SatADSL's C-SDP, which is a complete OSS/BSS, carrier-grade, fully redundant platform, SatADSL and its ISP Partners are offering satellite services to end users via the cloud. The SatADSL C-SDP offers a "Virtual Hub" service thanks to which ISPs can offer satellite services without having to invest in an expensive Hub infrastructure.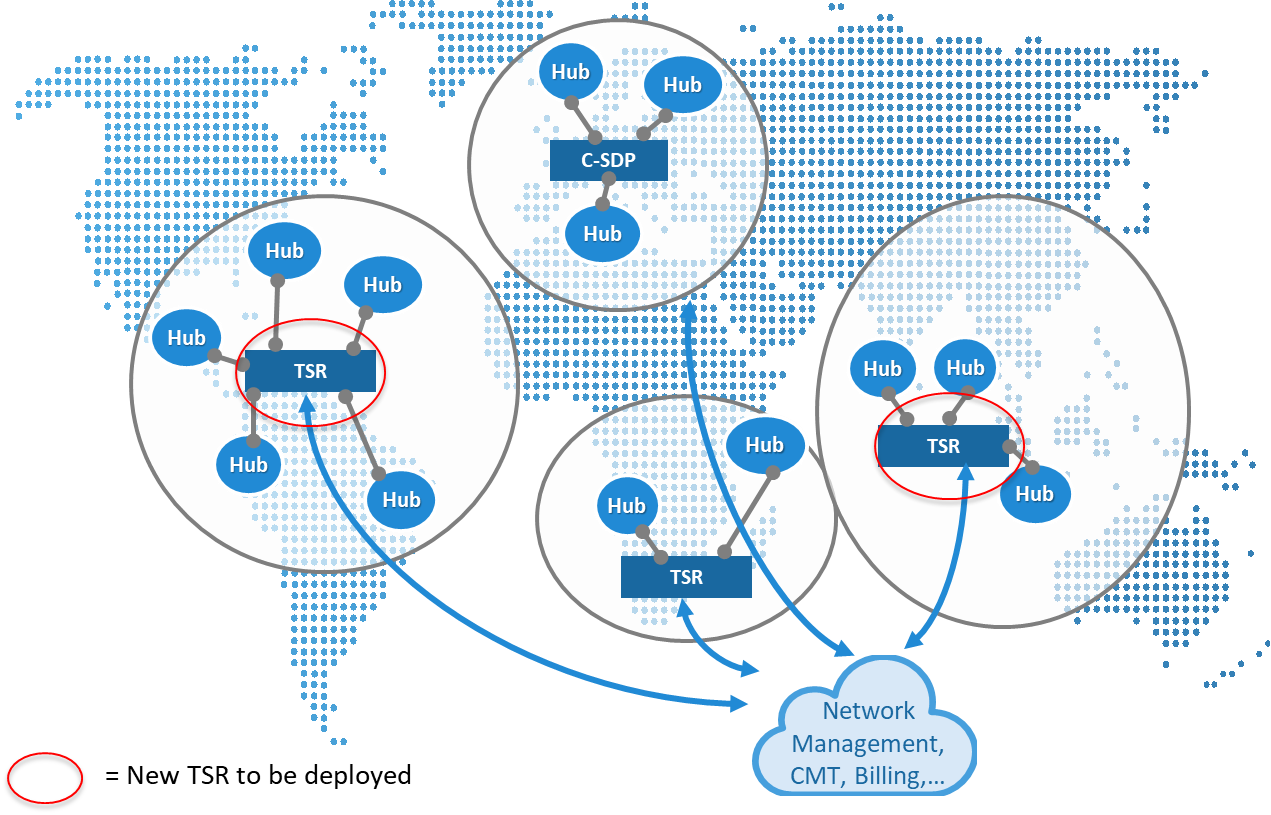 The SatADSL C-SDP Global Network Delivered in the Proposed Activity
In this project, SatADSL will further develop its Cloud-based Service Delivery Platform (C-SDP) which will allow SatADSL to offer to hub, teleport and satellite operators its Cloud-based Service Delivery Platform through a Platform as a Service (PaaS) access.
Users and their needs
SatADSL is a Service Provider. The key customer segments targeted by our services are Teleports Operators, which are either independent Teleports or Satellite Operators operating their own teleports. Teleports are operating their own satellite Hubs that are remotely controlled by SatADSL. SatADSL receive/send IP traffic from/to the Teleports.
SatADSL's potential customer(s) are willing to connect their Teleports to the SatADSL C-SDP in order to extend their service offer, make use of SatADSL's Value-Added Services (VAS) offered through the C-SDP, and also to resell their capacity through SatADSL extensive ISP network. Their current needs are:
Possibility to offer any kind of services on your hub(s) whatever the technology (iDirect, Newtec, Hughes…), incl. volume-based, time-based services, VNOs

Improve money collection thanks to prepaid vouchers and on line payments

Offer service monitoring facilities to their customers: data throughput, service availability, service latency

Monitor their own bandwidth usage

Increase own business profitability (revenue per MHz)

Monitor own business profitability

Extend service coverage without having to invest in new infrastructure (Hub, Teleport)

Manage multiple customers on a single satellite terminal

Offer the possibility to the Capacity Providers to easy change their Master tariffs

Monetized unused satellite capacity

Service flexibility, maintainability, and scalability
Service/ system concept
The current SatADSL C-SDP has grown organically since its first developments in 2011, following the demands of the market and the requests of SatADSL internal and external users. The whole system was initially conceived according to the paradigm of the Service Oriented Architecture (SOA) and this has guaranteed a relatively smooth growth with additional components offering services through Application Program Interfaces (APIs) to the existing components based on the same principles.
Nevertheless, some initial choices based on a limited visibility of the possible market evolutions, are now inevitably making difficult the introduction of a new, disruptive business model. In particular, the introduction into the value chain of the teleport operator role, who is providing bandwidth upstream the service operator (SatADSL), but who needs to be granted rights only in relation to the satellites/spot-beams contributed to the C-SDP is a major hurdle to overcome using the existing C-SDP. Additionally, hub, teleport and satellite operators need also to access a wealth of business-related information related to the contributed capacity, which are currently not available with the current C-SDP. Finally, SatADSL wants to further pursue its technology independence and add to the Newtec and iDirect technology its C-SDP is already compatible with, an additional technology. Hughes Jupiter-2.
The C-SDP Functional Architecture
In view of the above and of a consequent need to revise its C-SDP to fully serve this new business model, SatADSL decided to redesign some elements and develop some new elements of the platform to accommodate for the additional requirements and service ideas that came in the meantime from the market. The huge advantage of originally embracing the SOA paradigm, though, is that it will be possible to reuse most of the existing software components: they are generally well-defined input and output modules performing quasi-atomic functions and will therefore continue to be used although with some optimisations in some cases. Most of the effort will be rather devoted to rewrite the above "orchestration" layer in order to accommodate the new requirements and to develop the new functions related to the business analysis tools for the new introduced business roles.
Space Added Value
SatADSL final objective is to become the 1st company to apply the concepts of the new digital collaborative economy to the conservative, CAPEX intensive, world of satellite services.
Taking into account the importance of the announced LEO constellations, SatADSL has introduced a preliminary study named "Technology Roadmap for Integration of C-SDP with LEO Systems" to define a technology roadmap for ensuring future smooth integration of the C-SDP with these LEO constellations, that is in line with the forward-looking business strategy of SatADSL. The activity will mainly consist in a technical analysis of the forthcoming LEO constellations and in the definition of a high level architecture for the integration with them.
Current Status
The project was successfully concluded in June 2020. The development and validation activities were followed by in-depth piloting activities. The pilot activities lasted for 12 months across 2019 and 2020 and exceeded expectations as new pilot users on boarded during the pilot. As of today the PaaS service is commercially available and contracted by more than 10teleports for a total of 290 Mbps and 166 terminals and generates a large share of SatADSL turnover.
Thanks to PaaS, SatADSL has revised its service segmentation as follows: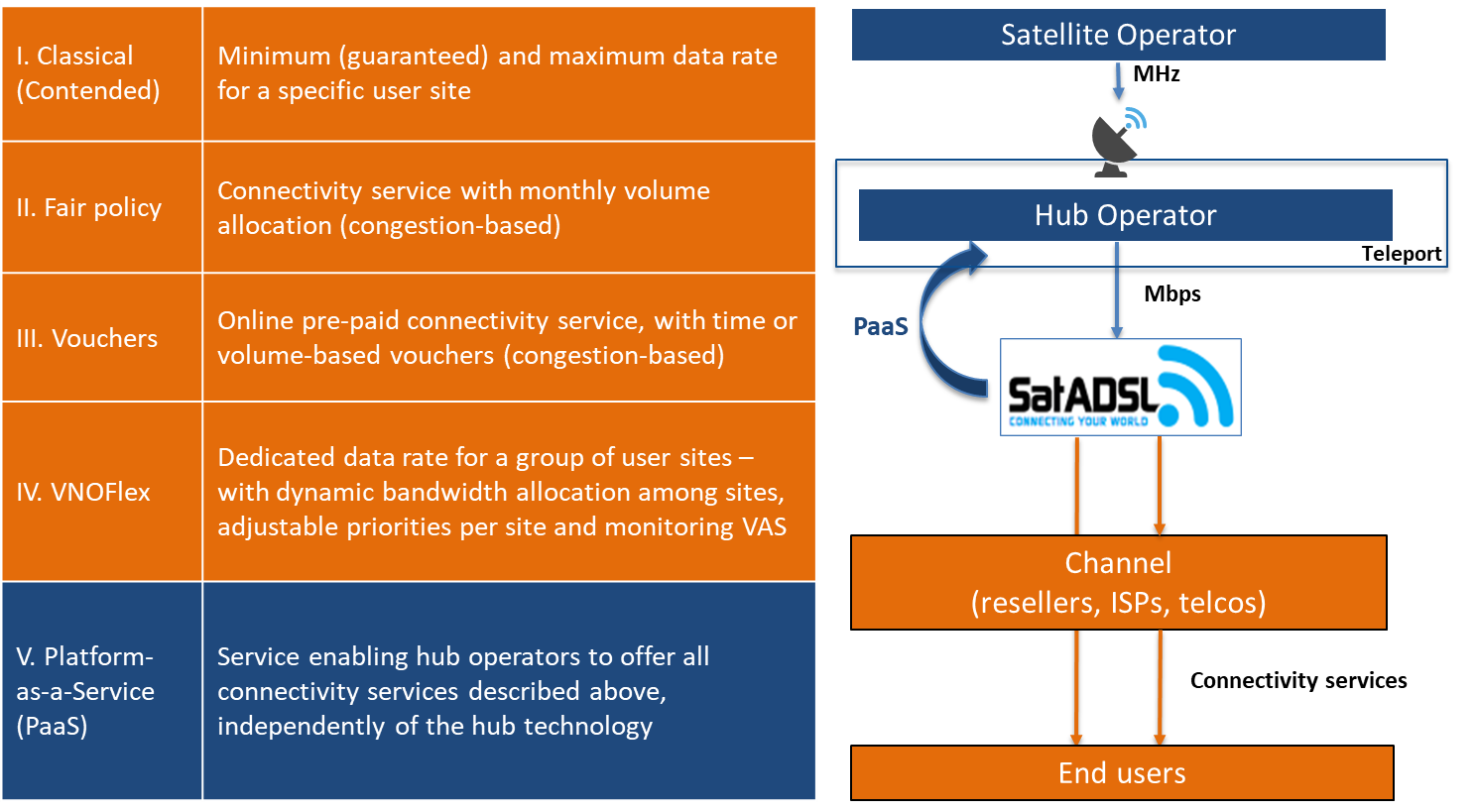 The project had a large impact on company performances thanks to the innovative revenue sharing business model that makes it possible for an independent service provider such as SatADSL to run a growing and profitable business.
The project had also a large impact on company future commercial perspectives thanks to the new PaaS service that allows SatADSL to diversify its revenues and create strategic partnerships with leading teleports and satellite operators.
Prime Contractor(s)
Status Date
Updated: 15 June 2020
-
Created: 25 February 2019