Objectives of the service
The purpose of the PLASMA project is two-fold:
Based on new data centre infrastructure to be operated from the UK's Satellite Applications Catapult, implement and demonstrate three key services:

'AIS Knowledge Attributes' (AKA) Service - provides end users with 'Knowledge Attributes' (KAs), i.e. enhanced/value-add information and alerts derived from analysing base AIS message data
'AIS Web Services' (AWS) - provides on-demand access to both base AIS data and KAs, via OGC geospatial web services.
'SAT-AIS Distribution Service' (ADS) - supports end user applications by routinely ingesting, managing and distributing base AIS message data from exactEarth's AIS satellites.
Provide routine SAT-AIS services direct to EMSA, Europe's key maritime organisation, through the integration of PLASMA's outputs into EMSA's IMDatE. This will allow the provisioning of pre-operational AIS advanced services to EMSA member states.
Longer term objectives are:
Provide a SAT-AIS service resource for use by institutional and commercial European, Middle Eastern and African maritime users and information service developers/providers.
Provide a physical facility for the raw data processing of future SAT-AIS missions planned under the ESA Integrated Application Programme.
Develop, in partnership with end users and application/service developers, new value-added information services.
Encourage other third-party AIS providers to use PLASMA as a data centre for disseminating their data to end users.
Users and their needs
the 'European Maritime Safety Agency', which provides technical assistance and support to the EC and Member States in the development and implementation of EU legislation on maritime safety, pollution by ships and maritime security.
the 'South African Maritime Safety Agency', whose mission is "to promote South Africa's maritime interests and development and position the country as an international Maritime Centre while ensuring maritime safety, health and environmental protection".
BlueFinger, a UK commercial maritime information service provider and a global leader in the provision of tracking and positioning solutions. They develop and implement asset tracking solutions by land, sea, and air.
Service/ system concept
Based on the features described above, the following key user needs will be met by PLASMA services:
Comprehensive 'Maritime Domain Awareness' (MDA): Global, frequently updated vessel tracking data that covers both coastal and open-ocean can only be derived from satellite AIS and therefore meets the need of organisations that maintain a geographically large and comprehensive MDA.
Organisational Efficiency: The sheer volume of AIS data can be difficult for some organisations to exploit to its full potential. Therefore, some users are interested in services that can provide them with 'pointers' into the base AIS data, i.e. indicate automatically where something of potential interest has occurred.
Need for Value Added Intelligence: Organisations require information and intelligence, not just base data. Although some organisations are equipped to do such derivation from underlying data sources, others are less well placed. These are interested in services that provide value-added information as opposed to 'just data'.
Space Added Value
AIS was originally mandated as an aid to collision avoidance in maritime shipping. A range of standard messages are regularly broadcast (over VHF) by compliant ships via their on-board AIS transponder. Messages contain dynamic information on current position (via GPS), course and speed, plus more static information on destination, etc.
Via an AIS receiver, AIS messages are received by other ships, port authorities, etc.. Since 2009, ships' AIS transmissions can be received in space (SAT-AIS). Ships can therefore now be tracked in the open ocean, rather than just within ~40 nautical miles of a receiver as with terrestrial AIS.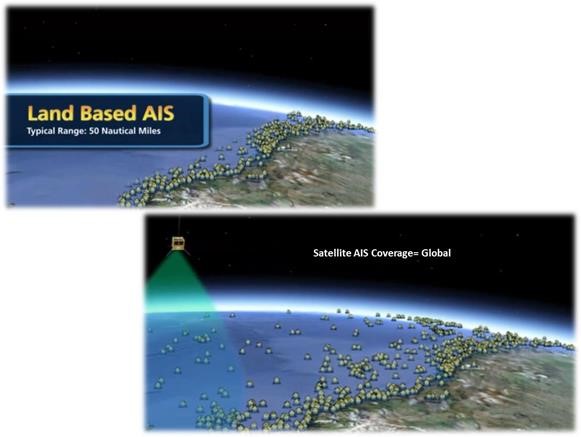 Current Status
PLASMA/A-STAR continues to delivers eE's SAT-AIS data into EMSA's IMDatE system, with very positive feedback from both EMSA and IMDatE users as to the utility of SAT-AIS data.
A-STAR also continues to supply Doppler frequency shift data from exactEarth's EV1 satellite into EMSA's DPC Block 2 system.
Work is complete on version 1 of A-STAR's positional anomaly (PA) and behaviour analysis (BA) services. These are currently being integrated into Gatehouse's and NSCI's own end users systems. PA and BA services have also been integrated into exactEarth's ShipView web data viewer.
Integration of routine reception of forecast weather and sea-state data from the MIDAS service is also complete and some basic portrayal of the data is underway for its use in ShipView. In addition eEE is progressing the use of the forecast data in combination with incoming SAT-AIS data to trigger events.
The plan is that the project's end users (NMIC, the DMA, the FCOO and the Irish Navy) will be able to access the PA and BA demonstration services in January 2016 and provide feedback over the following months.
Prime Contractor(s)
Status Date
Updated: 04 December 2015
-
Created: 24 June 2014