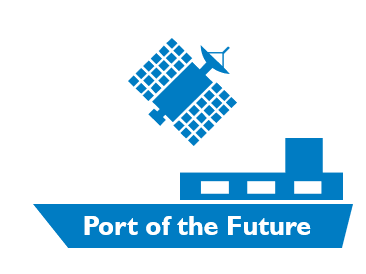 Objectives of the service
The project is investigating how space-based technologies can be leveraged to modernize ports and port stakeholders in combination with terrestrial assets such as in-situ sensors and cellular communications.
The project is focused on two main areas of interest for port operations:
Environmental monitoring – how space-based technologies can be used to complement monitoring of environmental indicators in the air, water and soil
Port traffic management – how space-based technologies can be used to enhance the efficiency of managing traffic in and out of ports, as well as information flow between ports and vessels
Users and their needs
The targeted user communities are port authorities and other players in the maritime port ecosystem. The user needs have been determined through interviews with stakeholders in the first phase of the project. Main user needs include:
Larger ports have a needs for a dashboard providing a holistic view of the environmental situation in the ports and surrounding areas, with data services providing input on key indicators:

Air; including NOx, Sox, VOCs and PMs
Water; including salinity, turbidity, oxygen, biological index

Ports have a need for an early and late stage detection system for oil spills
Ports have a need for a consolidated port management platform providing input on:

Ship location out-of-port, for better information on ETA and expected vessels
Detailed ship location in-port, to optimize berthing spots
Service/ system concept
The project has in its second phase assessed the technical viability of addressing the user requirements through space based technologies.
The project has formulated a system concept with 2 main platforms, a port-centric data analytics platform (PDAP) and a vessel-centric data analytics platform (VDAP). The system aims to provide the following five services:
An atmospheric monitoring service
A turbidity monitoring service
An oil spill detection service
A ship course and arrival information service
A refined ship location in-port service
The PDAP is proposed to provide improved environmental monitoring and traffic management through all five services to the port end user using inputs from satellite EO imagery, environmental data (CAMS), AIS positioning data and a vessel data base.
The VDAP is proposed to provide improved ship course and arrival information to vessels adopting the system by improving on AIS data. The VDAP will be composed of web servers on-board vessels (VDAP Edge) and on-shore (VDAP Fabric).
The PDAP and VDAP are intended to exchange data, allowing the full value of the proposed system to be realized with wide scale adoption by both vessels and ports, with benefits for both stakeholders.
Space Added Value
The proposed solution uses input from the following space assets to provide added value:
Non-commercial space assets:

Copernicus Atmospheric Monitoring System
Copernicus Sentinel 1
Copernicus Sentinel 2

Satellite AIS
Commercial EO satellites
Current Status
The project has successfully been concluded with a concrete roadmap for how to reach a commercial solution. The consortium remains open for interested users to join the next frontier of Port Call Optimization.
Prime Contractor(s)
Subcontractor(s)
Status Date
Updated: 16 December 2021
-
Created: 16 December 2021