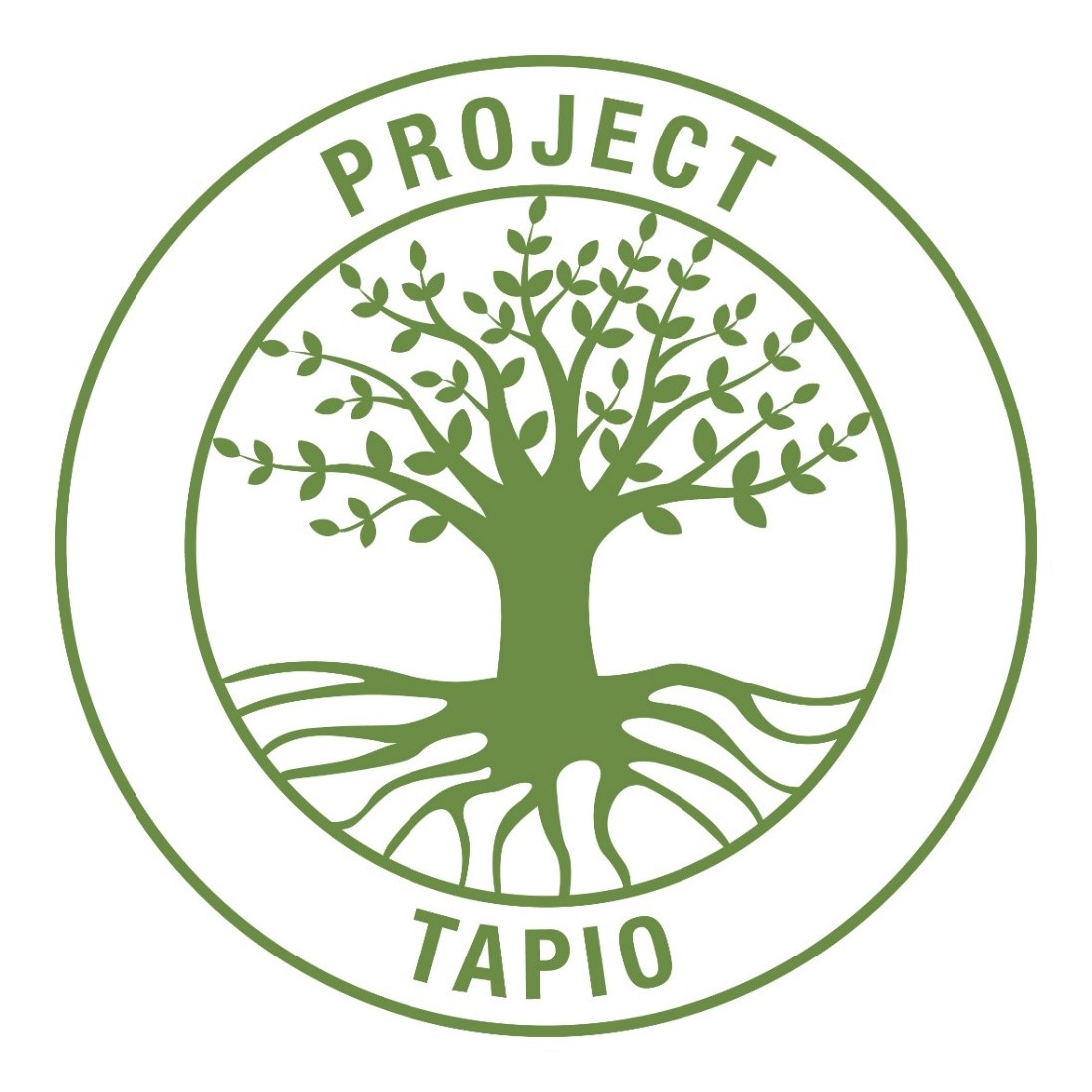 Objectives of the service
UK Meteorological Office data show that the growing season for trees and other vegetation in the UK is increasing up to 328 days per year. UK electricity distribution companies are predicted to spend nearly £1billion over the next 5 years ensuring that encroaching vegetation does not disrupt the supply of electricity to critical national infrastructure. Airborne LiDAR data collection can provide an account of encroaching vegetation, but this is an expensive and time-consuming 'snapshot' of the network condition at one point in time.
Project TAPIO enhances the RiMiT® solution which is comprised of 4 subscription services that provide the user with the answers to 4 simple questions:
Users and their needs
Target user communities:
Critical national infrastructure providers including electricity, railways, highways, water and other sectors.
Project partners:
Scottish Power Transmission
UK Power Networks
Western Power Distribution
Industry observers, through our Technical Working Group:
Scottish & Southern Electricity Networks
Electricity North West
User needs:
Accurate data detailing which trees are most likely to damage their network.
Affordable and timely status updates regarding proximal vegetation on their networks.
Clear and specific work orders for tree surgeons.
Confirmation that the tasked work order has been completed.
Forecast of cutting required for efficient planning.
Operational challenges:
Safety; operating near power lines is dangerous and so companies need to use accurate task orders to minimise the time workers spend in close proximity.
Scale; 300,000km of overhead powerlines in the UK therefore understanding the real-time status of the entire network is data-intensive.
Resources; cutting trees in remote parts of the UK is time-consuming and expensive.
The intended users are in the UK but Point4 aspire to offer the benefits of the RiMiT® solution to other countries within Europe and beyond.
Service/ system concept
RiMiT® solution
The 4 RiMiT® services work together to minimise the need for airborne LiDAR data collection. An indicative solution configuration is below, noting that Point4 aspire to maximise the airborne LiDAR data value for a period of at least 6 years.
RiMiT Baseline™
This service maps the proximity of vegetation to electricity network apparatus in 3D using airborne LiDAR and assigns an individual tree risk value. Users interact with the service through a graphic user interface (GUI) accessed via a web browser login portal. The following types of information are delivered:
A network vegetation risk profile presented within the RiMiT Compute™ risk management web portal.
2D and 3D referenced model of the client's infrastructure with a narrow corridor of surrounding vegetation.
Colour-coded vegetation polygons in a risk layer which closely correspond with industry-standard risk categories.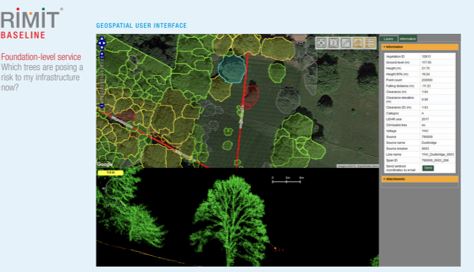 RiMiT Compliance™
This service enables accurate measurement of tree clearances once tree surgeons have cut-back encroaching vegetation. A GPS-enabled hand-held laser device accurately records the new clearance distance between the vegetation and the nearest network apparatus. This measurement device transmits the clearance data by SATCOM back into RiMiT™ which automatically updates the corresponding vegetation's new risk value in the RiMiT Compute™ risk management portal.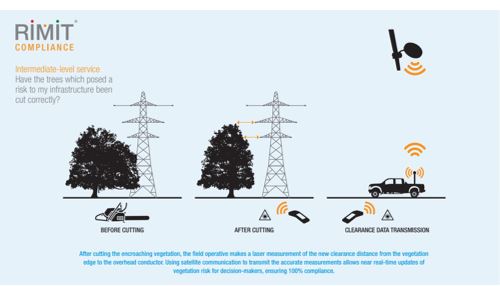 RiMiT Predict™
Using an additional LiDAR dataset, this service utilises growth-modelling algorithms to assess the future clearance, and therefore risk value, of encroaching vegetation. Using this analysis, clients can anticipate when and where trees will need to be cut on their networks thereby ensuring the most efficient use of limited resources. This service creates, in essence, a living dataset in which vegetation values are regularly updated to ensure that maximum value is derived from expensive airborne LiDAR data collection.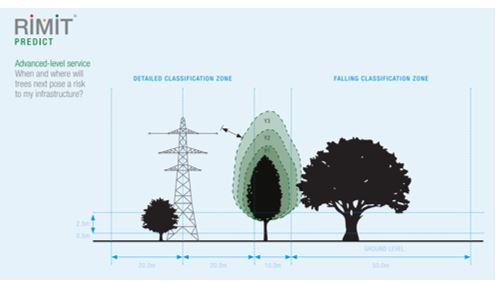 RiMiT Monitor™
This service monitors the accuracy of the predictive growth model through use of very-high spatial resolution UAV photogrammetry. Growth Verification Sites (GVS) are created across the network in which actual clearance measurements are derived from UAV data using advanced image processing techniques. These measurements are used to assess the growth model performance and advise the client as to when they may wish to plan a new airborne LiDAR collection campaign. The use of UAVs to capture data maximises the value from airborne LiDAR data collection and helps to reduce carbon emissions from repeated collection flights.
Space Added Value
Satellite communication (SATCOM).
The project is using Alphasat 24.8E, an Inmarsat/ESA Inmarsat-4A F4 large geostationary communications satellite. The added value of using this space asset is that field workers, making vegetation clearance measurements after tree cutting, are able to upload their data at any time – even when there is no cellular signal.
Position, navigation and timing (PNT).
1. Real-time or post-processed kinematic (RTK; PPK) GNSS positioning is used to provide precise georeferencing in airborne LiDAR and UAV surveys, such that our tree asset measurements are correctly located with reference to critical infrastructure.
2. When field workers make measurements, and when SATCOM is used, the signal from GPS satellites is used to provide a precise field location. The project is currently using equipment compatible with GPS however, going forward, the intention is to source equipment which can also use the Galileo GNSS. The added value is more accurate surveys, more efficient vegetation location and reporting than by using analogue map-reading or visual survey techniques alone.
Earth observation (EO).
EO data is used extensively in our RiMiT Baseline™ base map layers, which our tree polygons overlay. This provides an intuitive, 'real world' context in our mapping services. We are also exploring how EO imagery can feed analytics underpinning related RiMiT® services.
Current Status
We recently complete three Pilot trials with Western Power Distribution, UK Power Networks and Scottish Power Transmission. These trials yielded very good results and positive feedback.
Project TAPIO concluded in April 2020 with a successful Final Review evaluating the project from start to completion. This was followed by a formal presentation to ESA and UK Space Agency.
Point4 are now working to explore commercial opportunities with identified customers as we look to enhance the RiMiT services. We are developing an end-to-end vegetation management platform and also developing additional RiMiT services.
We would like to place on record their sincere thanks to all at ESA and UK Space Agency for their support, mentorship and encouragement. Thank you!
Prime Contractor(s)
Status Date
Updated: 12 May 2020
-
Created: 17 April 2019