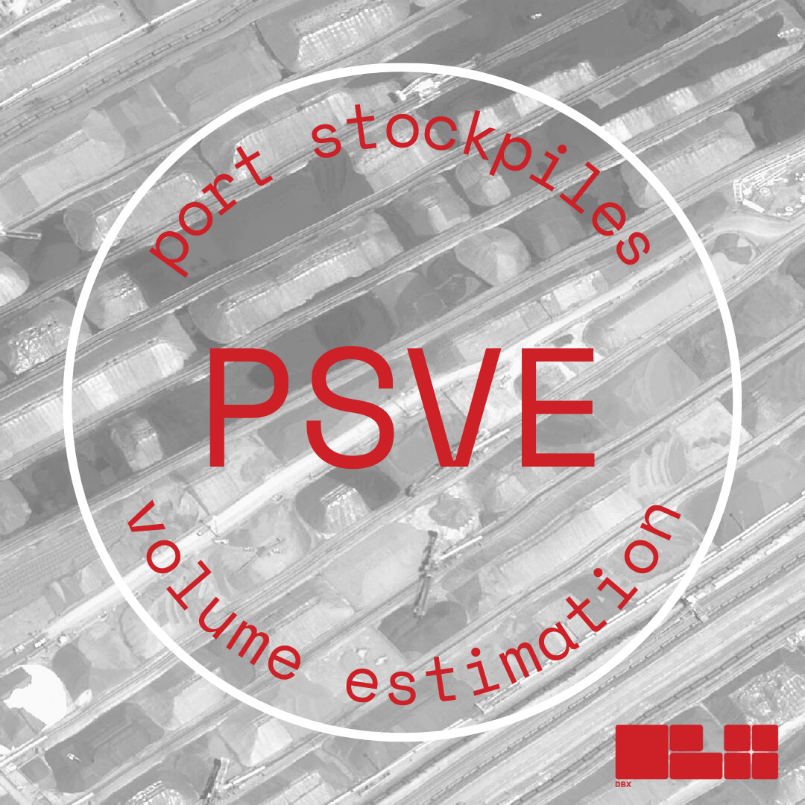 Objectives of the service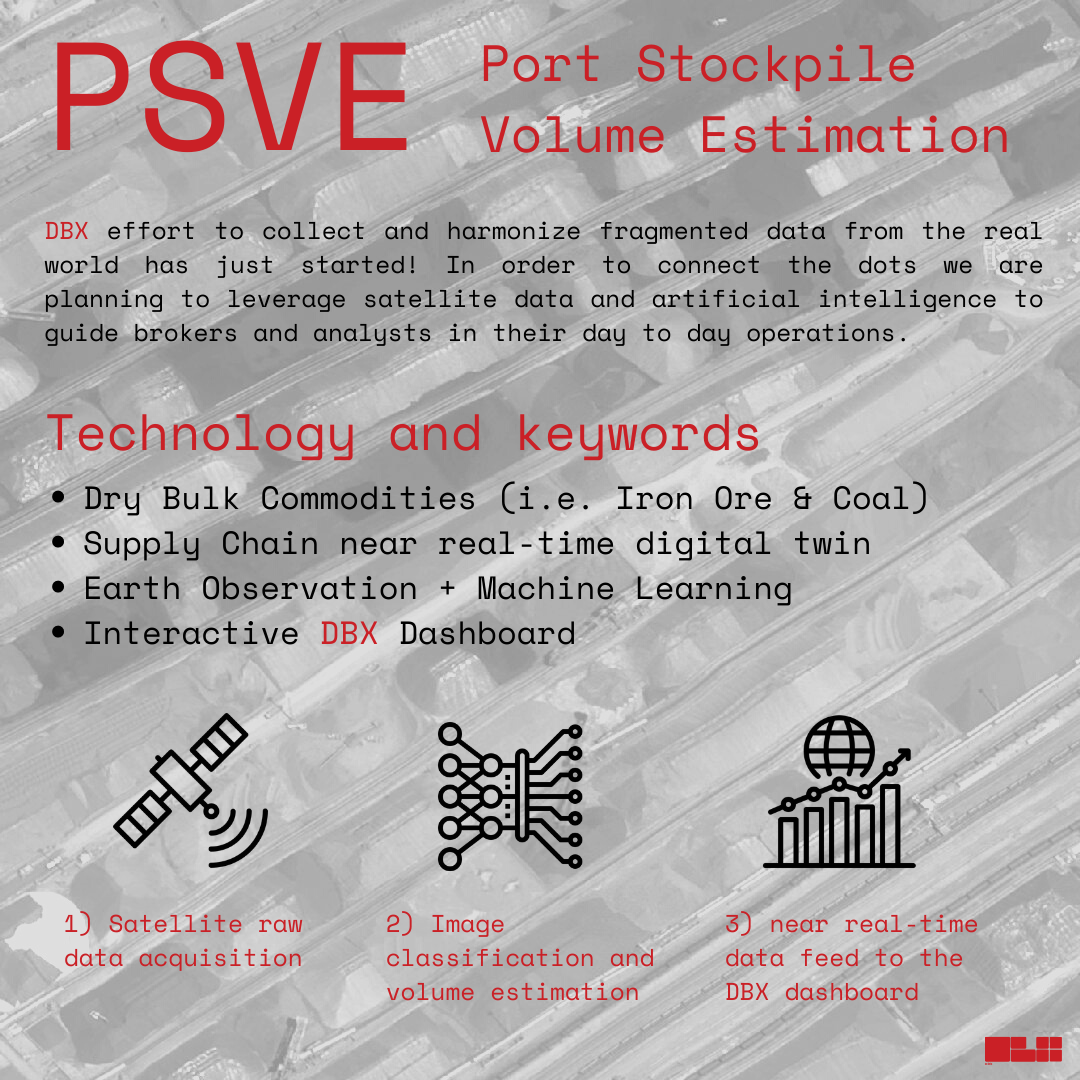 The DBX PSVE module aims at quantifying the volume of dry bulk commodities (e.g., iron ore, coal) held at large international commercial ports, critical for commodity trading; the collection of the stockpiles of a given commodity, hosted at a load/discharge/hybrid commercial port, is defined as 'inventory'. The intelligence about these inventories is a critical factor for generating predictive estimations of commodities' price fluctuations. In order to shine a light on a notoriously opaque supply chain, and to facilitate commodity analysts and physical traders alike, DBX is generating an algorithmical, evidence-based workflow to monitor the geospatial patterns of the aforementioned inventories at sea terminals/power stations/mines, based on the integration of optical multiband space-borne sensors, in order to measure the area and estimate volume and mass of selected key inventories on a weekly basis.
Users and their needs
The users DBX is targeting are broadly categorized as:
Producers (e.g., mining companies)

End users (e.g., steel mills & power stations)

Physical merchants (e.g., trading houses)

Financial players (e.g., banks, hedge funds)
On a macroscopic level, we could summarize the user needs as:
Inventories of dry bulk commodities (e.g., iron ore, coal) higher frequency updates.

Global coverage of inventories and market intelligence. Provide insights into ports and steel mills/power plants/mines across the globe and not only China, where most of the market analysis focuses on.

Breakdown per individual asset, (e.g., accurate figures for a given Load Port/Steel Mill), and per commodity type/brand (e.g., commodity sub-type: metallurgical coal vs. thermal coal; commodity brand: e.g., iron ore 'Pilbara fines' from Rio Tinto).

Evidence-based, unbiased data with robust correlation with market trends.
Service/ system concept
The DBX PSVE module has three input layers:
Satellite imagery is collected and processed weekly to detect the stockpiles in areas of strategic interest for the dry bulk commodities market

National Statistics / Customs data / External data sources that we consider as Ground Truth is collected and benchmarked for the PSVE and NOWcasting output

Dry Bulk Vessels AIS data, for each voyage, the metadata provides a plethora of information we use for tracking the movements of cargo around the globe
Fusion algorithms then combine the available data and produce the final, refined dataset.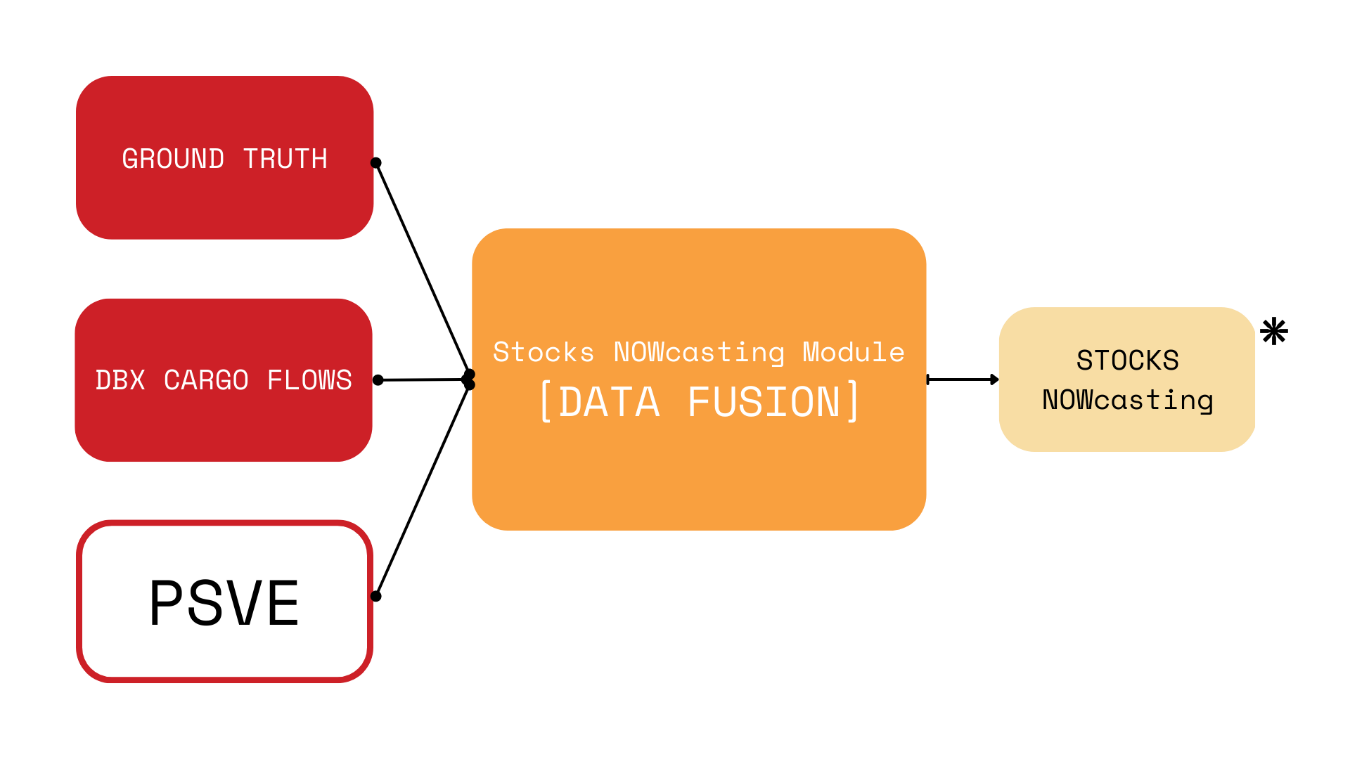 Space Added Value
DBX's vision is to deliver an independent, accurate, near real-time source of data for commodity markets, improving transparency & efficiency in the supply chain.
The key pillars to achieve DBX vision are:
Develop ML algorithms for satellite imagery classification (Sentinel-2 MSI, PlanetScope, VHR) to retrieve the presence/absence of stockpiles, volume estimation and weight conversion of the stockpile per port location.

Fusion with Shipping data (DBX Cargo Flows) to increase the overall accuracy of dry-bulk commodities' supply & demand context.
As such we are expecting to be able to offer to the commodity space a solution that:
Has global coverage and reaches higher granularity in terms of update frequency and available, survey-based services.

Shines a light through the dynamic and unfortunately opaque, broader dry-bulk commodity supply chain context, and it is basically a plug-and-play tool for the sectors' professionals.
Current Status
We are live! PSVE successfully passed the Final Review and is now part of the greater family of ESA BASS graduate projects!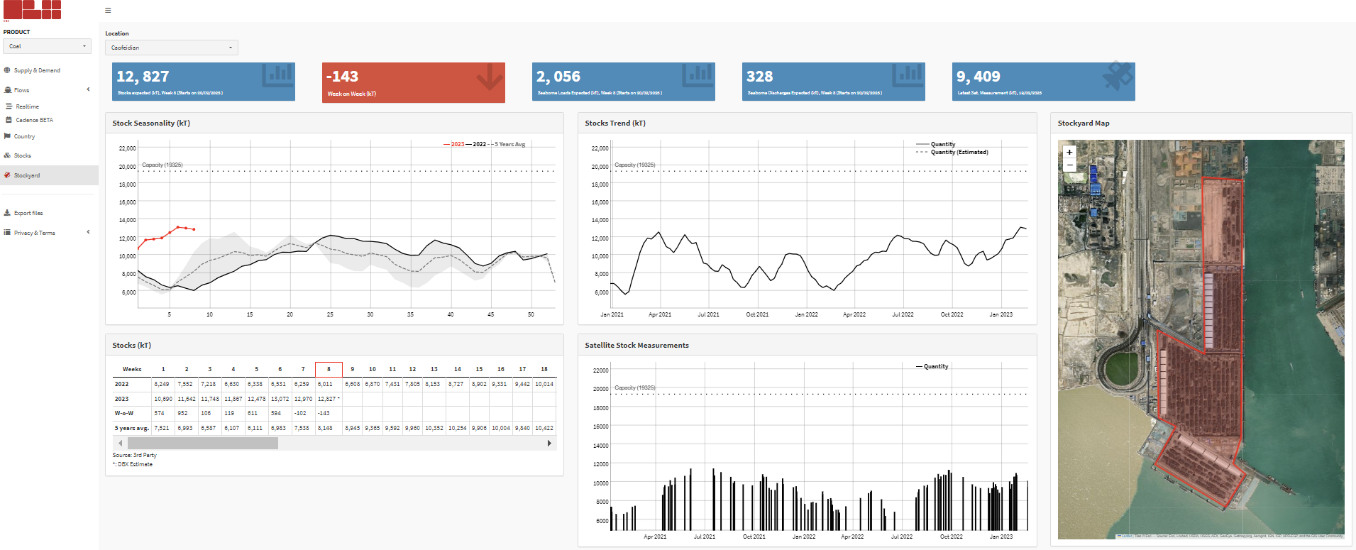 Please get in touch at drybulkx.com if you want to try out the capabilities of this module!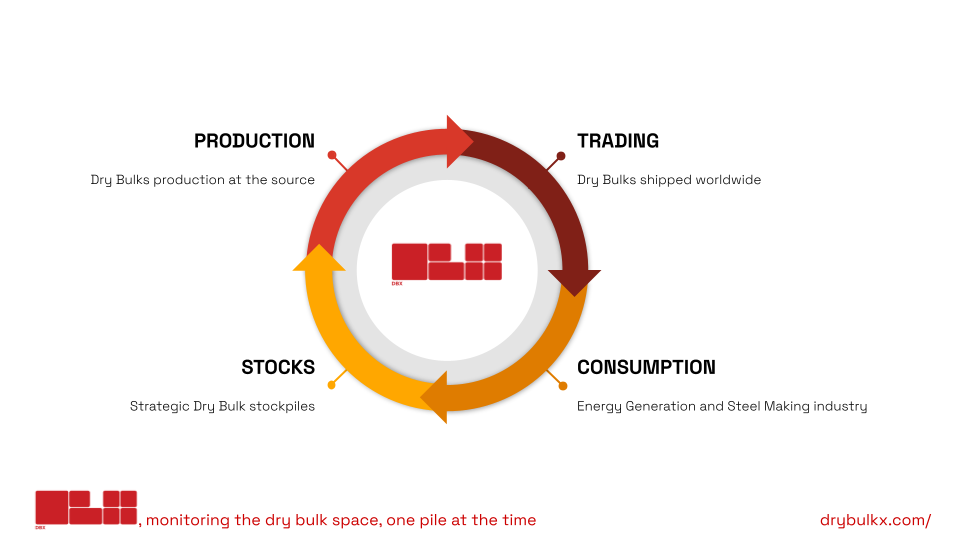 Prime Contractor(s)
Status Date
Updated: 22 June 2023
-
Created: 17 May 2022