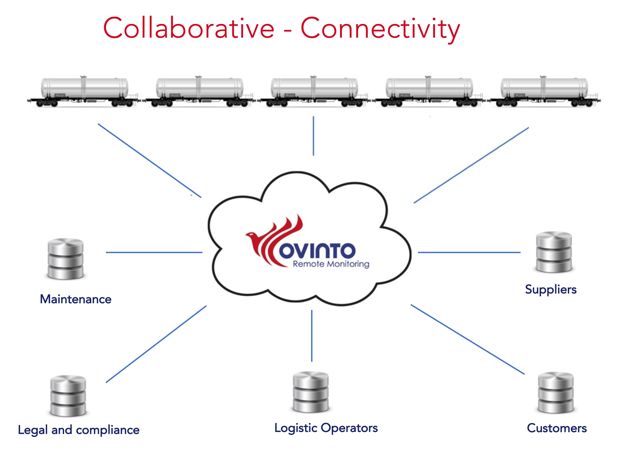 Objectives of the service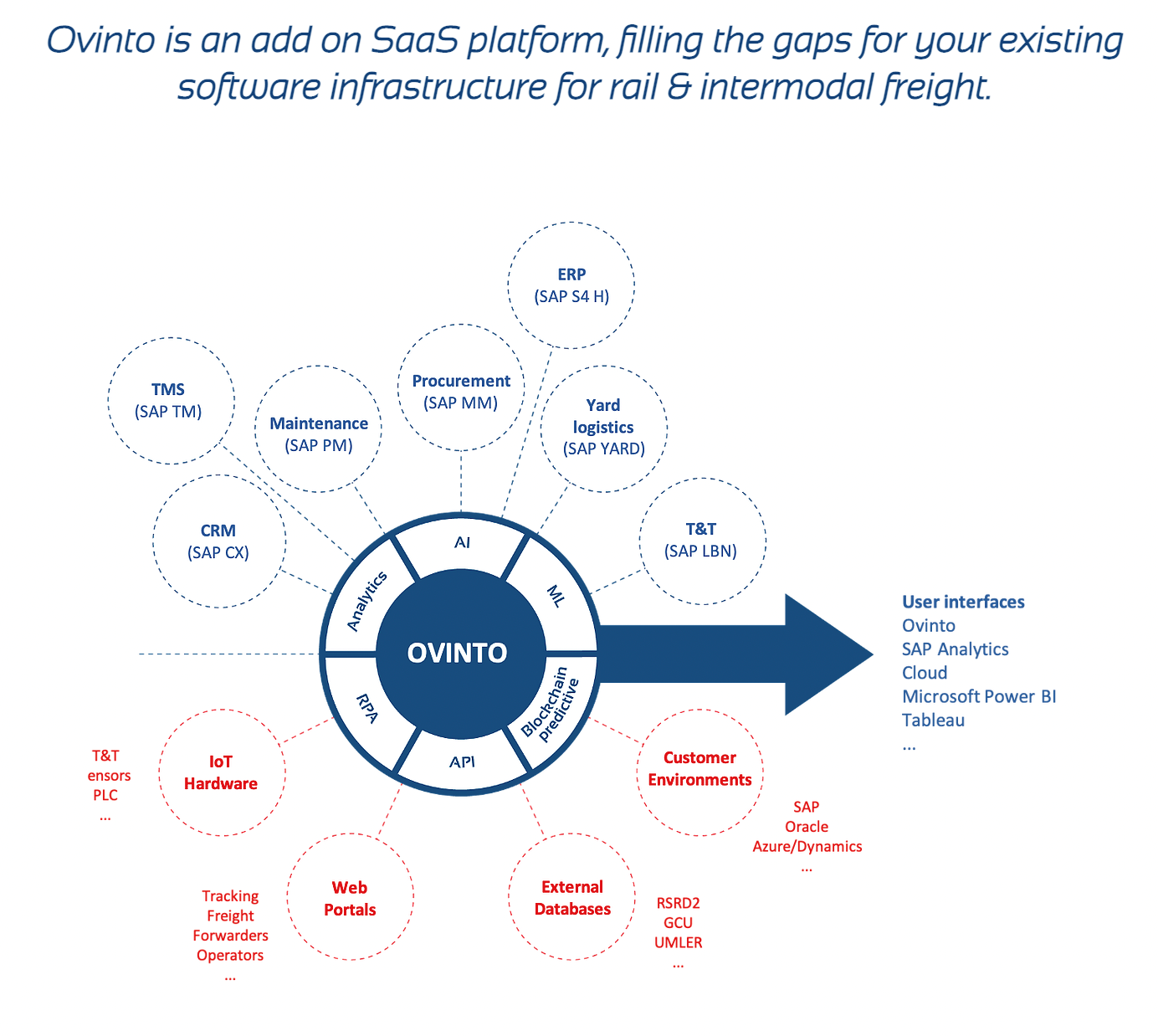 Ovinto delivers a data integration and predictive analytics service for rail freight, now also in the UK. Our unique, complementary software platform will help and feed the existing software infrastructure for different users and customers, connecting any relevant internal & external data source to make non-flexible software modules/silos extremely flexible through collaboration, data exchange and integration.
The sector as a whole operates in data silos. Automating/optimising the interaction between shippers as well as with the owners, operators, freight forwarders, workshops and the infrastructure manager will reduce costs, reduce manual work (copying data from one application to another) and human errors much further.
Additional data integration and exchange services have been built for a promising UK context.
Users and their needs
The Ovinto services facilitate data exchange between different stakeholders, linked to the exact use case
shipment information (location, fill level and train composition based on the Ovinto patented non-intrusive sensors, …) exchange between shippers, and with operators, freight forwarders, the infrastructure manager

electronic consignment note creation and exchange (shipper, operator, infrastructure manager),

electronic cleaning documents integration into the customers ERP system (shippers, workshops)

maintenance data exchange, including cross-source trend analysis.

yard management – Ovinto as the data integration bus
Service/ system concept
The first service/use case starts with GNSS data processed by a telemetry device. Together with other sensor data inputs, everything is sent via Sat Comm or via a terrestrial network to the cloud, where it is combined with other data bases to a customised one-stop solution for rail freight.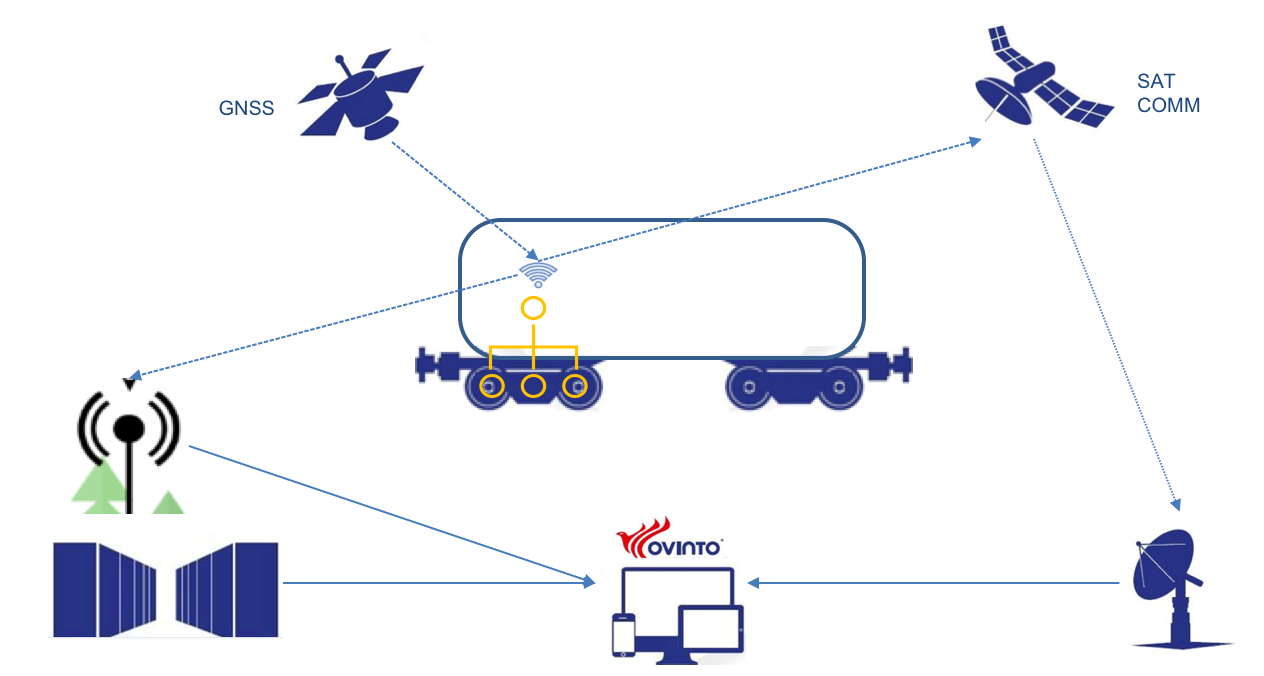 The Communication module allows users to exchange data with a stakeholder. Examples are shipments for which the customer account manager can choose on field level what should be visible to whom - the owner may see for example GNSS derived mileage and speed but not the customer/product transported, the receiving customer may see all exact locations of the transport coming her way, etc. Another service links data between different official and partner stakeholders in rail freight, such as Network Rail for consignment note data exchange, Electronic Cleaning Documents with the concerned logistics operators etc.
Space Added Value
The relevant Thematic Domain of the Space4Rail call is the improvement of the attractiveness of the railway, as the project intends to implement new services for rail freight users based on space asset generated data. In doing so, the shippers and other stakeholders will be more inclined to rely on rail freight as the reliable, greener option to transport their good sold.
Telemetry data for wagons is building on SatNav data as a minimum. Some telemetry players use SatCom to transmit the data from the sensors to the computing environment. Evonik and Ineos have already expressed their willingness to equip their UK based fleet with Ovinto ATEX devices. The current Ovinto SatCom provider now faces new-space challengers, who could potentially be viable technology provider for several applications to be developed based on the existing Ovinto patents.
Current Status
The pilot users have thoroughly tested the developed services and included them into the packages of modules they actively use. The demonstration project is over, and Ovinto has prepared both their customer success and their technical development teams to be able to service not only the UK, but other non-EU markets as well such as the USA.
Prime Contractor(s)
Status Date
Updated: 04 April 2023
-
Created: 22 November 2021