Objectives of the service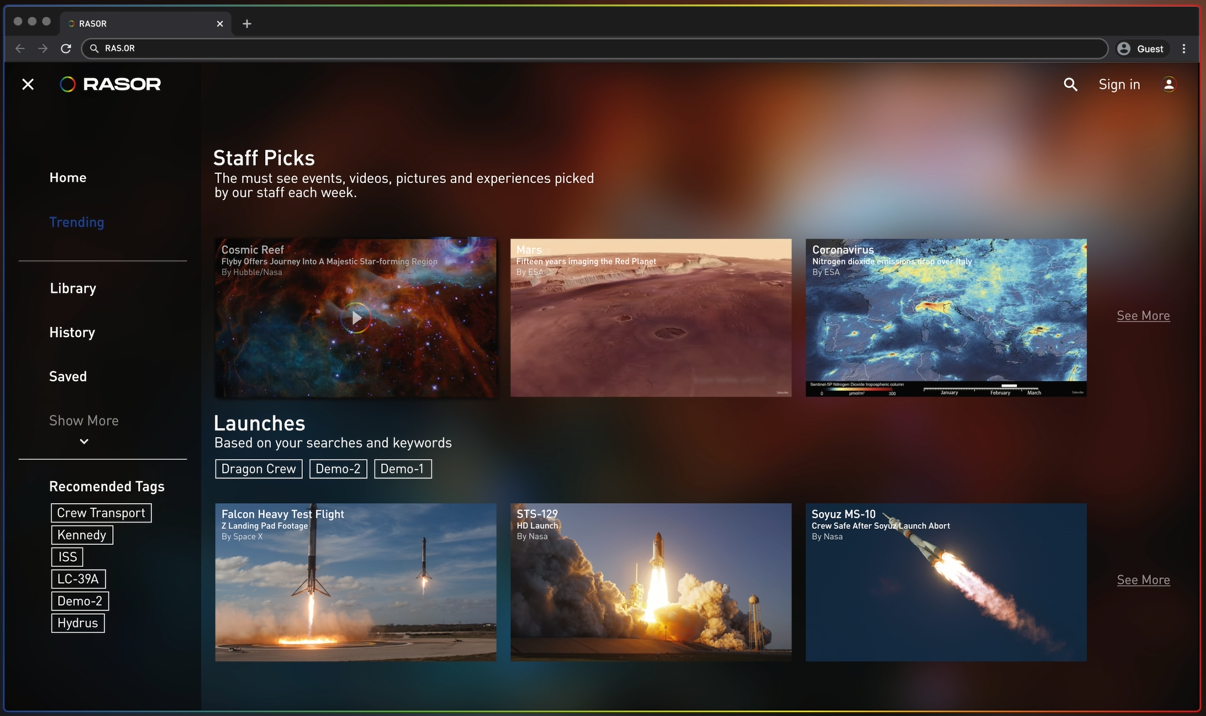 The current market of live and replay space imagery is difficult to access for most users due to its technical and specialised nature. Visual imagery feeds are generally unavailable to most users or require specialist knowledge to access, limiting their reach and accessibility from a global audience.
RASOR will provide an accessible and engaging platform for real-time and replay space videos and visualisations. Users will be able to choose from and view space imagery feeds from multiple sources directly through a single platform, including different satellites and telescopes. Feeds will be categorised for users based upon the type of space data, for instance images of the Earth, videos of the Sun or a live rocket launch. RASOR will enhance the effectiveness of available feeds for its users, but also provide access to imagery feeds currently not available. The service will be targeted at a wide variety of audiences from different backgrounds including general enthusiasts, educational organisations, and the greater public. Clear captions and information for each space data feed, along with logical time-stamps will increase the user-friendliness of the platform.
Users and their needs
The initial targeted user groups of the RASOR service include:
Educational Organisations
Users include: School & University Students, Teachers, Authors, Educators
There is a specific need for more engaging and informative visual space-related content to involve and inspire students with STEM and non-STEM related subjects and careers. There is a lack of exciting and accessible activities based around real space content for educators, to help supplement learning.
Users include: Employees, Clients, Customers, Visitors, Investors
There is a need for space organisations to connect and engage with their users through visual space content. Raising their brand awareness and promoting their organisations through a platform which displays feeds of the projects they have contributed to through software/hardware is required.
Retail Organisations (including cafes, pubs, Space Store)
Users include: Customers, Visitors, Patrons
There is a need to connect and engage customers and visitors within in-store locations on the high street and online platforms, such as organisation websites. Retail organisations require a higher footfall of visitors and increased level of dwell time in their premises in-store and websites online.
Service/ system concept
RASOR will provide visual imagery including live and replays from a variety of space sources, such as Sentinel satellites and Mars Express. Users will be able to browse through these imagery feeds, which will display accessible and engaging captions about the visual content.
Data streams from sources such as SEDAS will feed into the RASOR server and be converted into the correct format for good-quality visual content. This selection of visual content will then be made available through the customer and user interface.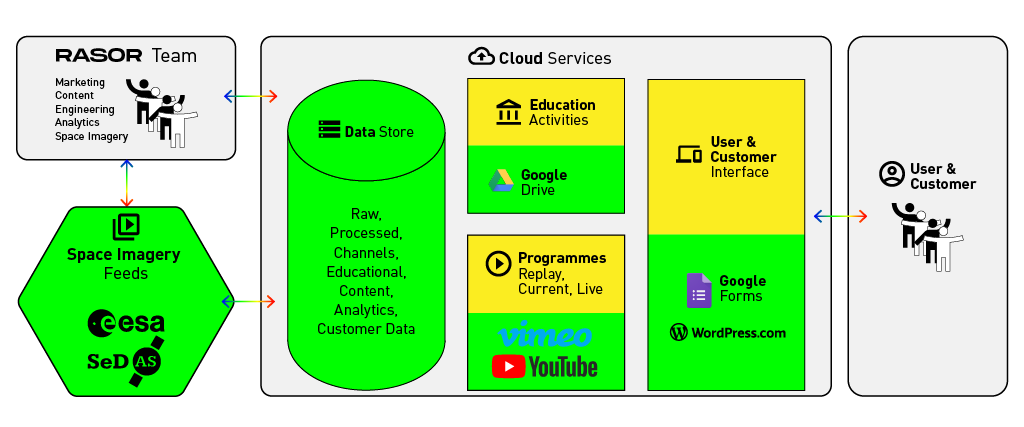 Space Added Value
For RASOR, the following space assets are being explored for potential use with the service:
Launches, Earth Observation, Planets, The Sun, Astronomy, International Space Station
The project team are working with ESA to find publicly available data streams under the Creative Commons License as well as find potential partners for access to commercial space data streams.
RASOR offers the ability to access multiple streams of live and replay space imagery on one platform. Current methods are generally focused towards specific feeds of imagery on different platforms, leading to a difficult user experience for most audiences.
Current Status
The RASOR project Feasibility study commenced in February 2020. The project team successfully held a Launch Event for RASOR in early March 2020, attended by over 40 representatives from the UK space sector, schools & universities and retail organisations. Subsequently, to gain initial feedback on the service concept and garner understanding towards the interest in RASOR, over 10 interviews were conducted with potential customer representatives and a user survey completed by over 70 people. The technical feasibilty and viability assessment have been completed successfully, demonstrating positive results. A RASOR Proof of Concept has been conducted with 5 different organisations across target customer groups, which has demonstrated and validated RASOR's ability to meet relevant customer needs successfully. The Feasibility Study was concluded in October 2020.
Prime Contractor(s)
Subcontractor(s)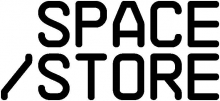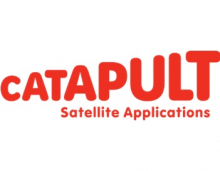 Status Date
Updated: 14 October 2020
-
Created: 11 May 2020