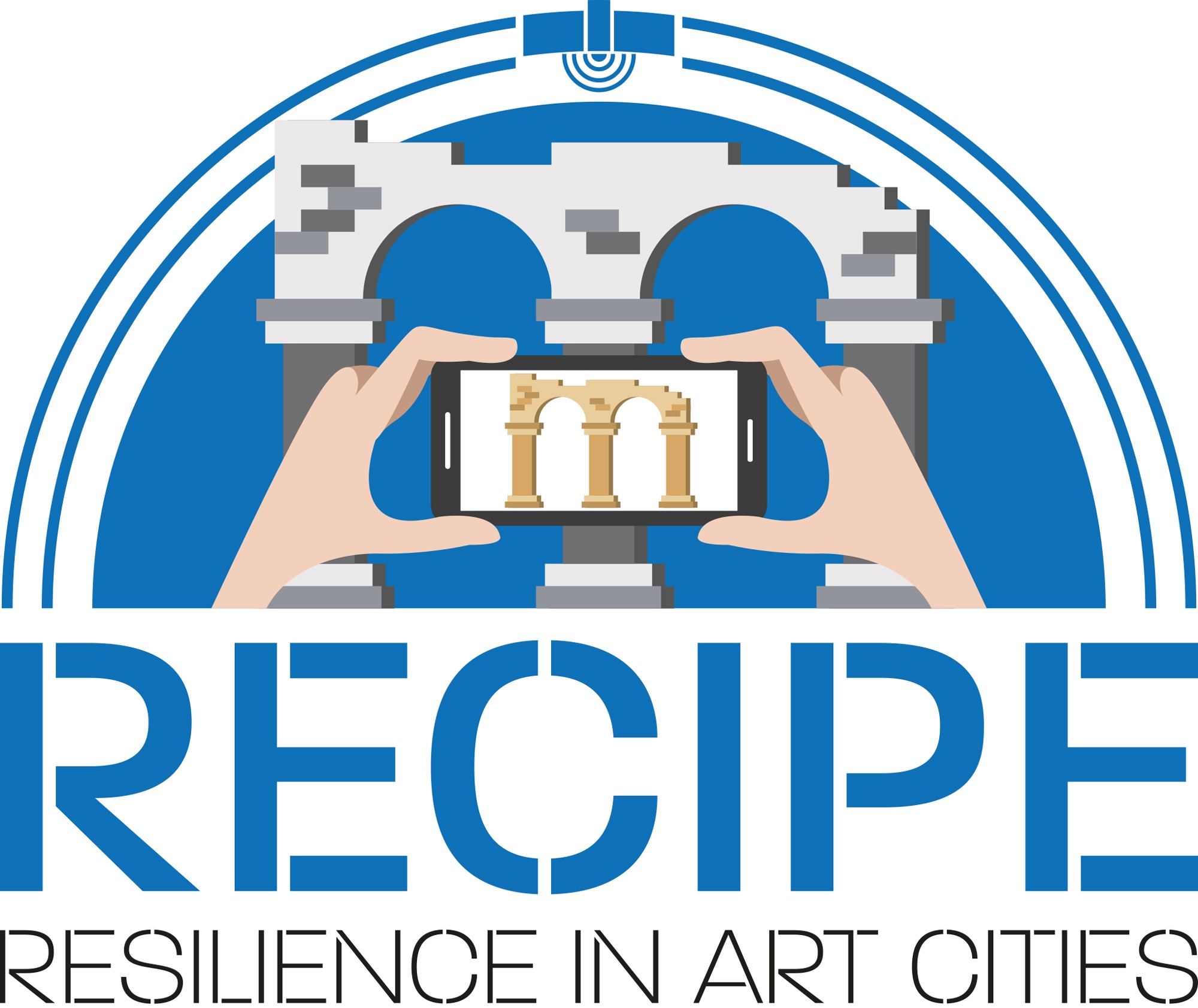 Objectives of the service
RECIPE provides low cost 3D models of cultural assets using as source of information photos taken by tourists through non-professional devices (e.g. smartphones, Tablets) integrated with Earth Observation products.
The low cost of the service, which is one of the main goals of RECIPE, permits to extend the affordability of 3D models also to minor cultural assets.
Users and their needs
The targeted User communities are the following: Public Administrations both Central and Local, Municipalities, Engineering and/or Architecture Offices, Conservation Institutes, Tourist operators, Surveys, mapping and photogrammetry firms, Cultural Asset Manager, Archaeological Site Managers, Research Centres and Universities, Insurances.
Major User Needs highlighted by User representative of Central and Local Administration, Research and Conservation Institutes are:
Support development of tools to preserve cultural heritage from natural/anthropic disasters
Populate the most common digital catalogues with digital photos and 3D models
Support outreach and research in archaeological domain
Being up-to-date with the state of most endangered and damaged cultural sites and know their distribution on the territory to plan maintenance
Up-to-date information and data to external support Vulnerability and Risk Assessment analyses
Stimulate involvement of citizens in preservation of cultural heritage
Artefacts positioning and chronological visualization of conservation status to contrast illegal buildings (user warnings and change detection)
Support the elaboration of virtual and informative tours
Store photos and data produced by other hardware (e.g. thermo-cameras, LIDAR)
Interface the service with other platforms, programs and services exploited by the users
Identify abandoned and unknown artefacts by user warnings.
Targeted users in the initial service phase of the project are Italian while, in the full service phase (i.e. after the completion of the ESA project), the RECIPE Service shall be promoted at European Level.
Service/ system concept
This is the high level service architecture of RECIPE.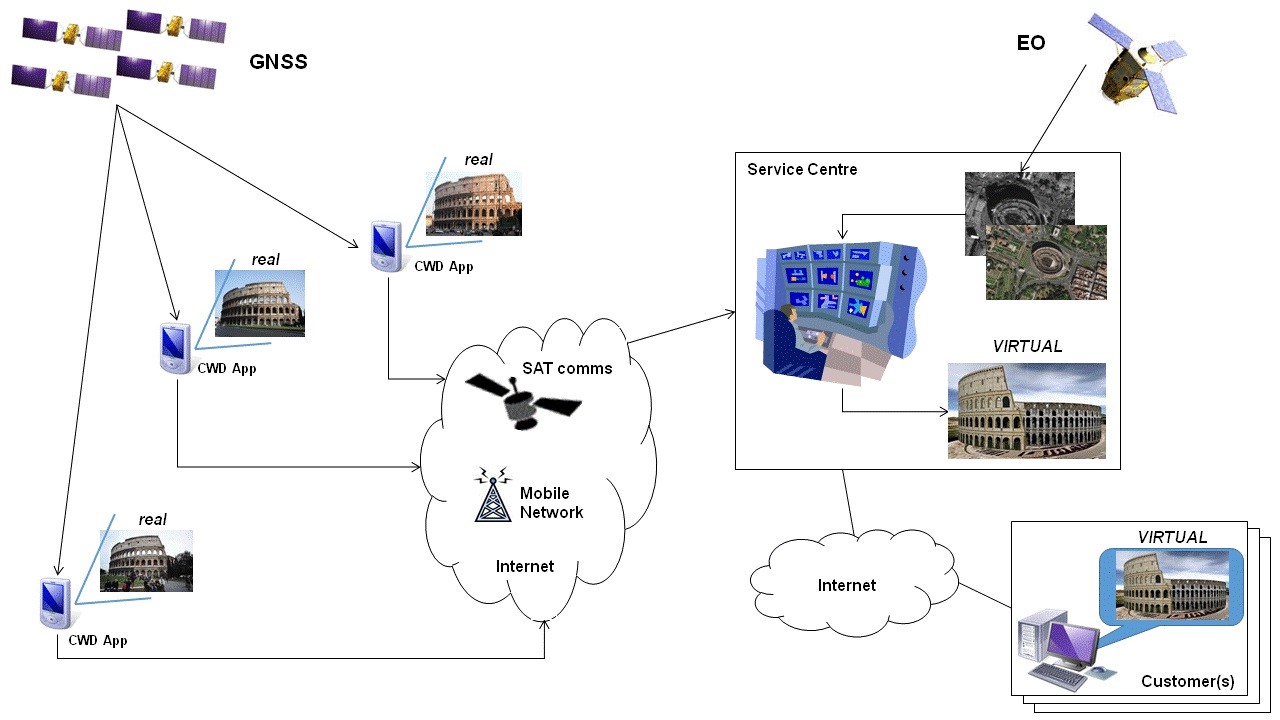 CWD (Crowdsourcing) App ensures that a large set of commercial portable devices, such as Smartphone and Tablets, will be able to take photos and send them to the Service Centre.
RECIPE Control and Elaboration Centre ensures provision of Applications Services.
A third Subsystem - the IT Infrastructure - will ensure security, service delivery and management.
Space Added Value
The following table highlights Space assets used by RECIPE:
| | |
| --- | --- |
| Space Assets | Benefits |
| EO | Images taken through EO satellite offer the compulsory real proportion of the building to constrain the 3D model reconstruction without need of costly and lengthy survey of the site. In particular, EO Images provide the horizontal constraints of the asset, needed to allow the 3D model SW engine to proportionally build the model, while the geo-referenced photos, even taken by not specialized people with not professional devices, provide vertical and details information. |
| GNSS | The geo-localization of the pictures taken by the tourists increases the quality and speeds up the process to render the 3D Models |
| SAT comms | Satcom is used to integrate terrestrial communication means to guarantee Hot-Spots where the tourists can promptly (i.e. without leaving the cultural area/monument) upload their pictures. |
Current Status
The Final Review (FR) has been held on September 23rd, 2019.
At this date, they have been run 112 sessions and built 120 3D Models.
Results of Demonstration planned activities can be summarized as follows:
Two artefacts at Ostia Antica (Ninfeo degli Eroti, Domus Amore e Psiche): 32 sessions / 37 3D Models
Two artefacts at Prata (Castello Camponeschi, Peltuinum): 8 sessions / 8 3D Models
We highlight that RECIPE is a service - ever / everywhere.
It allowed to run Demo sessions also at unplanned demo sites, everywhere we found available crowsdosurcers.
Therefore, we got 3D Models from:
Rome (64 sessions / 67 3D Models at NEXT premises over some artefacts – fountains, walls and buildings)
Torino (5 sessions / 5 3D Models at Porta Palatina)
Bussi sul Tirino (PE) (3 sessions / 3D Models at the church of Santa Maria di Cartignano)
All 3D Models are well proportioned / dimensioned / geolocalized.
Prime Contractor(s)
Status Date
Updated: 30 March 2020
-
Created: 14 November 2017