Objectives of the service
Managing tomorrow's water risk requires better data that allows the implementation of a forecast service for water. Today, there is an impossibility to manage risk through modelling, forecasting, and prevention, because there is insufficient and unreliable hydrogeological data. 60% of the countries do not have early warning systems in place. This situation results in an incorrect assessment of resources and threats, which affect human life and property, leading to unsustainable development.
The available river monitoring stations are vulnerable to vandalism and theft, becoming expensive in repairs, and inefficient in measuring. Additionally, they do not bring productive services to the river basin communities.
e.Ray brings a solution with the River Nexus project. It tackles this problem by operating an energy-independent satellite-based measuring station that collects real-time river data, while at the same time, it generates ice for cold chains that increase productivity and reduce food waste in the river basin communities.
River Nexus aims to establish a network of 2,200 of energy-independent measuring stations on running rivers to provide vital hydrogeological data and flood warnings. Thus, the water management capacity of the authorities is enhanced, while communities receive productive energy.
This project focuses on the tropical Rain Belt Region because its population is one of the most vulnerable to climate change effects.
A visual model of how River Nexus station operates: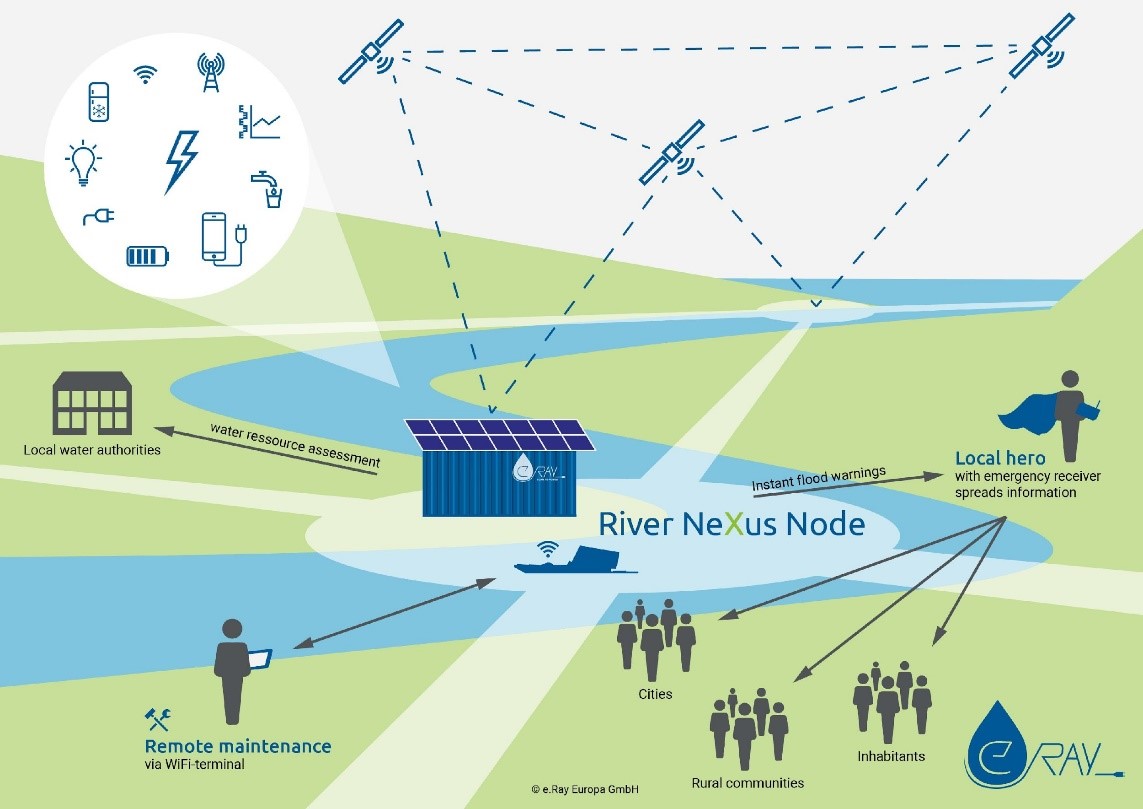 Users and their needs
Riverside communities hardly have access to flood warning systems, remaining vulnerable to hydrogeological hazards.
When there is available data about water-related hazards, this information comes in late for the community. Thus, time accuracy becomes a vital factor to save lives and reduce damages.
Today, the real water crisis is related to poor management and not to scarcity or distress. Therefore, the demand for river data has never been higher, and it is to grow ever more crucial in the future.
The riverside population in undeveloped regions relies on daily fish from the river and dairy for their basic living. However, frequent power cuts or complete lack of energy, has been a major concern affecting refrigeration and food supply.
According to the WHO, inadequate cold chains cause over 30% of fish and dairy loss in developing countries. This food waste can go up to 50% in tropical regions. Cooling devices are not available and hygiene is deficient.
River Nexus focuses on riverside communities in the Equatorial areas, aiming to improve their resilience to water-related hazards, and their food supply. It provides a hybrid solution of products and services urgently needed by local communities like ice for food preservation, and river data for real-time flood warnings and water management.
With the combination of these services the capital expenditure is less then investing in a single infrastructure and synergies in the operation are achieved.
The river data demand, comes from local, national and international users such as:
1. Water Authorities / National and local hydrometeorological service providers;
2. International organizations such as WMO and UNESCO Water;
3. Environmental Scientists and Hydrologists;
4. Insurance companies;
5. Local population;
6. Dairy and Fish Cooperatives.
River Nexus is the first step in the implementation of a network of independent water monitoring stations on rivers and canals within the Equatorial areas of Latin America, Africa, and Asia, who are the most affected by catastrophic floods caused by heavy rainfall.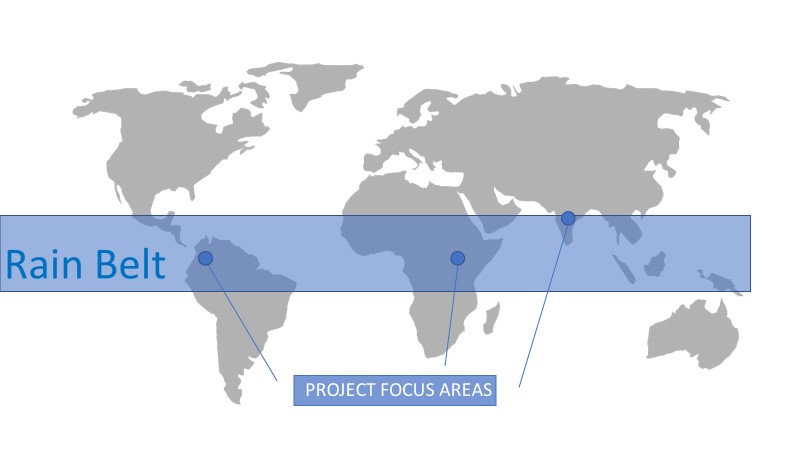 Service/ system concept
River Nexus works as a hybrid system for water monitoring, providing also ice, and clean and renewable energy.
It is composed of a river turbine and a solar container. The river turbine integrates a satellite-based monitoring system with sensors to measure the water level, temperature, precipitation, pH value, among other important information.
The data collected is transmitted through different channels: SatCom, LPWAN (LoRa), Wi-Fi and GSM, depending on the region and delivered in real-time. This data is provided to the end-user in standard formats. On the other hand, the surplus of energy generates ice for food preservation and productive activities that improve the socio-economic development in these communities.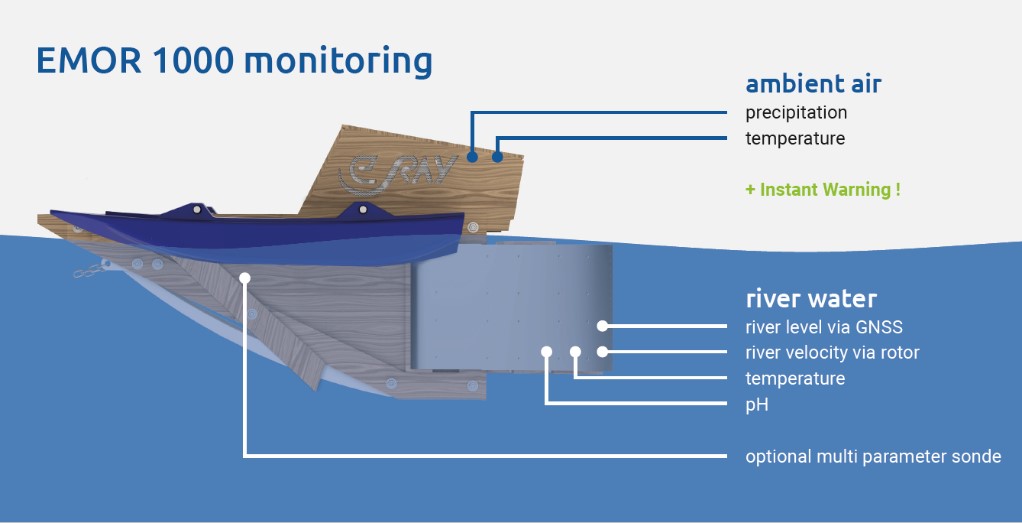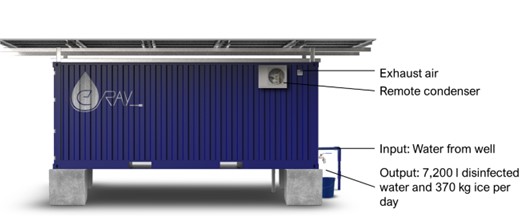 Space Added Value
Satellite Navigation (GNSS): Low cost water level measurement based on real time kinematic (cm level accuracy)
Satellite Communication (SatCom): Monitoring of the facilities | internet distribution for rural communities, integrating mega constellations receivers.
Earth Observation (EO): Micro and macro site assessment | remote monitoring of river parameters like temperature, chlorophyll and turbidity and calibration of this data via EMORs in-situ measurement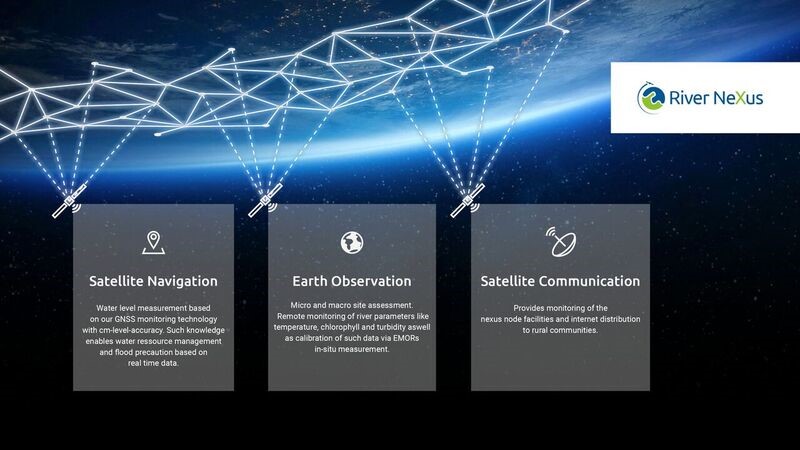 Current Status
With the support of Kickstart-Activity, e.Ray was able to iterate their environmental monitoring product and requirements, according to user feedback from scientific, governmental, inter-governmental and private entities.
A preliminary strategy for the implementation of a River Nexus demonstration network was formulated.
The team deployed two small scale systems in Uganda. Also, we have sold a first in-situ environmental monitoring device to Kenya.
More news regarding our projects, are released on a continuous basis, on e.Ray webpages.
Prime Contractor(s)
Status Date
Updated: 16 January 2020
-
Created: 02 October 2018