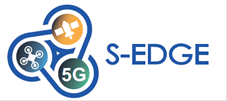 Objectives of the service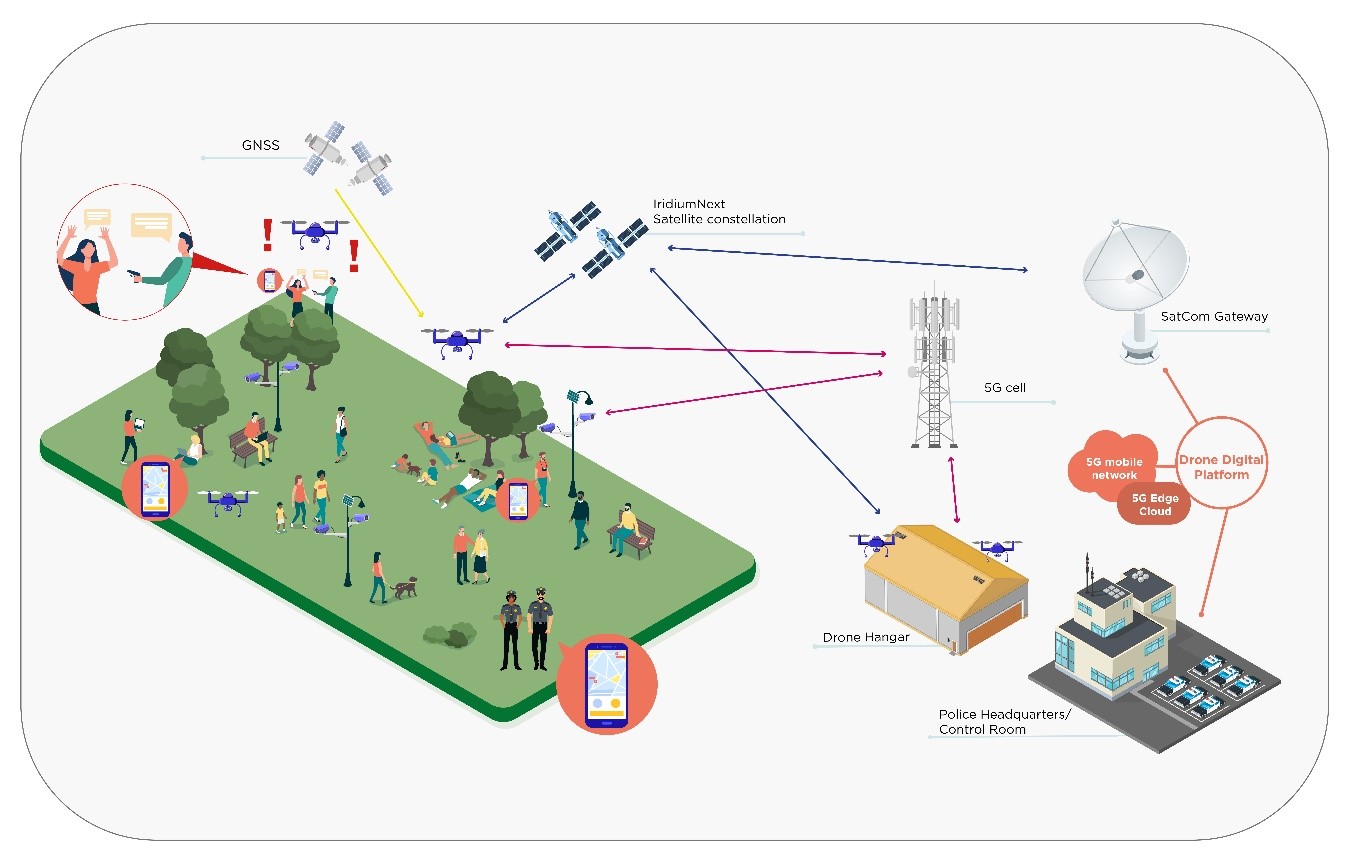 Conceptual architecture, S-EDGE
The purpose of the S-EDGE (SatEllite anD 5G for Law Enforcement application) project is to contribute with innovative services to manage public security (Law Enforcement) through a solution, based on the use of Drones, which integrates new 5G broadband connectivity together with satellite technologies.
The service, is provided to different types of end-users (i.e. citizens, Public administration, Police Force…) and it is conceived to support operations for preventing and detecting crime and/or dangerous situations for the citizens, thanks to the provision of a Drone-based surveillance solution.
The service is provided through a Platform system, which supports the end-to-end operational activities, covering both the management of fleet of drones and data exploitation services: from mission planning to automatic management of surveillance operations, up to data exploitation thanks to advanced video processing algorithms.
The Drone Digital Platform, thanks to 5G broadband connectivity, will be able to collect payload data in real-time from on-board cameras, while the satellite link, based on IridiumNext constellation, will be used mainly as backup channel to control the drone where the 5G coverage is poor or absent ensuring a safe drone control and mission execution.
Drones will be set up to carry out both "automatic periodically planned" and "on demand" patrolling missions, both during day and night, over critical areas of the Urban environment. Each drone or its ground control station will be equipped with 5G and Satellite connectivity to ensure BVLOS/BRLOS communications and automatic/remote management of the mission through the Drone Digital Platform.
Drones will be equipped with optical/thermal imaging cameras to detect events of interest and will have the capability to transmit payload data in real-time
The Drone-based surveillance service will provide End User with both real-time (RT) data (i.e. video streaming) and near real-time (NRT) actionable information products (i.e. target detection and identification, early warning alerts), based on AI powered image/video-processing tools.
Users and their needs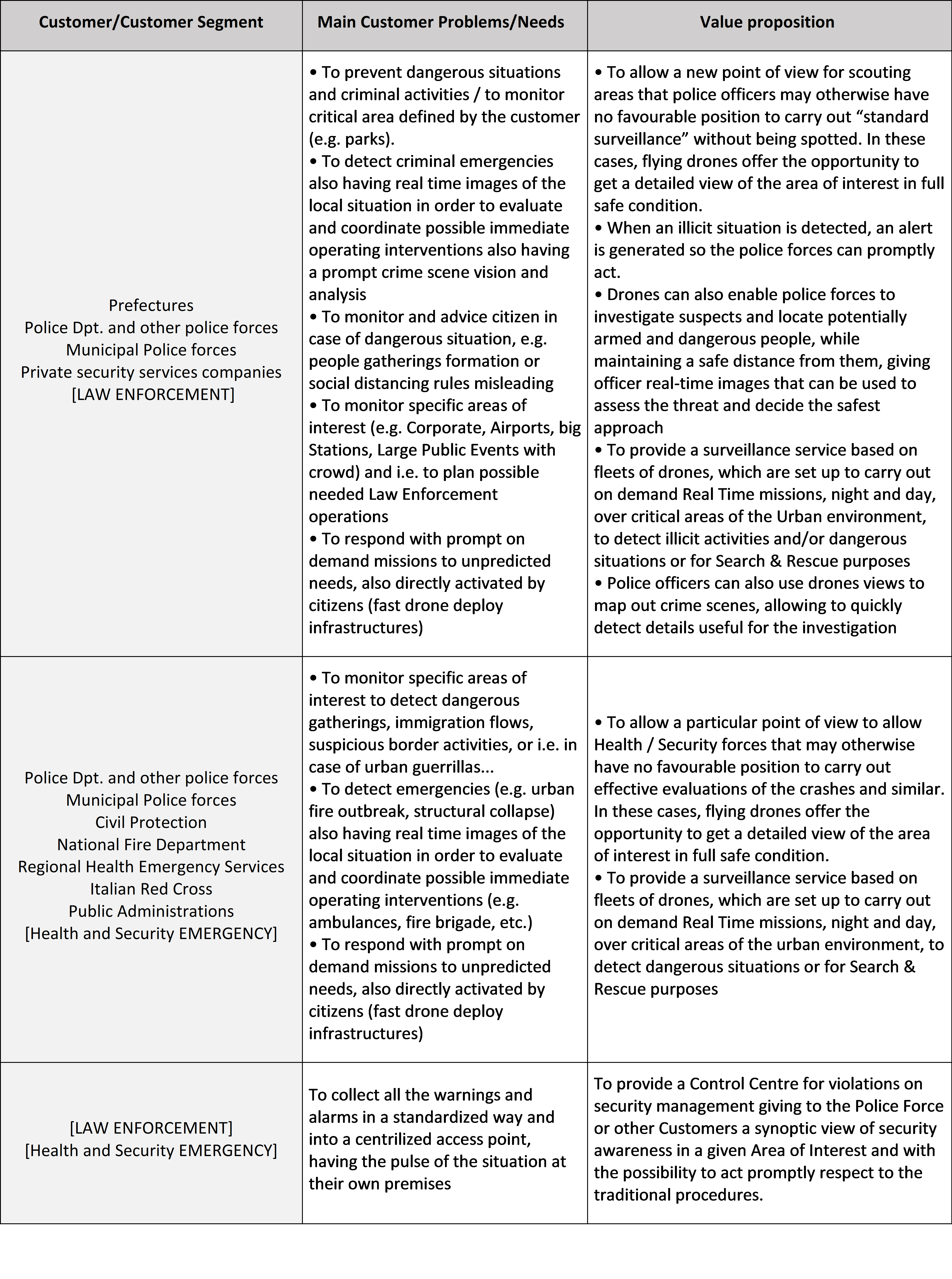 Service/ system concept

High-Level System Architecture, S-EDGE
The system architecture includes the following components:
the Drone Platforms deployed on the demonstration field, including both the UAV and their Ground Control Stations (GCS). The drone platforms include:

the Hangar is smart docking station able to autonomously manage the entire flight process: weather monitoring, landing and take-off, programmed and on-demand missions;
the Portable Control Station (PCS) is designed to carry, protect and manage a C1 class drone for rapid deployment and operations;

the Network Infrastructure, based on the integration of 5G mobile terrestrial network and IridiumNext satellite network, interconnecting the remotely managed assets (i.e. drones, GCS, Hangar, IoT sensors, etc.) with the centralized Drone Digital Platform, and supporting the real-time communications for both the payload data transmission and drone mission control communications;

the Iridium Satellite Network is based on Iridium Next constellation to be used mainly, but not uniquely, as backup channel for C2 communications;
the TIM 5G Network provides a broadband connectivity that allows real time transmission of C2 and payload communications guaranteeing exceptional performances in terms of high throughput and low-latency;
the 5G Cloud Edge Node is a key feature of the 5G network infrastructure, that enables to deploy applications close to the core network components, allowing an exceptionally large amount of data to be aggregated and processed in real time;

the Drone Digital Platform (DDP) is able to remotely manage UAS operations providing different information layers and advanced tools to support DDP will have multiple instances:the

Telespazio Drone Digital Platform (T-DROMES) is an integrated solution to manage fleets of drones belonging to several drone operators, handling also the overall complex workflow of safety and regulatory aspects. The fleet management capability is fully interconnected and integrated with the Data Service Exploitation component based on e-Geos CLEOS platform that allows the setup of real-time AI processing pipelines for video signals and also the integration on cloud infrastructures;
the TIM CloudEdge Platform (part of TIM 5G Network) allows to deploy many advanced services that support UAS operations and service exploitation:

Command & Control functions: in order to remotely manage the UAS and monitor telemetry using the TIM Cloud Robotics modules, taking advantage of the 5G network;
Data exploitation applications for payload data with AI techniques.

the IoT Sensors Networks, including local weather stations and surveillance cameras to support the drone based services providing local micro-weather analysis and additional video streaming sources;
the End Users headquarter/offices (e.g. Police Station) and involved officers where and by whom the law enforcement operations are managed.
Space Added Value
5G and Iridium Next satellite networks are key technological features enabling the design and the implementation of S-EDGE services, and represent, therefore, a meaningful opportunity to test their performances in urban mobility scenarios.
Thanks to the integration of satellite communication technology with mobile 5G network it is possible to provide cutting-edge hybrid connectivity solutions:
The satellite communication connectivity allows to provide a resilient and "everywhere available" channel, thanks to possibility to guarantee a global coverage, and is often used as backup with respect to the mobile terrestrial cellular networks (3G/4G/LTE).
5G network technology allows to provide very high performances in terms of throughput and low latency and jitter, that are both important for command & control and real-time video streaming applications.
Moreover, the 5G network allows processing capability close to 5G cellular antenna thanks the Edge Cloud concept node. This is not possible with previous mobile networks, as the new infrastructure provided by 5G networks allows to deploy on the 5G Edge Cloud node a set of SW components and services of the Digital Platform that guarantee:
real time management of command & control communications flows with drones or fleet of drones and their GCS/hangar, avoiding the need to exchange large amount of data with the remote network infrastructure;
real time processing of video streaming received by on-board payload sensors, by deploying AI algorithms on 5G Edge Cloud to provide a first level analysis and alert generation.
Moreover, GNSS Augmentation services allow to enhance positioning accuracy and integrity provisioning along the trajectory of the drone, during mission planning and mission operation, exploiting the combined use of GPS and Galileo constellations.
Current Status
The S-EDGE project started in November 2020 and is now closed following the Final review in December 2022.
The Pilot demonstration performed in Parco Dora, Turin in November 2022 showed that S-EDGE solution is able to provide Police forces with a drone-based surveillance service that allows periodical patrolling of vast areas as well as on-demand missions in response to a request from a Policeman on-field and/or from a citizen.
All services are provided through T-DROMES®, a cloud-based platform that can be accessed from the Police Control Room, as well as from any portable device (tablet and smartphone included), to provide Police forces with the capabilities to manage and operate a fleet of drones and to see in real-time the video streaming acquired by them.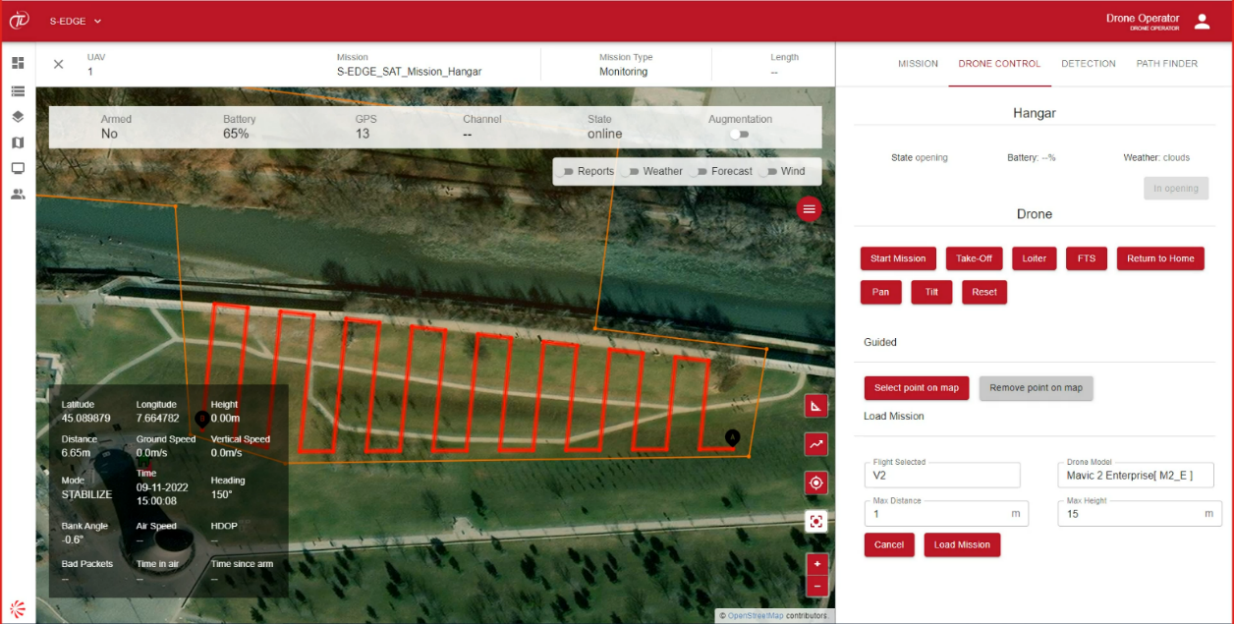 T-DROMES® integrates several drone platforms that are designed to respond to different user needs:
Hangar equipped with drones of C0-C2 class

Custom drone

Portable control station
T-DROMES and hangar can provide periodical patrolling of an area also BVLOS;

T-DROMES and Custom drone, being equipped with satellite communication device and GNSS receiver on-board, can be used for on-demand missions in context of sparsely populated area whereas the ground risk can be reduced. This solution can be applied for search and rescue use cases because of the optical/thermal camera hosted by the drone.

T-DROMES and Portable Control Station can be used for Crime Scene Analysis or in any situation where a VLOS flight is recommended.
During mission execution the video streaming is provided in real-time to the End User.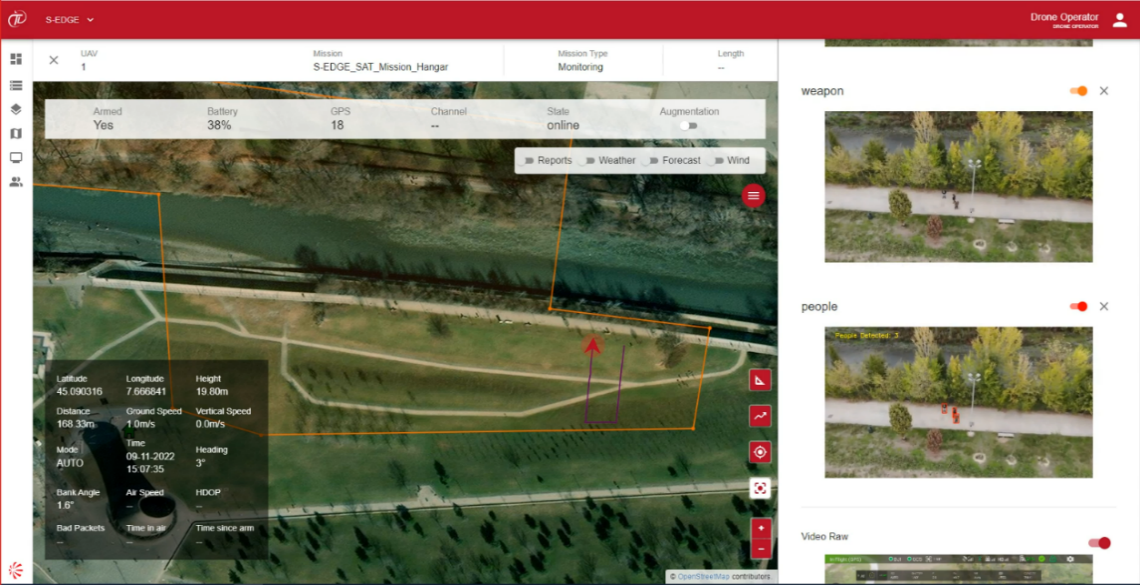 It is also possible to activate pattern detections based on AI algorithms to support recognition of possible illicit situations: people gathering, presence of people in forbidden areas, counting people, presence of object like weapon and knife, absence of covid-19 face masks.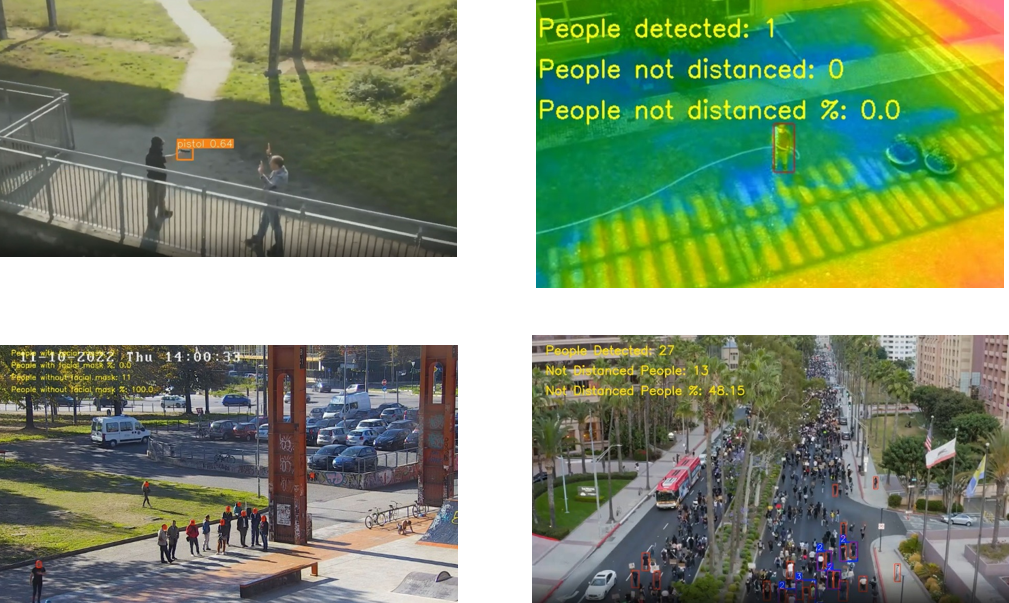 Pilot demonstrated how satellite assets like GNSS and Satellite Communication can empower drone solutions: in particular, vertical and horizontal protection levels quantify the reliability of the position information, while the satellite communication offers a resilient communication channel to be used in case of LTE loss.
The S-EDGE Drone Service solution is able to support Law Enforcement in several operational scenarios, even more challenging than those addressed during Pilot. For this reason, the consortium will continue to tailor and update the product according to the evolutions of regulatory framework, in order to propose to End Users the best operative solution that satisfies their needs.
Prime Contractor(s)
Status Date
Updated: 21 December 2022
-
Created: 25 March 2021