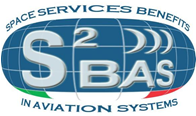 Objectives of the service
The S²BAS project aims to develop, deploy and demonstrate (via proper test flights campaign) a platform for the provision of an integrated set of satellite-based low-cost services targeted to small and regional airports. The concept consists in supporting aspects related to the whole life-cycle of a flight, from its development and planning to its execution and control; with the aim of improve access, operations at the airport and increase safety at a low cost.
The project intends to demonstrate the following pre-operational services:
Production of Global Navigation Satellite System (GNSS) routes and flight procedures

Airborne Flight Assistance (for GNSS-based Visual Flight Rules)

Airport Obstacle Identification service

General Information broadcast to pilots

Remote Airport/Aerodrome Management
GNSS Monitoring and Post-processing Services
To enable the above mentioned services, the following components will be developed (as shown in the schematic below):
On-Board Navigation / Communication Unit

Pilot Cockpit Display

On-board GNSS Receiver

S²BAS Airport Station

Air/Ground Data-Link Server

Central Information Processing and Distribution system

Air Traffic Service Station (AVIO)
Users and their needs
S²BAS Consortium has identified a set of stakeholders that, directly or indirectly, would benefit from the availability of the above mentioned services.
S²BAS Key Stakeholders are:
ANSP (Air Service Navigation Provider)

NCAA (National Civil Aviation Authority)

Pilots

General Aviation

Aircraft Operator

Aeroclubs

Heli-Assistance

Civil Protection

Airport Operators

Airport Ground Handlers

Regions, Provinces, Municipalities.
Besides during the demonstration phase two internal users will take part in the demo project:
Techno Sky, involved as technical arm of the Italian ANSP, ENAV

Slam Lavori Aerei, involved as GA, Aircraft Operator and Pilot.
Service/ system concept
The S²BAS system shall provide its users with the integrated set of service listed here below:
GNSS routes and flight procedure definition
This service is responsible for the generation and distribution of the GNSS flight procedures.
Airport Obstacle Chart Services
This service is responsible for the generation and distribution of Airport Obstacle Charts.
General Information Service
This service is responsible for the provision of General Information to S²BAS equipped aircraft. General Information encompasses aeronautical, meteorological and environment (e.g. tourist) information.
Airborne GNSS-based VFR Flight Assistance Services
This service is responsible for the provision of flight support to pilots using a satellite-based navigation system capable of visual assistance (2D, 3D) regarding the position, the attitude, the route, the air traffic, the terrain and the obstacles charts of the interested airports.
Airport Management Services, including Remote Airport Management
This service is responsible for the management of S²BAS equipped airports resources. This service also encompasses the capability to remotely manage S²BAS equipped unmanned airports resources.
GNSS Monitoring and Post-processing Services
This service is responsible for (real-time and off-line) GNSS Monitoring, specifically for verification of S²BAS Integrity information reliability. The Post-processing service shall allow a S²BAS operator to consult and query data to assess performances of the S²BAS system.
Space Added Value
In Europe a considerable number of aircraft used for business and private tourism would utilize minor airports if properly equipped in order to serve this air traffic. These airports can serve only a small set of aircrafts (GA) following VFR procedures, limiting in such a way the potential managed traffic. This limitation is mainly due to the absence of traditional support dedicated to surveillance and air navigation services, at present too expensive to be introduced in these airports category, but that can be successfully, and at affordable costs, provided by the proper adoption of technologies based on the use of satellite assets.
The satellite assets provide added values as:
GNSS - Allows cost-effective approaches and safe execution of GNSS routes and landing procedures.
Earth Observation - Allows an automatic, frequent and less expensive monitoring of the airport surrounding, if compared with traditional techniques.
Satcom - Reliable telecom to manage or backup isolated airfields.
Current Status
The project is structured in two phases, the first one being the Definition Phase, of 5 months duration and composed of the following main activities:
Concept development, process design, requirements engineering (user and system), architecture design, demonstration engineering and test planning. This phase includes also preliminary studies on project impact assessment and business aspects.
The project Kick Off took place in April 2011. The BDR milestone (Baseline Design Review) was reached in July 2011, when major deliverables such as the Demonstration System Architecture (DSA), the System Validation Document (SVD) and the Demonstration and Utilization Plan (DemUP) were reviewed and assessed with a specific focus on the User Requirements.
The Critical Design Review (CDR) milestone has been successfully achieved in December 2011, where the updated technical documentation, Impact Assessment and Business Plan documents and Final Report for Phase1 were accepted.
The project team is currently preparing the Demonstration Phase (Phase 2) for a KO planned in May 2012.
Prime Contractor(s)
Status Date
Updated: 23 April 2012
-
Created: 15 February 2014