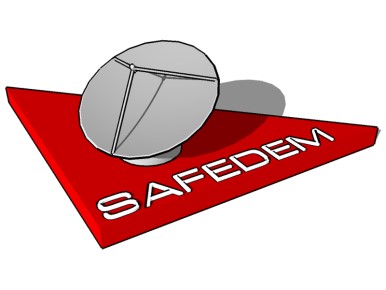 Objectives of the service
The SAFEDEM project has three main objectives.
The first one is to define a concept for a system and its associated services based on existing space assets " namely Earth Observation, Navigation, Communication " to support the various levels of the Land Release process and, more generally, of the humanitarian demining activities.
The second objective is to perform a proof of concept to validate the proposed approach, using satellite images and the associated image analysis techniques, and a mobile mapping platform associated to a mobile broadband shared network based on Satellite Navigation (NAV) and Satellite Communication (COM) space assets.
The third objective is to analyze the economic and non-economic viability of the system and services.
All the objectives have been reached in a completely user-driven way, with a direct and deep involvement of the potential final users of the system and services.
Users and their needs
Mine Action Centers, mainly involved in managing demining programs, collecting and sharing Mine Action Data and Information, evaluating technologies and methods for Mine Action activities. Bosnia and Herzegovina Mine Action Center (BHMAC) has been involved in the Feasibility Study and is interested in cooperating to the Demo Project.

Field Operators that perform the actual demining activities, from general assessment to clearance. The Swiss Foundation for Mine Action (FSD) has been involved in the Feasibility Study and is interested in cooperating to the Demo Project.

Donors, mainly interested in knowing the situation of the affected country for financing Mine Action Programs, and in obtaining reliable reports for assessing new needs in financial support (they are end users for some services).

Non-Governmental Organizations dealing with all the Mine Action activities, spanning from mine risk education to victim assistance to stockpile destruction and advocacy. GICHD is continuing the development of the GEO-BI with GTD and has expressed interest in e.g. the Field Kit development.
Space Added Value
Satellite imaging appears as the most useful space assets category. Users are most interested in information obtained from remote sensing images, through mapping, land cover analysis, and specific mine-action-related indicator extraction. Satellite imaging is already considered as an essential value-providing asset in the MA community, but there is a real need for services which make them really useful and usable.
Satellite positioning is also perceived as an essential asset for operation, and widely used. Integration of satellite positioning with data gathering enhances the quality and reliability of data, and guarantees immediate georeferencing. Use of GNSS together with all survey and demining assets is desirable and generally feasible at reasonable cost. There is a need for lower-cost, user-friendly high precision GNSS. Furthermore GNSS is required to support UAV operations to map suspected areas in high resolution.
Satellite communication was originally considered for user needs and requirements, but users and stakeholders showed low levels of interest for SATCOM solutions.
Current Status
The project kickoff was on January 3, 2011 while the Final Presentation was held on April 25, 2012, ending the Feasibility Study phase.

The SAFEDEM partnership has been extended to e-GEOS. SAFEDEM activities have been continued into the SAFEDEM Demonstration Project.
Prime Contractor(s)
Status Date
Updated: 27 August 2012
-
Created: 15 February 2014