Objectives of the service
ADS-B technology has now extended beyond the fixed ground sources, and is available in many different forms including mobile ground, mobile air and mobile space-based (applicable to various orbits). This liberation gives rise to ADS-B nodes and allows ADS-B augmentation with possibilities which hitherto was inconceivable; both system concepts and benefits. This is the very notion of the SAGAS - Satellite Augmented Global Aircraft Surveillance - service.
The demand for more air travel and the need for increased air safety and security further motivate this need for global aircraft surveillance. Efficiency gains are clear: better packing of air traffic for a given route, greater holistic response to real-time changes, be it weather-related or some health-related emergency real-time route change. In such cases, the impact of a route change can bear flight delays, waste fuel in holding air traffic, result in cancellations, or some other possibility. Further, these options now can supply reliable emergency tracking. It is highly likely that significant operational benefits and economic gains can be made by developing integrated applications and targeted services through the use of this technology.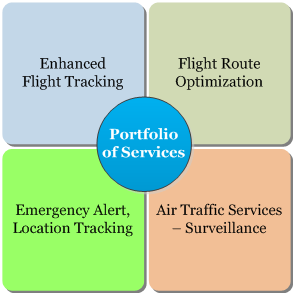 SAGAS study objective is to develop a service proposition that meets the needs of the users and creates new opportunities for enhanced operations and business benefits to the stakeholders. Integrating multiple ADS-B sources gives far greater accuracy and coverage for aircraft surveillance and when augmented with other space and ground assets, the potential for new and enhanced services increase. Such an approach brings space, air and ground based ADS-B surveillance, augmented with other added-value service capabilities to the market, when driven by the requirements of the users. Therefore the study focused on analysing the requirements and interests of Users and Stakeholders, designing the required system and services and validating the overall viability of delivery and sustained operations.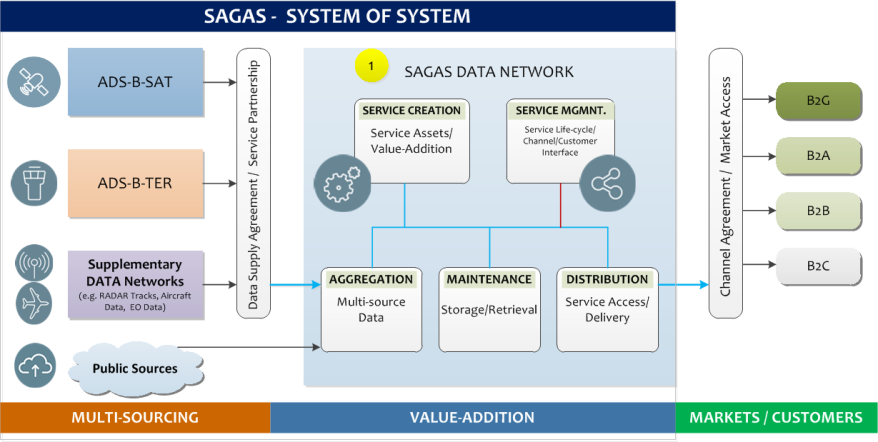 Overview of the System of System Architecture
Users and their needs
Broadly, the Users are considered into market is segmented according to the concept of use of the services.
Business-to-Government (B2G) – mainly for the ANSP, Agencies for the Civil/General (and Military) Aviation
Business-to-Air (B2A) – including Airlines, Airport Operators
Business-to-Business (B2B) – including enterprises that benefit from the reports and intelligence of aircraft movement
Business-to-Consumer (B2C) – including general public and other non-commercial users interested in the aircraft movement
SAGAS services are driven by the User requirements, primarily to address the need for
Continuous surveillance across all phases of flight, especially over the oceanic and other non-Radar-Airspace
Flexible access to data (both in near real-time and historic) with value-added analysis and information services, without the need for additional User investment for surveillance infrastructure;
The Services are aimed at global users.
Service/ system concept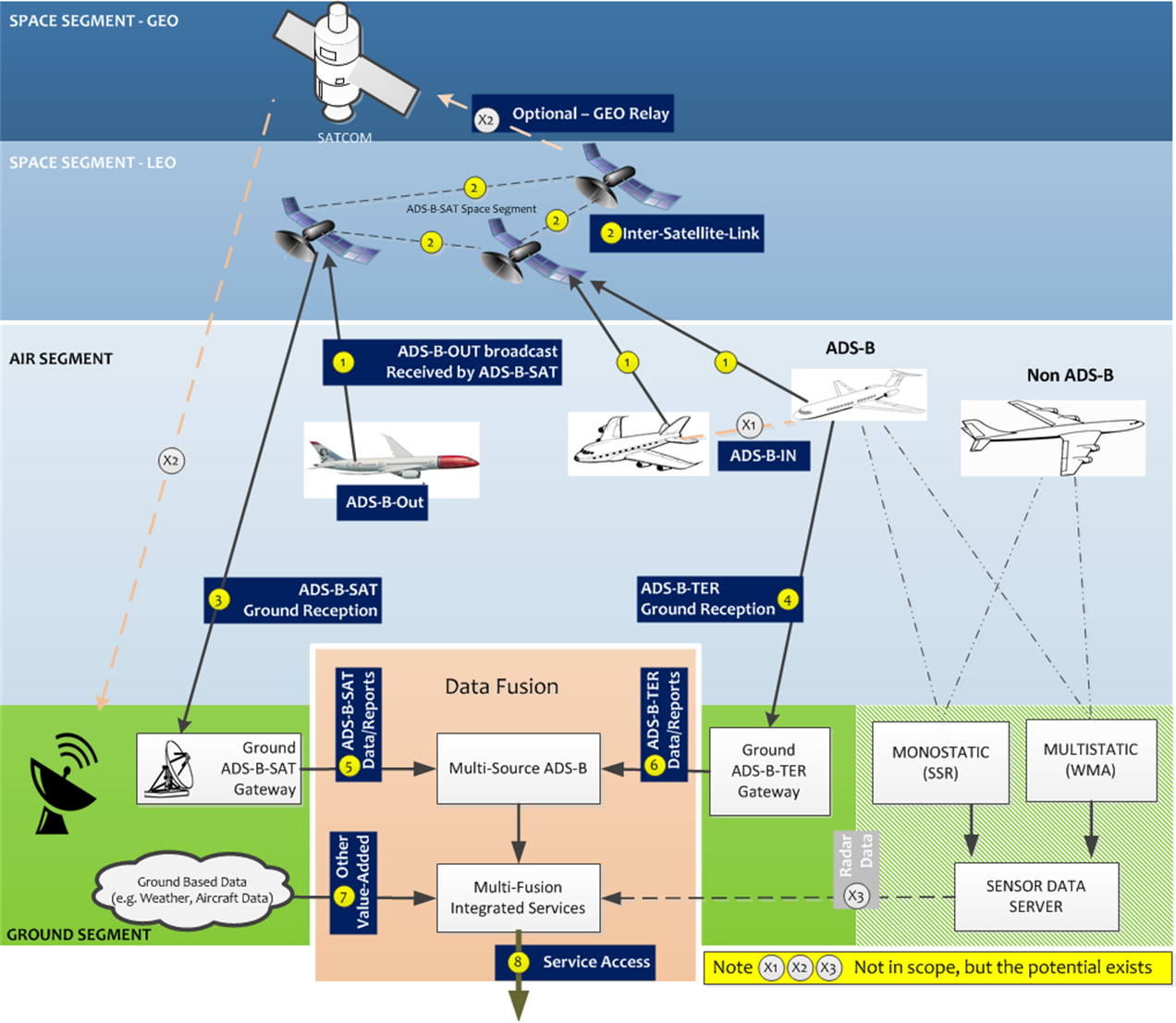 SAGAS is about aggregating ADS-B based Aircraft tracking and Airspace surveillance data from terrestrial and space-based ADS-B networks, and applying algorithmic as well additional information value with the infusion of other relevant data from ground, air and space based networks. This core capability is shown as "DATA FUSION" and "ADVANCED ANALYTICS" in the figure above.
ADS-B-TER refers to the state-of-the-art terrestrial ADS-B. It is core part of SAGAS but only considered as data interfaces.
ADS-B-SAT refers to emerging as well as potential space based ADS-B systems and it is core part of SAGAS.
Use of other space and ground assets is considered as optional extension to increase value-creation and is considered only at the ground-interface level.
Space Added Value
Space based ADS-B (ADS-B-SAT) - Integral to SAGAS
ADS-B-SAT is the integral part of SAGAS services as the technical viability of ADS-B-SAT has been progressively proven in the industry. Value of ADS-B-SAT in addressing the surveillance coverage gaps in the oceanic and other Non-Radar Airspace, as well as for the enhanced surveillance reports even in the Radar-Airspace is recognized in the industry.
SATCOM for Air-Ground Communication – Option for SAGAS
The benefits of Enhanced ATS-Surveillance rely on the application of surveillance data in the Air-Traffic-Management, requiring an effective Air-Ground data communication. User Requirements Review also confirmed the benefits of SAGAS when combined with effective Air-Ground communications for the Safety-Critical Services. This is deemed as a potential extension in the service provisioning of SAGAS and therefore not considered within the scope of the current study.
SATEO for Enhanced Surveillance - Option for SAGAS
EO data (e.g. imagery, weather, environmental) are valuable as augmented intelligence for aircraft and airspace surveillance. Typically, information from SATEO is processed at the ground-interface level and form part of the SAGAS round-based data fusion. A use case for the application of EO data is studied for the Emergency Alert and Location Tracking as part of the URR.
Current Status
Kicked off in June 20107, the SAGAS study was successfully completed in September 2018, leading to a list of candidate-services based on ADS-B integrated applications that are relevant for new and enhanced service opportunities for global aircraft surveillance. The study also provided a critical review for the economic and non-economic viability of service delivery and long-term sustained operations, including a recommendation for starting with services for addressing the non-safety-critical operations for a wider market and applications, and subsequently extending for the safety-critical operations for enhanced ATM-surveillance. The Study also recommends a focused Customer-Trial for Service Demonstration as a precursor to commercial operations.
Prime Contractor(s)
Status Date
Updated: 20 June 2018
-
Created: 16 March 2018