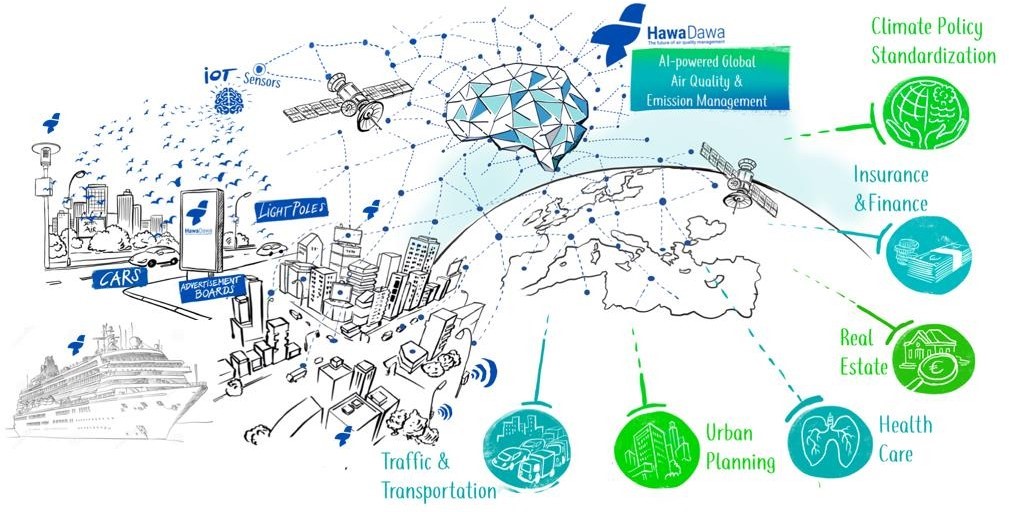 Objectives of the service
The vision of the project SAIUDMA is to push environmental data into the mainstream of decision- making, setting a new standard for robust, granular air quality management.
Our air quality management platform and APIs provide decision-makers with the air quality information needed to plan, implement and evaluate projects efficiently and sustainably. SAIUDMA includes both hardware elements; the installation of a network of our IoT-devices to comprehensively measure air quality as well as the automatic analysis and interpretation of these datasets through the use of artificial intelligence and their augmentation via the integration of earth observation, weather and traffic data.
Users and their needs
Our primary users are municipalities and their planning and traffic management departments.
Cities strive to be attractive for citizens and businesses. One element of this measure is growing in value and importance: air quality. Municipalities continue to plan buildings, roads and infrastructure to satisfy modern mobility and living needs whilst acknowledging the need to reduce emissions and
ensure citizens' exposure is as low as possible. No cost-effective and comprehensive air quality monitoring system exists however to meet this need. Current market standard devices are extremely expensive and therefore it becomes cost inhibitive to install enough devices to cover an entire city with data).
One common approach to air quality improvement is the imposition of localised traffic measures and restrictions at certain roads or zones. Due to non-availability of granular air quality data however, these 'knee-jerk' measures more often than not focus on diverting traffic from measurement stations which monitor an exceeded emissions threshhold, with no regard for their actual impact on improving air quality levels. In fact, in many cases, imposed measure lead to increased mileage and a subsequent increase in emissions and an overall deterioration in air quality.
Cities are cost-conscious when investing in new products and look also for products and services that offer actionable insights that are easy and intuitive to use, as well as new, digital business models that allow for effective expenditure and the transfer from capital to manageable, operational costs.
Service/ system concept
Hawa Dawa covers the full value chain from data collection (proprietary air quality sensors) through data processing, fusion, analysis and finally the development of innovative new data-based products to address air pollution. Its products combine satellite technology with sensor hardware, open sourced and private datasets with socio-economic and other metrics (health, mobility etc.) along with sophisticated statistical analysis, data science and modelling using machine learning and AI. All of this technology we combine to produce an intuitive, comprehensive dashboard for managing air pollution and plug and play APIs.
We offer our data and analytics via a subscription service, with a range of data bundles depending on requirement and budget. Starting with a simple Monitoring as a Service product, our customers can scale up to full AQ Management-as-a-Service where all features are covered by Hawa Dawa as service provider. We are fully modular and individual elements can be standalone.
We offer our devices and services at a fraction of the costs of current measuring systems and append to our processed, calibrated air quality data, automated insights. E.g. Our hotspot detection product allows customers to observe and monitoring recurring patterns, identify potential root causes as well as correlate occurrences and trends with weather and traffic data to enhance our initial data basis.
Our capabilities summarized:
Air quality information from various sources fused into a single-access source
High data granularity and coverage with affordable IoT devices
Ground measurements of NO2, Ozone, PM2.5, PM10, temperature and humidity.
Trend analysis and correlation reporting, providing a deeper understanding of impacting factors e.g. weather, traffic
Detection of hotspots, recurring patterns and root causes using historic information
Simulation, forecasting and evaluation of improvement measures across different application fields e.g. In the allocation of facilities and plants, district development, traffic management and healthcare and leisure
Insights into the effects of urban planning decisions on local air pollution
Data-based tools such as a plug-and-play eco-sensitive traffic management and individual routing exposure or places of interest monitoring.
Alarms and alerting tools to help monitoring thresholds, anticipate critical pollution episodes and alert those most vulnerable to upcoming or localised high pollution levels.
Evaluation and iteration of effective pollution countermeasures, delivered as 'hyper-local' or 'near real time'.
Space Added Value
First and foremost, satellite data enables us to verify the data collected via our sensors on the ground. It provides an externally validated data layer and allows for regional comparisons as well as the development of a background model for fusion with land-based sources of data on pollutant concentration. Satellite data sources, once processed, can also be used as a prediction without any local, ground-based sources involved. In addition, combining different space-based assets offers further benefit, for example, for AOD, it may be required to distinguish between airborne pollutants blown over a region a long way above ground level (possibly from non-local sources) and what can be measured at surface level. Combining optical depth data with atmospheric models (CAMS) can help resolve this issue as well as provide valuable source indicators which help distinguish between local, regional or even 'supranational' pollution.
Current Status
We are already generating revenue from customers in over 20 cities across Germany, Switzerland & the UK. We have a sophisticated dashboard and a range of features which are in the process of being designed, developed or integrated as per customer feedback or our own market experience. We have built a platform business with intuitive software interfaces and a best-in-market IoT sensor node to enable our granular analytics. The integration of satellite data provides an additional data layer and sets us up for the delivery of future geo-stationary satellite data and entry into new markets such as insurances and shipping.
We rely on an extensive partner network from across infrastructure, IT, Utility / Energy and Data Services, through whom we are able to both deploy and generate income from our sensor networks. This allows us to scale and generate new customers via a platform model as opposed to having to approach cities individually or explore deep, non-easily replicable product verticals with customers. Along with our installed networks in single cities, we manage one of the largest single, connected IoT networks of air quality sensors in Germany for a consortium of city partners focused on the outcomes of citizen engagement and wellbeing.
On the product side, our data is sector agnostic, but we build in specific features for traffic management, navigation and utility partners and have developed a pioneering eco-sensitive traffic management tool in partnership with Siemens, integrating our air quality forecasts with commuter data to help re-route traffic away from hotspot areas and reduce overall pollution at the city level. We have also developed a digital health tool for individual disease sufferers and those in the health management sector, allowing critical exposure data and profiles to be combined provide eco- sensitive routing for vulnerable groups. We are rolling this out with insurers and patient groups.
Prime Contractor(s)
Status Date
Updated: 11 March 2021
-
Created: 11 March 2021