Objectives of the service
The problem of habitats affected by invasive species is on top of the priority list of many ecologically-orientated governmental and non-governmental organisations. Since some of the species constitute a threat to human health and cause economic damage, the entities from ministerial to local levels are obliged to monitor and, if possible, to reduce the infestation level.
The main objective of the analysed service is to provide the EO-based solution allowing for detection and monitoring of habitats affected by invasive species in Poland and, in the longer run, in other Central European countries.
The service consists of two main components:
EO-based automated application for detection and monitoring of habitats affected by invasive species (esp. giant hogweed, Sosnowsky's hogweed, Asian knotweed, Czech knotweed).
Mobile application that enables a GNSS-based and easy in-situ mapping of such habitats.
Both elements are planned to be integrated in a web-based interface providing a user-friendly access to service functionalities. The service is intended to indicate areas where alien species occur, to enable the monitoring of changes in range and distribution of such areas, as well as to provide information on effectiveness of invasive species control treatments. A mobile application based on crowdsourcing will allow for a broad in-situ data acquisition and will contribute to rising awareness of the problem.
Users and their needs
Four main groups have been identified as potential users:
Environmental institutions (mostly national parks) are very interested in the service, esp. in the possibility of combining in-situ and satellite data. Experts from those entities have significant knowledge on invasive plants location and strong need to monitor changes in their ranges as well as new emergence cases;
Communes (local administration) obliged by law to monitor and remove the invasive species that are highly toxic, especially giant hogweed and Sosnowsky's hogweed;
Agricultural entities (individual farmers, producer groups, agencies etc.) who own or manage large areas of land threatened by invasive plants;
Water catchment management institutions that will be soon obliged by the legislation to provide data on invasive alien species.
The users formulated a set of consistent mandatory requirements:
to detect and monitor habitats affected by Sosnowsky's hogweed, giant hogweed, Czech knotweed and Asian knotweed;
to detect minimal ranges and changes: 1-10 m2 for hogweeds and 10 m2 for knotweeds;
to obtain data regularly, in pre-arranged time intervals;
user friendliness, especially for those users, who are not familiar with EO and GIS techniques;
to provide on-demand technical support.
User-orientated and technological analysis demonstrated the necessity of application of commercial VHR data in the proposed service, which would allow to increase the spatial resolution of offered products to the level meeting users' needs.
Service/ system concept
The service will be offered directly to both public and private users via the web-based platform, and the plan is also to build partnerships with national and international entities from the environment protection sector who can act as intermediaries.
Free EO data, such as Sentinel-2 and Landsat-8 imagery can be applied for the general monitoring of the area of interest (context of sites, current stage of vegetation season, general conditions of vegetation etc.). Although these data can be useful in detecting large stands and patches of invasive plants, their spatial resolution is below user needs.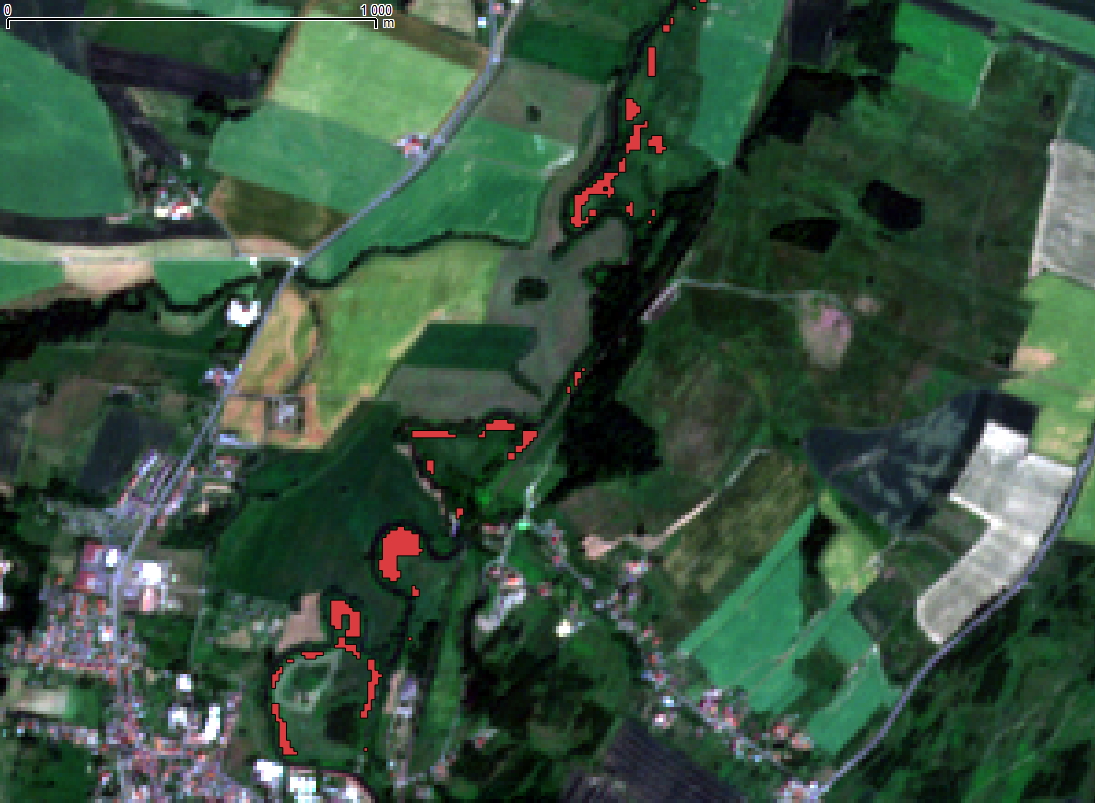 Figure 1. Results of semi-automatic (supervised) classification of areas affected by Asian knotweed on the eastern bank of the Nysa Łużycka river near Zgorzelec/Goerlitz (based on Sentinel-2 image).
The mentioned data sources will be the subject of semi-automatic operations performed by algorithms – analyses of vegetation condition, dedicated segmentation and classification of images, identification of habitats affected by invasive plants and change detection.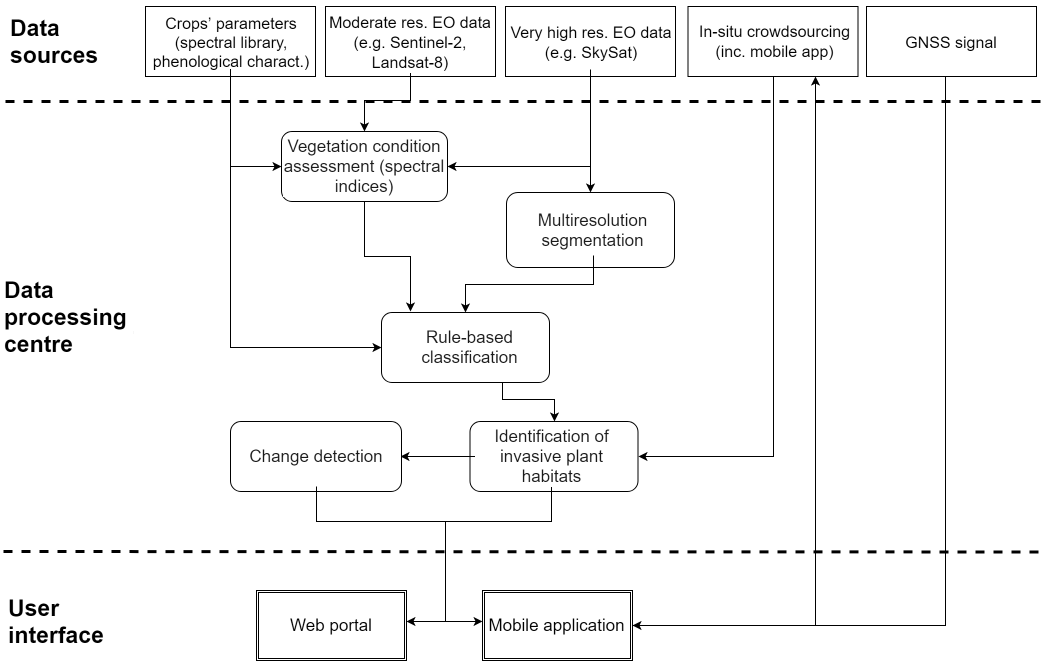 Figure 2. SAMIPS system architecture.
Space Added Value
Space assets that will contribute to the proposed service: Earth Observation and GNSS. The multispectral Earth Observation data will be applied as an input for algorithms detecting invasive alien plants' species. The developed application for smartphones will use GNSS to locate infested habitats.
Current Status
The project was launched in April 2018 and run for six months. It has reached the end of Kick-start phase.
Prime Contractor(s)
Status Date
Updated: 15 November 2018
-
Created: 15 November 2018