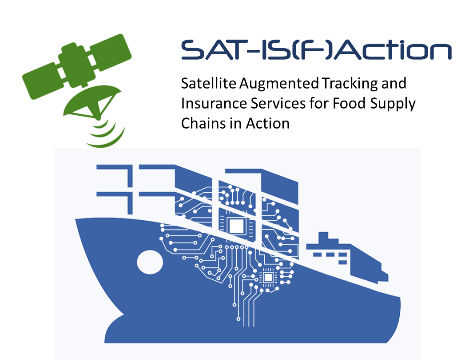 Objectives of the service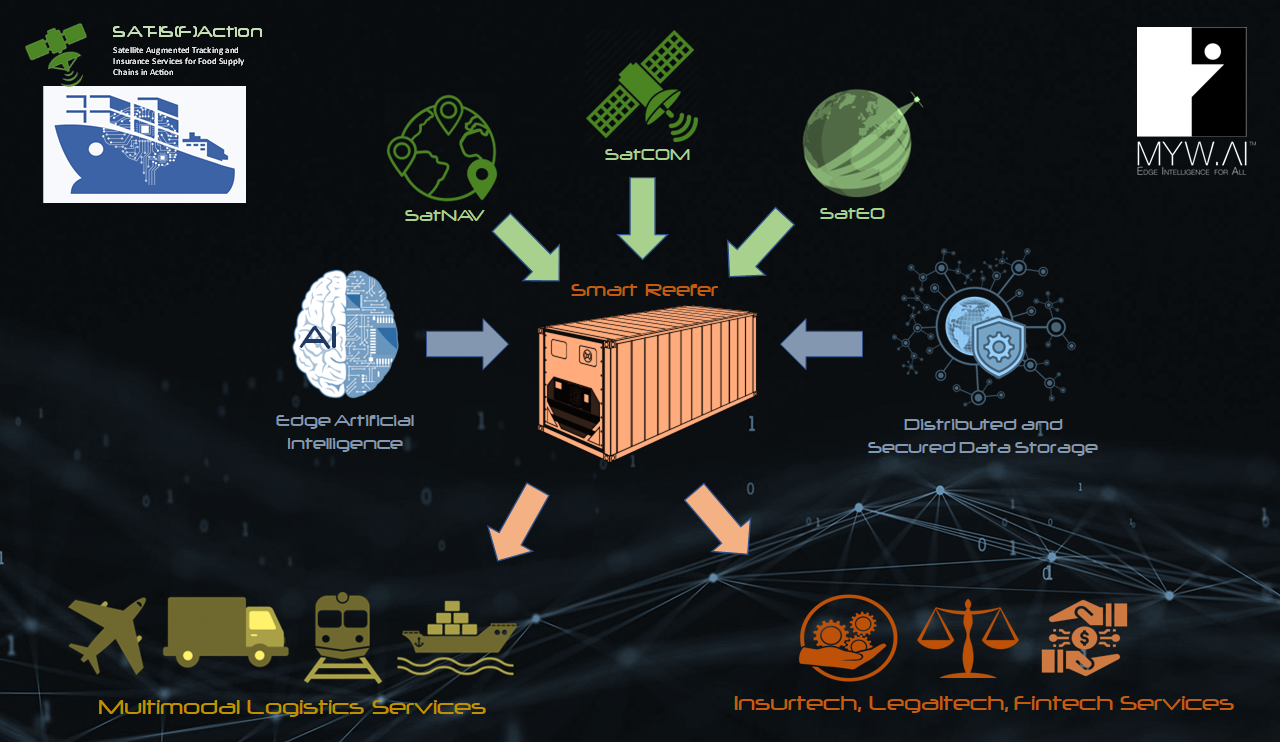 Ever since Malcolm McLean in the 1950s invented the container, the box that changed the world of supply chains, freight containers are everywhere, on the back of trucks, laid upon train convoys or stacked high on container ships. With the advent of refrigerated containers, or "reefers", food shipping has become a global business, and one of the most critical ones given that edible goods are sensitive to heat, cold and atmospheric agents exposure and must therefore be forwarded in extremely clean and well-ventilated containers according to certified procedures to preserve food safety and regulate international delivery of food & beverage products whilst preventing frauds and counterfeiting.
The SAT-IS(F)ACTION™-Satellite Augmented Tracking and Insurance Services for Food Supply Chains in Action study looked at how space technologies such as SatNAV and SatCOM as well as SatEO may be blended with new generation data intelligence and certification technologies, such as Edge AI, IoT and distributed ledger technologies (e.g. blockchain), to offer next generation Remote Container Monitoring solutions and CaaS (Containers-as-a-Service) business models improving food cargo tracking with extended services to increase overall food supply chains reliability and affordability aiming at the highest possible final customer "satisfaction".
Users and their needs
Target customers selected for the SAT-IS(F)ACTION study are Logistics Services Providers (LSPs) and Insurance Services Providers (ISPs).
Logistics can be defined as the process of coordinating and moving resources, such as equipment, food, liquids, inventory, materials, and people, from one location to the storage of the desired destination. LSPs - freight-forwarders, courier services, integrated and multimodal shipping companies - mainly aim at the efficient and effective management of daily activities concerning the transport of goods and the provision of related services as part of the supply chain management. At a high level, identified needs for this category of customers/users are:
More accurate and reliable freight/food shipments tracking.

Data intelligence services for decision support and intervention.
The ISP category of target customers is mainly represented by large (re)insurance groups, brokers, and Insurtech start-ups willing to embrace key enabling technologies to retrofit existing reefers to offer prevention, monitoring, insurance coverage, and remediation capabilities to minimise food loss, counterfeiting or fraud in international trades. At a high level, innovative products and services for this category of customers/users are:
Innovative freight/food delivery insurance services (Insurtech).

Relevant data/information collection, aggregation and certification for legal/insurance claims.
Two panels of around 30 Logistics Services Providers and around 10 Insurance Services Providers have been involved through interviews and surveys, leading to the outcomes summarised in the following figures.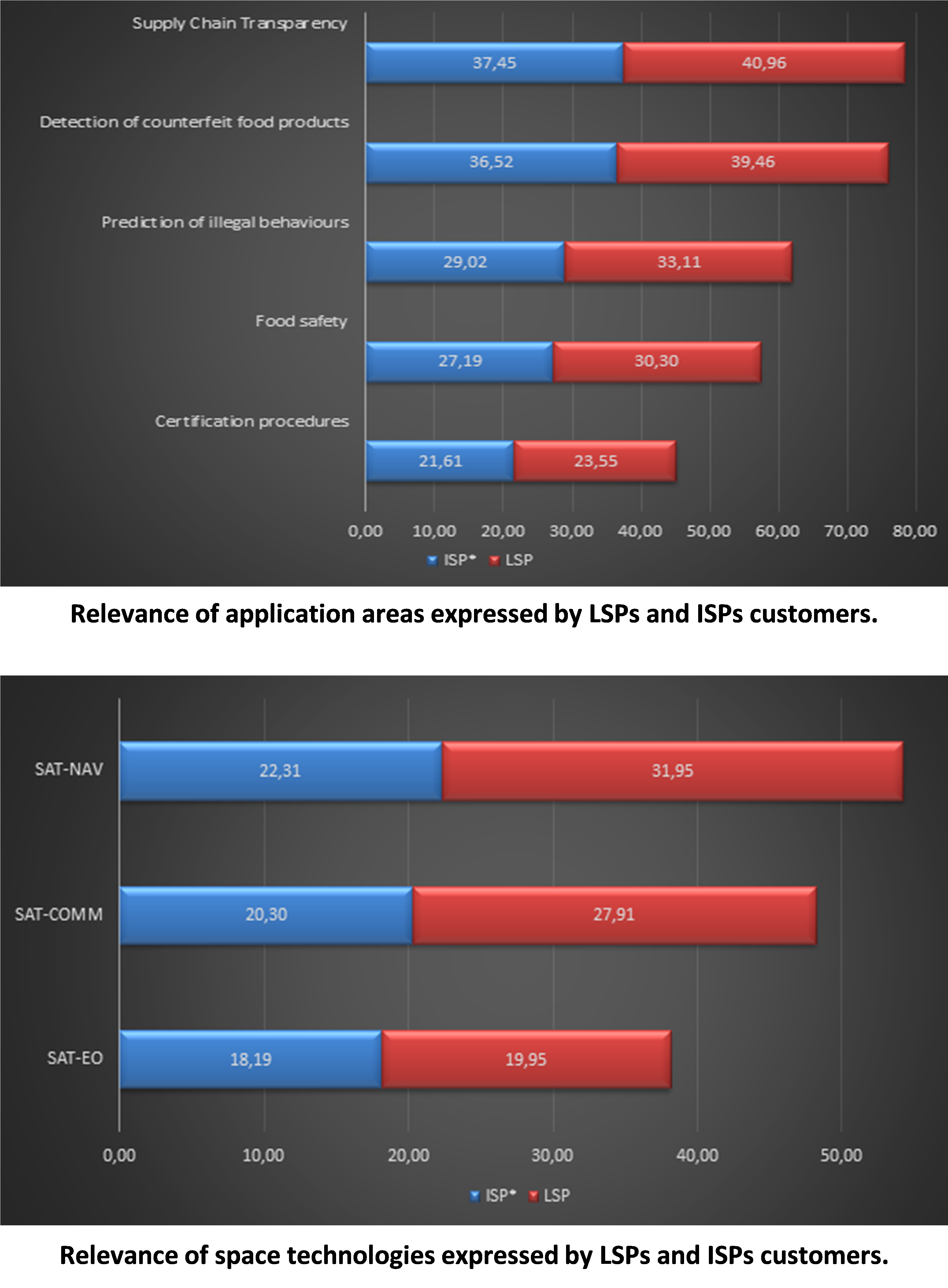 Service/ system concept
At a general level, the SAT-IS(F)ACTION system can be looked at as an Internet of Things (IoT) platform, that is an interconnected system of physical devices embedded with software, sensors and value adding space technologies to streamline information across a complex networking infrastructure. Such an integrated heterogeneous IoT network have exceptional data collection, analysis, reporting, and prediction behaviour for supporting the development and deployment of innovative Equipment and Infrastructure as a Service (EIaaS) features as foreseen for the SAT-IS(F)ACTION solution.
The expected commercial offer driven by the SAT-IS(F)ACTION solution includes four innovative services exploiting edge AI for the real-time analysis of heterogeneous data, blockchain-like immutable certification of information and space technologies:
Intelligent Equipment Anomaly Detection Service (ADS):

Ensuring that customers get high-quality goods safely and on time.

Prevent unsafe temperature fluctuations for the shipment of perishable items.

Save money by reducing the total number of rejected deliveries.

Intelligent Theft Alerting Service (TAS):

Continuous monitoring of food shipments.

Real-time Incoterms compliancy and alignment.

Decreased lost shipments due to illegal events.

Insurance Scene Reporting Service (SRS):

Assess the claim context of damaged or lost properties.

Enrich the situational and contextual awareness of a specific unexpected event.

Insurance companies' performance optimization, delivery of a better customer experience.

Insurance Data Certification Service (DCS)

Secure and certified management of information.

Flexibility, transparency, and improved insurer-customer relationships.

Easier and cost/time effective claims management.
Space Added Value
Each of the intended SAT-IS(F)ACTION services will benefit from the added value brought by new generation space technologies:
Intelligent Equipment Anomaly Detection Service (ADS): SatNAV and SatCOM functionalities are key for the ADS service to offer precise positioning of faulty reefers once severe anomalies are detected by the Edge AI functionality of the SAT-IS(F)ACTION solution and need to be immediately communicated to remote technical support service providers.

Intelligent Theft Alerting Service (TAS): the accurate location detection and just in time alarming options offered by SatNAV and SatCOM solutions are even more crucial for the TAS Service once freight owners and authorities will have to locate where fraudulent behaviours take place (e.g. door openings and/or dangerous on-board movements, unplanned rerouting, etc.). If duly communicated on time, police forces and control authorities may intervene either on board or at the destination harbour, to avoid cargo stealing, counterfeiting or fraud.

Insurance Scene Reporting Service (SRS) and Insurance Data Certification Service (DCS): combining and aggregating information from multiple information sources is key for the insurance policy underwriting, claiming management and certification services offered by SRS and DCS to ISP providers. SatEO imagery helps reporting weather conditions, environmental hazards and logistical layout of places and locations where events have happened with a precision and reliability unmet by any verbal description and self-taken picture.
Current Status
The SAT-IS(F)ACTION feasibility study has offered the opportunity to deepen key aspects and open issues concerning the multimodal transport market of refrigerated containers and related to the potential of the SAT-IS(F)ACTION solution, its business prospects, the life cycle of the product and the most suitable strategies for its promotion and marketing, also highlighting how the Agency's investment in this study has represented an essential incentive to concretely think to the development and engineering of a solution with a level of technological maturity such as to hypothesize a go to market in a short time.
The user-centered methodological model adopted for the feasibility study has involved selected customers and other actors of the targeted SAT-IS(F)ACTION ecosystem (i.e., IoT/EIaaS solutions developers and providers, space technologies suppliers, logistic providers, container manufacturers, Fintech/Insurtech services suppliers, etc.) in the conceptual definition, technical feasibility assessment and commercial viability analysis in a short time of a new integrated solution for the intelligent tracking of reefers showing high potentialities and unique points of strengths. Starting from the outcomes of the feasibility study, foreseen activities are the development of a demonstrator for further assessment by users/customers and the implementation of an effective and sound go-to-market strategy.
Prime Contractor(s)
Subcontractor(s)
Status Date
Updated: 22 September 2022
-
Created: 08 July 2021