Objectives of the service
Battery arrays are difficult to set up, use and service. Existing standards call for regular maintenance and accepting a limit on lifespan and service dependability.
The BAMS uses advanced energy management controller technology to offer clients better access, control and utility of stored power. As more of the world goes 'off grid', the effective management of automated storage controllers depends on world-wide comms access and effective user interface to ensure stored energy is used efficiently.
Users and their needs
Off-grid facilities require the use of battery storage. The BAMS introduces new levels of user interface, allowing power to be used as required to ensure best use of this resource.
From time-shift storage to dedicated line coverage, clients and users can choose when and how to use power. Secure remote access gives users / clients real-time data on this vital system and ensures that any problem that may occur can be logged, flagged and acted upon without risking security of supply.
Service/ system concept
Battery arrays require constant monitoring and servicing 3-4 times p.a.
The BAMS allows customers to depend upon remote storage, with fully autonomous operation and inspection required once every 12-18 months.
Clients can switch between uses, direct storage towards serving one dedicated use (heating/lighting/system monitoring) or changing storage profile to suit weather / usage patterns. Real time access and control reduces the cost and liability associated with powering remote off-grid systems while improving battery lifespan, throughput and economy.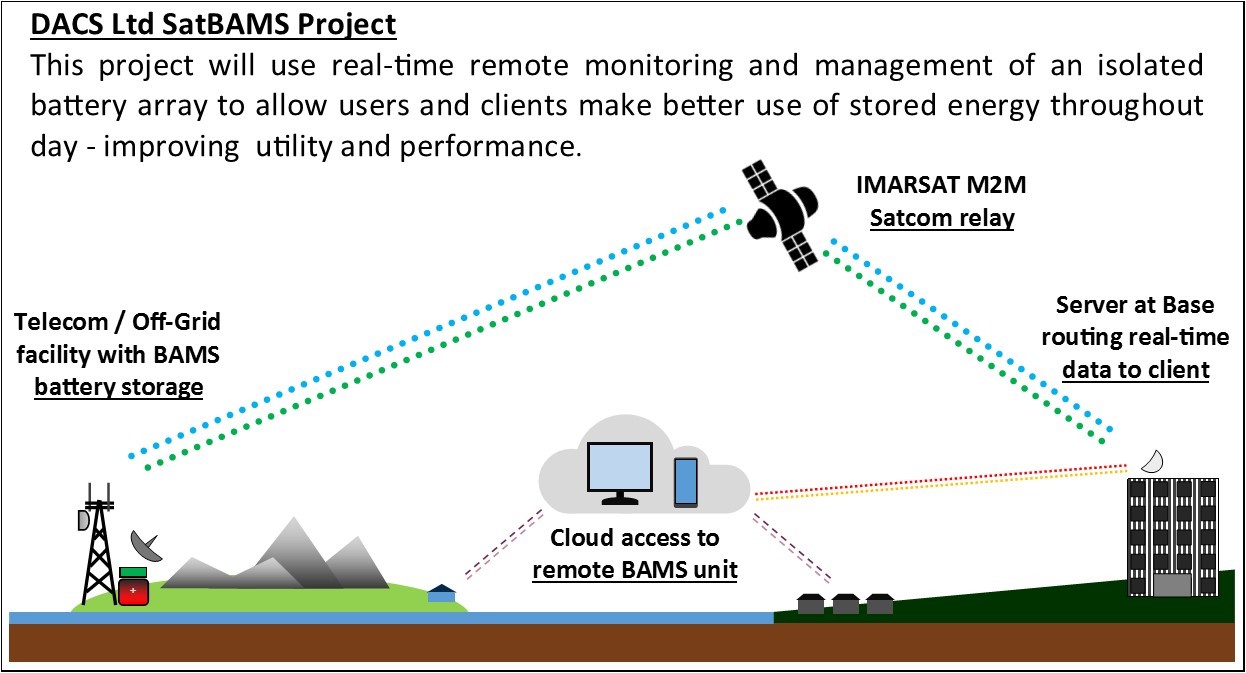 Space Added Value
Where remote sites need reliable power, Diesel Generators are preferred as they require less servicing than battery arrays. The BAMS uses real-time remote monitoring and control of battery arrays to enhance security of supply and removing on-site servicing or maintenance.
Real-time (M2M) package communication protocol allows for Autonomous operation of remote assets with full performance metrics. Satcom provides key enabling of this service for African / Asian / South American markets where the Telecom Relay and Off-Grid market are most developed.
In developing remote smart / island grid solutions, networkable storage systems via satcom allows for full utility and access to distributed storage reserves.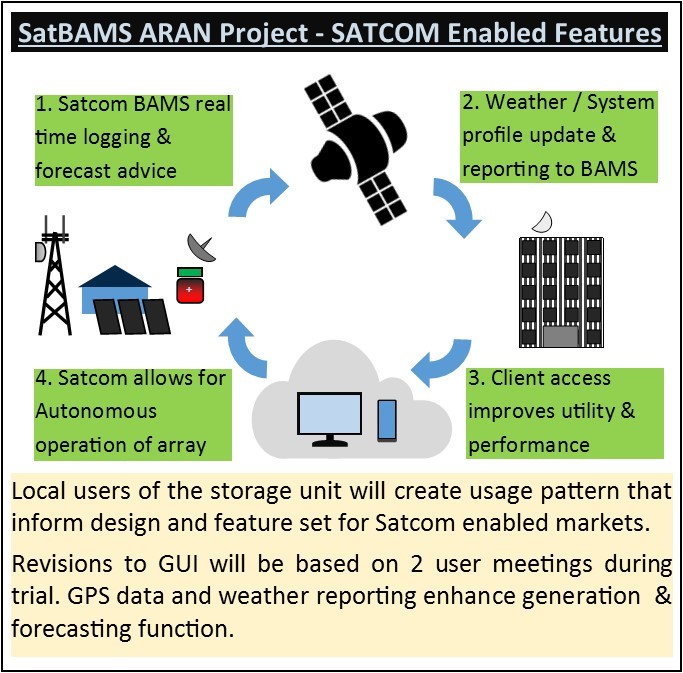 Current Status
The SatBAMS project was successfully concluded on the 21 Feb 2018, with the final review that was held at ESTEC, Noordwijk. The service was successful in both storing Solar PV and delivering power to the building in use. The added value of space through the satcom element was fundamental at being able to remotely control and switch components securely and safely.
Prime Contractor(s)
Status Date
Updated: 21 February 2018
-
Created: 29 November 2016