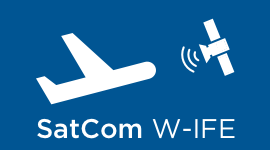 Objectives of the service
The integration of Viasat Ireland's (formerly Arconics) Wireless In-flight Entertainment product into Viasat's in-flight connectivity platform and the development of additional functionality of the combined system, is to increase the downstream revenue of satcom in the global in-flight connectivity market which is expected to grow to $1.3 billion by 2022, according to a strategic review by Euroconsult. This ESA-supported activity is to provide innovations to Viasat Ireland's software to operate over broadband satellite networks rather than solely in the terrestrial 3G/4G systems. Euroconsult's research shows that the in-flight entertainment market is growing alongside the in-flight connectivity market, with the airlines benefiting from new solutions that increase passenger satisfaction, reduce costs and provide more ancillary revenue opportunities. Additional to an improved service offering for Viasat's in-flight connectivity customers, the commercialised service of this activity is to provide a new route to market for Viasat Ireland's in-flight entertainment software.
Current Status
The project has been concluded with a final review held March 2018.
The key project objectives were successfully delivered and the satellite capability within the Viasat test environments demonstrated to potential clients. The successful demonstrations led to the airlines proceeding with the overall IFE/IFC projects, and currently these are in the process of being rolled out to live operational aircraft.
As of March 2018, Viasat have secured airline commitments for the deployment of the software to over 500 aircraft.
Viasat service is now live with major North American and Australian airlines. In recent weeks Viasat agreed new commercial terms with another well-known North American airline.
Prime Contractor(s)
Subcontractor(s)
Status Date
Updated: 03 April 2018
-
Created: 23 January 2017