Objectives of the service
With ARTES 3-4 Satcom Applications projects SatFinAfrica (https://artes-apps.esa.int/projects/satfinafrica) and SatSoHoAfrica (https://artes.esa.int/projects/satsohoafrica), SatADSL has already successfully launched several services (other are about to be demonstrated before being launched) in Africa dedicated to small to medium size companies or small sites of larger companies. The service platform of these two projects is based on the Sat3Play technology of Newtec and on the ASTRA2Connect platform of SES, which were originally tailored to the consumer market, and which have been successfully customized to offer an efficient and flexible solution for contended traffic and low to medium data rate in the return channel (from the remote terminals to the hub station).
With SatCorpAfrica SatADSL extends its portfolio of services towards the market segment of "Professional Corporate Network" (also called Wide-Area-Network or "WAN") with a set of attractive and flexible service offers. Targeted customers of WAN services are large and medium size enterprises operating in Africa in different business sectors, such as Oil&Gas, Construction and Media Broadcasting (e.g. local Business TV and local radio). These enterprises operate with Headquarters (HQ) in big cities and multiple subsidiary sites located in smaller cities.
Thanks to the new services of SatCorpAfrica, end users have access to more cost effective technology with dedicated bandwidth at an affordable price and higher speeds in the Return link. They also have access to Value-Added Services (VAS) related to the supervision of service quality and content management. They have the opportunity to have access to flexible tailor-made service/solutions that will meet both their requirements and budget. African Distributors will increase their sales volumes and market share by targeting a wider range of end users with a wider range of requirements. They will have the opportunity to offer this wide range of service with a single service platform.
The overall market of large and medium size enterprises in Sub-Saharan Africa requiring WAN services is estimated at about 400,000 corporate network sites. The addressable market of SatCorpAfrica is defined as the number of sites outside big cities not yet connected by other professional VSAT service providers, which is estimated to be in the order of about 20% of the overall market, i.e. 80,000 sites.
SatADSL suffers of the strong competitive pressure from traditional satellite services providers such as Skyvison, Liquid Telecom, Sonema etc. By developing Value-Added and Dedicated services SatADSL is in the position to offer a wide range of services at the most competitive price. Dedicated services cannot be offered at competitive price with the present Sat3Play Hub. To be competitive the use of high efficiency SCPC/Mx-DMA access technology is required.
Users and their needs
To attract new users while differentiating from growing competition, SatADSL strategy is to:
1. Develop and offer VALUE-ADDED-SERVICES (VAS). Such VAS are indispensable to monitor service quality and to maintain customer loyalty, especially in the context of the African market where churn is frequent.
2. Work with different access schemes (MF-TDMA, Single Channel Per Carrier – SCPC, Demand Assigned Multiple Access – DAMA, Mx-DMA) allowing the provision of services with different data rates and optimized to the usage and application run by the end user.
3. Provide enterprises (e.g. in the Oil&Gaz sector) with high resolution video content upload services for limited period of time (e.g. for videoconferencing applications). Such customers want to pay just for the time they use the connection. This is also the case for media companies who need to upload media content at the occasion of a peculiar event (e.g. Satellite News Gathering).
Large subsidiary sites of companies are usually requiring a DEDICATED (Leased Lines) service to connect their HQ. SatADSL strategy is to offer such dedicated services with high efficiency at the most competitive price both CAPEX and OPEX and as a "one-stop-shop" solution allowing corporate customers to find a solution for both small and larger sites with the same satellite network, the same monitoring and management tools with one invoice.
Another targeted sector is the Media Broadcasting sector. In particular regarding the media broadcasting companies, the typical use case consists in sharing local production carried out at one subsidiary site and upload it to the HQ for multicast to a network of multiple subsidiary sites in charge of broadcast to the final audience via analog or digital transmitters (e.g. TV and Radio towers). The figure below is illustrating the positioning of the new developments. SatADSL is presently is a position to target money transfer companies and ATM (Automated Teller Machine) operators (thanks to SatFinAfrica) and the SoHo (Small Office - Home Office) market (SatSoHoAfrica). Thanks to the new offering of dedicated services SatADSL is in a position to target new market segments towards the Higher End market: LARGE and MEDIUM-SIZED African enterprises sites.
Sub-Saharan Africa.
Service/ system concept
Present platform architecture allows SatADSL to manage its own IP traffic. It consists of 2 main building blocks:
- the CMT (Customer Management Tool)
- the NMS (Network Management System)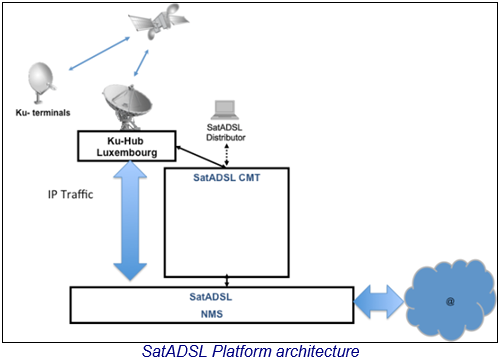 The Customer Management Tool (CMT) was developed in the frame of the SatFinAfrica project and allows SatADSL and African Distributors to manage and monitor their terminals and networks. It allows the African Distributors to get the list of their terminals, to check the connection parameters and gather information for 1st level technical assistance to end-users. It also allows several management functions like management of terminal life cycle (activation, de-activation, change of service package, etc.). The CMT is extended to support the new VAS developed in the frame of the project. The Carrier Grade NMS allows the service operator to create new classes of service packages and new value-added-services that cannot be otherwise offered by the Sat3Play platform. Thanks to the NMS the service operator can define, configure and enforce – without the intervention of the Hub operator – the Service Profiles to be offered to the end-customers, including FW and RT max, Real Time and High Priority data rates and volumes thresholds. The NMS has to be extended to support the new VAS developed in the frame of the project.
Space Added Value
Satcom is simply essential in order to:
- Serve remote sites not connected to fibre
- To provide on-demand high speed return channels (up to 2 Mbit/s) with guaranteed Quality of Service (QoS)
- To provide multicast for both video and audio
The following picture illustrates the overall architecture that will be developed and deployed to support the services to be offered by SatADSL to their customers. Elements marked in red will be specifically added for the purposes of the activity and will be either developed and deployed for supporting the new services in the frame of this proposal or procured and configured (Dialog Hub).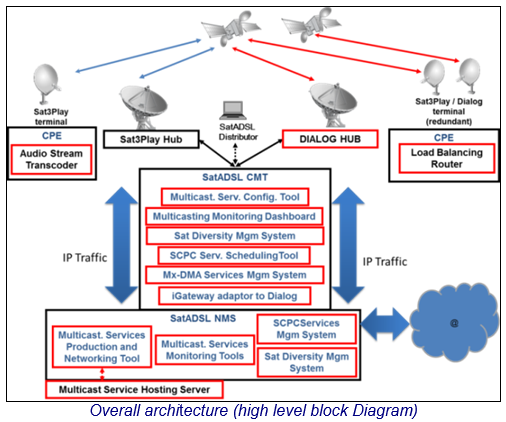 Current Status
The Final Review meeting of the original project activities took successfully place on 15th December 2016, pending the completion of some minor actions. All the pilot stages of the Radio Broadcasting service, of the Monitoring service, of the Satellite diversity service and of the On-Demand Services have been completed with excellent customers' feedbacks leading already to important commercial subscriptions. These results have been achieved thanks to the excellent collaboration among all the involved industrial partners.

A new set of activities, formalised through a CCN, were kicked-off in April 2017 with the aim to add features in the SatCorpAfrica Service Delivery Platform (SDP) of SatSADL in order to support multi-vendor terminals, and to optimise their corporate services by:
- Interfacing i-Direct HUBs
- support on-line payments and automatized billings
- allow private networking within a closed user group with private IP address and proxy for Internet access.

These CCN activities have been concluded in March 2018 with excellent pilot results. Thanks to the new multi-technologies capabilities SatADSL became more visible on the market. As a consequence multiple commercial partnership activities have started with various Teleport and Hub operators.
The SDP platform enhancement had extremely positive results, putting SatADSL in a unique position on the market. New traffic management feature are very much appreciated by SatADSL customers that are now in the position to make the best possible usage of their satellite connections. Hundreds of vouchers (volume and unlimited) are presently purchased every month on SatADSL platform and the number is regularly increasing.
Prime Contractor(s)
Subcontractor(s)
Status Date
Updated: 15 March 2018
-
Created: 20 April 2015