Objectives of the service
The wine industry is a very conservative sector, slow at adopting technological innovation both in production and commercialisation. Even though investing in wine is not a new thing, the wine industry is still quite opaque and reticent in releasing details: for example, it is not known how many bottles for a specific wine are available. Saturnalia is targeting both consumers and businesses. On the consumer side, wine industry is watched by enthusiasts and collectors, always looking to know more and grow their expertise. Saturnalia addresses the fine wine sector and provides unique insights that are not normally accessible in the wine industry. Saturnalia specifically offers:
Detailed vintage reports completed with full meteorological analyses, quality insights and detection of potential issues.
Monthly price predictions for the most frequently traded fine wines, providing investors and wine merchants with a competitive advantage in the market.
2D and 3D maps of vineyards highlighting their orography (altitude, slope, surrounding area), letting wine enthusiasts get a sense of the area where their favourite wines are produced.
Early scores (only for Bordeaux wines so far): quality scores of the next Bordeaux vintage are estimated immediately after the harvest and long before official tasting results, setting at the same time a benchmark also for the previously-released vintages.
Users and their needs
Saturnalia is addressing several needs from different segments:
Wine collectors and geeks are always eager to know more, to always gather additional information on their wines of interest and have easy access to these unique insights.
Wine merchants and investors do want to distinguish themselves from their competitors by offering something new to their clients. Saturnalia not only offers dynamic 2D and 3D maps to show the vineyards, but they can also leverage the pricing and quality predictive models to improve their returns.
Wine producers have to rely on accurate weather data in order to make decisions on countermeasures for diseases; Saturnalia can also offer them a way to improve their communication by embracing transparency.
Wine consortia want to promote their territory by leveraging new and immersive technologies; 3D maps can be a part of it
Service/ system concept
The Saturnalia platform is intended to offer our customers a single access point to all the available datasets. Users have access to:
Weather data on the specific location; this data is retrieved by several satellite missions (NASA Global Precipitation Measurement, Copernicus Land Surface Temperature and Copernicus Surface Soil Moisture)
Satellite-derived information, the main item being the outcome of our analysis at the end of the growing season. This is feasible thanks to a combination of Sentinel-2 and Landsat data named Harmonised Landsat Sentinel (HLS)
Actual prices on the secondary market obtained through the Liv-Ex license in addition to predictions based on our in-house model.
Access to the platform is granted to our private customers and to companies. Businesses can also access most of the data via API and to easily integrate it in their platforms and material.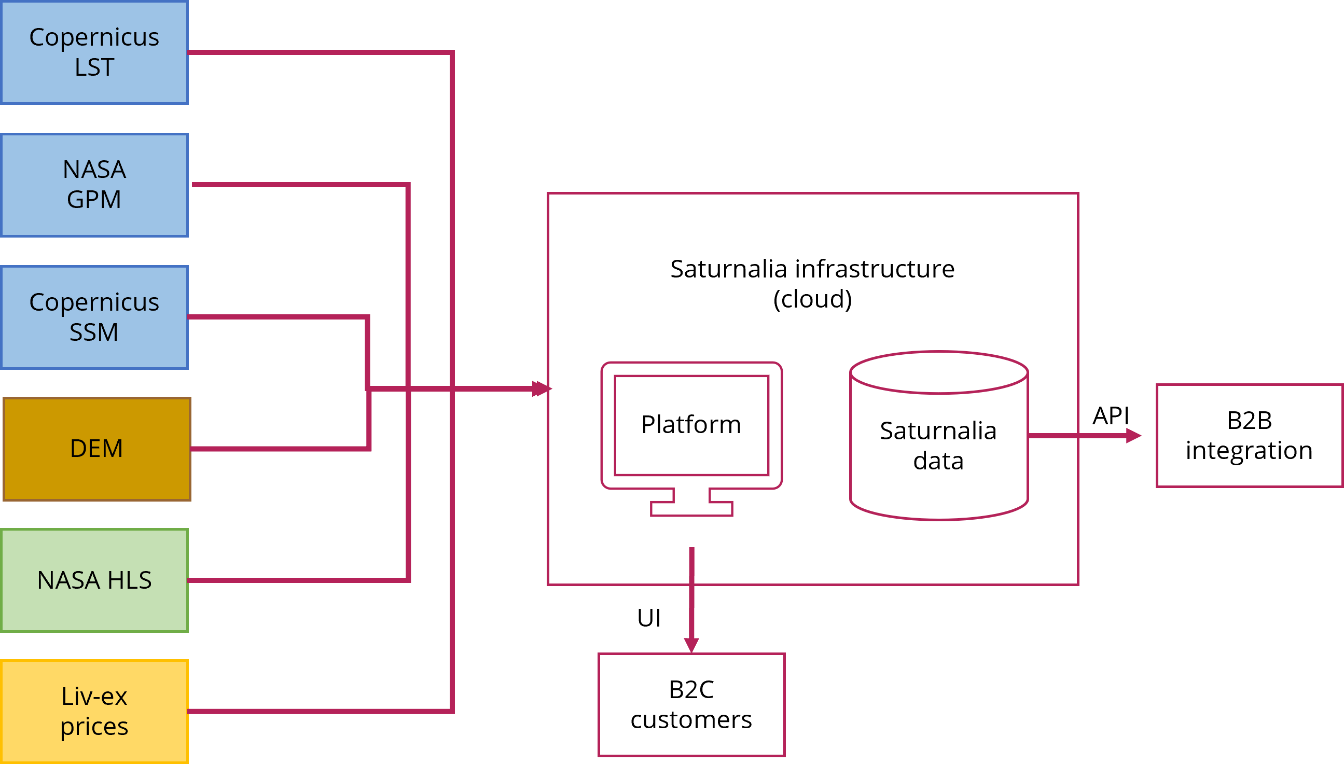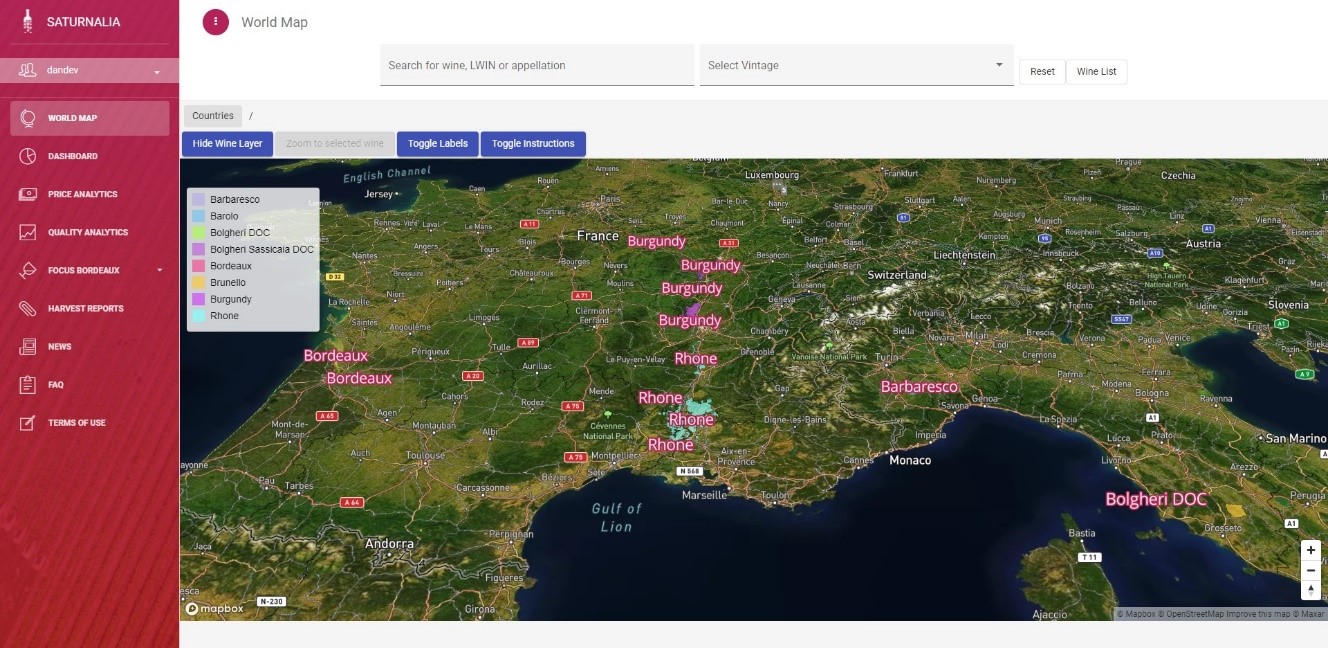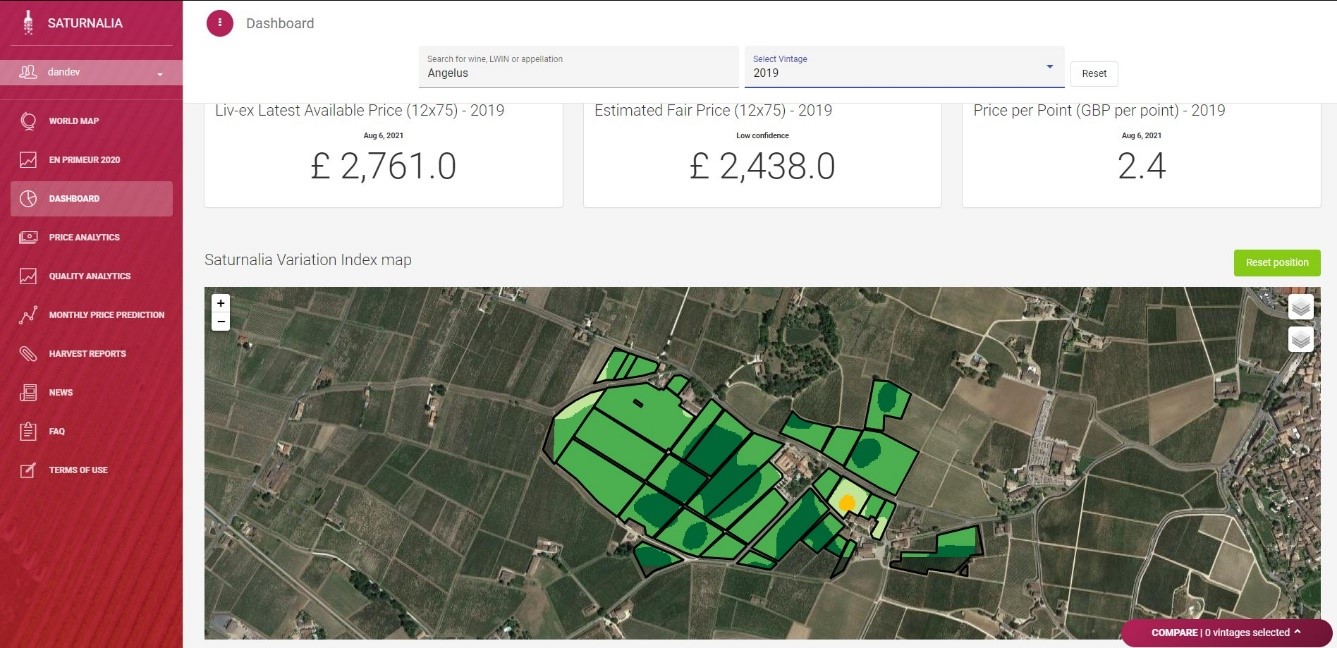 Space Added Value
Our proposed approach is an advanced combination of Earth Observation data and meteorological data. Both data sources are relied upon for an automated combination of measures impacting on quality indicators such as vine vigour, precipitation, and temperatures over the growing season. Whereas precipitation and temperatures characterize an entire area, EO data can provide a much more spatially detailed component of the input to the grape and wine quality models.
Satellite data is obtained for free through the Copernicus' Sentinels with their open-access policy, especially Sentinel-2. The refresh frequency of spaceborne data is critical because phenological phase transitions are to be determined precisely for the model to operate correctly on other inputs. We have indeed built our system on HLS data (https://hls.gsfc.nasa.gov/), a transformed product based on Sentinel-2 and Landsat-8 data created by NASA; the aim is to seamlessly combine them and further increase the temporal revisit. Space assets are also a reliable and readily available source of weather data: this is a great advantage because there is no need to establish partnerships with local weather data providers and/or to look for data providers in each country we work on.
Current Status
The platform is currently operational, with data on more than 370 wines. From the first phase of the project, we have learnt that wine lovers and wine geeks are seeking more transparency, more objectivity and in general more data. We are building a service that offers all these things in a single platform. Businesses are moving online, and it is becoming increasingly important for them to distinguish themselves from their competitors and to offer their customers the best experience. Moreover, wine producers and consortia are nowadays realizing that communication in the wine world is quite flat, and thus see an opportunity to stand out in the market: inspirational 3D maps (see an example below) and transparency will be key to converting customers.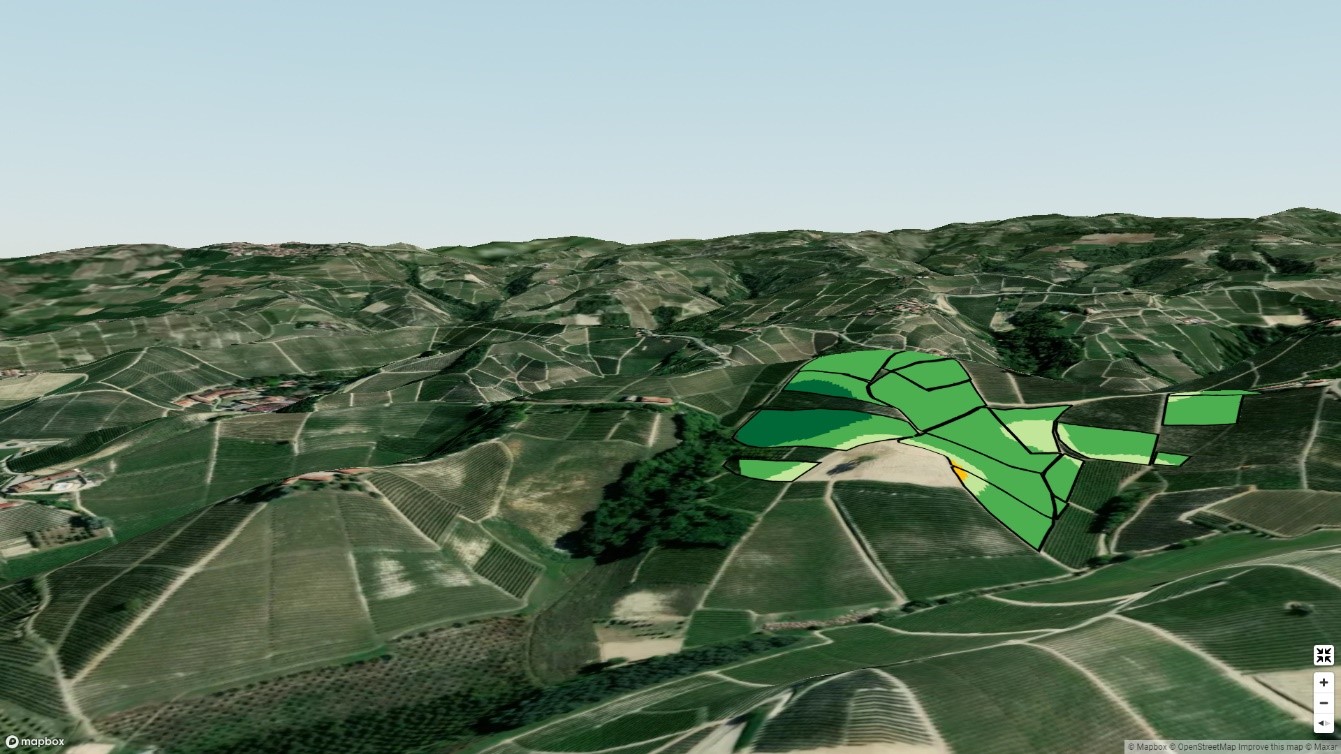 From the original idea of assessing wine quality from space we have managed to reach several milestones such as scores predictions, detailed vintage reports, price predictions, a web platform to access all the data and integration for businesses.
At the same time, we are also working shoulder-to-shoulder with producers in the Oltrepò hills thanks to our partnership with Terre d'Oltrepò, a local consortium of vine-growers and vinemakers.
Prime Contractor(s)
Subcontractor(s)
Status Date
Updated: 15 September 2021
-
Created: 26 May 2020