Objectives of the service
The mining, production and supply of high-value metals such as copper, is a crucial element of the global economy. Up-to-date and accurate information on mining activity, levels of production, and the processing of these vital metals is a critical input into effective monitoring and decision-making for traders, market analysts and investors. Given the global nature of the mining industry and the myriad of strategic locations, from mines to ports to processing plants, geospatial technology is increasingly playing an important role in decision-support.
SAVANT, by Earth-i, monitors the world's most important copper smelting plants, to supply more accurate and timely data to the commodity markets for copper traders, market analysts and fund managers. Using machine learning and AI to analyse this data Earth-I has developed and launched the SAVANT Global Copper Smelting Index. Using Earth Observation data, collected and analysed on a weekly basis, the Index delivers insights into fluctuations and disruptions in the supply of copper from the world's smelting plants, the closest point of supply to the world's commodity markets. The SAVANT Global Copper Smelting Index is available through a partnership with Marex Spectron, the world leading broker of financial instruments and information services in the commodities sector and energy markets.
Users and their needs
Commodity traders want to receive regular insights on production levels to guide their trading activities, particularly for regions of the world where information is not readily available or timely, and not specifically tailored to analyst's needs. Traders and analysts want to improve their understanding of the correlation between market price movements and the physical production and movements of commodities in the world's supply chains. They want information that is easy to access and integrate into their systems and have confidence in the reliability and accuracy of the data and insights supplied.
SAVANT is an analytics and insights service on the metals industry, focusing initially on production of copper cathodes in smelters, with the potential to extend the service to other metals over time. In addition to the monitoring of smelter locations, the service will monitor and measure the extraction of ore from open-cast mines, on request by customers, and will ultimately be extended to monitor the whole supply chain including transport from extraction sites to smelters and refineries. Earth-i will perform data analytics based on satellite and complementary data sources to provide the service, using in-house staff, to enable commodity traders and market analysts to:
Receive regular, timely and unique insights into the mining sector
Monitor up to 90% of smelter capacity across the world
Evaluate the impact of events such as shutdowns, upgrades and industrial action on smelters
Monitor productivity of the world's top copper mines as optional additional insights
Gain a competitive advantage in the trading markets
A 2012 study published in the Harvard Business Review, found that companies using big data analytics can improve productivity and profit gains by 5%-6% over their competitors. As many important mines and smelters are in remote or inaccessible locations of the world, and scarcity of information poses a challenge to analysts, satellite technology can be the one of the few options available to gain critical insights to support decision-making.
Service/ system concept
The Advantage from Space
The main problem with most publicly accessible data is that it is neither timely nor reliable. Data published online is based upon data made available by smelter operators, or – more often – by independent analysts who monitor contract values for smelting of copper concentrate. This data can be reliable in sophisticated markets, but in developing markets – notably China, which has become the most important global market for copper – data is unreliable, irregular or sometimes simply not available. To react to changing market conditions, it is essential to have accurate information in much faster timescales.
Using satellite data, machine learning and AI, SAVANT generates forecasts and predictions of production levels at individual mines, as well as monitors up to 90% of the world's copper smelter activity. It is this timeliness, targetability and accuracy that gives space-derived services a real edge over the current range of information tools and solutions.
Earth-i performs data analytics based on satellite imagery, and complementary data sources, to provide assessments on the output of raw materials being extracted and processed across the world's supply chain for copper.
Capturing regular satellite imagery of the majority of the world's smelters enables SAVANT to deliver critical insights into up to 90% of the world's copper smelting activity in the form of a Global Copper Smelting Index using advanced machine learning and AI techniques.
Using innovative volumetric assessment techniques based on the analysis of very high-resolution images and video from space, Earth-i can also add further insights through monitoring heap volumes or mine activity, such as movements of trucks and conveyors and the loading of trains and ships. This is available to clients as an optional service tailored to their specific areas of interest.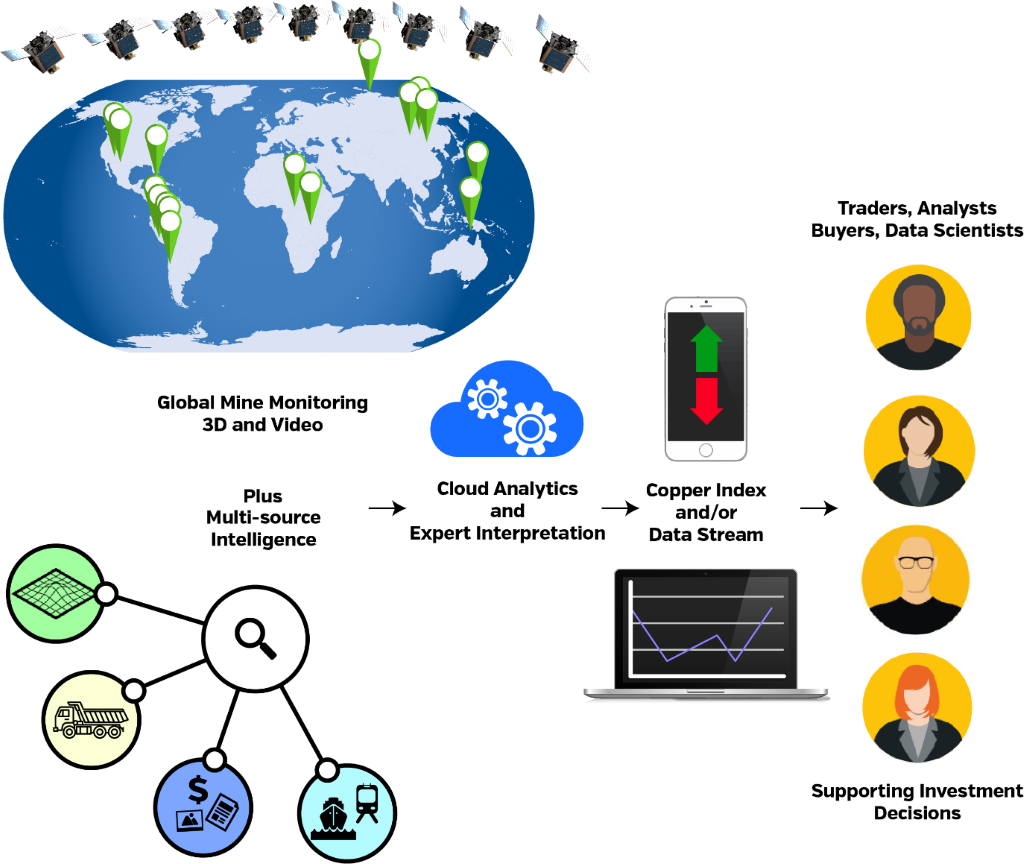 Space Added Value
SAVANT uses Earth Observation data from space, in addition to other data sources, to conduct advanced analytics and deliver insights to traders. By utilising a range of Earth Observation satellites to collect data from across the world and advanced analytics, it will be possible to assess activity levels at individual smelters and mines within hours from acquisition of relevant satellite imagery, and subsequently to generate forecast and predictions of production levels. This space-based advantage delivers unprecedented timeliness and targetability that gives SAVANT indices a real edge over traditional sources of data and information services.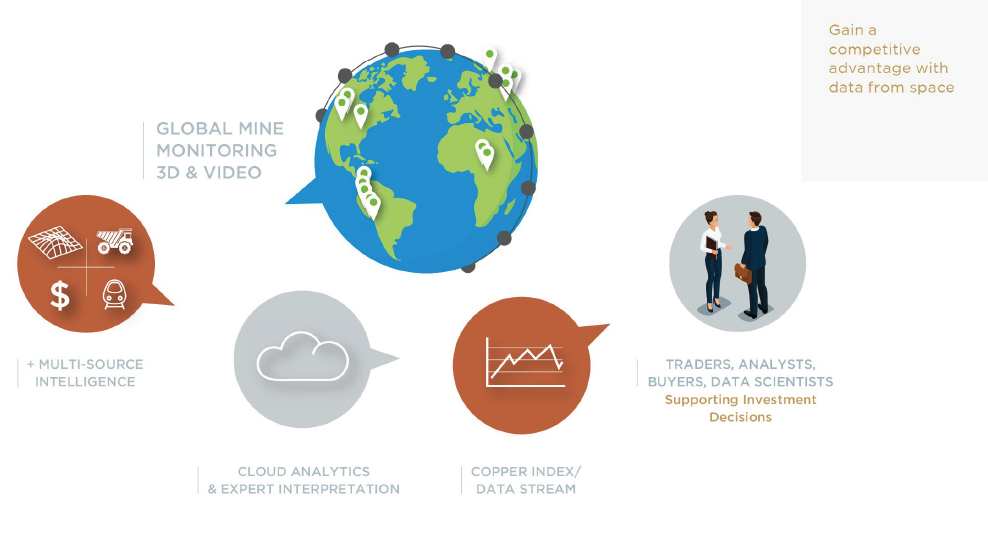 Current Status
The Global Copper Smelting Index has been successfully tested and evaluated by an extensive and engaged pilot group of end-users accessing the service through the SAVANT portal.
Following customer feedback from the pilot group, the service through the SAVANT portal has been further refined and a portfolio of subscription products developed to meet the various needs of different customer segments, identified during the trial. This has enabled delivery of more in-depth analytics and insights to the users, a flexible product structure offering different levels of data access and insights at a range of price points. In addition to the SAVANT portal user experience has received positive feedback from active users.
The SAVANT Global Copper Smelting Index is now a live service in the SAVANT portal, and will be launched in partnership with Marex Spectron – a world leading broker of financial instruments and information services to the industry – at during a series of events at the London Metals Week on 28 October – 1 November 2019. This week of launch marketing activity, and further ongoing marketing support to identify and recruit early-adopter subscribers will support the initial commercialisation of the product.
Prime Contractor(s)
Status Date
Updated: 06 November 2019
-
Created: 26 September 2018