Objectives of the service
The project activities of SeaSearch cover the development of an added value service designed for maritime surveillance offering recognition of suspect activity based on mobile phone detection and identification of suspect vessels using AIS and EO imaging, mainly SAR.
Two space assets, namely satellite navigation and satellite imaging, are contributing to this service. SeaSearch combines satellite surveillance systems (AIS and imaging), ground AIS and radar data in order to provide a real-time maritime situation awareness picture (SAP). Such a picture can help to detect smuggling activities, to improve safety and security of marine traffic worldwide and to Search and Rescue operations. The impact of SeaSearch can be a game changer in maritime security and safety, providing detection capabilities for small vessels that cannot be detected by other sensors.
SeaSearch significantly improves the national situation awareness picture especially with detection and identification capabilities of small vessels.
Key capabilities of SeaSearch includes:
Detection of small boats outside of the radar coverage
Detection of small boats with large number of passengers
Detection of "new" passenger on board
Support tracking of small vessels
Users and their needs
Detection of small vessels is currently a main gap in the creation of the Maritime Situation Awareness Picture.
SeaSearch brings a new innovative approach in order to enhance the existing picture and to improve dramatically the detection, location and identification capabilities with relation to small vessels.
The aim of the SeaSearch service is to generate a situational awareness of activities at sea, impacting mainly on:
- Maritime safety and security,
- Border control,
- General law enforcement,
Targeted end-users world-wide, mainly beyond Europe, are:
- Coast Guards,
- Navies,
- Public authorities dealing with smuggling,
- Port authorities.
Any country with a maritime coastline
Service/ system concept
SeaSearch combines satellite surveillance systems (AIS and imaging), ground AIS and radar data in order to provide a real-time maritime situation awareness picture (SAP)
SeaSearch correlates mobile phone location data collected by sensors on shore and at sea, together with data retrieved from with EO satellite imagery or video (HRC and MRC on-board the ISS). The system architecture is capable to extend the service to any type of EO data as well as for other sensors type. The service is based on cloud infrastructure providing system with high availability and very flexible scalability capacities.
The first processing step is tracking, i.e. finding the movement patterns of a specific device, based on DFRC propriety tracker designed to track vessels using a small number of measurements. A mobile phone tracker is tracking and analysis data collected by the passive mobile sensors.
Next, Association Analysis is responsible for the association between multiple phones in order to identify multiple mobile phones co-located on the same vessels.
Following the association of the tracks with data received from SAT-AIS is performed, associating mobile phone tracks with known vessels, mainly large vessels detected using SAT-AIS.
SeaSearch Inconsistency and Pattern Analysis component, a rule-based process, searches for inconsistencies and for special patterns within the unified situation pictures.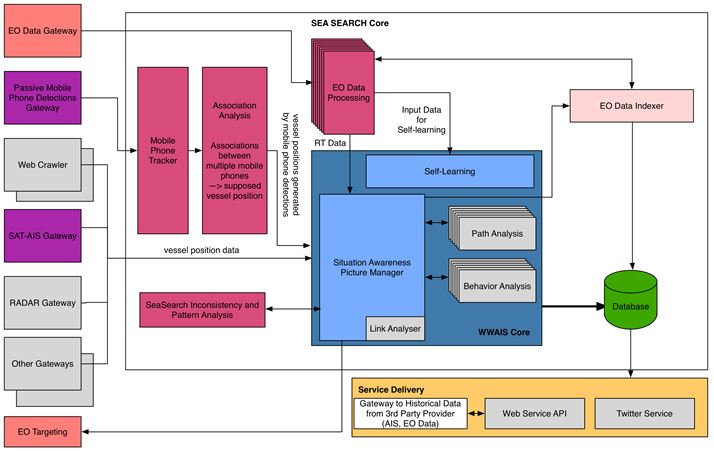 Space Added Value
As the mobile phone detectors are able to detect and locate far behind the range of terrestrial sensors, space assets are required in order to help and perform vessel identification. SeaSearch is using SAT-AIS as well as EO sensors: optical and SAR EO imagery, space-based real-time video such as URTHECAST's Medium Resolution Camera (MRC) and High Resolution (HRC) streaming video platform from the International Space Station (ISS) for this purpose.
Current Status
The feasibility study SeaSearch has been accomplished. This includes the following activities:
- User needs, use cases and user requirements have been identified.
- Based on the state of art analysis, gaps have been identified and highlighted the additionally required developments.
- The new service SeaSearch incl. its service value chain and system architecture has been defined.
- In a proof-of-concept / prototype, essential system components of SeaSearch have been successfully evaluated according to their technical feasibility in several experiments in Greece (Rhodos, Karpathos, Crete) and in the Celtic Sea. The Hellenic coast guard, the Irish Navy and the Irish coast guard have supported these experiments.
- After a market analysis, a business model for SeaSearch has been established and viability (economic and non-economic) has been successfully assessed.
- Finally, DFRC has started preparing a project outline proposal for a demonstration project and plans to submit it by end of 2015.
Moveover, SeaSearch has been presented at the following events:
8.5.2014: Geospatial World Forum in Geneva, Switzerland
19.- 20.5.2014: European Maritime Day in Bremen, Germany
15.10.2014: PERSEUS: 2nd Dissemination Event for the Eastern Campaign in Piraeus, Greece
14-16.04.2015: INTERPOL World; Singapore
11.06.2015: General Staff School of the Swiss Armed Forces College in Kriens, Switzerland
Prime Contractor(s)
Subcontractor(s)
Status Date
Updated: 26 January 2016
-
Created: 01 October 2014