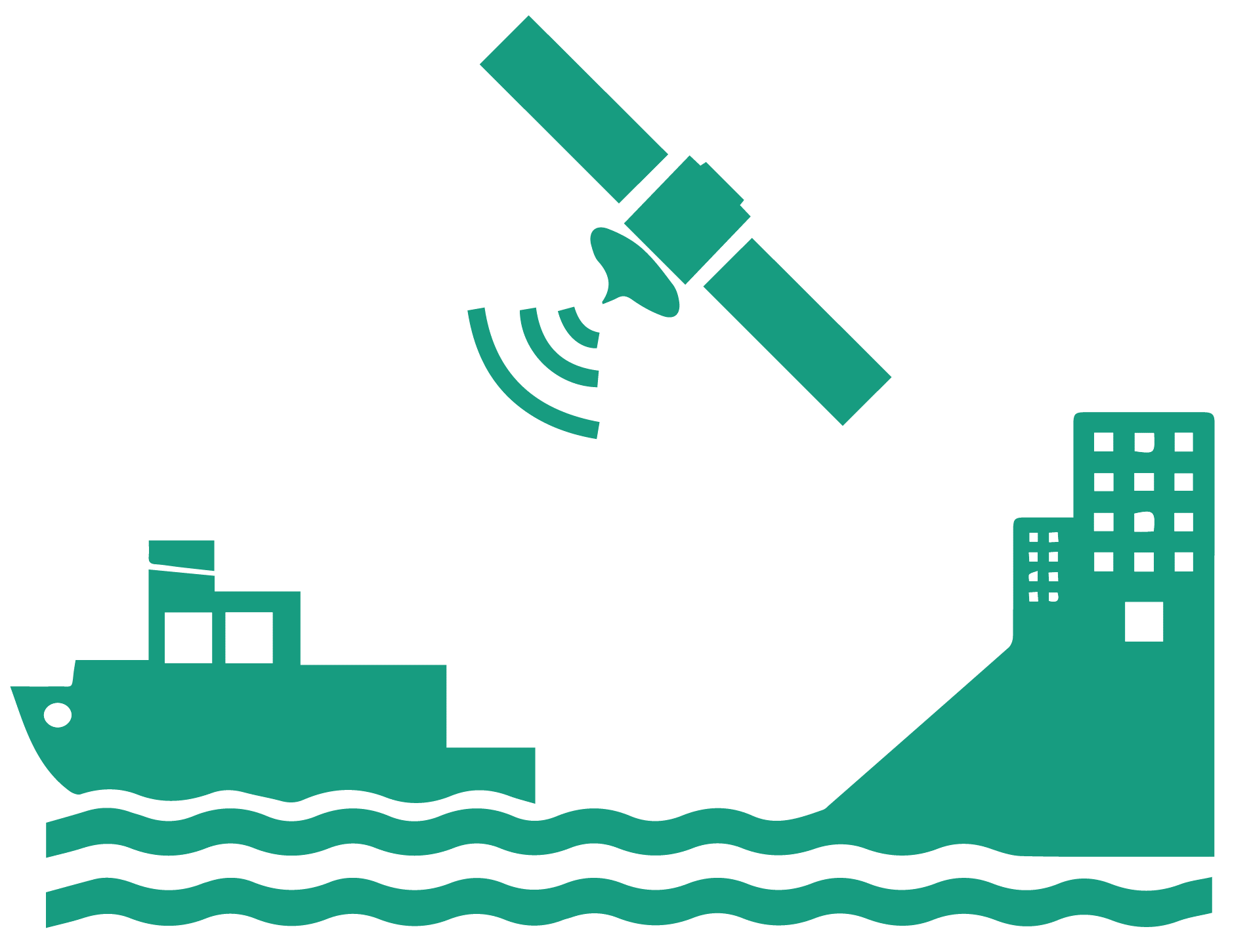 Objectives of the service
A closer connectivity between ship and shore will increasingly shape the maritime industry over the coming years. Unfortunately, the current infrastructure for maintaining the information, navigation and identification services reaches its maximum capacity. Especially in high density areas the world wide used Automatic Identification System (AIS) are more and more often overloaded. This results in a limited usability of information and navigation systems in both high density areas and open water. To preserve a steady and fast communication between ship and shore a high frequency data exchange system (VDES) with global connection is needed and shall be implemented in the years to come.
Aiming at that as the objective, this project analyses the potential application of space assets to enable the SENSE service concept. Via the enormous scope of space assets, the next generation of maritime navigation and communication systems will be empowered due to additional information made available as well as complementary functions and services offered. In the long run, SENSE will also be enabler for multiple optimization and business opportunities for existing and emerging manufacturers and suppliers in the maritime transport market.
Users and their needs
SENSE is based on the VHF data exchange system (VDES) technology and provides therefore communication and information services from ship-to-ship, shore-to-ship and ship-to-shore. It also aims to optimize maritime transport and logistics. Due to that, the main stakeholders are:
Service Providers
Logistics Providers
Public Administrations
Shipping Companies
Ships
whose main needs for a data exchange system can be summarised as the following:
Easy-to-use services which require a minimum of personnel training and interaction
High Reliability with high service availability and low maintenance effort
Close to real-time data exchange which enables immediate interaction
The main needs are in general to improve the safety and reliability of the logistics processes.
To effectively meet these needs, the following main operational challenges haven been identified:
Due to a small data transmission capacity only small text messages are transferable between ship and satellite
Regarding the VDES regulatory AIS data has always a higher priority than SENSE. This causes a slower connection for SENSE data
Furthermore, there are multiple regulatory barriers, i.e. personal data protection
SENSE underlies no special regional restrictions. The project focuses on a global applicability.
Service/ system concept
SENSE with the world perception model at its heart gathers and broadcasts data from various sources, which are currently not integrated. Through sharing and reconciliation of data by actors within a certain sea area, ships, shipping companies and further stakeholders are enabled to develop a collective world perception model. This will compensate for faulty sensor readings and provides validated information to all parties involved. Hereby, the model represents a common ground for e.g. shore-based navigational support functions and collaborative route optimization or assistance during distress at sea.
SENSE aggregates ship-board data into messages and sends it to the corresponding receiving entity ashore. It consists of a standard message as well as of a number of specific messages relating to a certain domain of ship operation. Overall, data has been clustered into eight exemplary messages. These message types are:
Navigation: e.g. Position, Ship Identifier, Heading, Propeller RPM
Environment: e.g. Wind speed, Air temperature, Visibility Range
Traffic: e.g. Ship Name, Course and Speed over ground, Bearing
Engine room and propulsion: e.g. Main engine parameters
Crew: e.g. Name, Ranks, Number of crew
Cargo, Ballast and Bunker: e.g. Cargo characteristics, Bunker tank level
Motion and Stability: e.g. Trim, Heel, List
Reporting: e.g. Departure / Destination port, Call sign, Estimated Arrival Time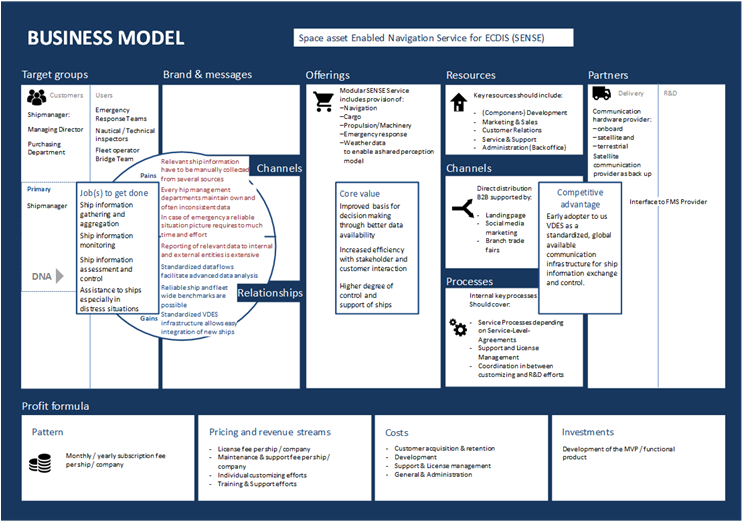 Space Added Value
To create space added value this project uses satellite navigation and communication as its key factors, which are fundamental for the success of SENSE. Due to the space assets it will become possible to:
relieve the VDE-TER coastal systems from big amounts of data, especially in high density areas
build up the VDE-SAT data exchange system, which allows two-way communication system with high-sea areas and global one-way information spreading
For this, low earth orbit (LEO) satellites with an altitude of 600km will be part of the infrastructure of the VDES system on which SENSE is based
Current Status
The Feasibility Study started in September 2017 and was completed in April 2018. A follow-up Demonstration Project has been put on hold at this point as first and foremost the allocation of frequency band spectrum by WRC for VDES-SAT and directly related thereto the availability of prototype VDES on-board equipment for tests and further investigations is a necessary prerequisite for a next step.
Prime Contractor(s)
Status Date
Updated: 17 June 2018
-
Created: 16 November 2017