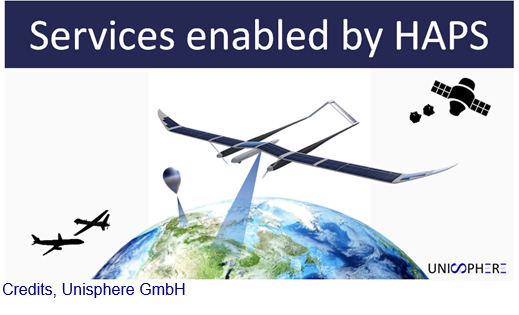 Objectives of the service
A number of High Altitude Pseudo Satellite platforms (HAPS) operating in the stratosphere at above 20km altitude have reached a level of maturity which indicates first operational services in near future.
HAPS combine nearly unlimited endurance with high temporal and spatial resolution. They are a new platform which complements existing services such as satellites, terrestrial infrastructure, conventional aircraft and drones. A successful market entry for HAPS depends on the identification of early technically and economically sustainable business cases.
Three major HAPS applications have been studied:
Broadband Telecommunication
Communication Relay for RPAS
Maritime and Border Surveillance
As well as the necessity of Flight Management for HAPS.
HISPASAT, Rohde & Schwarz and the Federal Institute of Hydrology Germany (BfG) are partnering with UNISPHERE. The European Maritime Safety Agency (EMSA), EU SatCen and Frontex are supporting the study as external stakeholders.
Users and their needs
Broadband telecommunication applications require highly focused beams for high speed internet in urban areas to complement services from GEO satellites. Main requirements are:
Accurate platform station keeping capability
High service availability
Payload flexibility and ability to relocate the service
Clear cost structure
The operational capabilities of RPAS flying beyond radio line of sight to the ground station will greatly benefit from a HAPS loitering as communication relay above the area of interest. Due to the high altitude of about 20km, the HAPS can re-establish a radio link between the RPAS and terrestrial infrastructure.
Main requirements are:
Low propagation delay, broad coverage, broadcast and broadband capability
Flight endurance of several months for uninterrupted service
Ability to relocate the service
Simple and incremental deployment
Initial HAPS operations for border surveillance would take place above pre-frontier areas and country coastlines of European countries and littoral states to the Mediterranean Sea. Main requirements are:
Reduced delay from ordering information to delivery
Fulfillment of image requirements and real-time data provisioning
Flight endurance of several months for uninterrupted service
Cost advantage with respect to other already available systems
All three applications also share the requirements for certification of the HAPS and transparent and traceable CAPEX and OPEX.
Service/ system concept
Today, several manufacturers work on HAPS platforms and numerous customers have payload or/and observation requirements. This constellation is typical for space applications – a satellite is built, launched into orbit, tested and then handed to the operator who provides service for decades.
In difference, observation and communication services provided by conventional planes include an airplane operator, crew, a maintenance organization for the aircraft and payload and customers.
Even in the stratosphere, a HAPS is subject to meteorological conditions. Fleets of HAPS have several takeoffs and landings every day which must consider surface weather, air traffic management but also with payload exchanges, pre- and post-flight inspections, maintenance, and release to flight processes. Consequently, the operation of a HAPS is closer to a conventional plane than a satellite. In addition, multiple customers for the three studied HAPS applications raised the request for "HAPS as a Service" (HaaS).
The analyzed service and system concept focused on the tasks and challenges for automated flight management over the entire life cycle of a HAPS. Furthermore a CAPEX/OPEX estimation was performed.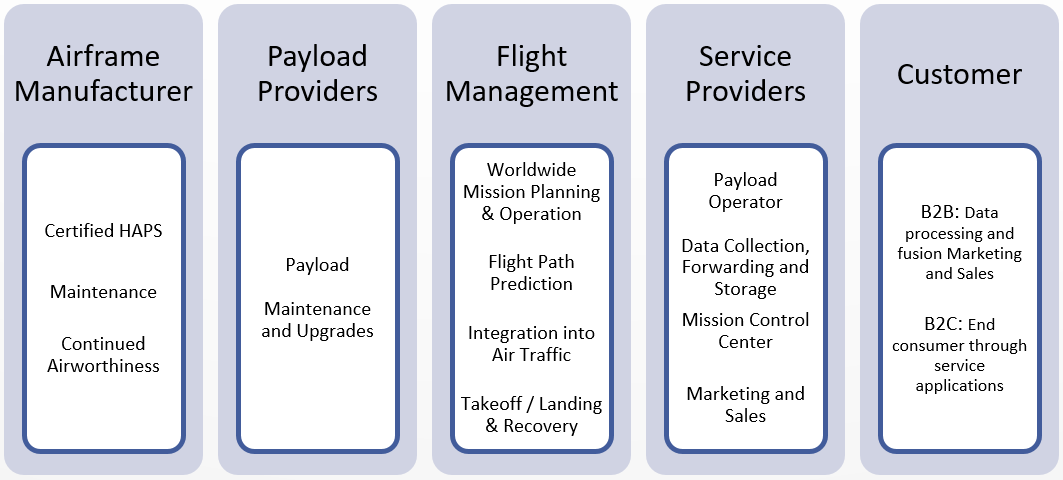 Service Value Chain of HAPS Services - Credits, Unisphere GmbH
Space Added Value
Worldwide HAPS operations depend on satellite navigation and satellite communications. Airframe and payload must withstand harsh environmental conditions for prolonged time at low weight while consuming minimal power. These requirements are similar to the space industry and the technological expertise obtained in the development of satellites and their payloads cross-fertilize the engineering of HAPS.
Controlling a complex platform and operating a payload for prolonged time is a core capability of the space industry. The procedures established and lessons learnt in the satellite control centres are of tremendous value for HAPS operations and support the fast entry into service of HAPS constellations.
HAPS services benefit from multiple space assets such as:
Satellite Navigation
Satellite Communication
Lightweight Structures
Standard Operating Procedures for Mission Control Center
Current Status
The feasibility has been completed in summer 2019. A follow-up demonstration project is pending.
Prime Contractor(s)
Status Date
Updated: 02 September 2019
-
Created: 26 December 2018