Objectives of the service
The SHOW application supported by EGNSS covers two key areas, namely: "Independent living" and "Social, leisure and education". Although retired seniors have time resources and could become active supporters. Also seniors may not to be involved in active living because they feel insecure in the constantly changing urban environment, in the lack of easily accessible means of transport.
Technology-supported personal assistance with integration of EGNSS encourages them to start their new endeavour, to reach a new destination and to engage in activities helping other people. It also increases seniors' self-confidence and enjoying life by increasing social contacts. This is crucial for maintaining mental health and has also great influence on their body health. Additionally, the possibility of helping others creates opportunity to earn money to expand seniors' limited retirement budgets what is a one of the goal of the SHOW service. The SHOW application also provides easy access to information on healthcare and rehabilitation centres, cultural and sport events as well as facilitates the organisation of groups. Except for organized care and events, seniors are enabled to communicate with each other and create informal groups to spend time together. Through the SHOW application, they would be able to communicate in a more appealing manner than through already existing social media. What is more, SHOW application also facilitates the connection between seniors willing to help with people looking for temporary paid help, e.g. to watch over children and pets, to prepare food, etc.
Users and their needs
The first user group targeted by SHOW are seniors who want to lead an active life and are familiar with in using technical equipment. The application is dedicated to elderly people who want to make new experience and have the desire and ability to provider their help to others. The targeted senior group are retired seniors between 55 and 65 year old who want to make use of their free time in an advantageous way, e.g. by devoting more time to help others.
The second user group are people in need. For this target group no age range is defined, but the users are persons which have specific needs that seniors could satisfy, such as:
emergency care for a pre-school / school child
regular care for a pre-school / school child
shopping
dealing with bureaucratic/formal matters
preparing meals
shared walks
joint participation in cultural and entertainment events
house and garden maintenance
organized visits to the doctor
The third user group are entrepreneurs interested to reach the seniors as a "selling target". The application provides information on places "friendly for seniors", such as doctors, pharmacies, shops, cafes, and restaurants. This group of users includes entities that welcome seniors and advertise their businesses or locations as "friendly places/products for seniors".
The SHOW application is targeting the seniors' community in the beginning on a local market (north-eastern Poland), with the intention to expand to country level and eventually to European level.
Service/ system concept
The SHOW system is composed of a three layer architecture:
user interface layer - presentation tier - the tier in which users interact with the system;
middle layer - interface layer and data layer that communicate with each other;
data layer - place where user and system data are stored.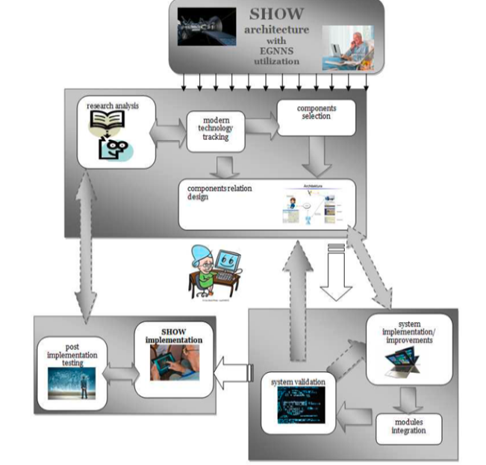 The SHOW system contains different types of communication modules:
User Interface - remote service (for seniors and people in need group of users) - communication is achieved by using AIDL;
Remote service - middleware (for seniors and people in need group of users) - communication is achieved by using REST (Representational state transfer);
Web browser - middleware (entrepreneurs and administrator of system) - Communication is achieved by using ordinary HTTP data migration and AJAX (Asynchronous JavaScript and XML);
Middleware - database - Communication is achieved by using HTTP data migration and direct access to data files.
Space Added Value
The SHOW application is relying on the integration and utilisation of EGNSS as space asset. On one side, it allows to determine the destination of a person requesting help, on the other side, it supports the person willing to provide help through advise on the optimum travel route to the destination, thereby providing information on possible means of transport, arrival time and environmental conditions.
Additionally, user-defined "helpdesks" depict the connections between user's location on the route and other destinations (e.g. shops, medical care sites and clinics, pharmacies, playgrounds, toilets, sports facilities, etc.) and indicate the most comfortable access to selected facilities and places (e.g. pedestrian walks, pedestrian crossings with traffic lights and low curbs, pathways away from busy roads and streets).
Accurate location enables:
Geolocation of people in the area where SHOW is operational;
Definition of a senior's activity area by adding his range parameter;
Possibility to remember the user's Points of Interest for later uses;
Increased positioning accuracy (especially altitude) obtained by the raw measurement observation to assess the traveller's health parameters;
Tracking the progress of the senior's journey to his destination (taking into account the average speed) with the triggered warning if checkpoints are not reached in the expected time;
Safeguarding a senior by providing location information to family and friends;
Location as an authorization attribute in line with an assessment of "service/product friendliness" for seniors;
Personalized advertisement related to the current position of the seniors and related to their individual interests.
Current Status
The SHOW Kick-start Study has been carried out from December 2017 until July 2018. Market analyses was made on local (city) level and the potential for a sustainable business case was identified.
Prime Contractor(s)
Status Date
Updated: 19 December 2019
-
Created: 19 December 2019