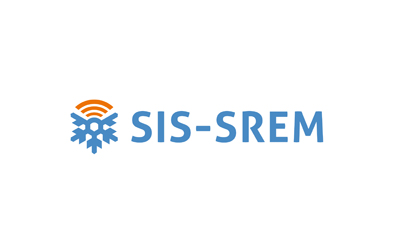 Objectives of the service
SIS-SREM stays for Safety and Information Systems for Ski Resorts in Emerging Markets. The design of a scalable modular service for Ski resort operators and creating a fun tool for their clients on the slopes are the objectives of this project. The study team focuses its efforts on central European and eastern European markets which have demonstrated stabile growth over the past 5 years and still have a good potential in this respect.
Together with the investigation and assessment of technical solution, the team is designing a sustainable business model which will allow the resort operators to serve their clients and fully utilise the income potential outdoor resorts.
Users and their needs
The service is designed to be of benefit for:
1) Ski resort Planners/Developers
2) Ski resort operators
3) Search and Rescue Teams
4) Professional and amateur skiers and snowboarders
And other users could also benefit from the services are:
5) Ski and snowboard schools/ski guide associations/ski clubs
6) Local authorities
7) Ski Sport Events Organisers
8) Tourist office operators
9) Avalanche Centres
Czech Ski Association, Association of lift operators and F.I.A.N.E.T, Ski resorts in CZ operated by Tatry Mountain Resorts TMR - which is the largest investment company in Ski resorts business in central Europe - are the first users and stakeholders which have been approached and are actively involved in the study.
Service/ system concept
The system concept is based on two services have been identified for two different user groups:
Mountain Rescue Team Management (MRTM) service for professional rescue organisations in coordination with Ambulance, Police, Fire Brigade or Army. In case of accidents, the service allows the coordination among the different bodies and helps the localization of the injured person.
Outdoor Infotainment service for ski resort operators and skiers. The service consists of: a) providing ski resorts with traditional advertising means (such as billboard, gondola, ski lift) and b) providing skiers with digital media information such as waiting time at the ski lift, weather information, live web-camera sponsored by brand operators. Skiers will have the possibility to access wifi through VSAT station installed in the ski resort area.
The outdoor infotainment service will be provided by an Out of Home Media Agency which will operate as mediator between the brand provider and the ski resort operator, according to the following picture: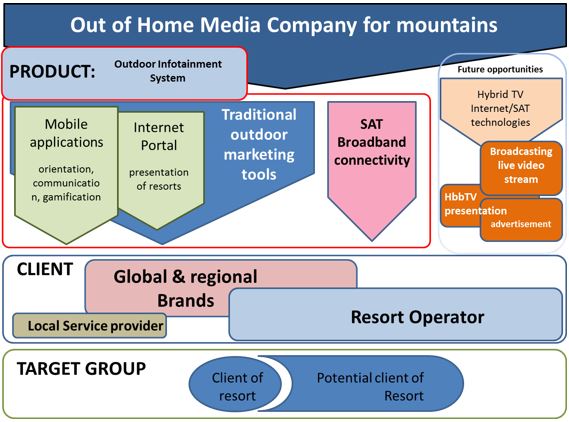 Space Added Value
The system combines GNSS based features and services with remote sensing or UAV imagery which enhance the resolution of the services. Satellite communication is considered as an alternative used by professional teams in remote areas.
Current Status
The Feasibility Study concluded in March 2015. Currently the project team is engaging with additional partners in the Eastern European countries to set-up a consortium for the follow-on demonstration project. Also discussions with venture capital partners are underway.
Prime Contractor(s)
Subcontractor(s)
Status Date
Updated: 03 June 2015
-
Created: 15 February 2014