Objectives of the service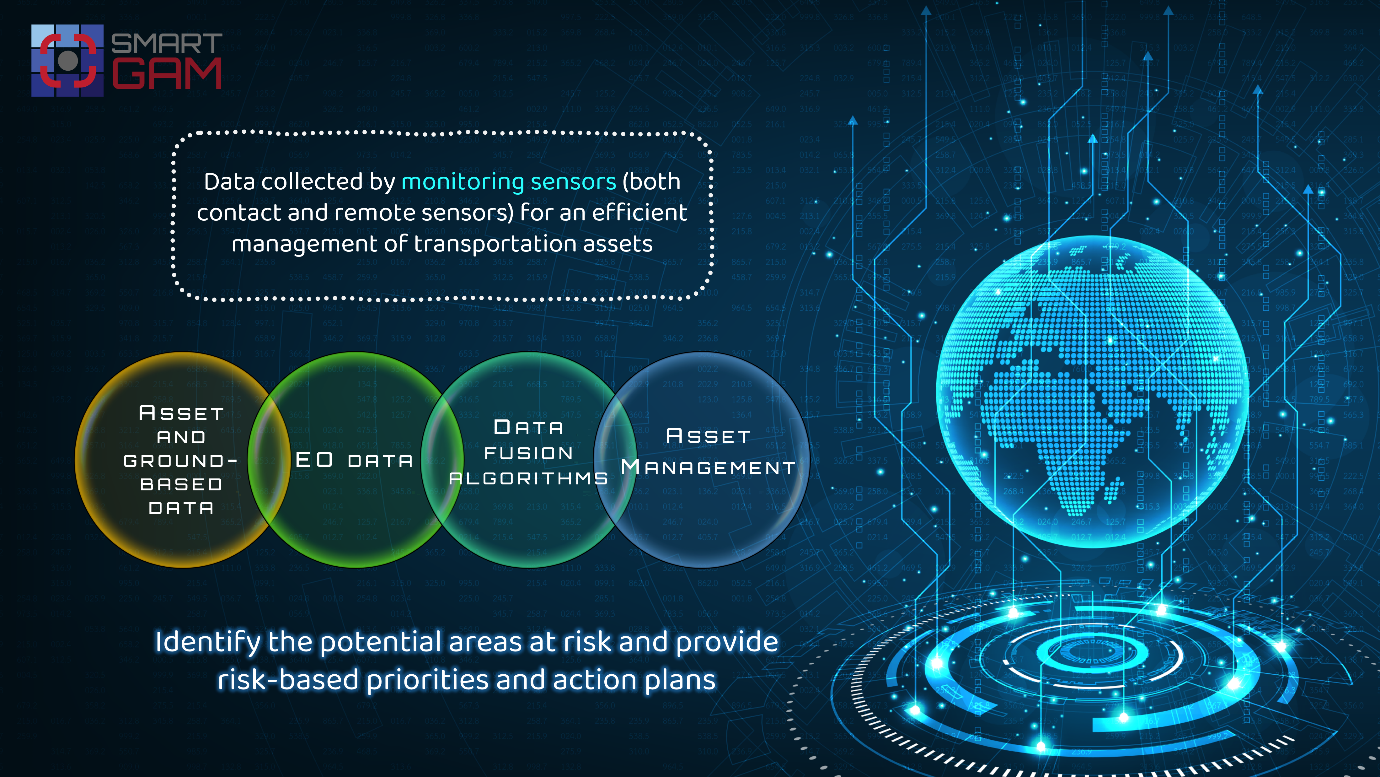 SGAM - Smart Geotechnical Asset Management - service aims at offering an innovative and semi-automatic decision-making supporting system for asset management and predictive maintenance purposes to improve the financial resilience of assets, taking advantages of innovative data-fusion algorithms and satellite Earth Observation technologies, such as A-DInSAR and PhotomonitoringTM. A-DInSAR is a powerful solution for the estimation of multi-temporal surface deformation processes with millimetre-accuracy, allowing for a detailed monitoring of ground and structures through the use of Radar data available from a large number of space missions. One of the greatest value and peculiarity of A-DInSAR is the capability to perform historical displacement analysis, thanks to the archives of imagery available since 1992. Furthermore, thanks to the new generation of satellites and their acquisition programs, it is nowadays possible to perform detailed analysis for monitoring purposes. On the other hand, PhotomonitoringTM leverages any kind of digital satellite image (optical, multi-spectral, hyperspectral, Radar etc.) to perform Change Detection and Digital Image Correlation analyses allowing to quickly and automatically identify any variation (change) occurred in the scenario over time and to get multi-temporal analysis with displacement time-series and full-field displacement maps.
SGAM focuses on the risks related to structures and infrastructures, analysing their interaction with the local geological and environmental context, by automatically evaluating the direct or potential future interferences with geohazards such as landslides, floods, sinkholes, fires etc. The service aims to support Decision Makers in defining and prioritizing the maintenance operations based on the asset vulnerability and loss scenarios, with a philosophy that may be summarized as "from hazards to management solutions". This goal is achieved by the integration of the vast amount of archived and newly acquired data made available by the Space Industry, the available worldwide and regional geodatabases, the information collected by on-site surveys or other ground-based Structural Health Monitoring and Geotechnical/Geomorphological Monitoring systems, and the proven scientific know-how and experience of the proponent team on geohazards effects in the civil engineering field. The system is also designed to be able to also implement satellite products from new future space missions, including the commercial ones, ensuring a vision oriented to the maximum exploitation of the latest technologies available. These components are managed and analysed by specific Process Automation solutions, based on Artificial Intelligence, allowing for a redundant first-level risk-based priority action assessment for cost-effective and optimized maintenance investments.


Users and their needs
The SGAM service is primarily addressed to the entities in charge of transport networks maintenance management. It can also be applied to other linear infrastructure networks, such as Oil&Gas pipelines, aqueducts and assets related to the water supply networks, electric networks, etc. or punctual structures (i.e. buildings).
Customer Problem/Need
Monitoring activities over large areas, investigating many structures/infrastructures with high accuracy;
Predictive maintenance of geotechnical assets;
Identification of the geotechnical assets where to focus the attention;
Risk assessment (based on vulnerability and loss scenarios);
Mitigation action plans and priorities.
Application/Service Characteristics Addressing this Problem/Need
EO data offer the unprecedented opportunity to investigate large areas (wide spatial coverage) with different techniques (A-DInSAR and PhotoMonitoringTM).
The integration of different EO data (SAR and optical/multispectral) with different processing algorithms (A-DInSAR and PhotoMonitoringTM) as well as the additional information from field measurements and geohazards inventory maps allows the investigation of different types of phenomena and risks.
The SGAM platform provides the Asset Management Toolbox (AMT). AMT allows for the automatic identification of anomalies, the classification of the type of phenomena triggering the anomalies, the automatic identification of the involved assets and the potential expected vulnerability based on predictable scenarios. Risk mitigation actions and priorities are automatically provided based on such outcomes.

Service/ system concept
The service is provided through a restricted access web-based "control room". SGAM integrates the Advanced Satellite InSAR and PhotoMonitoringTM processing modules, allowing to exploit both SAR and Optical/multispectral EO data. It combines, in a single platform, EO results, ground-based monitoring data and information such as: transportation network line of interest, elements at risk and geotechnical asset specifications, inventory of geohazard processes (landslide, sinkholes, floods etc.) and ground-based monitoring data (GB-InSAR, inclinometers, total station, GNSS, etc.). It also features a post-processing module including AI and ML algorithms for data-fusion to identify and classify critical anomalies. Data are be available on both an interactive geographic visualization system and a dashboard (AMT), allowing to perform dynamic data analysis.
Space Added Value
Space assets offer the unique opportunity to investigate big areas with high accuracy, making it possible to implement infrastructure management strategies based on updated monitoring data aimed at prioritizing actions.
The combination and integration of A-DInSAR and PhotoMonitoringTM techniques provides a clear depiction of the investigated phenomena. Specifically, InSAR technique allows to obtain millimetre-accuracy displacement measurement of unstable areas, while PhotoMonitoringTM technique will allow to identify areas involved (or potentially involved) in floods, fires, collapses, etc. Furthermore, the integration of A-DInSAR and PhotoMonitoringTM techniques may allow for a complete characterization of the deformational behaviour of the investigated scenario (particularly for landslides).
Current Status
The Business Case Review (BCR) has been completed in December 2021.
The Value Proposition of the service has been identified as well as the main customer segments.
The Business Model has been defined and the Technical Feasibility Assessment returned a positive outcome which was validated in a Proof of Concept.
Status Date
Updated: 28 December 2021
-
Created: 28 December 2021