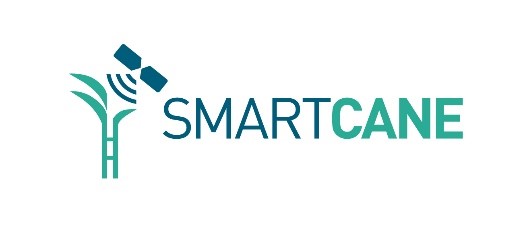 Objectives of the service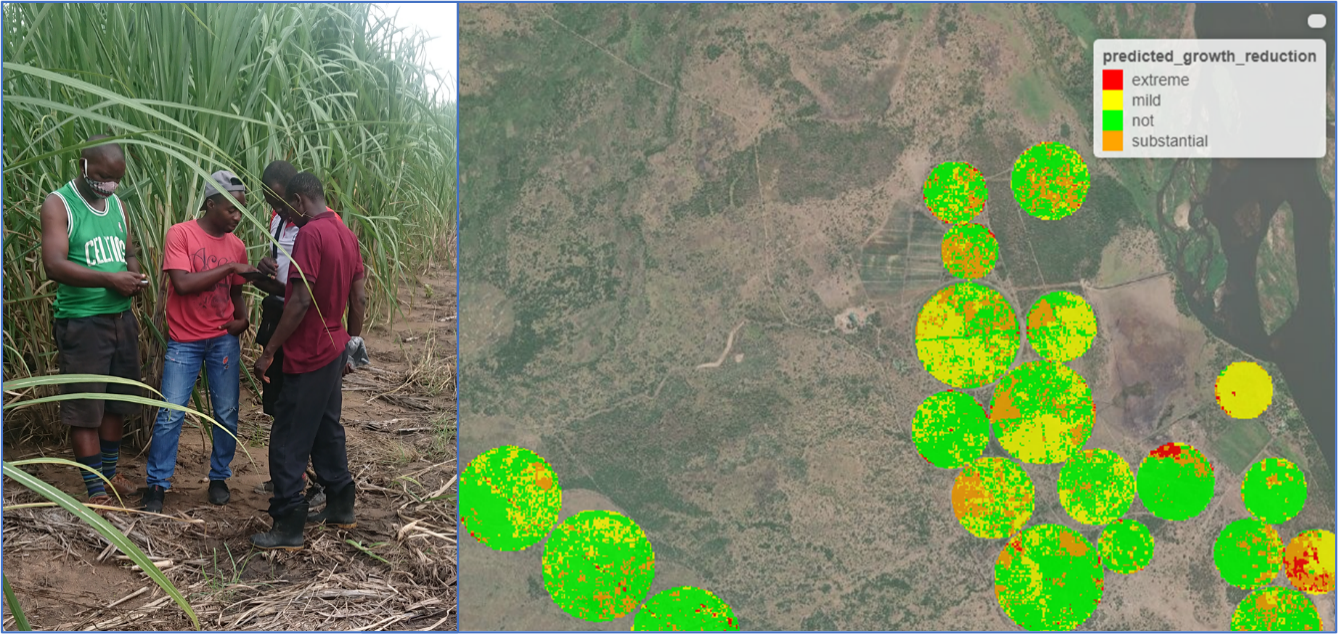 SmartCane provides agronomic and management information derived from remote sensing to commercial sugarcane producing companies and affiliated farmer organisations – "outgrowers". The objective of the service is to provide timely information, with which farmers and commercial sugarcane producing companies can make better decisions, which result in increased production and income per hectare and reduced use of resources.
Users and their needs
The potential to leverage the agronomic information retrieved from Remotes Sensing (R.S.) to provide valuable services to smallholder farmers remains mostly unexplored, notably in Sub-Saharan Africa. The SmartCane service focuses on smallholder sugarcane farmers and their organisations active in so-called "outgrower schemes". Currently, smallholder sugarcane farmers have limited access to agronomic expertise and general consultative support, so access to high-quality personalised advice is essential to increase productivity, income, and livelihoods. Smallholder sugarcane farmers are related to commercial sugarcane producing companies, the second user of SmartCane. A typical example of an outgrower modality is a commercial sugar cane estate, that owns a cane crushing mill and land, but that cannot produce enough by itself, therefore engages in outgrower production. Having optimal insight on production volumes and growth (through Remote Sensing services coupled to the extension services), result in improved yields and efficient timing of harvest optimising the scheduling of the factory processes and factory output.
Service/ system concept
SmartCane is developed by Resilience BV, serviced in Mozambique by our local office, and supported by VanderSat BV. Our local presence allows us to have direct contact with smallholder farmers, and is what makes our service different. The novelty of our service the combination of two existing concepts:
1) Management dashboards for agri-industries including high quality advice based on RS data
2) Digital extension service to smallholder farmers based on SMS
Microwave and optical remote sensing data are used to detect crop stress in the field, after which management advice is provided through SMS (Farmers) and automated RS maps to email (Commercial sugarcane organisation) to prevent and mitigate these stresses.
SmartCane provides:
[1] The latest agricultural practices, and remote sensing-based crop stress identification directly to a farmer's mobile handset via SMS.
[2] Commercial sugarcane producing companies with reports on estate wide crop stress identification and crop growth, allowing them to monitor fields and estimate yields.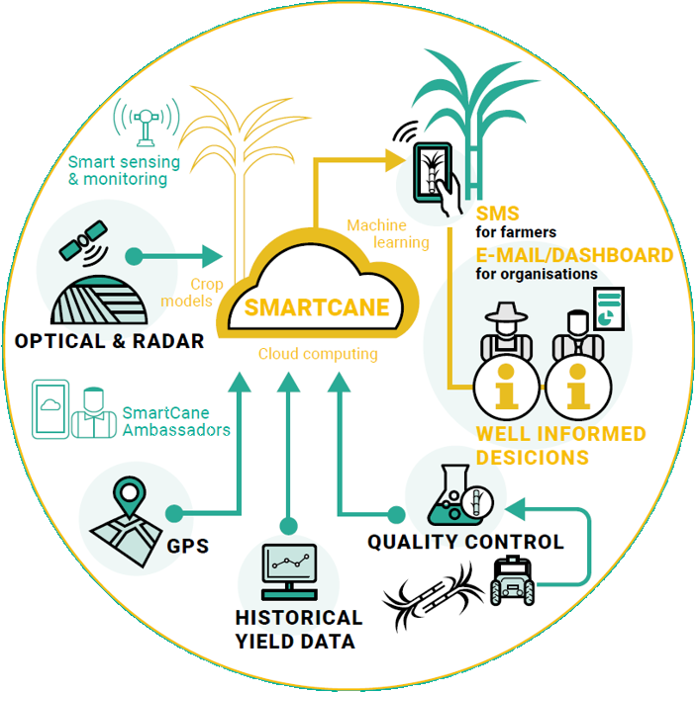 Space Added Value
Resilience B.V. has in-house remote sensing and GIS expertise on smallholder agriculture identification and monitoring, whereas VanderSat has a patented downscaling algorithm that combines microwave data from different satellite platforms. SmartCane uses the following two space assets; Sentinel 2 to monitor sugarcane crop parameters in the optical spectrum, and SAR from various sources (Sentinel 1, ESA SMOS, NASA, SMAP and JAXA AMSR-2) for soil moisture and biomass estimation. In addition, we use the GPS on mobile devices to delineate fields, to guide field data collectors in the field for map verification, and to collect field reference data to train machine learning models. These space assets are invaluable in monitoring 3 metre high, densely grown sugarcane fields.
Current Status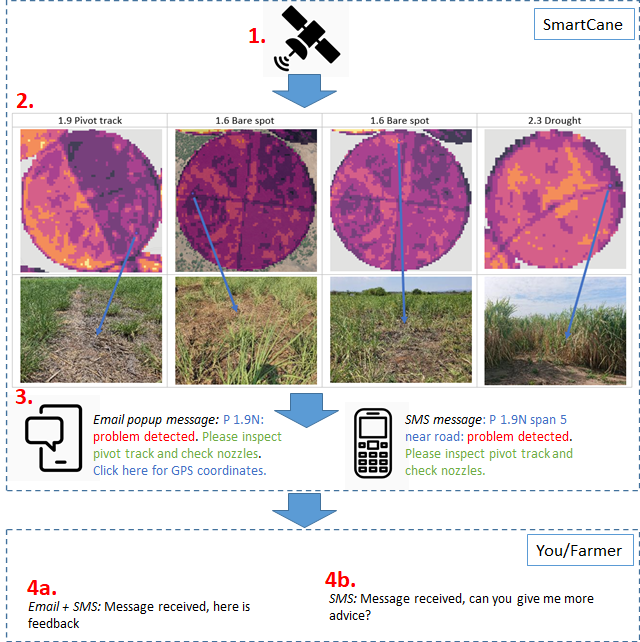 The development of the service started in February 2021. The SmartCane team has conducted user needs assessments with end-users. It has successfully launched a service prototype that includes growth monitoring, identification of crop stress and general advice on agricultural practices. This minimal viable product is actively used by EcoFarm Mozambique Lda, a commercial sugarcane production company, and two outgrower co-operatives. Each co-operative has approximately 150 members. The prototyping of advice via SMS has resulted in signing a service delivery agreement for one year covering 1200 ha.
The project developed a prototype of the service including RS chlorophyl and biomass based growth monitoring, bi-weekly agronomic advice tailored to the organic production system, weekly anomaly detection, infield anomaly classification, yield prediction and a weeding index. A longlist has been developed for further enhancement of features including soil humidity monitoring, offline management application and a management priority dashboard. The Kick Start's mid-term review took place in April 2021, and the Final Review in July 2021. A Demonstration Project is intended.
Prime Contractor(s)
Status Date
Updated: 28 July 2021
-
Created: 28 July 2021