Objectives of the service
The sudden advent of the pandemic crisis caused by the SARS-CoV-2 virus put a strain on the organization and provision of social and health services, especially in isolated geographic areas characterized by objective territorial and virtual connection difficulties. The uncontrolled spread of the virus has also had important direct and indirect repercussions on the mental and physical health of older and frail people, due directly to the virus itself and indirectly, for example, to the imposed physical distancing.
The goal of SmartSatCare was to help citizens and socio-health workers to mitigate the consequences of the COVID-19 emergency in not easily served and geographically extended areas.
SmartSatCare pursued a technological solution for both social and health care, based on the use of Smart TV sets, with the aim of providing remote assistance by taking advantage of satellite connectivity.
Focus of the project was also to overcome the difficulties typically associated with the use of technology, due to both lack of digital education and poor Internet connections, ensuring a quality solution at low cost.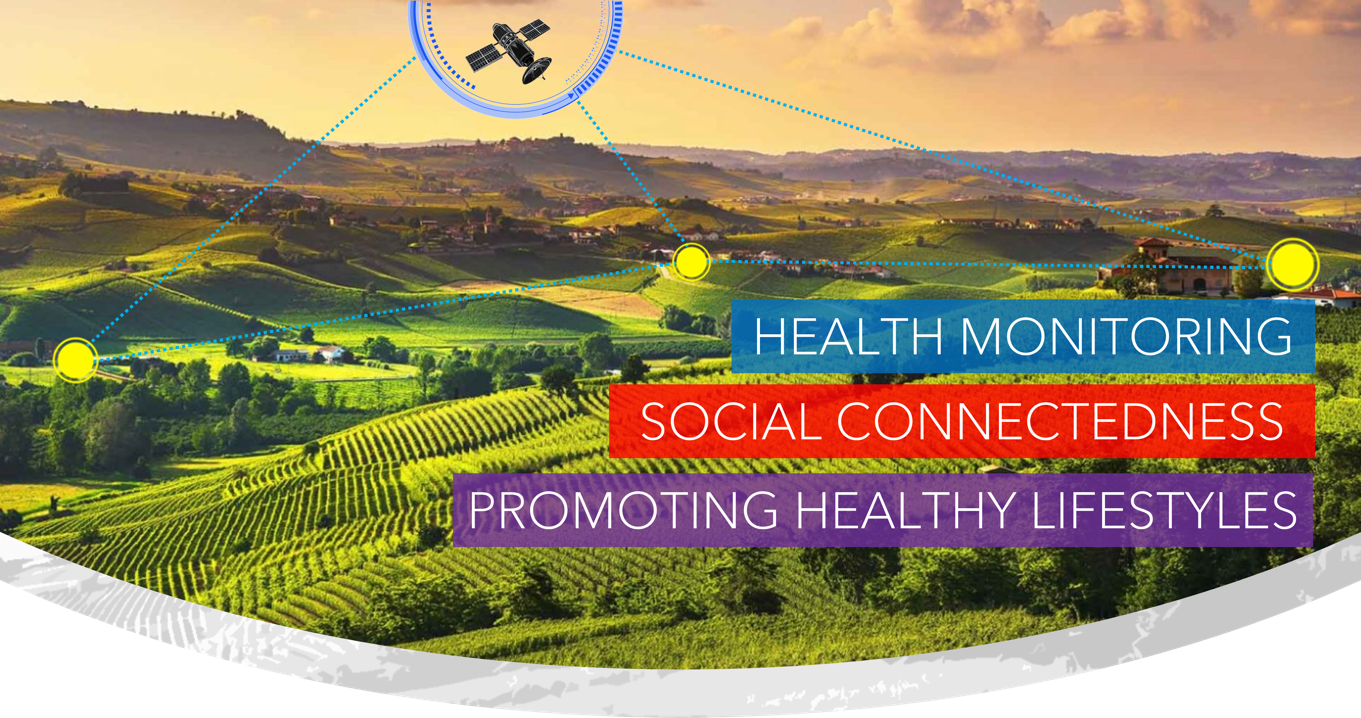 Users and their needs
SmartSatCare aimed at addressing needs of both frail citizens and socio-health professionals in the territory covered by the ASL CN2 of Alba / Bra (Cuneo region — Italy).
Due to both territorial and pandemic-related constrains older and frail people, their caregivers, and the socio-health workers were forced to remotely interact with the consequent impoverishment of the assistive services.
Given this frame the addressed needs included:
the mitigation of problems arising from the decrease of home visits by operators or visits to the hospital by patients that happened due to emergency situations as in the case of the COVID-19 lockdown.

paying remote visits as well as remote monitoring for treatments, medical consultations or follow-ups, ensuring a continuity of care, which may be crucial in patients with chronic diseases.

allowing remote psychological support, of particular relevance in situations of domestic isolation often made even harder by mobility problems or by the occurrence of COVID-19 quarantine.
In the particular case of informal caregivers such as relatives, who would like to get access to information on treatment procedures and training events, as well as at providing the opportunity to join the meetings between the doctor and the loved ones through the utilization of telepresence tools
Service/ system concept
Through the Smart TV the patient can access a number of services such as interactive video conference; onscreen personalized alert and reminders; promotion of healthy life styles through educational material; monitoring of vital sign; user multimedia content and cognitive games. The health care professionals, through dedicated web-based applications accessible on multiple devices like e.g., desktop PCs, smartphones and tablets, can assess to the following services: multipoint videoconference; management of health-related information of patients; monitoring of health parameters; registration and visualization of reminders concerning therapy, medical appointments and healthy life style; management of cognitive exercises and visualization of users' performance; promotion of healthy life styles and other useful practices through educational material.
Smart Sat Care was realized as a distributed client-server architecture integrating a variety of services to support both healthcare professionals and end-users for respectively providing and receiving personalized assistance. The system relies on a software/hardware distributed architecture, designed to integrate "simple" modular services that can be combined to realize more complex ones. From a technical point of view, SSC can support simultaneous connections and concurrent requests from geographically distributed users and its services are accessible at different time and through different devices such as smart TVs, smartphone, desktop applications.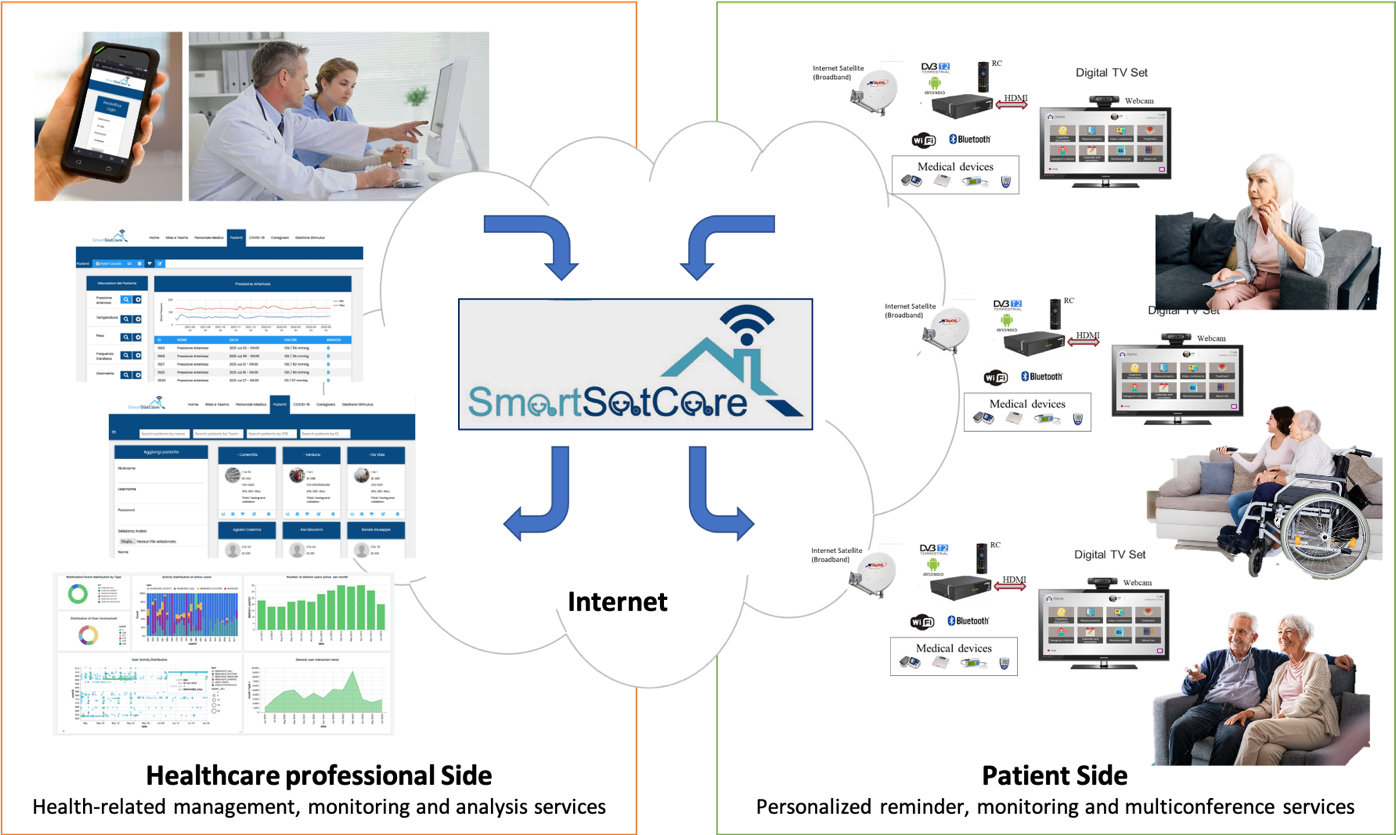 Space Added Value
The broadband satellite Internet communication, using the KA-band, enables the deployment of the system in rural areas without Internet access using terrestrial communications technologies (wired or wireless technologies like ADLS or Fiber/cable) or where the Internet infrastructures availability are limited and insufficient to provide accurate and robust remote social and healthcare services.
SmartSatCare works with Internet over satellite service that is one of the best (sometimes the only available) solution for rural areas with a limited Internet connection using other technologies. In the SmartSatCare project, the need of a reliable and robust "intranet" to provide important services like healthcare, makes the Satellite architecture "ideal" and very competitive vs 4G or ADSL to connect patients with doctors and relatives and to deliver remote assistance services.
Current Status
A total of 36 patients participated in the pilot (15 men and 21 women). The mean age of the participants was 82,4 years old and 6 married couples among the participants took part at the experimentation.
There were 31 STB installations and 6 of them could benefit from the satellite connection. Another additional satellite was installed in an ASL facility in Cortemilia.
Overall, the participants resulted satisfied after the experience with the SmartSatCare system and recognized its added value to the assistive practice with specific emphasis on fostering the contact with a nurse and other persons and to get their own health monitoring.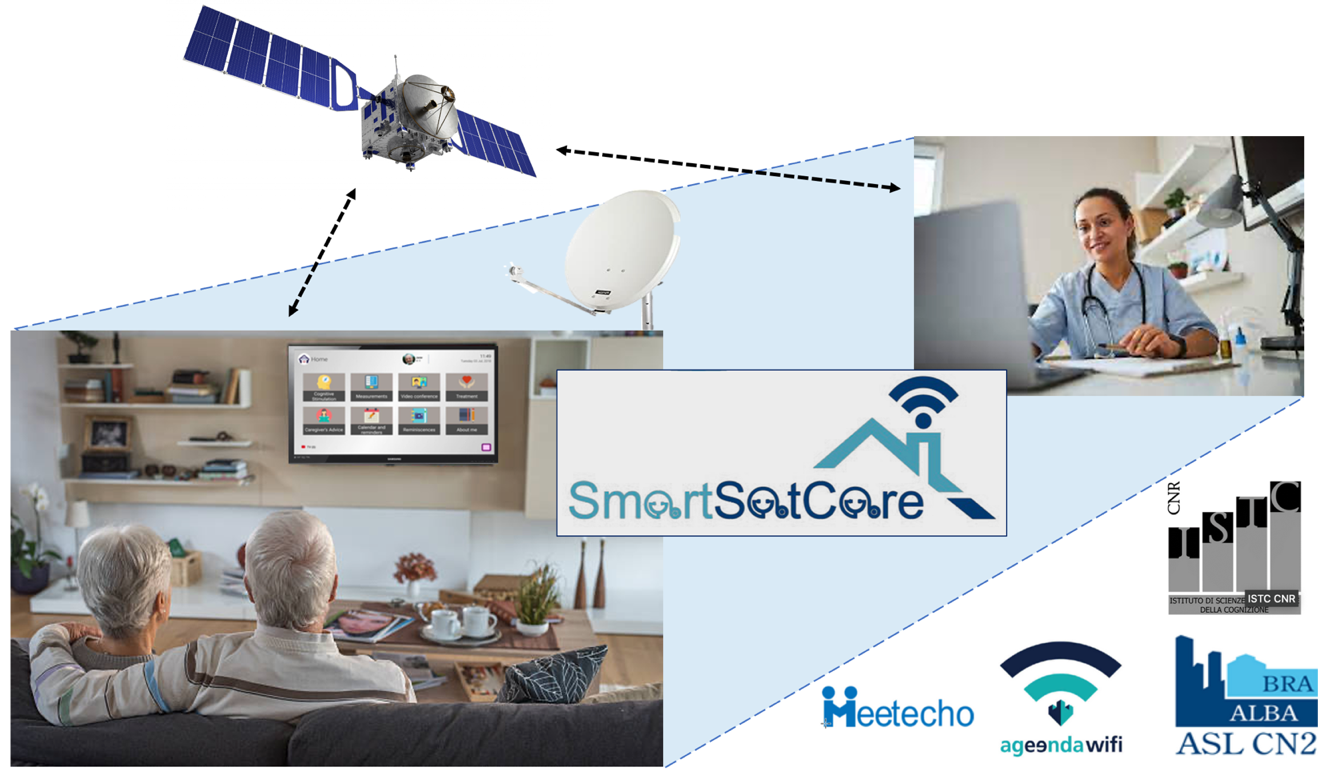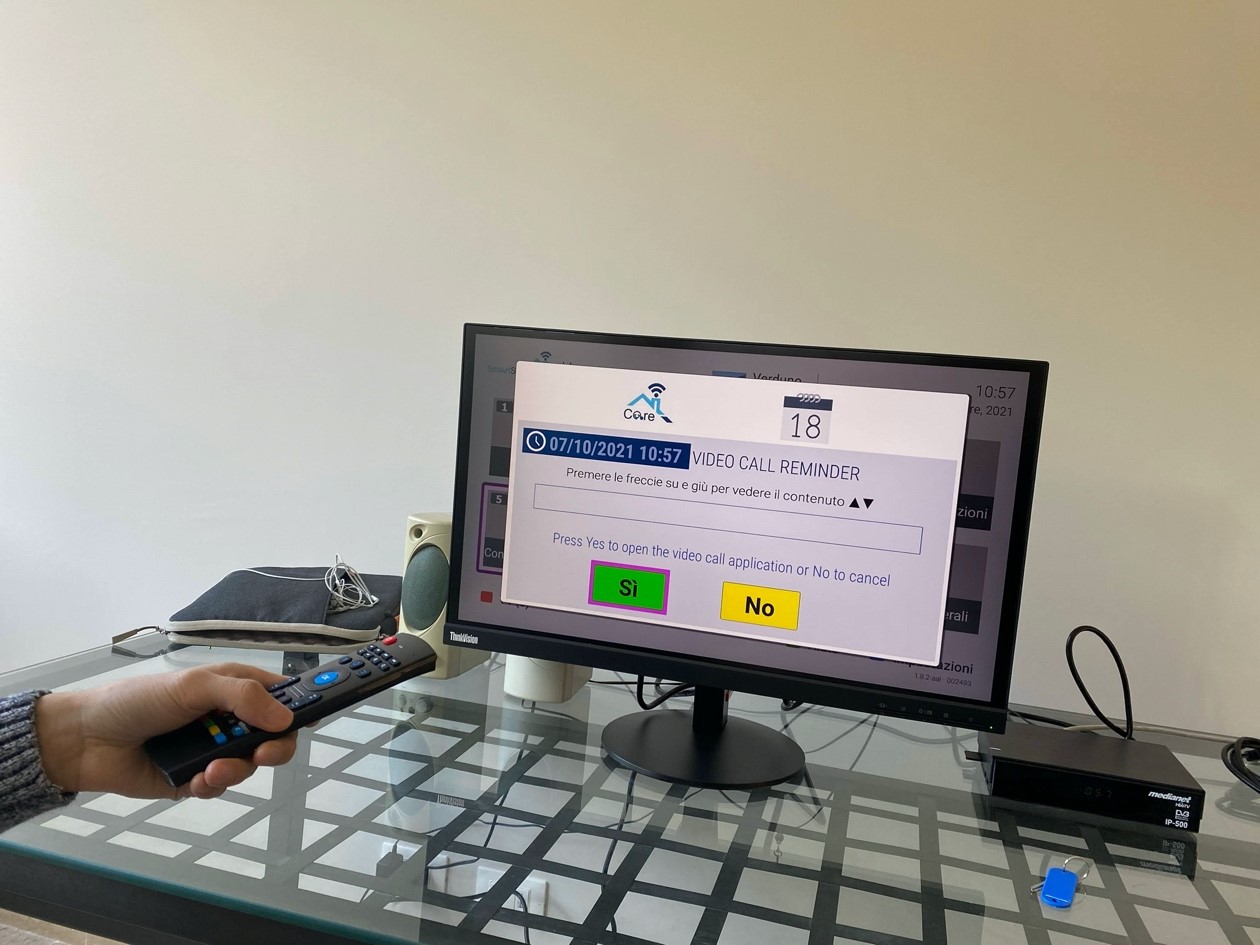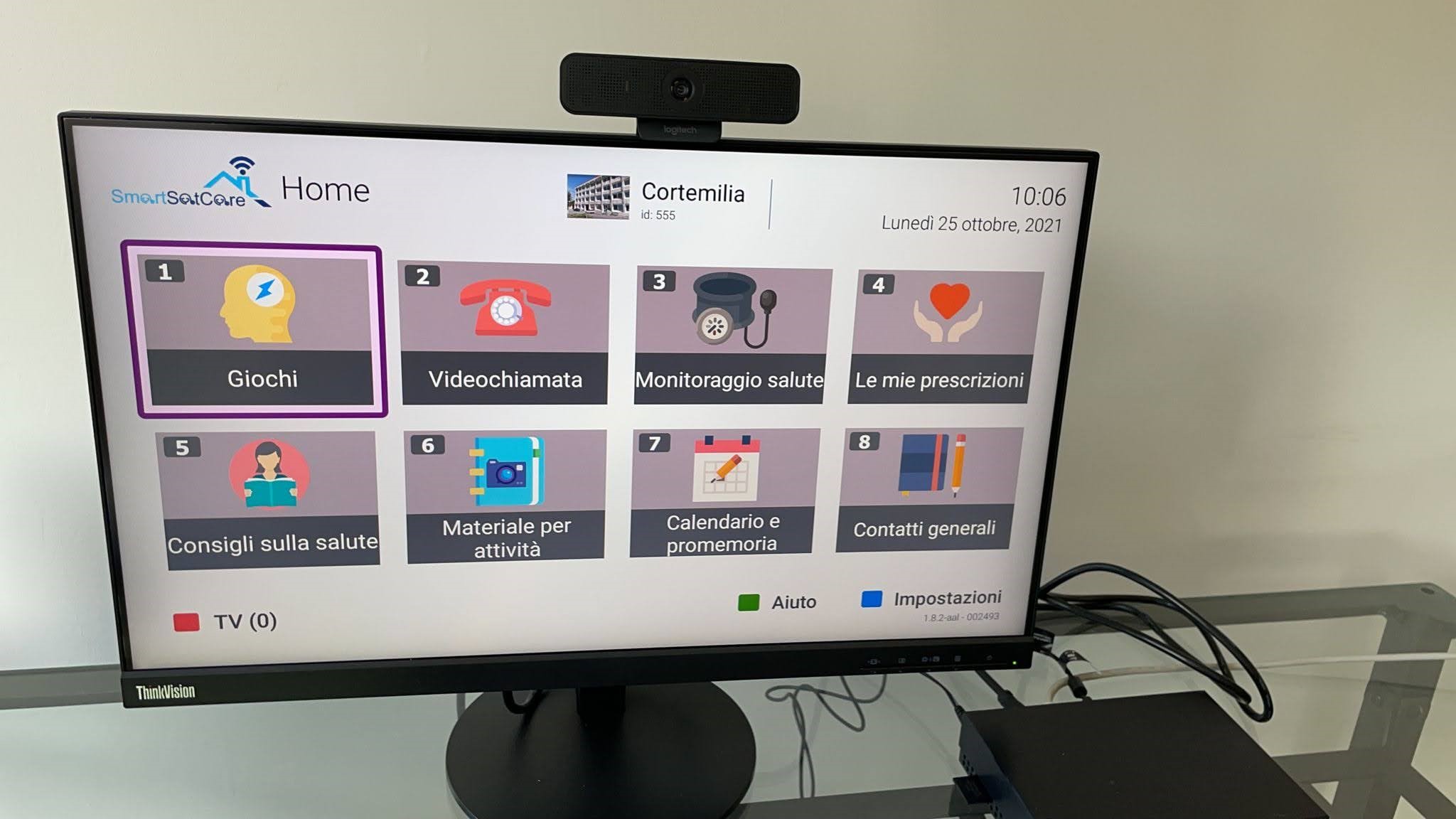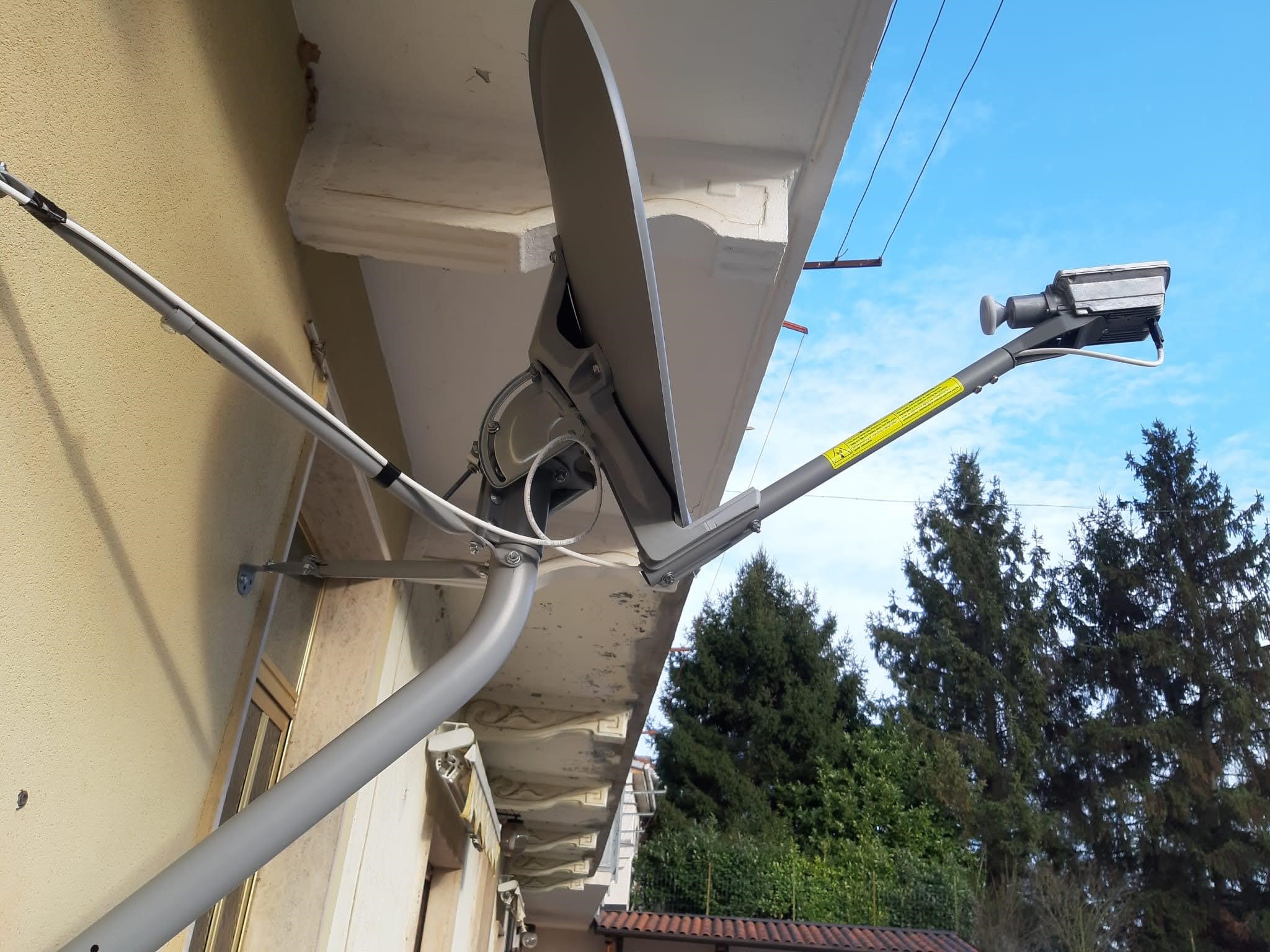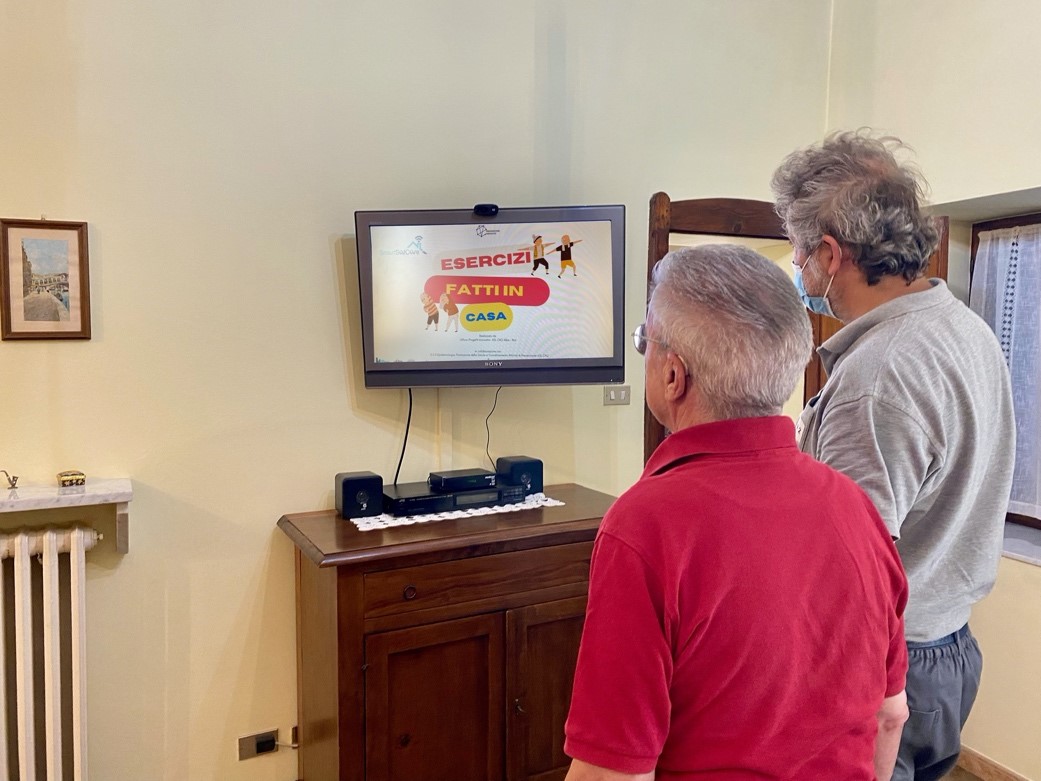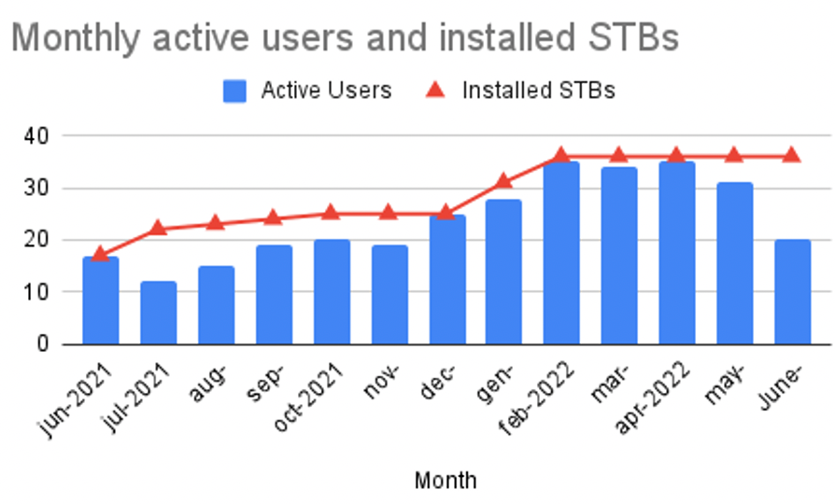 Prime Contractor(s)
Subcontractor(s)
Status Date
Updated: 13 July 2022
-
Created: 06 November 2020