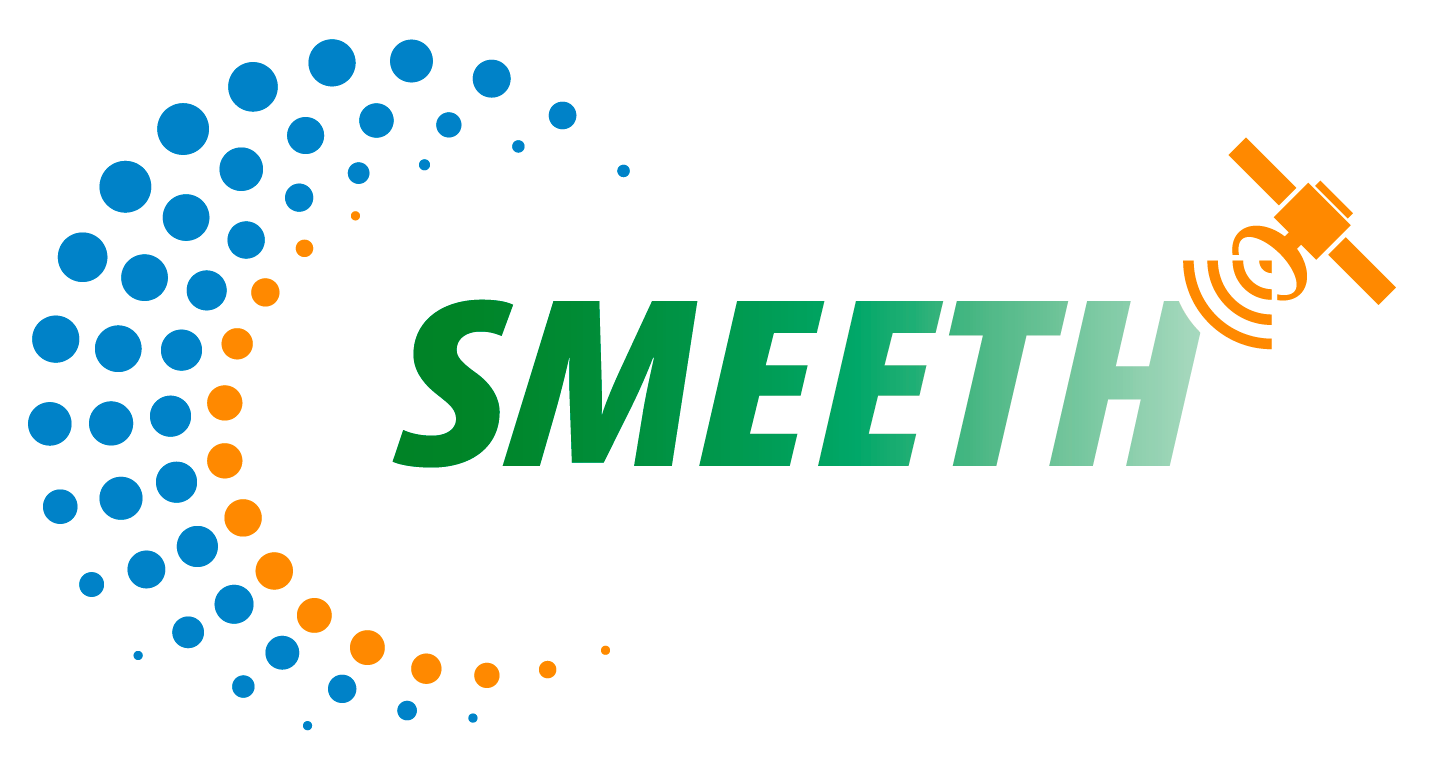 Objectives of the service
Changes in temperature and rainfall patterns created by climate change have knock-on effects on atmospheric chemistry. Nowadays there is an increasing interest in the medical community in understanding the correlations between the direct exposition to atmospheric pollutants and the emergence of epidemiological outbreaks, various pathologies, and admissions in hospitals but nevertheless this relationship is not yet understood in depth. However, pollutant data derived from Air Quality (AQ) ground stations provide high-quality products, the service quality is highly dependent on the density of the network and the goodness of the interpolation model.
Earth Observation (EO) satellites offer spatially continuous information at global coverage, optimized for air pollution research, which add value to the existent in-situ and model data. Satellite AQ retrievals are particularly useful in regions with limited or non-existent AQ monitoring; such in sub-Saharan Africa where the incidence rate of meningitis is very high. The medical community has associated the direct exposition to dust with meningitis epidemics. In addition, the correlation between the climate and the emergence of epidemic meningitis is nowadays being thoughtfully analysed. SMEETH aims to be the first tool in the market designed to handle massive amounts of satellite-based air pollution data, climate data and medical records enabling users the detection of patterns and fit correlation models between these big data and geo-referenced medical records.
Users and their needs
SMEETH supports decision-making towards effective epidemic control and the definition of successful prevention campaigns. The target market has been grouped into three segments according to the customers' needs: 1) Policy decision-makers; 2) Public Health Resource managers; and 3) Research institutions and Academia.
Policy-makers, public bodies, large cities with a mandate for policy-making and law enforcement regarding climate, environment, health, transportation and security matters can benefit from SMEETH analyses.
Health Research groups require significant data processing & analysis capacity. On average each new drug costs this industry $350 m to develop and 15 years. SMEETH accelerates this process, lowering the cost of research.
SMEETH makes it possible to better understand the relationships linking environmental effects and hospital admissions which in turn can be used to build better models and ultimately improving preparedness among hospitals and health centres.
With SMEETH the pharmaceutical industry can find new ways to analyse data and to rise efficiency in operation management (e.g. medicines production/distribution).
United Kingdom; Ghana; Kenya
The study is being carried out with the collaboration of the following stakeholder.
Ghana Health Service http://ghanahealthservice.org/
Service/ system concept
SMEETH is a standardized information system, containing geo-referenced information of AQ and clinical records to be used for analysis by the Health sector.
SMEETH's high-level technical consists of a three-tier architecture: The top tier provides services to the end-user (relating the user interface). The middle-tier as the core of the system handles the production of pollutants at the surface. The third tier is composed of databases and file storage systems.
Among SMEETH's functionalities there are:
Ingest online geo-referenced atmospheric composition data including satellite data (e.g., MODIS Aqua/Terra and OMI-Aura) and modelled data (e.g., CAMS).
Ingest online geo-referenced meteorological data from Copernicus Climate Change Service (e.g., ERA5 single-level data).
Adapt and ingest local geo-referenced medical data from stakeholders such as Ghana Health Service.
Derive pollutants at the surface level including PM2.5, PM10, and ozone.
Derive a series of meteorological factors at the surface such as relative humidity, temperature, wind speed, and total precipitation).
Visualize the processed data on GIS web-based (EOMerlin).
Respond in a controlled way to gaps, unexpected values or unavailability of input data.
A series of Python-scripts developed to estimate PM2.5, PM10, Ozone likelihood, and meteorological layers (e.g., relative humidity, temperature, wind speed, total precipitation) all at the nose-level.
Space Added Value
The space assets contributing to SMEETH refer to Earth Observation Satellites. SMEETH is able to ingest L2 data from AURA-OMI, MODIS Aqua/Terra and in the next phase Sentinel-3 OLCI and Sentinel-5p precursor (subject to availability).
Pollutant data at the surface level is successfully measured by ground AQ monitoring stations. However, the spatial representativeness of these ground data is local, and often the network of AQ stations does not cover the area of interest for the medical study. The Copernicus Atmosphere Monitoring System (CAMS) provides hourly estimates of the state of the atmosphere on a daily basis, and it also produces daily forecasts. However, CAMS products are the only representative for large scale phenomena, they cannot reproduce local aspects of air pollution. The global products provided by the ECMWF Composition-Integrated Forecast System include aerosols and reactive gases with a horizontal resolution of ≈40 km for near-real-time option. European AQ products are obtained from regional AQ models at 0.1 degrees.
AQ data derived from EO Satellites complements in-situ and modelled data adding value to the spatial coverage, spatial resolution and accuracy.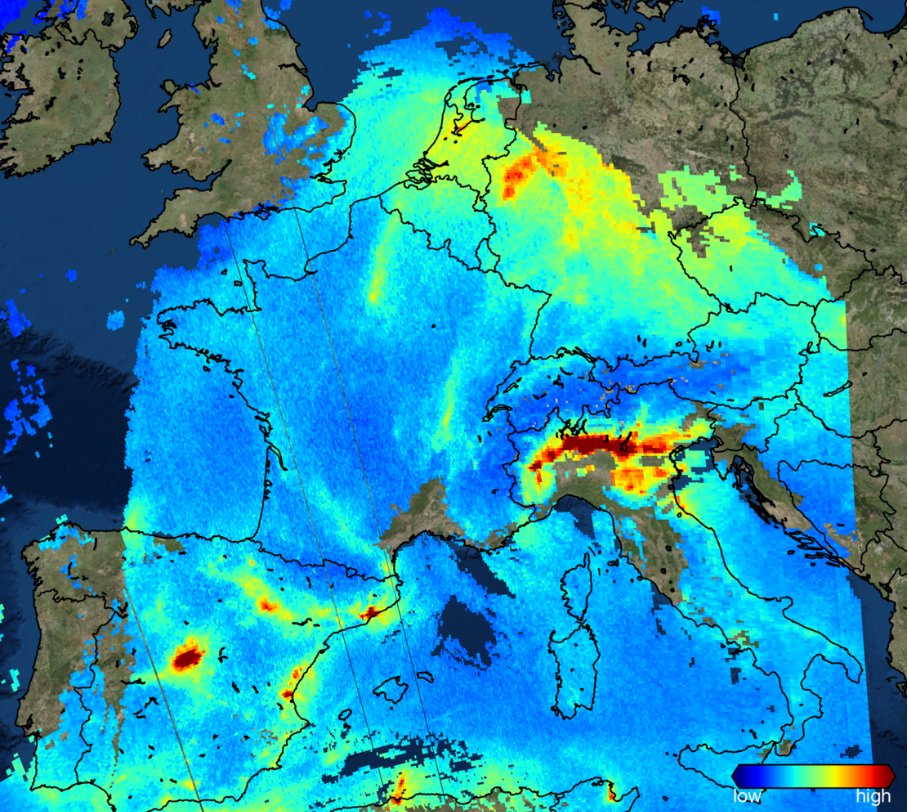 Sentinel 5P sees NO2 over Europe on 22 Nov 2017 (credit KNMI/ESA)
Current Status
SMEETH prototype combines medical records with air pollution parameters (PM2.5, PM10, NO2 and ozone) and climate variables including wind speed, relative humidity, temperature and precipitation in a GIS environment. At the conclusion of the activity, SMEETH is capable to produce daily and monthly maps of AQ and climate data (GeoTIFF format with 3 km spatial resolution) over a given region and ingest medical records from DHIMS2.
During the consultations with representatives of African Health services, the end users emphasized their interest in the development of SMEETH as an early warning system and their willingness to co-develop the application. Decision-makers and resource managers request service to support them towards effective epidemic control and definition of prevention campaigns. In particular to monitor, control and mitigate the meningitis outbreaks. The project ended on the 03/07/2019.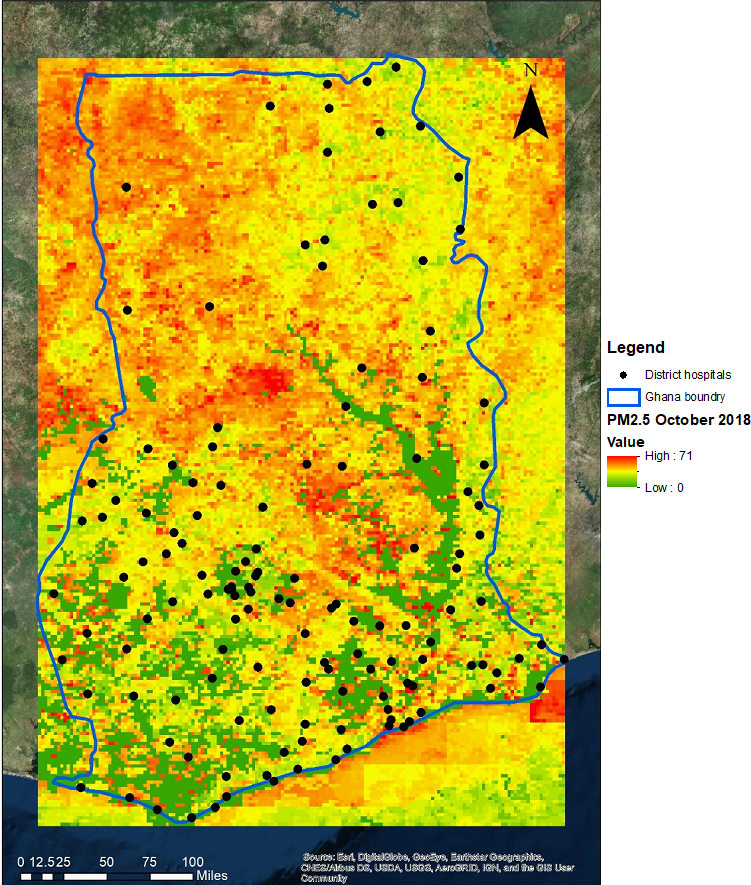 Prime Contractor(s)
Status Date
Updated: 08 November 2019
-
Created: 10 January 2019