Objectives of the service
Commodities supply chains are high emissions emitters, and also highly exposed to the effects of climate change. Whether it is wildfires, flooding, drought or cyclones, supply chain disruption causes billions of dollars in damages annually. This affects owners and operators within these supply chains as well as investors and financial institutions. This service aims to provide long-term and near-real time monitoring of the risks and emissions that occur across these global networks.
Users and their needs
Commodities market intelligence firms who are seeking to understand global patterns of climate activity, and provide insights on how this activity will affect commodities prices.
ESG Consultants and advisory firms looking to disclose the climate-related risks within the asset portfolios of their Private Equity customers.
Global context of data and customer base for the SMOCGEO product, although customers to-date have been in Europe and North America.
Service/ system concept
Users will be able to assess the forward-looking climate risks that threaten assets they own. For example, wildfire risk, flooding risk, cyclone risk.
Additionally, users will be able to monitor the emissions from large commodities production facilities, such as mines and smelters.
The system ingests multiple geospatial and satellite datasets and applies asset-level assessment of risks. The customer can access these insights via a web analytics dashboard, direct via API, or in a .CSV file.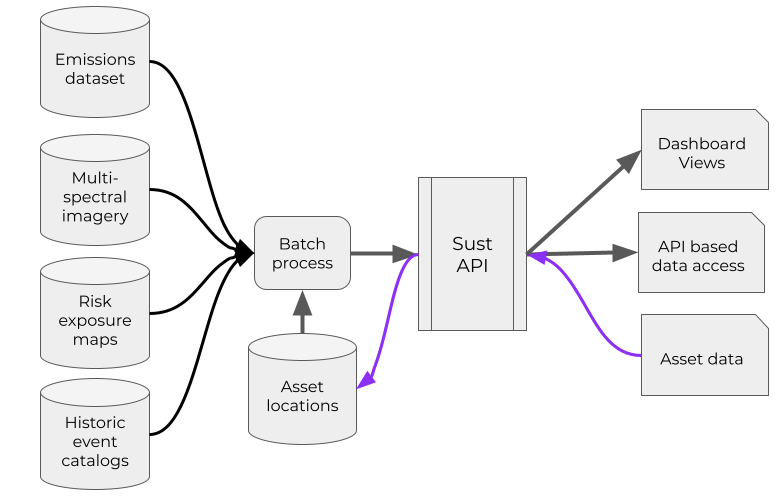 Space Added Value
The system will be using a combination of different geospatial data streams including multispectral L2-processed imagery (visible, near infrared, SWIR) from the Sentinel-2 satellites (MSI instrument) , atmospheric sensing L2-processed products (SO2, NO2) from the Sentinel-5P satellite (TROPOMI instrument), XCO2 emissions products from OCO-2/3.
Current Status
Held workshops with two customers via Zoom, enabling us to understand the use-cases and customer-facing opportunities.
Scoped SSAs and technical features of product.
About to start Software Development and feature construction for web analytics dashboard.
Begin developing the API-based product integrations.
Prime Contractor(s)
Status Date
Updated: 13 July 2021
-
Created: 13 July 2021