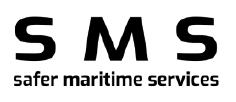 Objectives of the service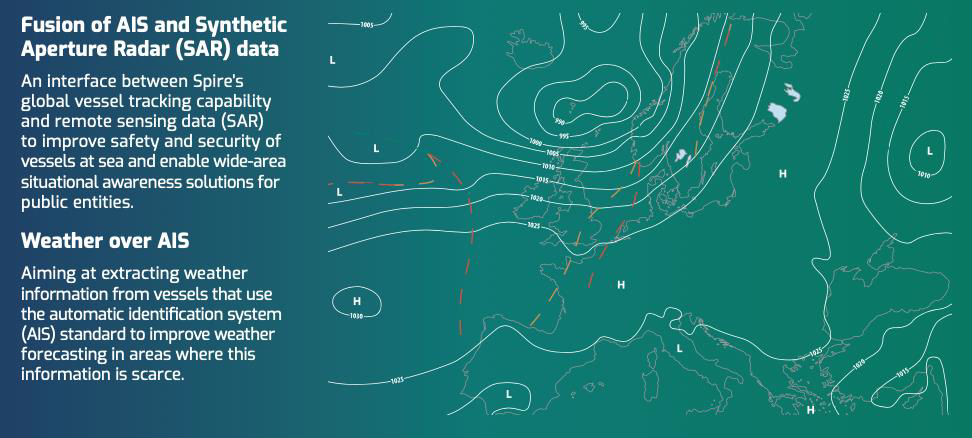 The cost of illicit activities at sea such as illegal fishing by dark vessels has a detrimental effect on both the economy and the environment. Detecting these activities relies on the availability of continuous data related to the location of vessels, regardless of the source of that data or how it is collected.
The Safer Maritime Services (SMS) project aims to address this problem head on by developing an innovative dark vessel detection service targeted toward public organisations and non-governmental organisations (NGOs). The service fuses AIS and synthetic aperture radar (SAR) data. It's often the case that these types of agencies lack complete situational awareness of vessel activity within a given geographic region. Below are the key objectives of the SMS project:
Validate the performance of dark vessel detection capabilities to address the need for public organisations to obtain increased situational awareness.
Validate the innovative API delivery mechanism for customers.
Use observational weather data sent over AIS to improve our in-house numerical weather prediction model, enabling better forecasts for vessel operators and thereby increasing the safety of crews.
Users and their needs
The two user communities targeted by SMS and their needs are described below.
Dark vessel detection via AIS-SAR data fusion
These users are predominantly public organisations and non-governmental organisations (NGOs) such as coast guards and other maritime enforcement agencies working to ensure the safety of citizens as well the security of their country. They monitor illegal trade and fishing, human trafficking, as well as international security threats.
Typical users include intel specialists and safety managers and others who are charged with security monitoring in waters across the globe
User needs:
Increased maritime situational awareness
Alerts when some predefined action or event occurs
Historical archive of detected dark vessels to create better statistical and risk models
----------------------
More accurate weather forecasts via Weather over AIS
These users are predominately those concerned with receiving the most accurate maritime weather forecasts while operating in remote areas of the open ocean.
Typical users include researchers, operation managers, and even vessel captains/masters who are responsible for the safety and well-being of their crews.
User needs:
Better weather observations
Improved forecast quality along shipping routes, maritime choke points, and near ports
Service/ system concept
For AIS-SAR fusion for dark vessel detection, the customer signs up for a monthly subscription to make one API request per day for one location which could be a port. A SAR image for said port is taken by our third-party provider of SAR data and sent to Spire. Spire feeds the image into its Maritime Engine along with AIS data for the same location as you see in the figure below. An algorithm then detects dark vessels and sends these insights back to the customer via the API.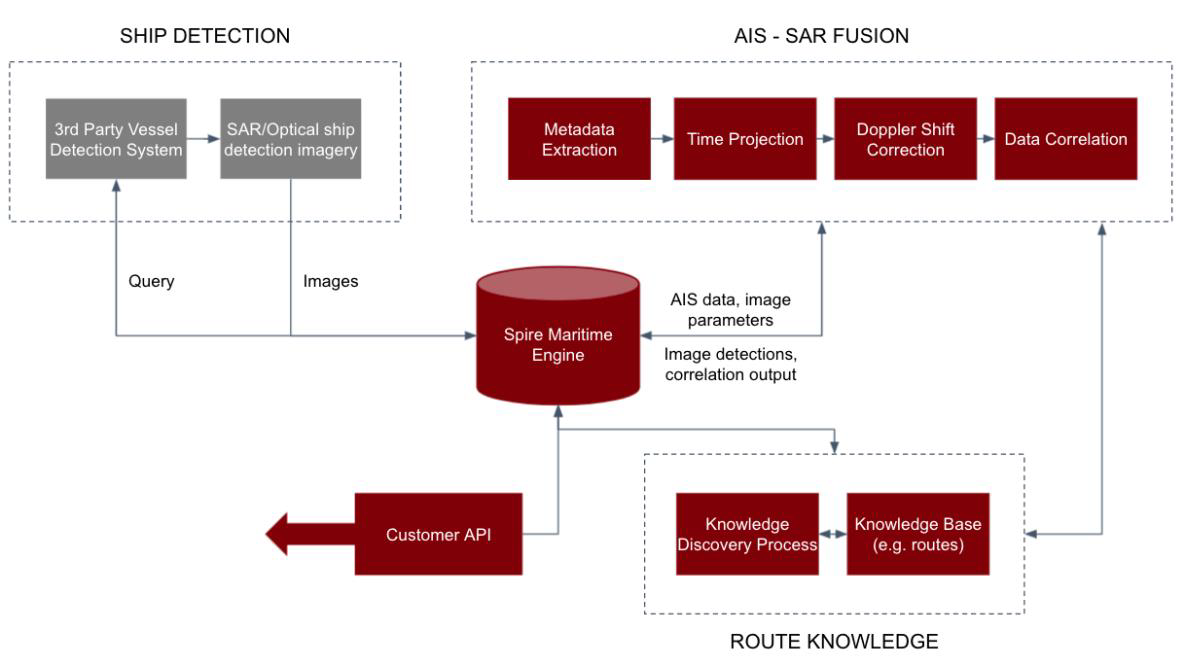 For Weather over AIS, observational weather data sent by the vessel through the AIS signal is detected by a Spire satellite or terrestrial receiver. The weather data is fed into our numerical weather prediction model in order to improve the accuracy of hyper-local forecasts in remote areas of the world where observational data is typically scarce. The figure below illustrates this at a basic level.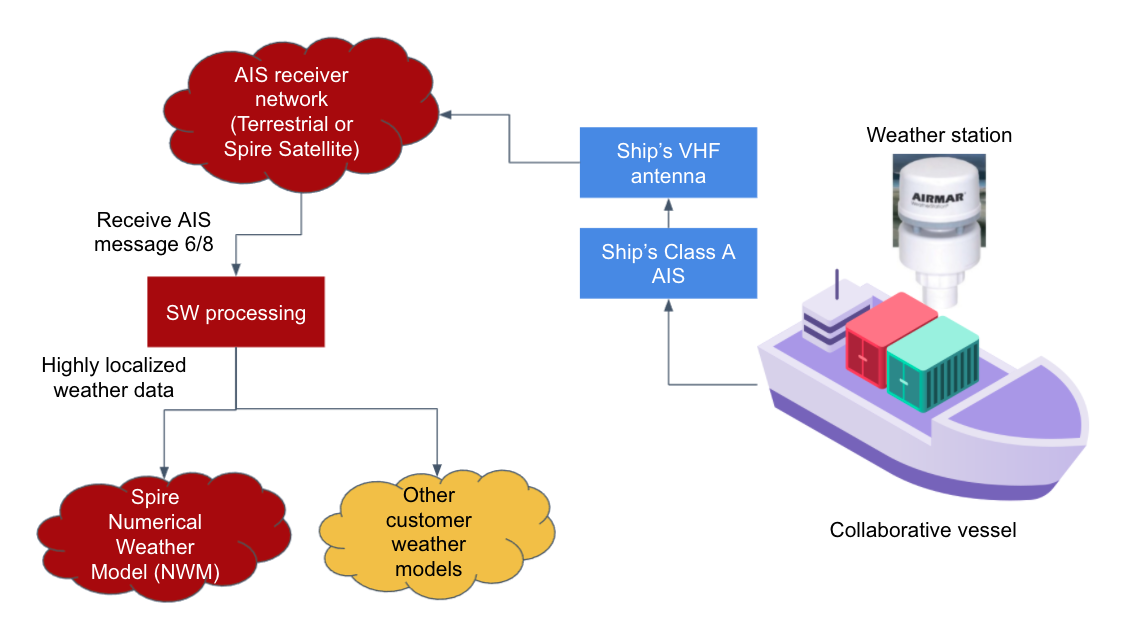 Space Added Value
Space assets used on the SMS project include:
AIS receivers onboard Spire satellites
SAR sensors onboard a third party's satellites
Combining AIS and SAR datasets enables the detection of so-called dark vessels. Although not entirely new on the market, the innovative aspect of the SMS project will see the creation of a service that fuses these two data types and delivers the resulting insights through an easy-to-use API. The service increases the
situational awareness of public maritime organisations and NGOs, resulting in the reduction of illicit activity on the high seas.
Current Status
Throughout Q2 20201 leading up to the BDR milestone, the SMS project team has continued refining customer requirements for both AIS-SAR fusion and Weather over AIS. It has also started laying the foundations for a successful pilot demonstration scheduled for later next year. Potential providers of SAR data have been contacted and working relationships have been established. The SMS project team is preparing to pass the Baseline Design Review (BDR) milestone and begin the next phase of the project leading to the Critical Design Review (CDR).
Prime Contractor(s)
Status Date
Updated: 13 July 2021
-
Created: 13 July 2021