Objectives of the service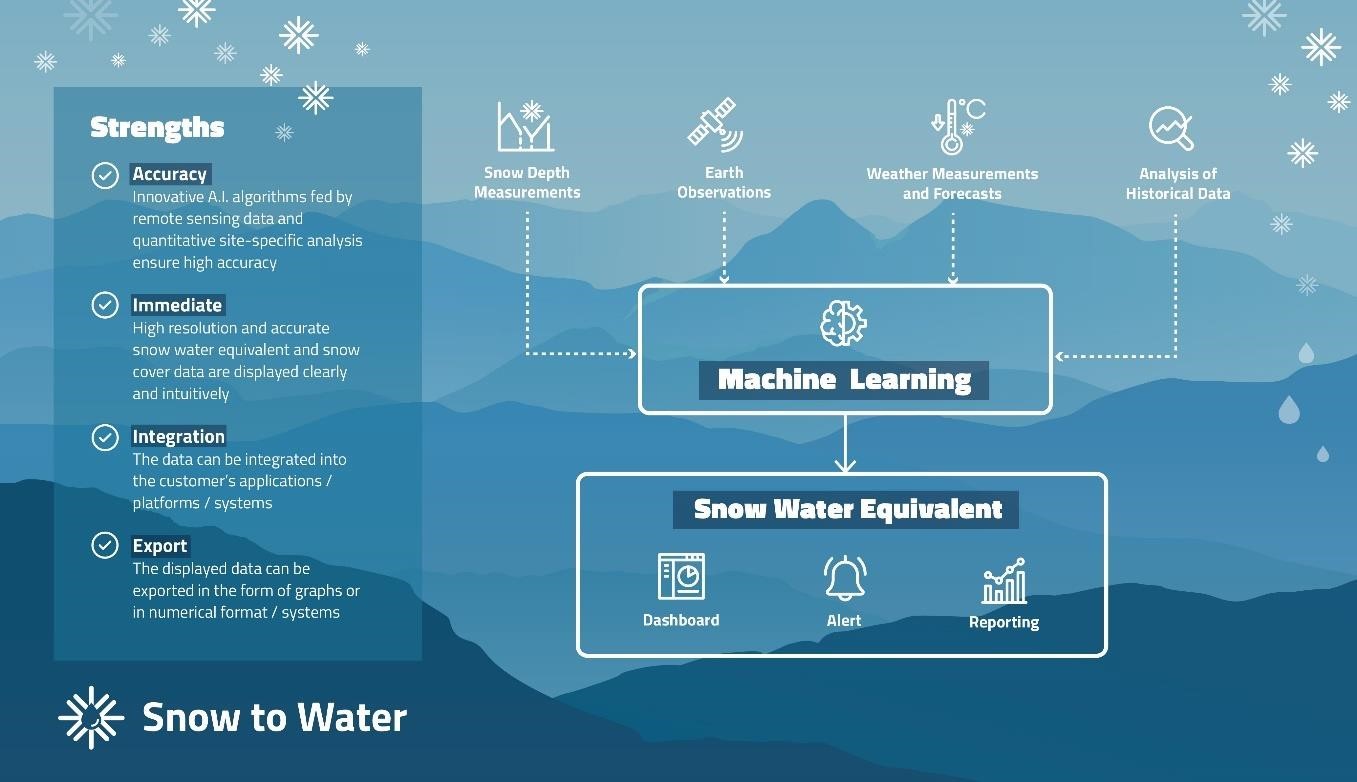 SNOWtoWATER service provides high resolution and accurate snow water equivalent and snow cover data obtained through innovative A.I. algorithms, fed by remote sensing data and quantitative site-specific analysis. The project fills a gap in the provisioning of Snow Water Equivalent (SWE) data, which – although useful for several stakeholders – are affected by some weaknesses as limited areal coverage, low accuracy, inconsistency of data which feed the models.
The service relies on a solid and proved hydrology-oriented cryosphere model, to provide customer-oriented outputs for each market sector. The final product is a Decision Support System (DSS) which can provide accurate SWE and snow cover data.
In order to produce the most reliable output, the cryosphere model assimilates:
In-situ measurements of snow depth and density;

high-resolution data of snow cover from satellite observation;

high-resolution weather data of past, current and future atmospheric state.
The output of the cryosphere model is post-processed by Machine Learning.
The DSS is hosted in a digital platform, whose access is granted to the users.
Users and their needs
Three main customer segments take advantage from the new SNOWtoWATER services:
Hydropower companies

Land Reclamation and Irrigation Authorities

Hydraulics and hydropower consultancy and design
All these customers are characterised by the need of having an accurate and reliable estimation of the amount of water resource stored in the snowpack and that will be available after the snowmelt.
Specifically, SNOWtoWATER helps hydropower companies in managing hydroelectric plants and planning the production or storage of water, also evaluating their impacts on the power market.
The needs of Land Reclamation and Irrigation Authorities, supported by SNOWtoWATER, are twofold: 1) manage water storage and irrigation systems to provide water for agriculture; 2) adopt solutions to minimize floods.
Hydraulics and hydropower consultancy and design, which provide services both to hydropower companies and Land Reclamation and Irrigation Authorities, take advantage of SNOWtoWATER in the design, optimization and management of hydropower plants, irrigation systems and flood warning system.
The customers are located in the Alpine Region, with specific reference to Italy and France.
Service/ system concept
The SNOWtoWATER system integrates data from field acquisitions, radar, distributed sensors, satellite data, weather reanalysis data, regarding snow and snow stratigraphy, with high resolution indices, for the evaluation of the SWE. With these indications it is possible to optimize the production of hydroelectric energy, the operation of dams, energy dispatching, irrigation, hydropower plant design and management of water resources.
SWE data sampled in 200m x 200m cells are provided both directly and through a new digital platform.
The modeling chain is hosted on clusters of servers in cloud with LINUX operating system. All outputs are stored in the cloud and their dissemination takes place via API webservices (WMS, WCS), s3 bucket or transferred via FTP / SFTP protocol.
It is also possible to view the SWE layer, together with other auxiliary layers (e.g. weather data) on a dedicated GIS platform.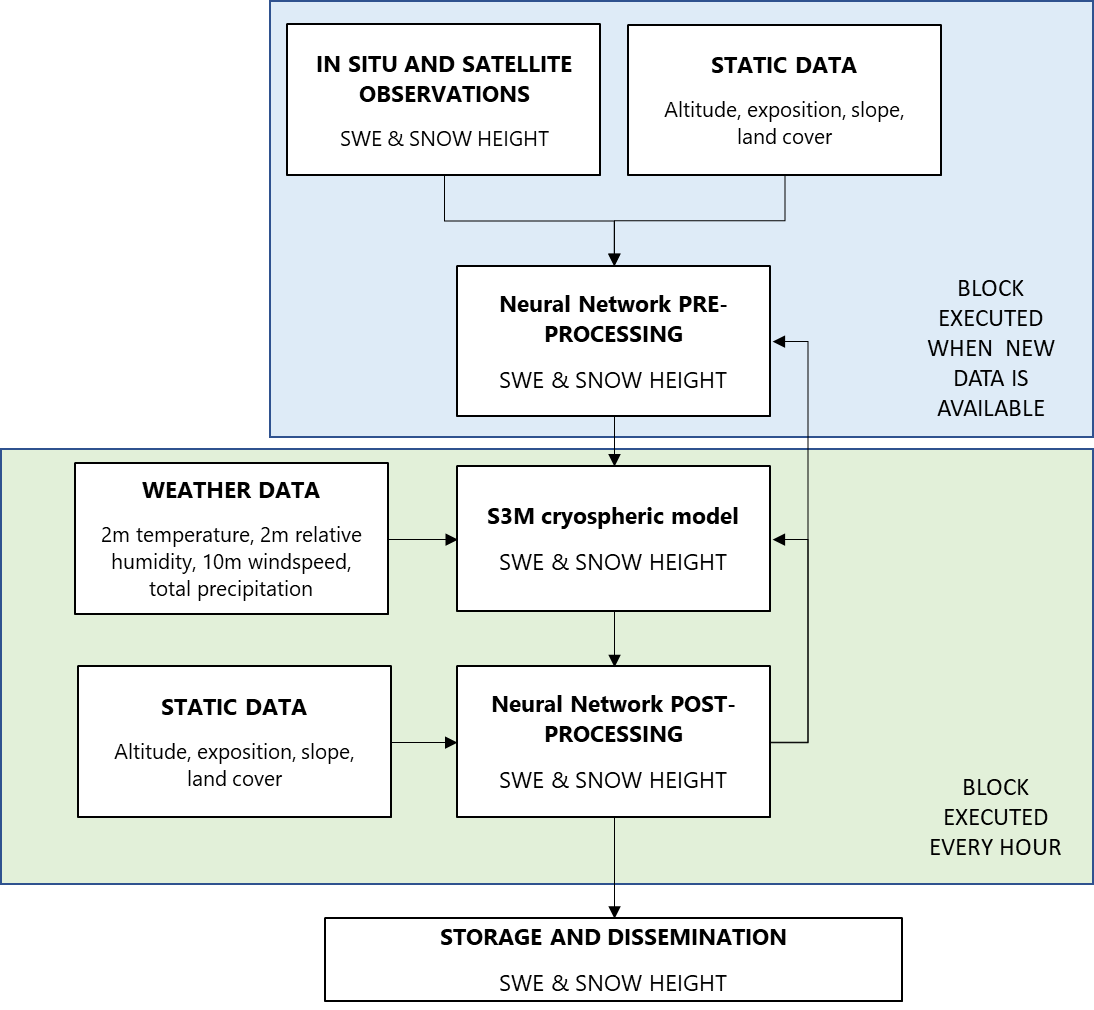 Space Added Value
Earth Observation data are derived from recent and high resolution sensors on Sentinel 2.
The spatialization procedures and data assimilation are innovatively driven using machine learning and artificial intelligence techniques, offering automatic and reliable fitting performances.
Current Status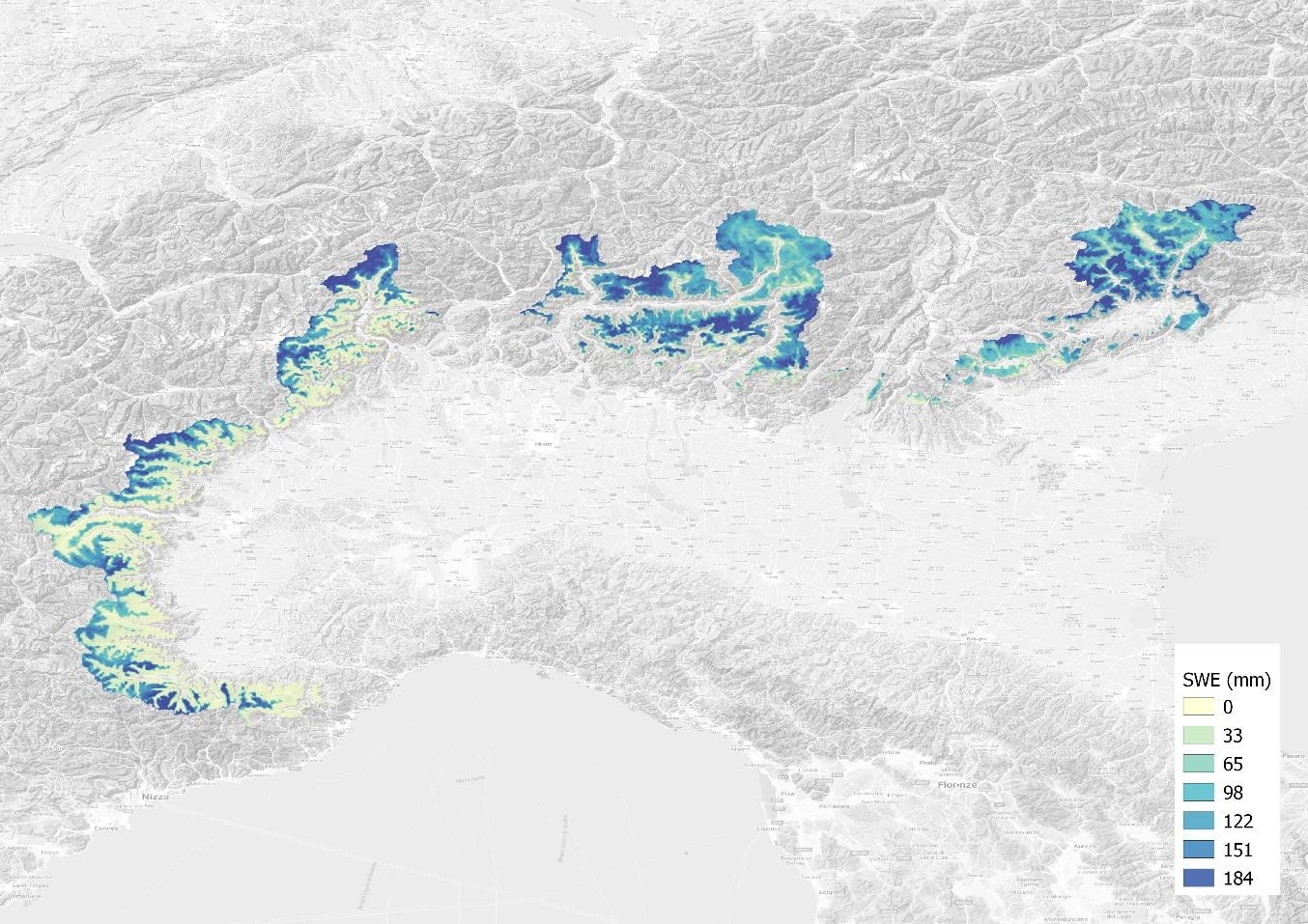 The model underling the proposed service has been tested, and operationally used over all the Alpine Region. From the first results, we may assume that the core of the analysis is robust, reliable and operative.
Prime Contractor(s)
Status Date
Updated: 16 December 2022
-
Created: 16 December 2022