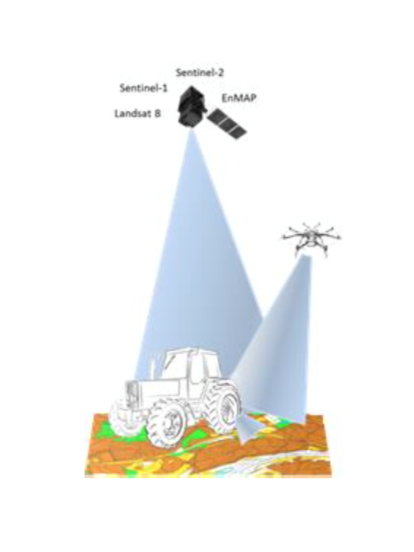 Objectives of the service
SolumScire makes use of latest satellite- and positioning technologies to better understand soil and soil conditions as related to crop production. This feasibility study finalized a business model and service for new, spatial and high resolution soil data and looked into innovative technical ways to acquire such data with in-situ sensors whilst tilling a field. The combination of such data with information from satellite and laboratory analysis has been studied to increase yield in crop management. The team also looked into potential service offerings and business models. The service to be created for farmers will feed spatially resolved soil information automatically into the farm management system (FMS) to adjust and improve field related precision farming activities. This project adds value for farmers and the European society in general by increasing yield or yield stability and decreasing emissions from crop management. SolumScire created a better understanding of technical as well as business aspects by involving relevant stakeholders from the beginning.
Users and their needs
SolumScire worked with different stakeholders. These included big farmers, small farmers, consultants, contractors and soil analysis companies.
Big farmers are looking for new and better referenced soil data to improve their field tasks and to create sub-field application maps to save inputs like fertiliser and to increase crop yield. To do so they are looking for field management zones that they can work with and that helps them increasing their income. They are also looking to constantly improve their farming practices and to get better year after year.
Small farmers rather look for cross compliance fulfilment when it comes to soil sampling. Their focus is on easy to do soil sampling that helps them to save cost and to be compliant as cost and time effective as possible.
Consultants are looking for new data on soil to improve their consultancy services. Consultants want to better understand soil organics, soil moisture and how farmers' activities influence soil fertility and yield overall. Given the high correlations between soil and plants and their interaction, they see better soil data as the missing link to boost yield and efficiency.
Contractors are constantly looking for new opportunities to offer new services to their clients that are included in existing field passages and service activities already. To do so they look for easy to use hardware to be applied within existing field tasks performed.
Soil analysis companies have an existing business model for soil analysis for cross compliance reasons. These companies are looking for new business models and to leverage their existing infrastructure to do more soil analysis. Today their results are still handled on paper and the first companies are looking for digital solutions to improve customer convenience.
Targeted users are farmers in Germany, Switzerland and the EU, consultants, contractors and soil analysis companies.
Service/ system concept
The service and system concept will combine different assets including satellite components, laboratory analysis, software and sensor components. The system also shall prepare for real time soil sensing as a next step.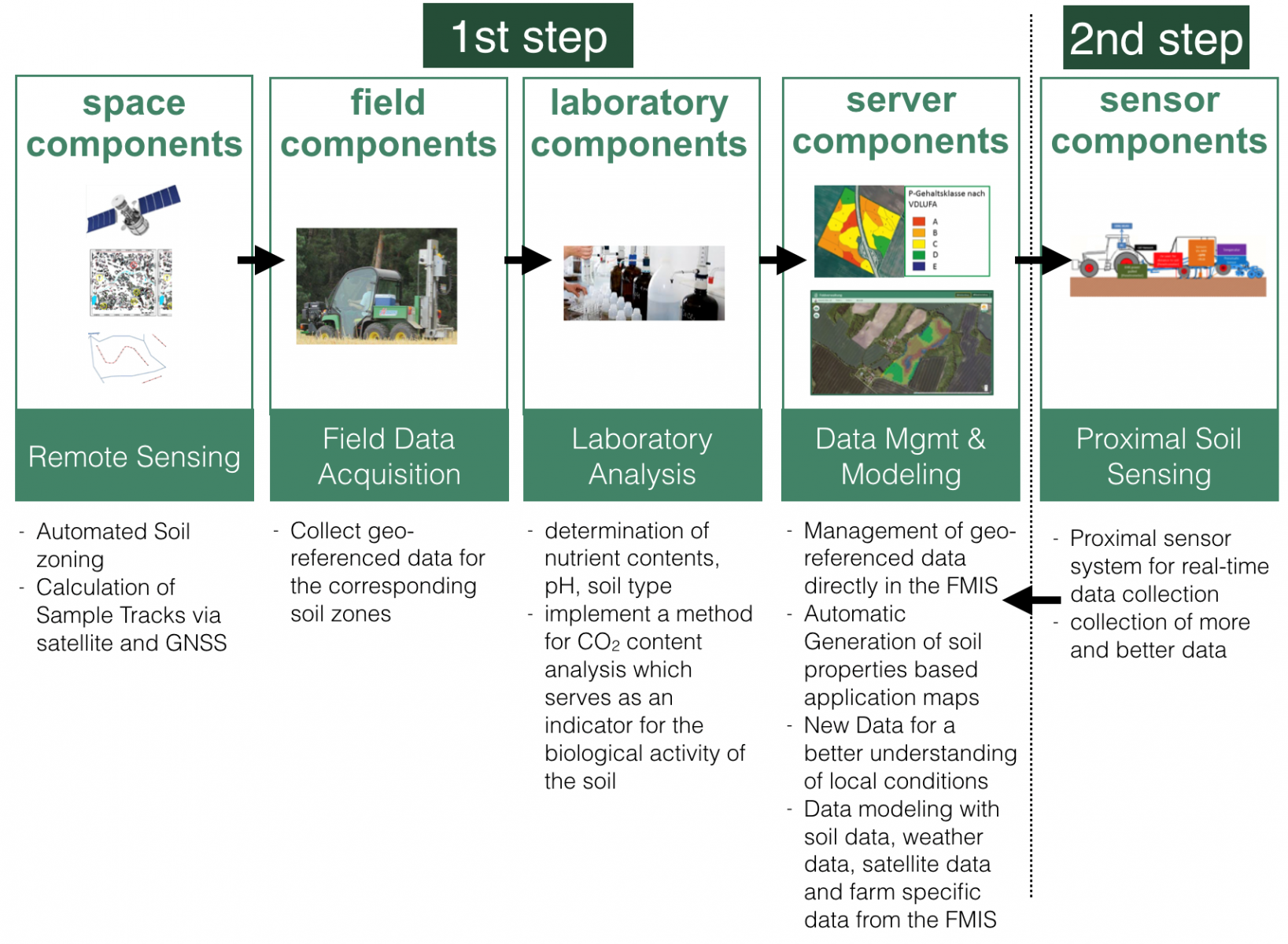 On basis of Satellite Earth Observation data the fields will be sub-divided into zones with soil showing similar characteristics. These created soil zones and an automatic generation of navigation lines and sampling points for users will help the farmer/consultant to understand where soil samples need to be taken and help to better geo-reference the data gathered. The samples then will be analysed in the laboratory where additional evaluations shall offer new insights into soil organics and thus offer new data insights. Having this improved information will allow better plant modelling and thus help to create best in class application maps that support the farmer in any task he performs in a field like applying the right amount of nutrients, of crop protection, of seeds and even of soil tillage intensity in the sub-field zones.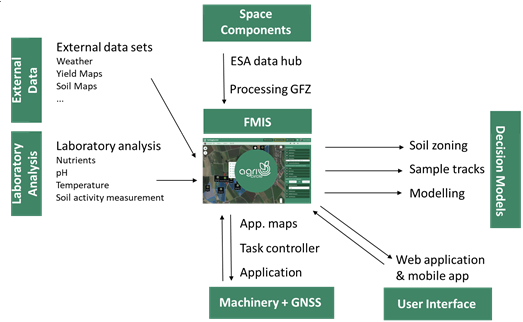 The service is built on the AgriCircle FMIS in the center. The FMIS will integrate space components as well as external data including laboratory analysis, machinery and farmer's data and aggregate it. The decision models will then be applied on all data sets available and help to create improved application maps for precision farming that get sent onto machines. Farmers will be able to access the service and all data sets via a web and mobile interface.
Space Added Value
The space components to be used are earth observation satellites as well as GNSS.
Earth Observation data
The earth observation data will be more precise and homogenous soil zones and spectral data capturing more information about plant growth and its correlations to soil on a global scale. Based on the location, data and spectral bands to be used, the required information can vary. Copernicus Sentinel-1 and Sentinel-2 satellites are the best suiting earth observation systems to be used. With farmer's cultivation as well as weather data from the AgriCircle FMIS and with a closed data loop based on soil zones created, soil type and specifics assigned via laboratory analysis, farmer's data, weather data and Sentinel-2 biomass measurements better insights and thus new services to optimise precision farming tasks can be offered.
GNSS positioning data
There will be data from different areas that will need to be pulled together to then calculate necessary applications, application rates and application areas. In order to get all data at the exact point to do the right evaluations and draw the right conclusions from it, great positioning is needed on machines and all data gathered.
Current Status
The SolumScire feasibility study has been successfully performed and finalised.
All stakeholders have been highly engaged and are looking forward to next steps and to create a product out of the methods created.
In the feasibility study all stakeholder needs have been collected and tested on technical feasibility. Based on this research a new workflow and system approach for improved soil data has been created. This new method includes soil zones created via satellite data, soil sampling management, improved and extended soil analysis and new insights into crop modelling based on satellite data and plant traits.
The feasibility study is concluded and the team plans to apply for a demonstration project.
Prime Contractor(s)
Subcontractor(s)
Status Date
Updated: 14 December 2017
-
Created: 27 January 2017