Objectives of the service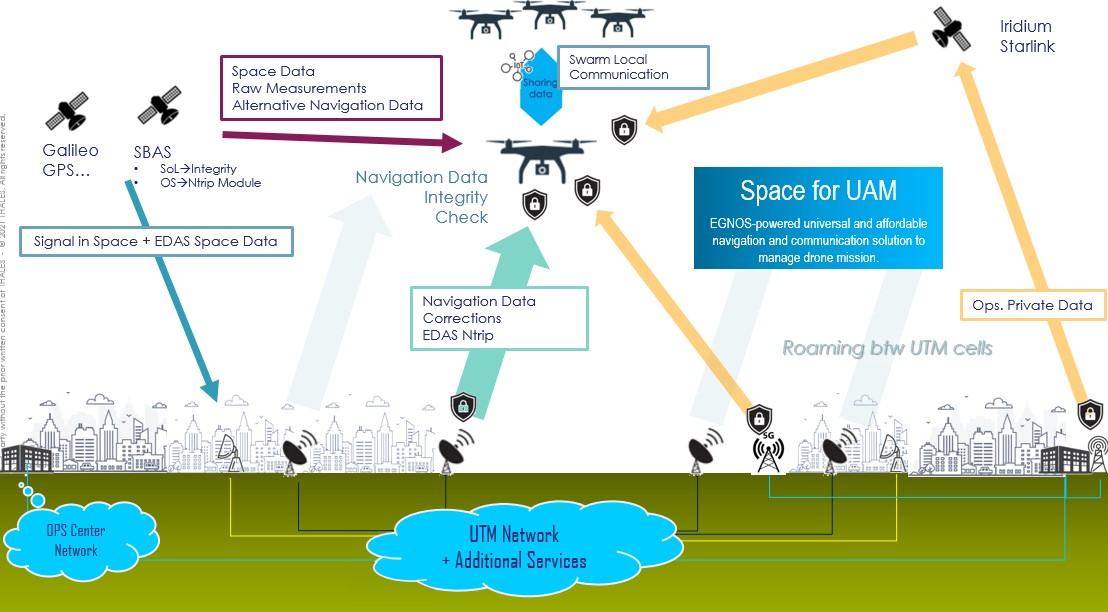 The Space for UAM study aims to collect the needs from UAS stakeholders to identify new services that could be of interest to them. The Go-to-market objective was set for 2025.
The outcome of this capture allows us to identify high integrity and high availability of communication and positioning services as the first and foremost needs.
Two specific operational use cases are studied to envision a demonstration on how these services could effectively reach the requirements expressed in the User Requirements Definition.
Transport of medical samples between two hospitals in mountainous regions combining harsh natural environment with altitude variances and urban landscape environment.

Transport of parcels between a warehouse located in a metropolitan area and remote customers.
Two services have been refined with consideration of these uses cases.
Service 1 : EGNOS-powered universal and affordable navigation and communication solution to manage drone mission.

Service 2 : Universal and affordable data aggregator solution for trajectory planning and optimization.
Note : Service 2 has been discarded as the Go-to-market objective date appears closer with regard to U-Space roadmap with which our Service 2 expects to interop with.
Users and their needs
Drone operators are facing many different technical stumbling blocs, both when preparing flights and when in operation. For flight preparation, this includes trajectory optimization taking into account weather, public events, public works, local DEM, other drone flights, etc… For flight operations, the main challenges relate to GNSS and communications. This includes integrity of the GNSS position and the communications link, accuracy and TTF for the GNSS signal, coverage, performance in urban environment, etc…
To address these challenges, drone operators are using specific software from a variety of providers, off the shelf options or developed in-house and install nav/comm solutions onboard their drones. Most of the flight preparation software remains limited in features and more advanced nav/comm systems can be expensive.
This creates the opportunity for the Space4UAM services that make a better use of space data, be it EO, EGNSS (EGNOS especially) and satellite communications.
The targeted market is at first the Eurpean market.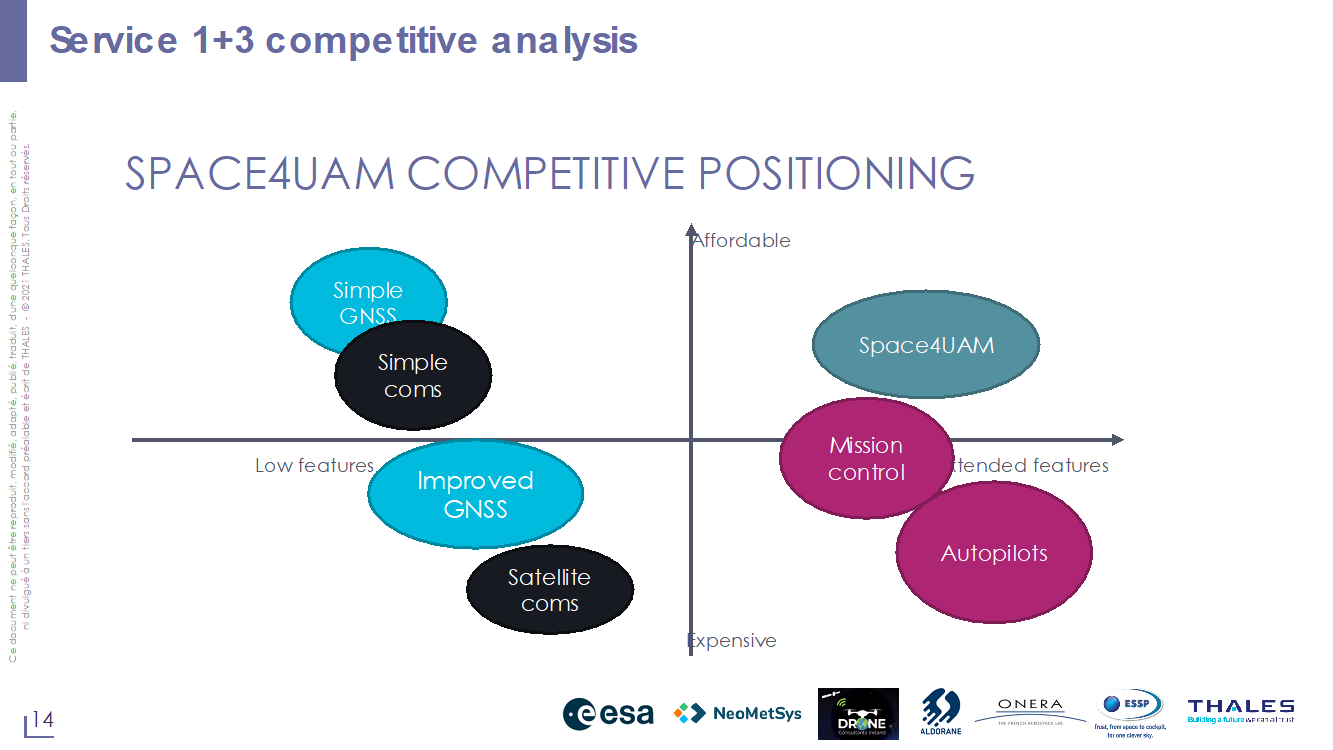 Service/ system concept
Here are the envisioned features for Service 1
Computes PVT of the UA

Collect GNSS raw data directly from SAT through E-GNSS Receiver and provides augmentation reducing potential horizontal and vertical navigation error; and also provides integrity when using SoL.

Collect Space data processed by the Ground Segment through different communication channels

4G/5G

Sat Com

Indoor positioning

Bluetooth

Preprocessing with NTRIP capability (EDAS) in order to get EGNOS corrections from a secondary source (despite of SiS)

Implementation of EGNOS SoL and OS

Apply hybridization algorithms from all sources (inertial unit, altimeter sensor, GNSS/space data receivers)

Positioning and Navigation data exchange with UA Auto-Pilot

Capability to manage hot swap with alternative NAV system

Advanced UAM specific services

Store and post-flight dump of positioning and navigation data

Unique ID of the UAM
The following picture outlines the high-level architecture of the service integrated within UAS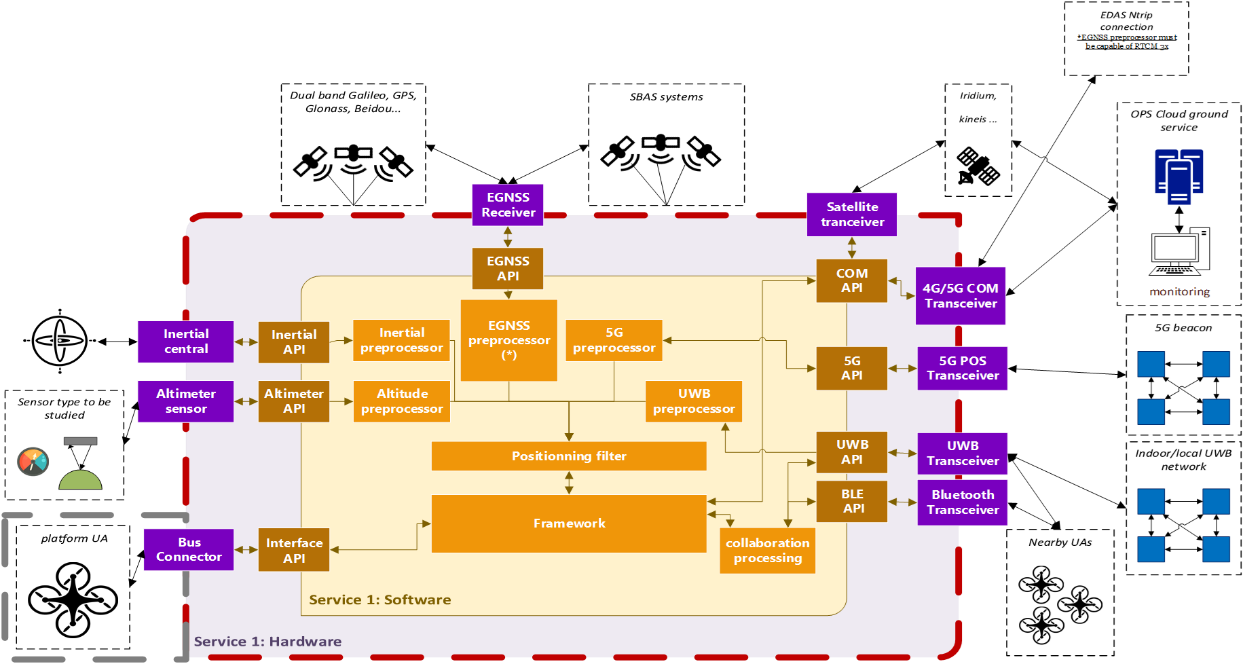 Space Added Value
Service 1 relies on space data as shown in below table.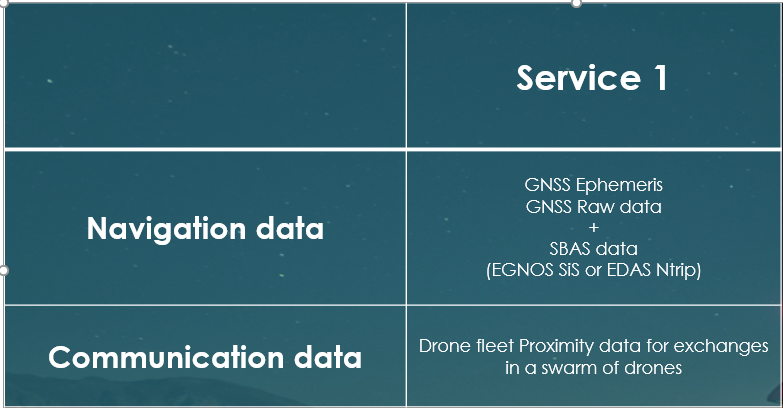 Current Status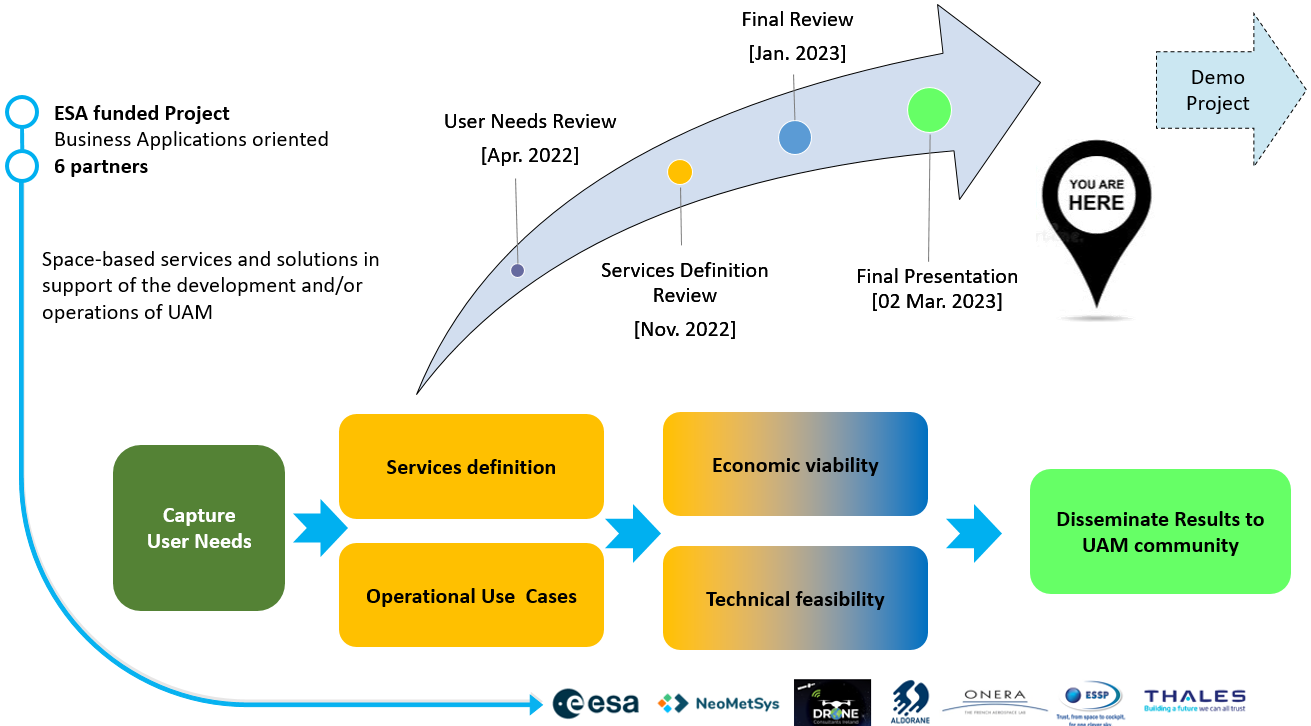 Held 3 workshops with famous UAM actors: Atechsys, Volocopter, Delair
Released 3 main documents: Needs, Preliminary Design Dossier, Business Plan
held Final Presentation on March 2nd, 2023.
The study is suitable to go ahead with a demonstration project as it has been shown in the feasibility that the services should be profitable.
The needs and the market size have been identified and are considered strong enough to support a viable service.
The value proposition if differentiating form what is already existing in the market by offering a robust and resilient solution that is more accurate and affordable.
The consortium need to work on the following items to go ahead for the demonstration project :
demonstration sites

drone types

team and consortium organisation
As a this a fast-moving and fragmented market, there will be a clear first-mover advantage
Prime Contractor(s)
Status Date
Updated: 04 August 2023
-
Created: 04 August 2023