Objectives of the service
Spottitt provides satellite-driven analysis for the optimal positioning of solar and wind energy installations. It is a revolutionary online application able to search and retrieve current satellite imagery and data to perform seamless, industry-standard site search and selection analyses.
To see Spottitt in action go to https://geoportal.spottitt.com and login as a demo user or just contact us on info@spottitt.com .
With annual market forecast data from GWEC for 2013 to 2019 indicating continued investment and growth in wind capacity across all regions, this is still very much an expanding market.
Spottitt has been conceived to support onshore wind developers, turbine manufacturers and energy providers with the complex, expensive and time consuming process of screening and selecting the most suitable greenfield sites for development, without the need for initial travel to sites of interest. Spottitt is conceived to be a one-stop online portal, where users can access recent, relevant, high resolution EO, and non EO data layers, then within the same portal use these layers of data to conduct automated land cover, rooftop recognition, green field, turbine selection and positioning analysis across their areas of interest, anywhere in the world.

Please view our project video to see how easy it is to use Spottitt to generate fully automated, on-demand complex remote sensing and GIS analyses.
Users and their needs
The issues that developers have with their current Greenfield site prospecting and development processes, and the impact of the proposed Spottitt service are the following:
It is very expensive, with developers investing upwards of 530,000 Euro per 100 Mw installed just to get to the start of the Design phase. Spottitt reduces this cost by an estimated 10% (~ 50,000 Euro).
It is time consuming, with projects taking years before sites are selected and all approvals are in place. Spottitt will significantly reduce the duration of the Greenfield prospecting phase by more than 60% (3-4 months).
It is labor intensive with individual wind/site assessors working on as few as four projects a year. Spottitt will brings increased automation and our involved users agree that an individual wind/site assessor will now be able to work on double the number of projects per year.
Operating in high potential developing markets such as South America, Africa, Asia, or breaking into new geographical markets is a huge challenge for developers due to the extra costs involved and lack of good quality data to work from. Spottitt enables developers to complete Greenfield Prospecting and some aspects of Greenfield Development without the need for travel, local maps, local support or specific local knowledge. Spottitt also provides an efficient and cost effective way of doing due diligence when purchasing local sites partially developed by a local developer.
Users have data transfer, filing and access issues as they are working with, storing and emailing large files between the various parties working on a particular project. Spottitt eliminates the need to email large files or even to store them locally. Spottitt users can access their account and their data from any internet enabled device,invite multiple company users per subscription, and share results with anybody via secure sharing links.
Users often have no central storage of past and ongoing projects across the company. Spottitt will act as a central repository of all projects, their input data layers, output analyses and assumptions.  
Spottitt addresses the opportunity that the onshore wind market is predicted to grow strongly over the coming 10 years and that developers looking to profit from this will need to increase automation so that they can increase their project throughput, reduce time to market and make better site selection/ site purchase decisions.
Service/ system concept
The table below provides a breakdown of the Spottitt service portfolio.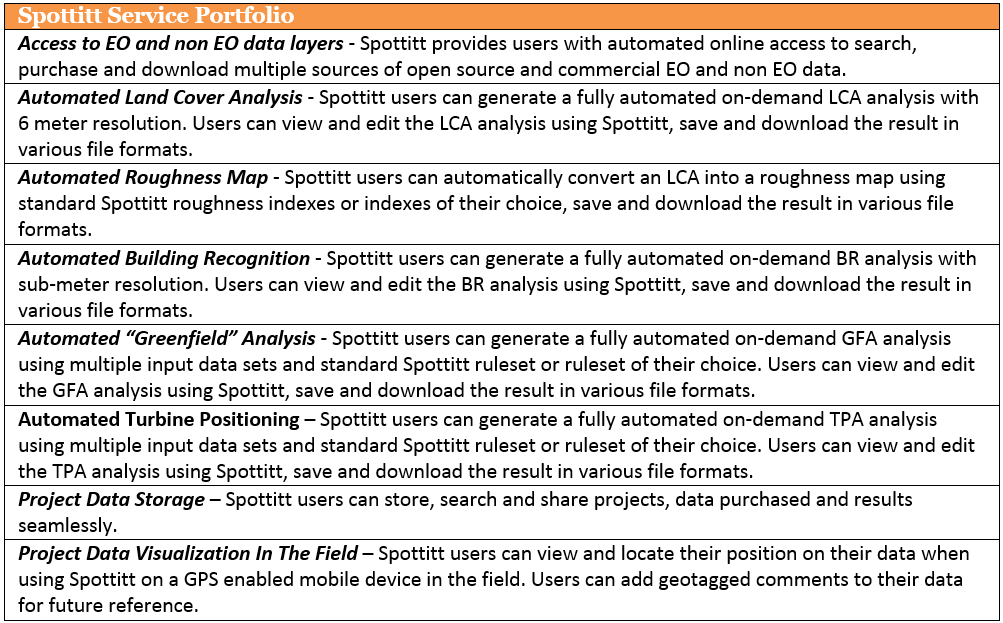 Spottitt is unique in providing an online portal with which developers can streamline and automate data/image search, purchase, and analysis in one tool. Developers can finally easily access recent medium, high and very high resolution EO data as well as other layers of relevant data. The outputs of Spottitt are compatible with a developers need to include Spottitt outputs in reports and approval/permitting requests and also to import Spottitt outputs into software packages like AutoCAD and WindPro for detailed design work.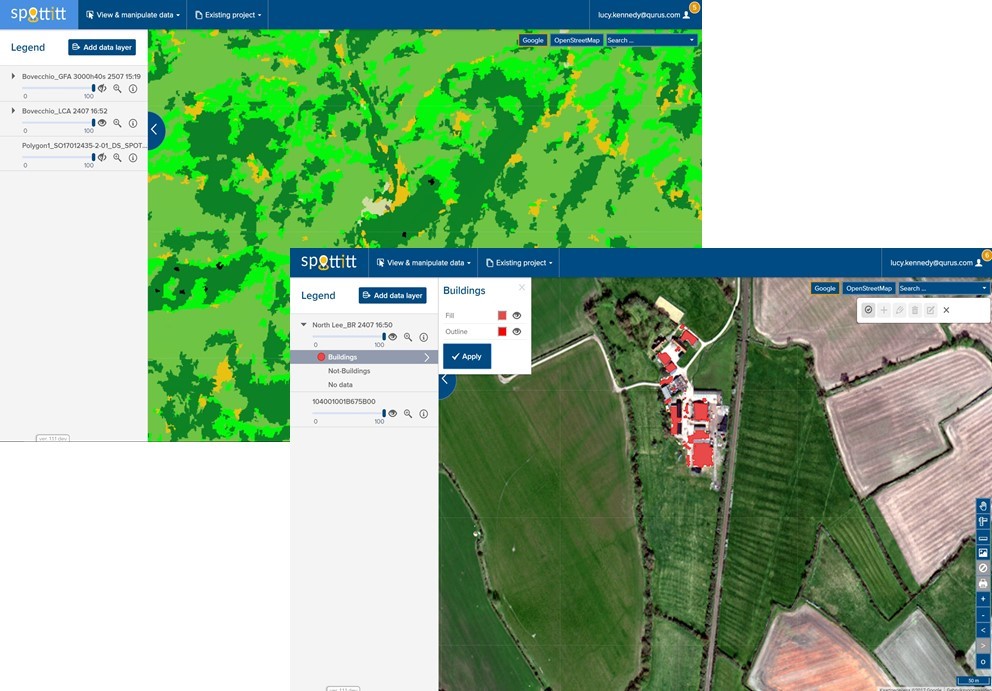 Automatically generate high resolution land cover analysis and sub meter building footprint data for any location in the world from the most recent satellite imagery.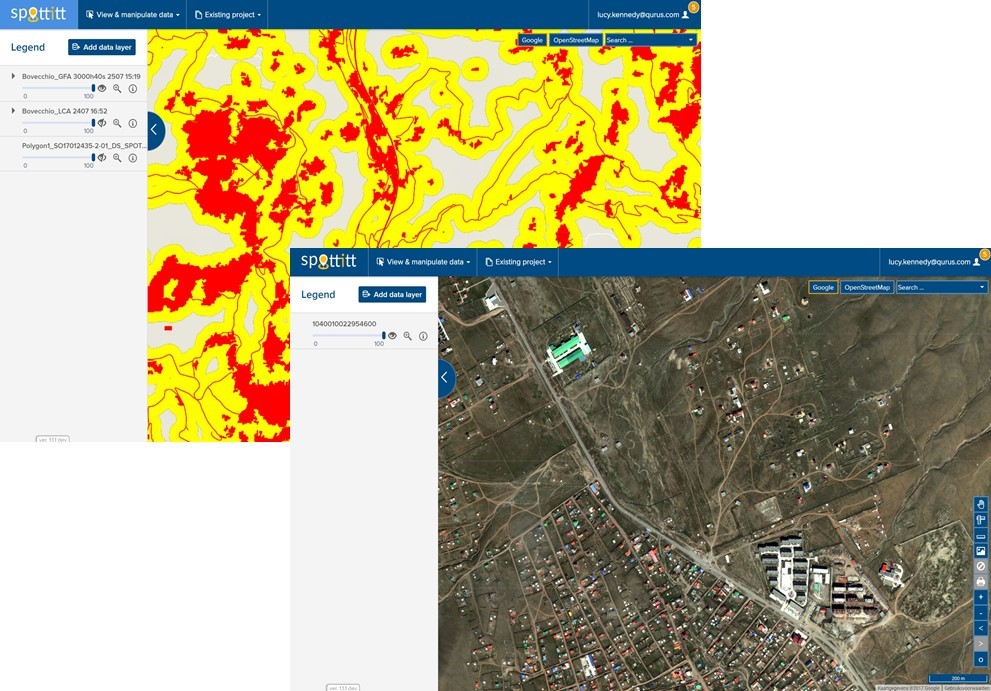 Choose your own Greenfield Analysis and Turbine Positioning Analysis ruleset and let Spottitt automatically define suitable areas for wind farm development and even ideal turbine positions.
Space Added Value
Spottitt relies on two space assets, earth observation data and satellite navigation (GPS). Recent, very high, high, and in some cases medium resolution earth observation data in the form of optical and multispectral imagery are key, and GPS is utilized to enable Spottitt users to view their location, validate Spottitt outputs, and input project data when they conduct site visits using a GPS enabled mobile device.
Current Status
The 15 month demonstration project has been concluded and many of our involved users have confirmed that Spottitt does indeed meet the key user needs as outlined at the start of the project at a price point which adds value. During the process of service demonstration our users have outlined some additional user needs which they feel would great add to the value proposition of Spottitt. The Spottitt team is currently working on the scope and funding of these additional developments with a view to taking Spottitt from being an R&D project to commercial operation end Q1 2018. In parallel the Spottitt team will be looking to grow its user base for the Spottitt Wind services and bring cloud based, cost efficient, automated, on-demand EO and GIS analysis to new markets.
To request a copy of the final report for this demonstration project please email the ESA project manager Beatrice Barresi, Beatrice.Barresi@esa.int
Prime Contractor(s)
Status Date
Updated: 19 December 2017
-
Created: 24 October 2016