Objectives of the service
The goal of Stratio's product for Original Equipment Manufacturer (OEMs) is to automate testing and transform, in real time, millions of vehicle data points from sensors and variables into predictive intelligence, supporting OEMs to detect potential vehicle faults early on, predict failures and accelerate root cause analysis. This allows manufacturers to reduce warranty costs by proactively eliminating potential sources of problems and identifying invalid warranty claims, and to create new revenue channels by reselling the predictive analysis service to fleet operators and distributors, and deliver more value to fleet operators who are able to do their maintenance more efficiently, reduce costs related to maintenance services, vehicle parts and resources allocation, and reduce forced downtime resulting of vehicles breakdown, by acting upon Stratio Platform Alerts and Default Trouble Codes reporting.
Users and their needs
AUTOMATED VEHICLE TESTING
Automatically detect faults in vehicles systems such as Internal Combustion Engine (ICE), Transmission, Breaking system, Tyres and auxiliary / body components during the pre-production phase.
Faster fault detection at early stages of the products in the market to mature products faster.
WARRANTY FRAUD DETECTION
Lower warranty claims fraud costs
Minimize warranty accruals, payouts and reserves by accessing data in real time
Generate coherent data to support engineering teams to verify claim data
AFTERSALES PREDICTIVE INTELLIGENCE
Expand aftersales revenues selling replacement parts at the right time
Detect imminent and actionable malfunctions, state of life and expected remaining life
Refocus engineering efforts in finding solutions rather than looking for problems
Target markets are Europe and Middle East, and Asia-Pacific
Service/ system concept
Stratio Product Suite has a wide range of applications for Manufacturers and Operators, touching different angles depending on the context and needs of each customer:
Automated Vehicle Testing:
Detection of more faults faster during vehicle development stage
Use field data collected in real-time, in different conditions, to iterate faster on the R&D side
Warranty Fraud Detection:
Fraud detection in warranty claims matches vehicle data against warranty claims to validate if claimed damages existed and / or were caused by driver behaviour / mishandling of the vehicle, rather than product, lowering accepted warranty claims thus reducing costs related with invalid or misleading claims.
Better customer satisfaction by reducing the incident to resolution time of the claims, due to the additional automation.
Aftersales Predictive Intelligence:
Reduce downtime, detecting faults beforehand
Reduce maintenance and repair costs, by takings actions proactively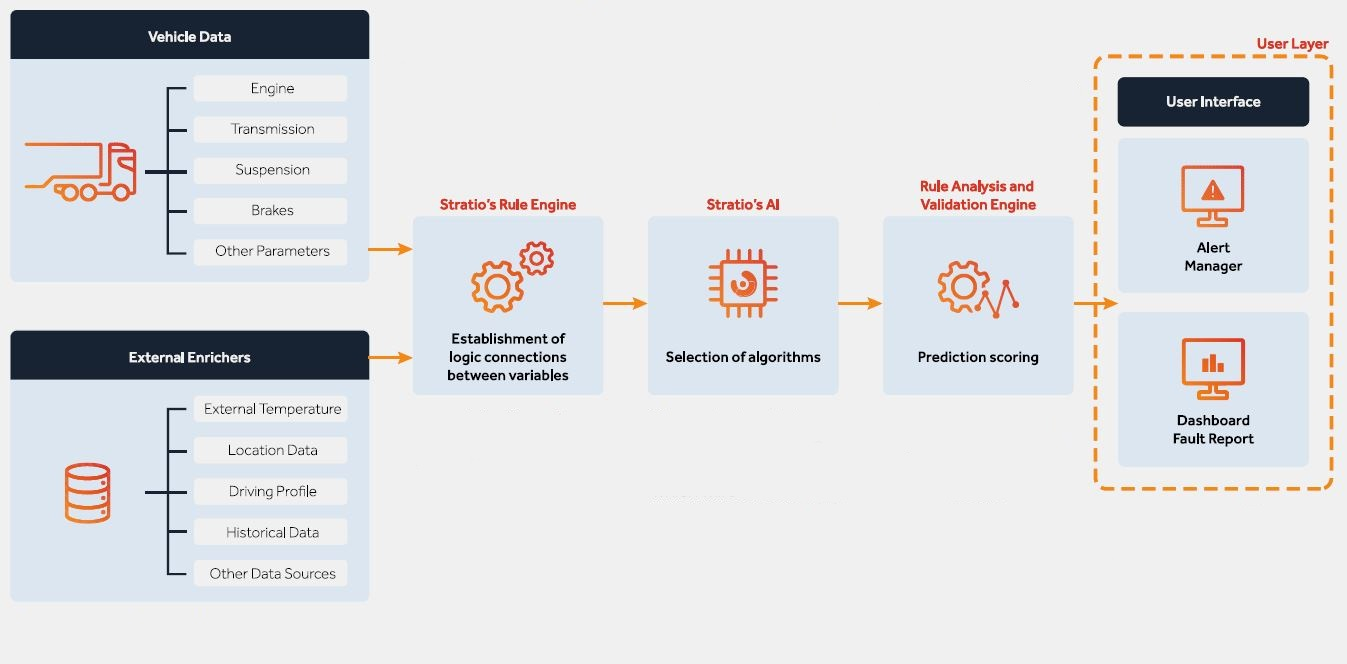 Figure 1
As it can be seen on Figure 1 above, the Stratio systems ingests telematics data, e.g. from the Stratio Databox hardware device. Stratio DataboxTM is the real-time sensor data logger that sends the initial input into Stratio's system. The real-time data is partially processed in the device and transmitted to Stratio infrastructure by machine to machine data communications using SIM Cards.
This telematics data contains sensor information and Diagnostic Trouble Codes (DTCs) for systems such has Engine, Transmission, Suspension, Brakes, and other parameters from other systems. Stratio's system also ingests data via private APIs and Third-Party Services to obtain other contextual important data such as external temperature, location data, driving profiles, and other contextual data sources for customer-specific needs.
This data is processed by a rules engine. These rules segment vehicles and faults into homogeneous groups that are then further analysed by applying them to machine learning models created by Stratio's Data Science team (Stratio's AI Engine Stratio CortexTM) that capture the patterns and identify specific faults out of the larger datasets.
Information is then made available to customers, including both OEMs and Fleet Operators (different features are made available to each group of users), by Stratio ForesightTM, a visualization layer using dashboards, graphics and tables to communicate outputs.
Space Added Value
Stratio's service is dependent on location tracking services and requires high precision, availability and coverage to deliver customers the best possible results. Contextual Data of where most faults occur is very important to manufacturers but also fleet operators, since it allows them to understand the circumstances of the reported faults and their root causes, thus increasing confidence in the system and user adoption.
The use of the Galileo navigation satellite system by Stratio's Databox allows an improvement of the resolution from 30 meters to 1 meter compared to the use of the GPS module only. Moreover, the time of cold fix (i.e., correcting the position of the vehicle for the first time) is reduced from 2 minutes approximately to 15 seconds. Finally the use of Galileo is allowing our device to increase coverage within cities near tall buildings and zones that are densely arborized.
Besides vehicle sensor data, Stratio Artificial Intelligence algorithms for fault and root cause detection are dependent on external enrichers, such as location, altitude, sloping, road temperature, among others. Most external enrichers are collected from third-party services through APIs, based on a provided geolocation other, such as road slope can be obtained by using GNSS. EGNOS and Galileo also fulfil Stratio's needs by reducing signal error, significantly reduce the fix time in all conditions, cold, warm or hot start.
Currently Stratio's device deployed in the market makes use of a GNSS receiver compatible with GPS, Galileo and Glonass, for a highly reliable and accurate location tracking of moving vehicles, with an extended coverage within our customers' area of operation. The device also uses information generated by EGNOS relative to satellite ephemeris and error estimations.
Current Status
The company's vision is to automate vehicle data analysis during the development phase and its lifetime, allowing the creation of fully reliable and predictable vehicles. This reliability is key for a future where mobility is autonomous.
Aligned with this vision to support the creation of fully reliable and predictable vehicles we have successfully developed and commercialized a solution targeting fleet operators and, with the support of the current project, we have designed and launched a new solution targeting this new company's vertical: OEMs. Stratio's solution for OEMs is already deployed in two tier 1 manufacturers and it's already being implemented in manufacturers both in Europe and in Asia.
Prime Contractor(s)
Status Date
Updated: 29 October 2019
-
Created: 29 October 2019