Objectives of the service
SWAY4Edu aims at developing a satellite ICT (Information Communication Technology) solution to support three main activities:
Rural Radios: assisted radio services for secure and sustainable agricultural development in the Democratic Republic of Congo (DRC),
Electoral eTraining: effective Electoral eTraining services to electoral management bodies of the Economic Community of Central African States (ECCAS) to support their electoral cycles,
Space4Education: effective eLearning services to support education in rural schools in South Africa (SA).
SWAY4Edu is conceived to be easily scalable and adaptable to other (non) African countries.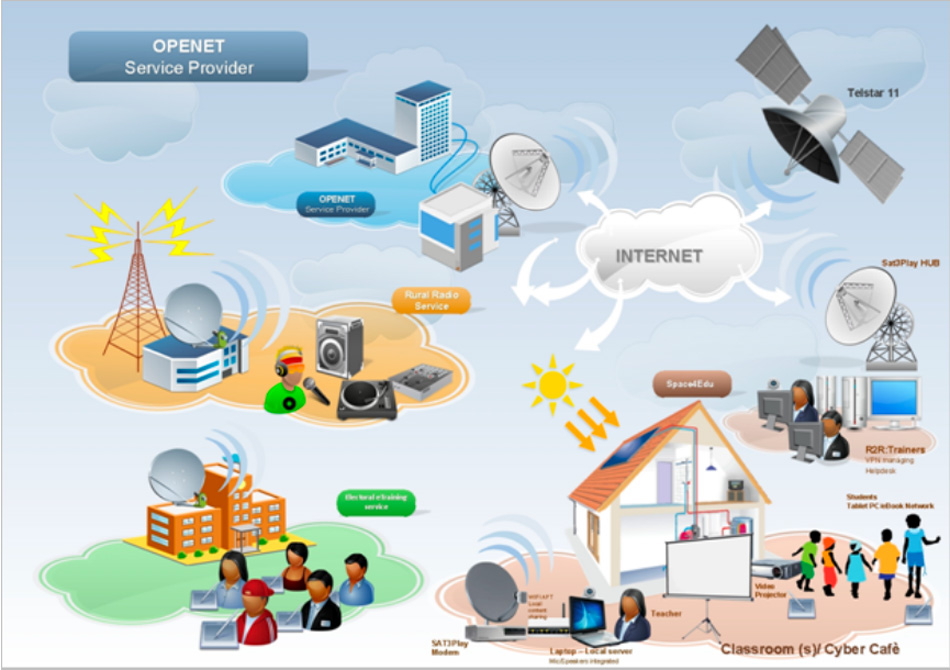 Current Status
The Final Review has been achieved on 18 February 2014, pending the completion of a few minor actions.
Although targeting different local stakeholders, different communities and needs spread over several African countries, the three activity elements of Sway4edu have something in common: they all address capacity building activities in Africa in order to prepare for the launch of commercial services.
In these respects, there is no doubt that the Sway4edu project activities have been very successful. The following main achievements can be already highlighted.
In December 2012, SES Broadband signed a contract with the Electoral Management Body (EMB) of Burkina Faso for the installation of 40 VSATs to support their electoral cycle
In September 2013 Openet signed a contract for the provision of Internet connectivity for 3 years to 10 Rural Radios in DRC with the Federation de Radio de Proximité in RDC, which manages 400 rural radios. Expected extension to 100 radios is planned within 2014.
In October 2013 Openet signed a contract for the provision of 1 year Internet connectivity and multicast connectivity for 26 rural radios in Mali was signed with Fondation Hirondelle in Luasanne CH, which manages a group of 62 radios. All remaining radios are expected to subscribe to the service by end of 2014
The provision of Internet services is currently being discussed with several schools who participated to the Space4edu pilot
The consortium has submitted CCN#5 proposal in order to:
i) Expand the network of interactive eLearning courses with a cluster of 12 satcom-enabled schools in the rural area of Mpumalanga in South Africa and 1 school in a rural area of the Basilicata Region (Italy) for the development of competences in IT and in the preservation of the natural environment
ii) Expand the network of assisted radio service with a cluster of 20 pilot radios in the rural area of the DRD to further promote the "Openet cloud service", enabling collaborative post-production of the content before final FM broadcasting to their respective local communities
iii) to develop an "Outcomes Assessment System" to efficiently monitor the utilisation figures of the different applications and services by the users (e.g. completed courses, volume of traffic over Internet) and the relevant correlation with the technical operational status of the key subsystems at each pilot site
The CCN#5 activities (named as Sway4edu2) were kicked-off in January 2015.
Prime Contractor(s)
Subcontractor(s)
Status Date
Updated: 18 January 2017
-
Created: 15 February 2014