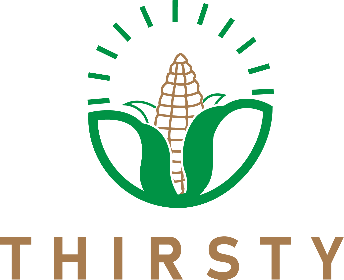 Objectives of the service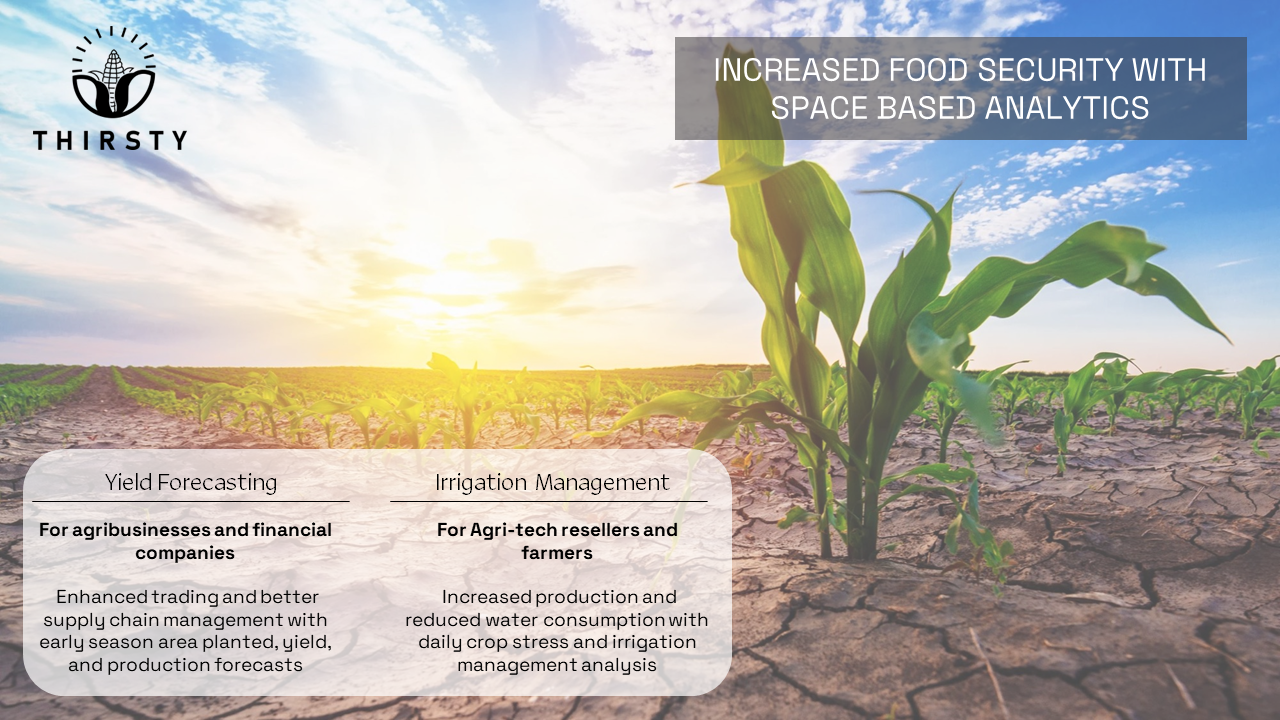 Under project THIRSTY, Hydrosat's develops two applications that exploit the unique capabilities of satellite-based thermal data. Hydrosat is developing a crop yield forecast that improves supply chain management, ensuring that produce is delivered to food processing and packaging facilities on a consistent and reliable schedule. The company is also perfecting its farm management tool to give growers insight into plant health, highlighting problem areas and directing them when to irrigate. With optimal irrigation, production can be increased while water use decreased.
The biggest challenges that yield forecast customers face today are inaccurate data, insufficient geographical coverage, and predictions that arrive too late in the growing season to be operationally useful. THIRSTY's yield forecast provides accurate, early season forecasts in major European commodity producing countries.
Improving irrigation is a critical input to better farm management, as the decision on when and how much to water is typically reliant on the farmer's intuition. More sophisticated farmers use in-ground sensors, but these are costly and highly unreliable. Hydrosat's satellite-based irrigation solution covers an entire farm at a low price, and can be delivered to farmers all across the globe. The costs are minimal, while the results are significant and quantifiable.
Users and their needs
Yield forecast users are agribusiness (food processors, packagers and distributors) looking to manage their supply lines and hedge against unexpected price hikes, and financial companies that trade agriculture commodities. For agribusinesses, receiving yield insights late in the season can lead into severe supply chain shortages that have a highly disruptive and expensive impact on the company. Using proprietary analytics built on thermal imagery, Hydrosat gives users warning of an impending shortage, or of a surplus early in the season.
Irrigation management users are farmers and ag-tech resellers. With an ever-increasing population, more food must be grown on the same amount of land or less, using less precious water. On the other hand, climate change has led to an increasing number of unpredictable, extreme weather events that put the fields at risk of reduced production or even food loss. Users need a cost effective, scalable solution that provides optimal irrigation management decisions for their fields. Optimal irrigation has a double advantage: it increases food production, and it reduces water consumption.
Service/ system concept
THIRSTY's yield forecast and irrigation management products use primarily satellite data. Among input data sources are publicly available satellite data, weather data as well as proprietary data from Hydrosat's Fusion Hub. Data is then processed into a suitable format that serves as input to Hydrosat's proprietary models. The irrigation management data pipelines consist of a crop growth and a water balance model. The output of a water balance model is combined with ancillary weather data to produce optimal irrigation schedules. Irrigation data and other insights are provided to farmers and resellers through a Web User Interface (Web UI). The yield forecast data pipelines consist of a crop mapping module and a yield forecast module. The crop mapping module creates live, high-resolution crop maps based on satellite observations. Each crop of interest is then extracted and monitored throughout the season to produce end-of-season yield and production forecasts. Crop mapping and yield data is served to customers through a Web UI.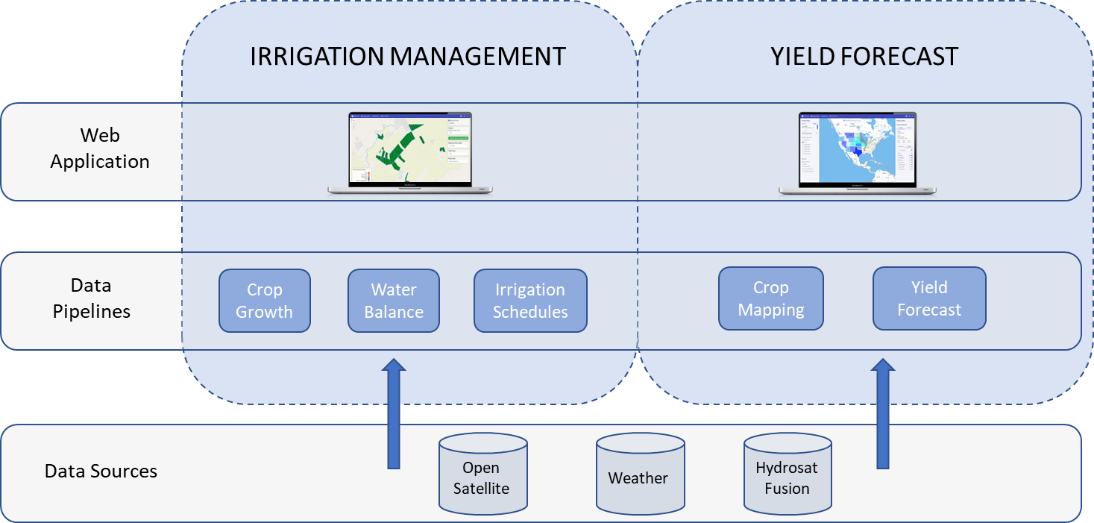 Space Added Value
Earth Observation satellite data is the foundation of project THIRSTY. The irrigation management and yield forecast products use data from the Landsat, Sentinel and MODIS/VIRSS missions. In addition to this, thermal infrared data from Hydrosat's proprietary Fusion Hub is used. Hydrosat's Fusion Hub provides high-resolution, daily thermal infrared data. Both of Hydrosat's products use thermal infrared imagery as unique datasets. Thermal imagery from space has been proven to reveal unparalleled intelligence about agriculture, far surpassing current state-of-the-art systems. Conventional approaches using visible and near-infrared imagery can reveal the degradation of crop leaves – they use NDVI to detect crop water stress once the damage is already done.
In contrast, thermal infrared imagery shows the precise canopy temperature, which is a measure of evapotranspiration and thus photosynthetic activity in the leaves. Accordingly, thermal infrared imagery shows any water stress well before any damage becomes visible.
Current Status
Hydrosat has completeted the Baseline Design phase of project THIRSTY. During this phase, user and system requirements for its yield forecast and irrigation management products have been defined. A preliminary System and Service architecture has been designed.
Prime Contractor(s)
Status Date
Updated: 20 April 2023
-
Created: 20 April 2023