Objectives of the service
Continual advances in new Innovative Delivery Platforms (IDP) such as Remotely Piloted Aircraft Systems (RPAS), High Altitude Platforms (HAP) and small satellites is presenting new opportunities in space and related sectors. Equipping these IDPs with increasingly compact equipment means they can serve as communication nodes thereby providing more attractive and cost effective solutions for exchanging a wealth of information to and from regions with inferior cellular/terrestrial coverage or where networks need to be setup dynamically at short notice. This in turn can stimulate the growth of more downstream services, applications and players as well as improving business models as part of the evolving Next Generation Network (NGN) eco-system.
Whilst most attention to-date concerning these IDPs has focused on remote sensing, surveillance and earth observation applications, its appeal in providing data communication services to remote or rural geographic regions is increasingly gaining momentum.
IDPs potentially have a pivotal role to play by providing a complementary capability to existing infrastructure and assisting NGN stakeholders in addressing the immediate user demand for more data capacity and throughput whilst also providing greater service reach and improving cost efficiency.
e2E is building on its existing products to enable the use of IDPs to develop Complementary NGNs (CNGN) for particular enterprise customers and to meet sector specific needs. Delivering more affordable data communication services into currently under served regions and where traditional satellite-based communication services have been prohibitive to smaller enterprises due to high costs is therefore the goal.
There is a growing need for the NGN to be able to quickly incorporate, configure and manage a more heterogeneous set of network nodes. This networking capability needs to be able to provide bi-directional communications even into underserved areas and unanticipated hot-spots with little setup time. The network behaviour should also support "ad-hoc" operations in the sense that third-party peering networks and mobile user classes are able to quickly attach with and use the extended network thereby cutting future infrastructure costs and avoiding long installation times.
Users and their needs
The initially targeted user communities being considered are:
Remote workers and communities;
Beyond-Line-of-Sight (BLOS) M2M operations;
Remotely controlled platforms (e.g. RPAS/UAV) for civil applications and typically for remote infrastructure monitoring;
Military forces in the field;
Service products are being promoted under e2E's NEATTM brand name and are to include the:
Extended Communications Service (ECS)

: A Near Real Time (NRT) low latency extended command and control (C&C) offering to mobile platforms over a resilient connection and which is to incorporate BLOS capabilities.

Remote Reporting Service (RRS):

A

Store-and-Forward reporting capability that is to provide periodic download and upload of, for example, asset measurement data (text and images) largely in the form of files that can be analysed off-line by a third party system;

Remote Messaging Service (RMS)

: Basic text messaging service that enables the remote worker to send text messages over the IDP device and via the BLOS link from a standard consumer electronic device when out in the field.

Personal Access Service (IAS

): Simple bi-directional link capability allowing the User to access standard Internet applications such as social media sites, email and web browsing when in remote locations.
The initial focus is on Europe but the catchment area is considered worldwide.
Service/ system concept
The Uam® concept essentially integrates and extends communications facilities to users who are poorly served by conventional communications services using newer IDPs such as RPASs, HAPs and/or small satellites configured into CNGNs. This concept is illustrated below.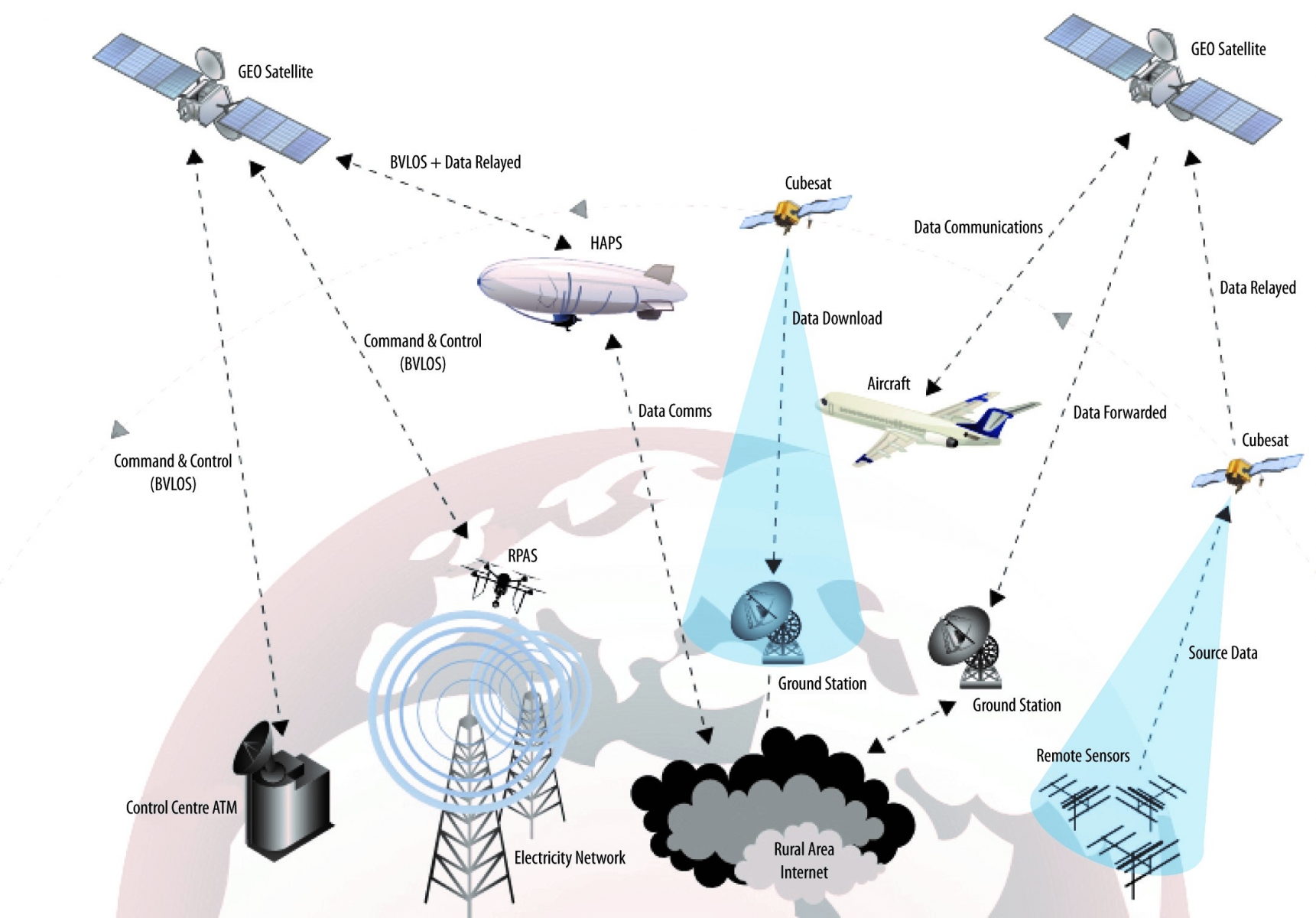 Space Added Value
Satellite Navigation through accurate positioning of user platforms and allowing:
Accurate and remote equipment tracking supporting efficient logistics operations to enterprises;
Facilitation of "bearer-of-opportunity" selection for user platform SATCOM terminals as well as those on an IDP allowing service Quality of Service (QoS) to be maintained and at a lower cost;
Content rich applications to exploit the accurate positioning of an IDP, to allow a virtual reality operation that enables the operator to visualise where the IDP is and what it is seeing for example.
BLOS satellite communications:
Enabling the required connectivity to deliver NEAT services for end customers;
Providing C&C operations of the IDP and the user platforms as well as establishing the communication link between mobile platforms and ground users;
Through the use of existing and IDPs providing a cost effective alternative to terrestrial or cellular communications where available.
The use of small IDPs for providing low latency communications bearers at the fraction of the cost of incumbent satellite constellations in conjunction with e2E's NEATaccess communication node technology and NEATdelivery service management products is enabling the Uam® operational infrastructure to be established. The lower cost infrastructure and delivery operation is to be passed on to end users to provide a more affordable service offering.
Current Status
The focus of current activities is on the definition of a communication service based on the use of High Altitude Pseudo Satellites. Service Requirements, outline Mission Definition, Business and Marketing plan documents have been prepared and will form the basis for a demonstration project proposal.
Prime Contractor(s)
Status Date
Updated: 27 July 2017
-
Created: 02 November 2015