Objectives of the service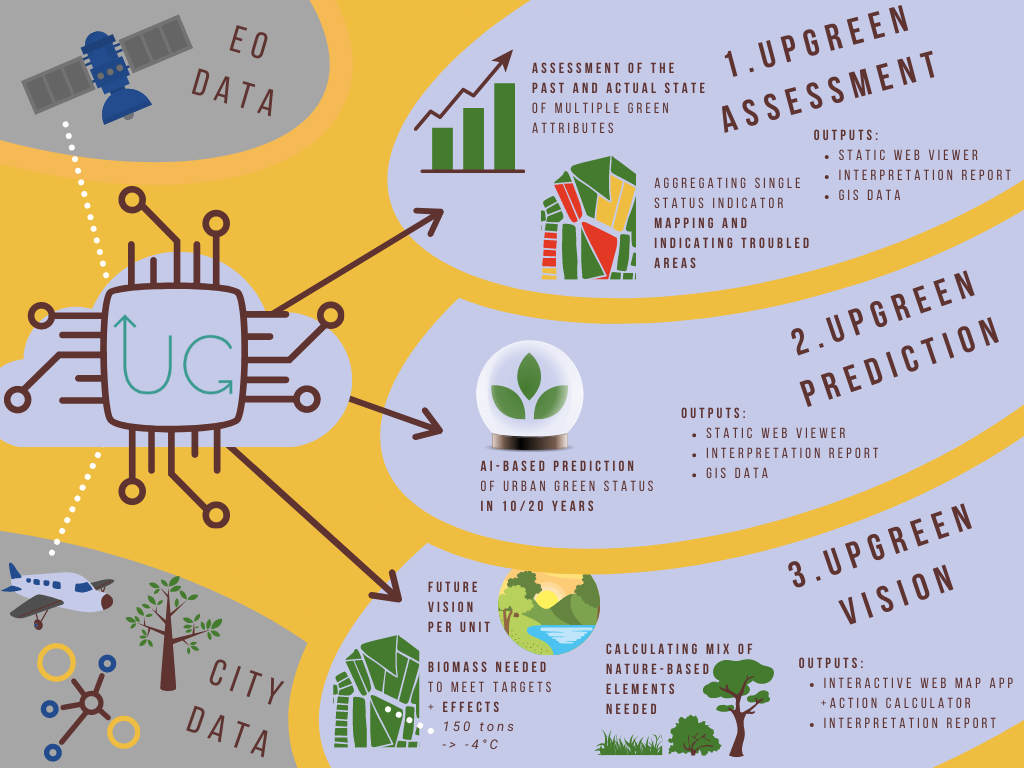 As climate change amplifies urban-green problems across the vast majority of cities, the legacy market capacities and methodologies are insufficient to satisfy demand in time and space.
Implementing new nature-based solutions and improving urban green help cities to protect and sustainably manage ecosystems that address climate-related challenges, support well-being and bring biodiversity benefits. The key added value of the UpGreen service is in timely calculations and prediction of future effects connected to urban green.
The main objective of the new service is to provide cities with effective tools for understanding, managing and planning the city's vegetation which leads to optimizing the use of resources and more effective urban Green policies. Companies forming the consortium are currently providing services in the area of urban earth observation monitoring (World from Space), urban climate change adaptation (Asitis), and urban green planning (Atregia). The UpGreen service is a result of long-term discussion among all three companies regarding a joint service.
Users and their needs
The main users of the service are cities. Despite differences in organizational structure, management and decision competencies, duties and size, cities and their potential users have the same needs in terms of planning and maintenance of Urban Green infrastructure.
The consortium is targeting cities and municipalities with more than 20 thousand inhabitants where urban green planning is an actual topic and where a significant budget is allocated to the issue. There are several cities across Europe that have already shown their interest: Milan (Italy), Essen (Germany), Prague, Hradec Králové, Mladá Boleslav and Přerov (Czech Republic), Bratislava and Žilina (Slovakia).
These are the main user needs identified within the project:
Design and planning of urban green spaces

Monitor the health status of the greenery segments

Planning and Support to the maintenance operations

Climate change advisory in terms of Urban Green infrastructure

Urban Green infrastructure development planning

Need for a longer time perspective to complement the actual situation

Reasonable price for greenery up-to-date analysis

Interoperability of the service with other city data, simplified outputs for non-data-experts
Service/ system concept
The UpGreen service consists of three parts:
The UpGreen Assessment service is a tool for comprehensive evaluation of the current state of vegetation in a city.

The UpGreen Prediction service is a tool for forecasting the long-term performance of the city's vegetation. It is able to generate predictions in horizons of 10 and 20 years.

The UpGreen vision proposes a model of optimal greenery vision based on the outputs of the previous two services, along with climatic models and city green goals or environmental priorities.
The results are provided in the form of a report, geospatial data for city GIS and a web application.
The high-level system architecture consists of several parts that are combined into an automated processing pipeline. However, some parts require expert contribution, inputs vary for each municipality and decisions for commitments need facilitation with stakeholders. Thus, service keeps an individual approach and is semi-automated. Integral and independent parts of the service consist of:
EO and non-EO data (pre)processing and harmonisation

Segmentation, prediction model, optimation model, interpretation of data

Expert assessment of technical outputs

Translation of findings into the language of users, production of outputs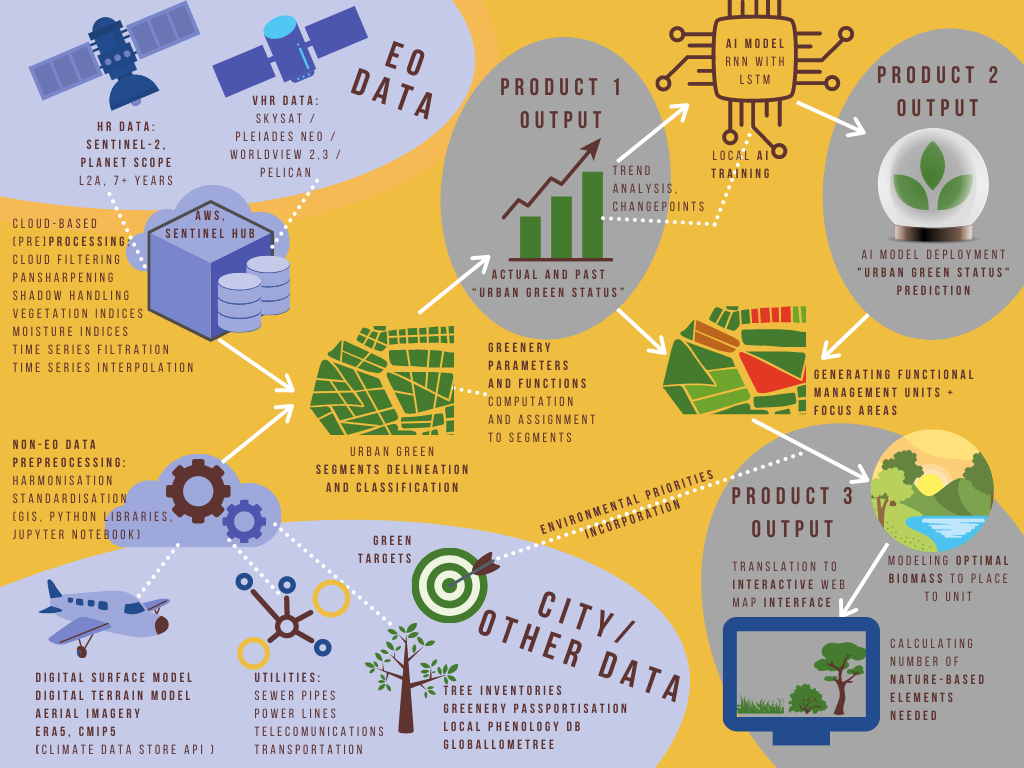 Space Added Value
The service is based on using Earth Observation assets. Service solution is exploiting the full potential high-resolution multispectral Sentinel-2 data, PlanetScope and Landsat 8 and 9 data together with commercial very-high resolution data. The consortium is experienced in the use of multispectral and radar data for vegetation monitoring, its health status assessment and moisture indication, primarily for agricultural purposes. The know-how is transfered for urban green monitoring and assessment.
Traditional in-situ urban green assessment without use of EO data is time demanding, because it requires a group of experts. That is costly as well as difficult to manage. Such a solution is not scalable nor efficiently repeatable.
The expected added value of utilizing space assets lies in:
Scalability and efficiency in comparison to traditional assessment methods,

New insights on urban green (spatial relationships),

Assessment of continuous time series (from 2016 on) for every green space in the city, which is conceptually not possible by expert assessment on the ground,

Offering vast amount of data sufficient for prediction of scenarios of vegetation conditions and its environmental impact in 10 and 20 years.

Biomass indicated from space assets enables planning of optimal vision of biomass distribution
Current Status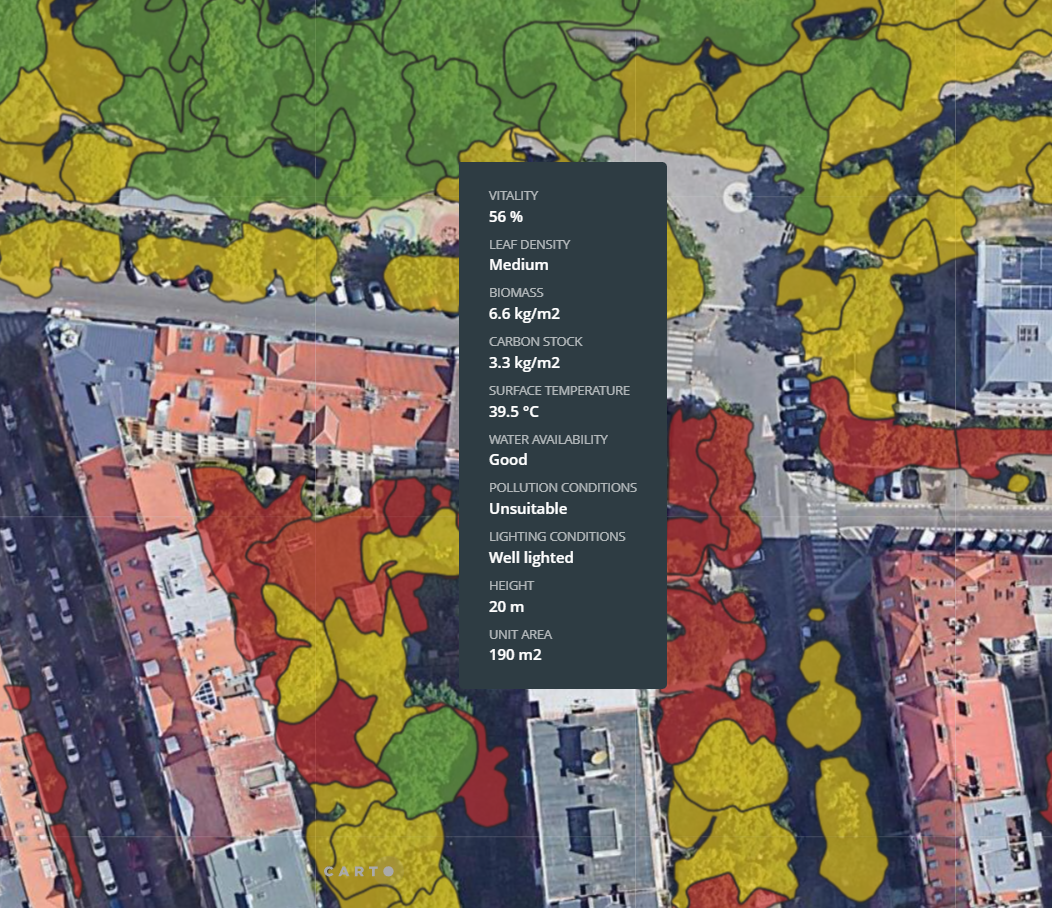 After the mock-up of the UpGreen product was created, it was presented to key potential users and clients at Smart City Expo World Congress in Barcelona in November 2022. Visitors of the booth were explained the aim of UpGreen services and were encouraged to discuss their situation and issues of their own municipalities regarding the urban green management. A lot of useful feedback was obtained and subsequently, the requirements were reviewed and revised.
As a follow-up of the feedback analysis some changes were made in the original project and a new service was added to the product - The UpGreen Vision. An important decision was made within the consortium to continue with the further development of the product and to prepare an outline proposal for the Demonstration Project. Therefore the Roadmap has been prepared summarizing all the necessary upcoming steps in order to develop UpGreen into an operational service.
Conclusions
The successful Feasibility study identified critical service parameters during more than 50 engagements (workshops and semi-structured discussions) with potential clients. Preliminary technical design was used to create a Mock-up that was presented to international audiences at one of the biggest smart city events worldwide - Smart City Expo World Congress. More than 30 cities and potential partners handed over their contact information in order to be offered pilot or demonstration projects. Based on the expressed interest, consortium plans to test the service and gather feedback through a Demonstration project.
Prime Contractor(s)
Subcontractor(s)
Status Date
Updated: 19 June 2023
-
Created: 18 June 2023