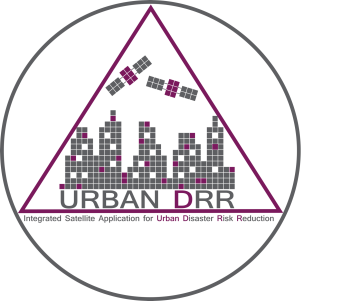 Objectives of the service
In 2011 alone, Natural disasters killed a total of 30 773 people and caused 244.7 million victims worldwide in 2011. Economic damages was over 400 billion USD, around 10 times more than the average in the 1980s.
Urban DRR is an initiative by United Nations, led by AnsuR Technologies with partners iGeotec and Die Johanniter, and significant in-kind contributions from UN (UNOSAT) and the Asian Disaster Preparedness Center (ADPC).
The objective apply space based solutions into an innovative framework that contribute to disaster risk reduction for a very low investment cost, using smartphones and crowd-sourcing, free EO data, satellite location data, small and friendly UAVs along with live mapping of risk assessments.
The technical partners of the consortium create tools that the operational partner can apply in missions for assessing risk and impact of hazards that can lead to disasters, and where the strategic partners apply the findings to actions that reduce risks.
Urban DRR will provide operational space-based solutions to help reduce the risk and impact of natural disasters in urban areas worldwide. The project objectives are in-line with the Sendai Framework for Disaster Risk Reduction 2015-2030.
Users and their needs
There is a need for this project because every year natural disasters claim lives and cost in terms of damages and infrastructure.
Three types of users are defined: Operational, Strategic and financial.
Operational users will collect, manage and act upon data, and are essential in preparing response actions via training.
Strategic users act on longer term risk reduction, including raising awareness among governments and relevant institutions.
Financial users are focused on how the system can help reduce the cost of disaster, how risks can be better managed and how costs of recovery can best be estimated and processed.
The platform and services in Urban DRR is operated by AnsuR and UNOSAT on behalf of the target users. The users are in countries world-wide.
The targeted users are in countries world-wide.
Service/ system concept
The System architecture primarily focus on a fusion of reliable and trustworthy geo-tagged in-situ aerial and space-based visual observations. The in-situ observations originate from professionals and volunteers, using smartphones/laptops, communications and applications, use of small UAVs (drones) and satellite earth observation, including the use of Sentinels. The fusion comes together in a GIS system, with other relevant data types.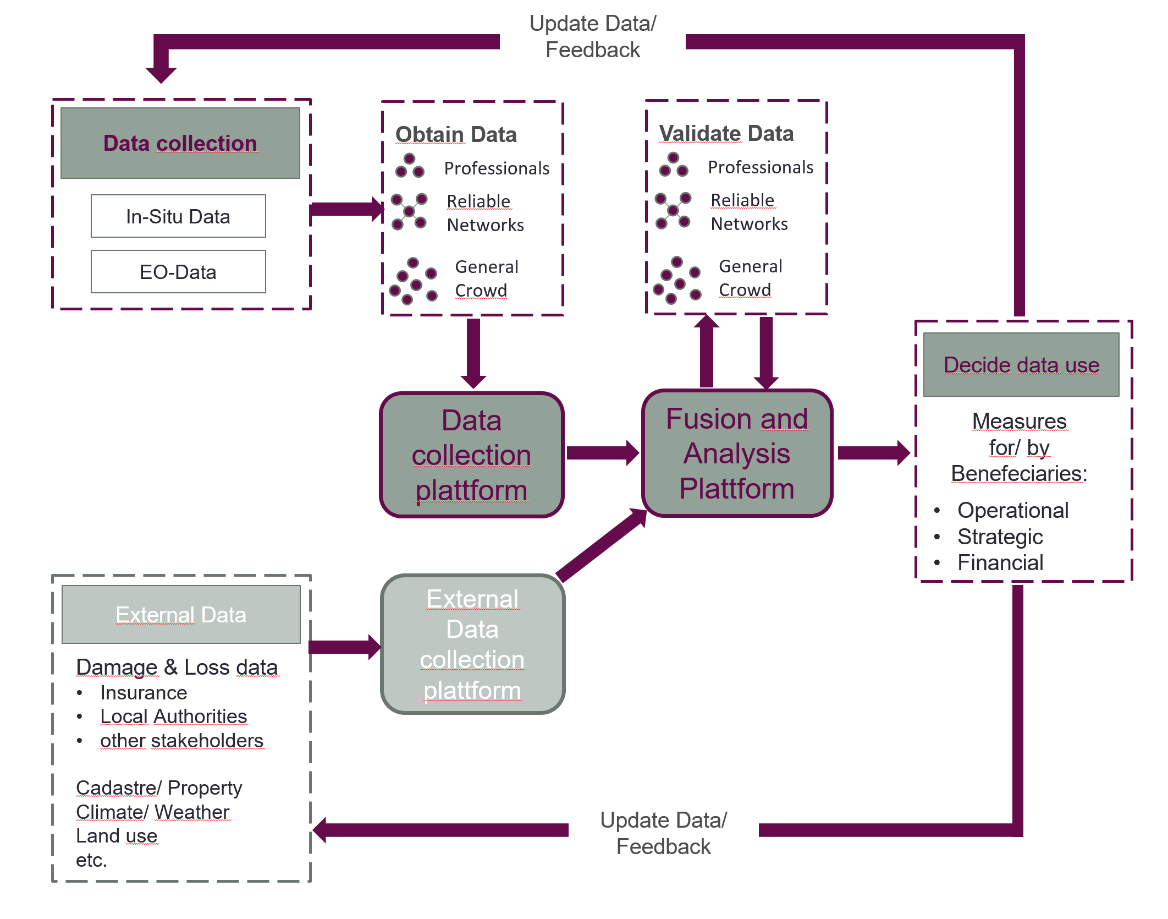 Space Added Value
Several space technologies contribute, specifically satellite earth observation, navigation and communications.
Satellite earth observations (EO), both optical and radar, are useful for all phases of larger disasters. However, satellite radar images, used for e.g. flood assessment, suffer from inaccuracy (signal noise) in urban areas, where the impacts of disasters are generally largest. A general necessity for remote sensing is in-situ validation of particular scenes using geo-referenced images and data. There are specifically two challenges: The first is the actual capture of the in-situ observations roughly synchronized with space observations at places of interest, and second is often the transfer of the data under disaster circumstances, where mobile networks may be partially down and/or severely congested.
Navigation systems provide not only precise location and tracking, but also trustworthy time, and thus support for trustworthy and reliable field observations in form of crowdsourcing.
Satellite communications provide coverage everywhere on the ground and is the only reliable insurance for communications capability in crisis management, but satcom is also essential in operations of several types of unmanned aerial systems (UAVs) that can be used for mapping and observations in risk reduction.
Current Status
The project was kicked off in Feb 2015 with Final Review in November 2016. The initial focus was on interactions between new space capabilities, innovation and user requirements on one side, and on sustainable commercial opportunities on the other side. Several Use-cases has been studied, both in Europe and in Asia. Throughout the project efforts has been on securing impact after the ESA project is over.
Prime Contractor(s)
Status Date
Updated: 18 April 2017
-
Created: 10 February 2016