Objectives of the service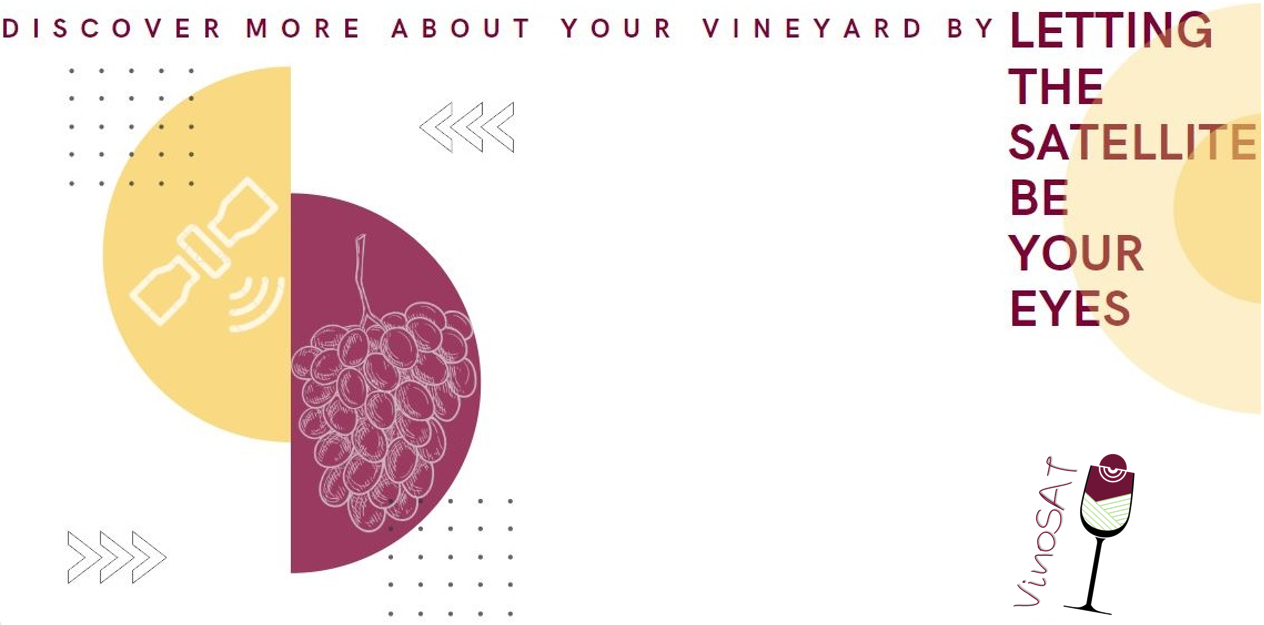 Image credit: GEOTOPOS S.A., Project: VinoSAT
Quality wines may only be produced by optimum vine yields.Each grape grower/ winemakermakes every possible effort for these optimal yields, but each decision made is only as good as the information that is based on. VinoSAT services bring satellite data into the hands of decision makers, providing a novel valuable view of the vineyard throughout the growing season. ESA EO data are used to regularly supply information products for:
Regular crop monitoring, supplying information for general management purposes
Crop health estimation, providing information on vines' health status and early detection of anomalies
Detection of water and nutrient stress, indicating where there is need for additional agronomic inputs
Optimum yield date estimation, allowing harvest planning based on actual vine ripening, as opposed to typically used empirical measures.
Users are able to access all information through the VinoSAT platform, which is a handy tool designed to suit both office and field use.
Users and their needs
VinoSAT services are primarily developed to support grape growers and winemakers, however, a broad range of stakeholders who specialize in wine industry (Vine planting material suppliers, Agricultural suppliers, Suppliers of precision agriculture support, Grape growers, Winemakers, Wine merchants, Grower and winemaker industry associations, Regional industry associations from different PDO, PGI and climate regions, Research Organisations, State, state-based industry and other government bodies) can also benefit from them.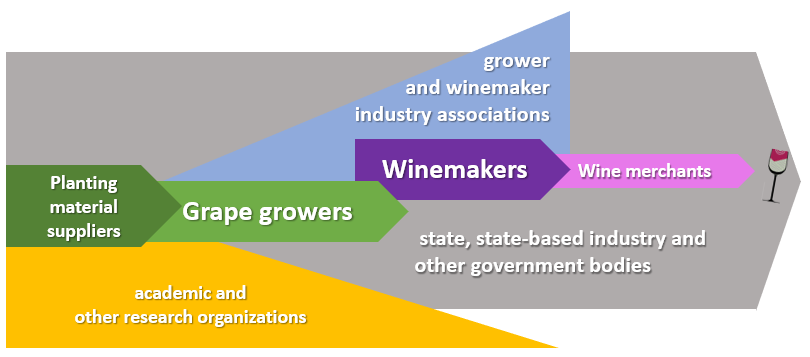 VinoSAT services support effective vineyard management and fine winemaking, building on EO data to address the needs of decision makers. Users bring value to their businesses by using VinoSAT services to:
Maximize available monitoring information by increasing:

spatial coverage of information
frequency of same area revisit
range of spectral profile information

Reduce production and environmental cost by:

minimizing agronomic inputs
decreasing field personnel work load
Potential customers have been approached in Greece and Cyprus, while the next markets to be reached are in the Balkan region and the rest of Europe.
Service/ system concept
VinoSAT services are supplied via a platform designed to suit both office and field work. The insights from space are delivered to the user integrated into:
Maps that reveal the spatial patterns within the vineyard of each parameter targeted by the services,
Graphs that are suited for non-spatial assessments.
Also, friendly input functions allow the user to bring in the platform custom information, when needed to be used along with VinoSAT products.
VinoSAT system transforms EO Sentinel-2 optical imagery into readily available information, on a regular basis that meets vineyard management needs.
For this purpose, EO Sentinel-2 imagery is received in the VinoSAT cloud based Data Processing Centre, where thorough image analysis is transformed into easy to interpret information products. These products reach the grape grower/ winemaker through an online platform, designed for office and field work.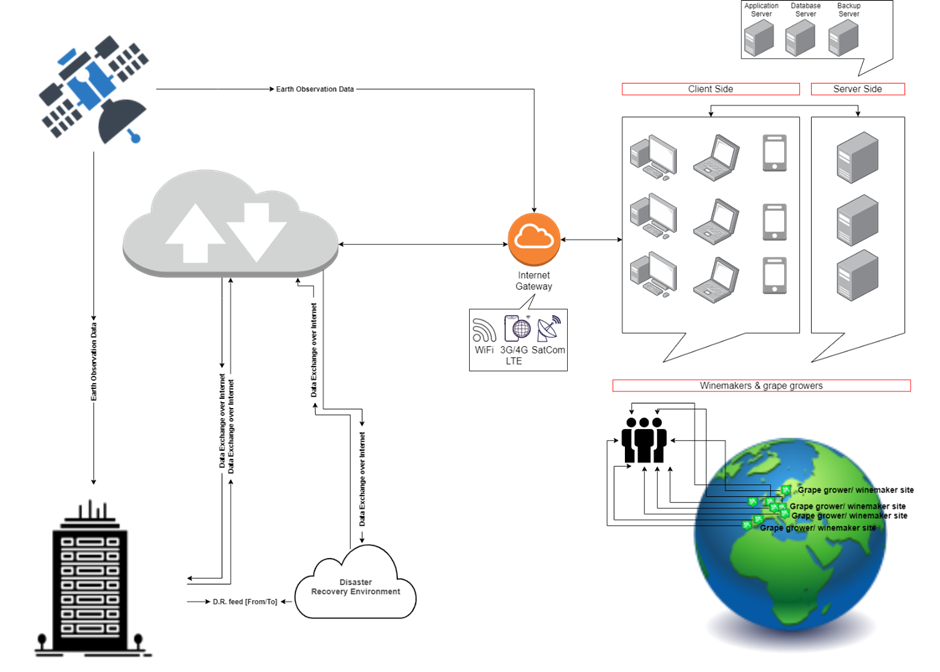 Image credit: ITmaniac , Project: VinoSAT
Space Added Value
VinoSAT services integrate space technologies into user friendly information-products that take viticulture to the next step.
ESA's Sentinel-2 sensor provides optical imagery, which captures the visible and near infrared reflection of the complete extent of the vineyards. This dataset, rich in spectral information, is supplied with a 5 days interval and it is transformed into valuable products that meet grape growers' and winemakers' needs both in terms of content and regularity.
GNSS technology will be also employed, during the Demo project, to provide accurate positional information, powering the handheld devices that will be used for in-situ measurements.
Current Status
Users workshop had been successfully completed in December 2019, in Naoussa.
Dissemination material is available and already circulated for early introduction of VinoSAT services to stakeholders and potential customers.
VinoSAT team has been engaged in various Customer/User/Stakeholder Engagement activities, during three national (Greek) wine events, namely "Naoussa, the wine city", "Peloponnese Wine Festival", and "Artisanal Winemakers 2020".
The activities related to Customer Engagement and Value Proposition Definition
led to the acquisition and systematic recording of the needs of future users that is the basis for the development of VinoSAT services.
The Technical Feasibility Assessment confirmed that there are no technical or technological obstacles to the development of the services.
The Viability Assessment showed that there is a large potential market for VinoSAT and the revenue projections showed positive results.
Proof of Concept was discussed and evaluated by the Customers/Users/Stakeholders who showed great satisfaction with the appearance and content of the services to be developed.
BCR Meeting was successfully held on 14/09/2020.
The Final review Meeting was held on 07/12/2020. The Feasibility study is completed.
In the following figures, screenshots of the Proof of Concept are presented.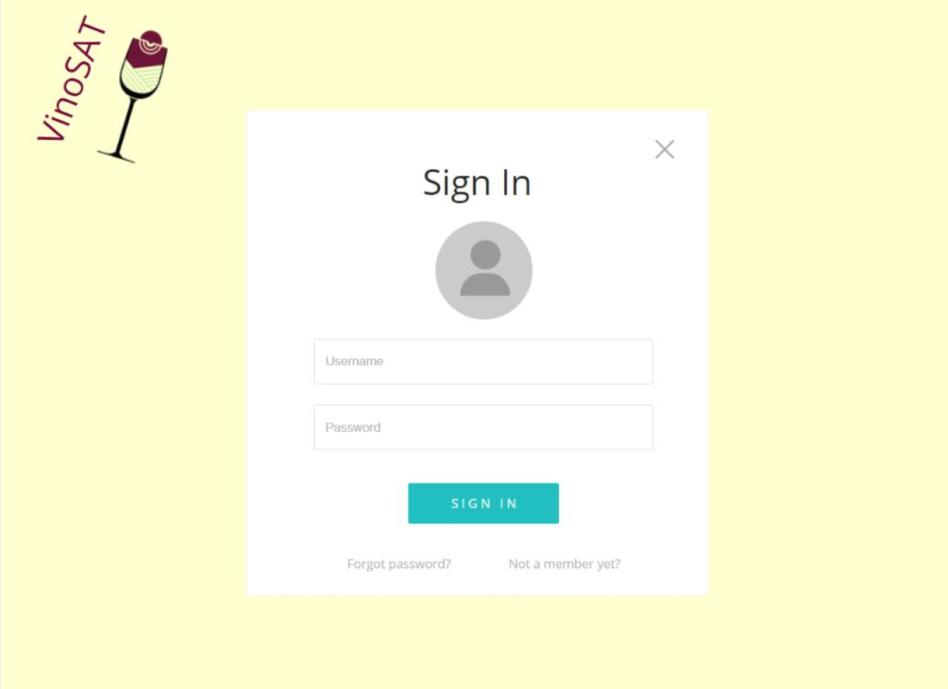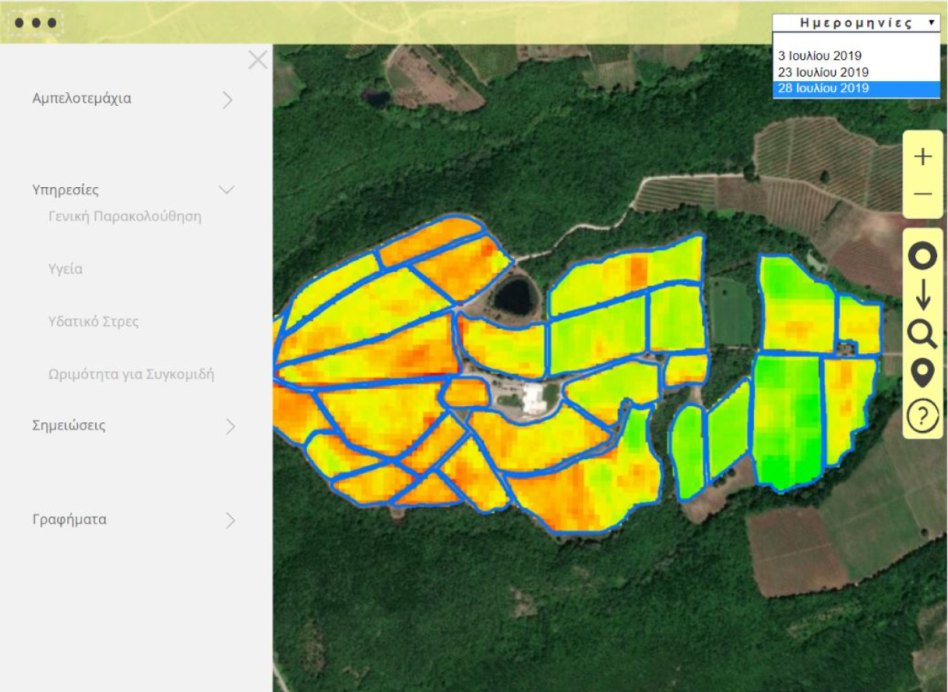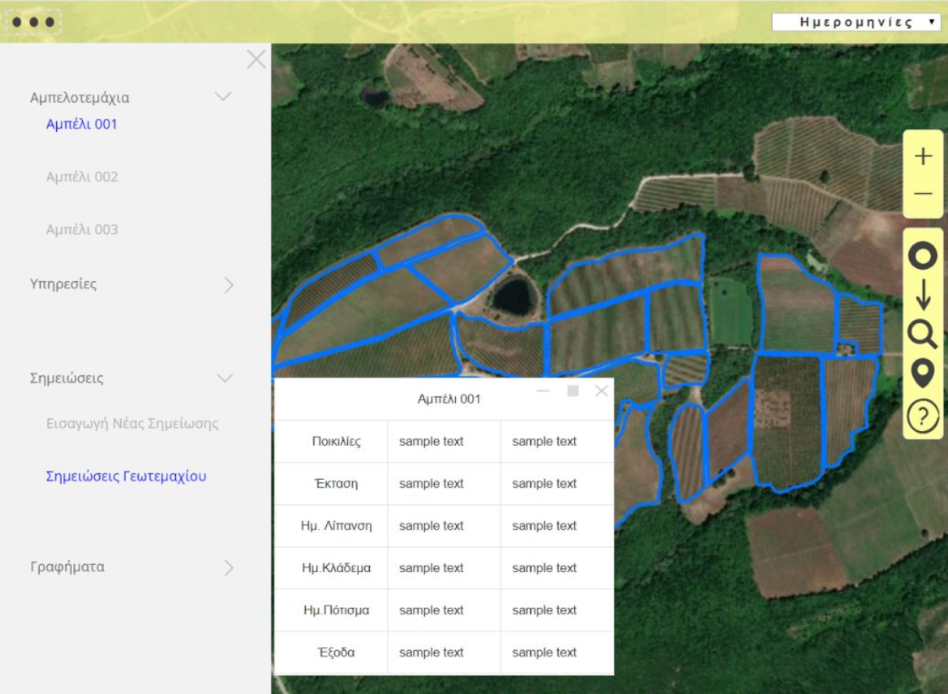 Image credit: GEOTOPOS S.A., Project: VinoSAT
The main results of VinoSAT Feasibility Study are summarised in the following:
Systematic recording of wine sector needs and requirements for vineyard management services.
Alignment to these requirements of the planned service, its value propositions and KPIs.
The market which proposed service addresses is large at national and European level.
Τhe proposed service is profitable for the provider and viable for the users.
Design of a service PoC, gives shape to VinoSAT and receives positive comments from interested customers.
Prime Contractor(s)
Subcontractor(s)
Status Date
Updated: 17 December 2020
-
Created: 11 May 2020