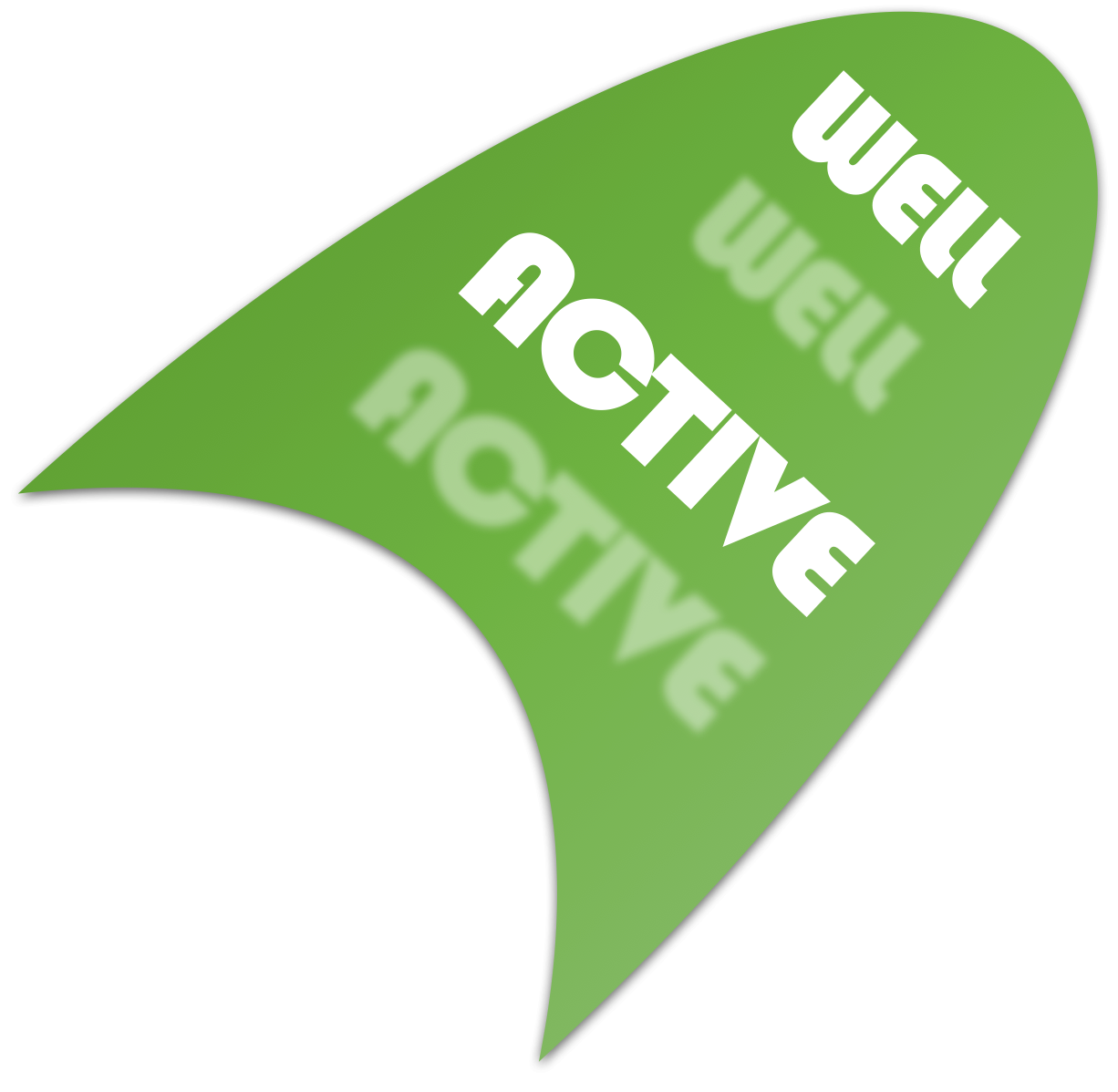 Objectives of the service
WELLACTIVE builds upon the rapidly increasing "Silver Economy" and targets the "Wellbeing Market" of the Elderly seeking an optimal quality of life for their 20 years of average retirement.
WELLACTIVE aims to limit on the one side the Elderly assistance costs and on the other side to help Seniors enjoy a better and more active life by socializing and getting involved into fun and challenging leisure outdoor activities.
WELLACTIVE provides a unified fitness & leisure platform enabling Seniors to organise and practice outdoor activities that seamlessly combine personalised « physical, intellectual and social » endeavours, adapted in real-time to their «individual abilities» and to «external conditions». It is also a tool for Seniors Organisations to propose a range of «wellbeing activities» to their members integrating expressed interests with local services and infrastructure.
WELLACTIVE services are targeted at two main actors, namely Seniors Organizations looking to promote their Elderly members' quality of life and at Seniors faced with the challenge of age and eager to engage into "stay fit" wellbeing activities.
Users and their needs
The WELLACTIVE Main Users are:
Seniors Organizations
Seniors
The user needs of the two WELLACTIVE actors are complementary, with Seniors Organizations having the mission to provide wellbeing solutions to their members and with Seniors seeking to remain fit as they get older.
The Senior Organizations' needs cover:
Providing advices on how to stay fit and in good health
Organising fitness activities (sports and cultural activities, travel, etc.)
Organising mental activities (memory & cognitive games, lifelong learning, etc.)
Organising social events (group activities such as gatherings, festivities, picnics, thematic workshops, etc.)
Seniors Organisations, whose main mission is to care about the quality of life of their members, are in need of innovative solutions to motivate the Elderly and help them stay active and fit.
The Seniors' needs cover:
Organising their retirement free time: going out, enjoying life, remaining active
Engaging into regular physical and cerebral activities
Staying out of isolation and socialising
Solutions that adapt to their personal abilities and external conditions
Staying healthy and fit as they get older
Seniors are the main End-User / Consumer party. They are faced with the challenge of age and are eager to engage into wellbeing activities, for as long as they are motivating, beneficial and affordable, with their abilities and personal interests taken into account.
WELLACTIVE targets initially the European Silver Market, with Austria, France, and Luxembourg being first candidates as a results of a close collaboration relationship with EURAG, E-Seniors, RBS and DMMR Seniors Organizations. Later, an expansion to the entire European Market is foreseen.
Service/ system concept
The Web & Mobile WELLACTIVE Platform for Seniors is composed of:
WELLACTIVE Server to which all the parties connect (Seniors; Seniors Organisations, External Data Sources);
WELLACTIVE Editor allowing Seniors Organisations to instantiate and promote wellbeing services;
WELLACTIVE Planner allowing Seniors to plan their wellbeing activities individually and in groups;
WELLACTIVE Outdoors APP enabling Seniors to undertake combined "physical, mental and social" wellbeing activities tailored in real-time to their personal interests, needs and abilities.
The WELLACTIVE environment to be deployed is illustrated in the schema below: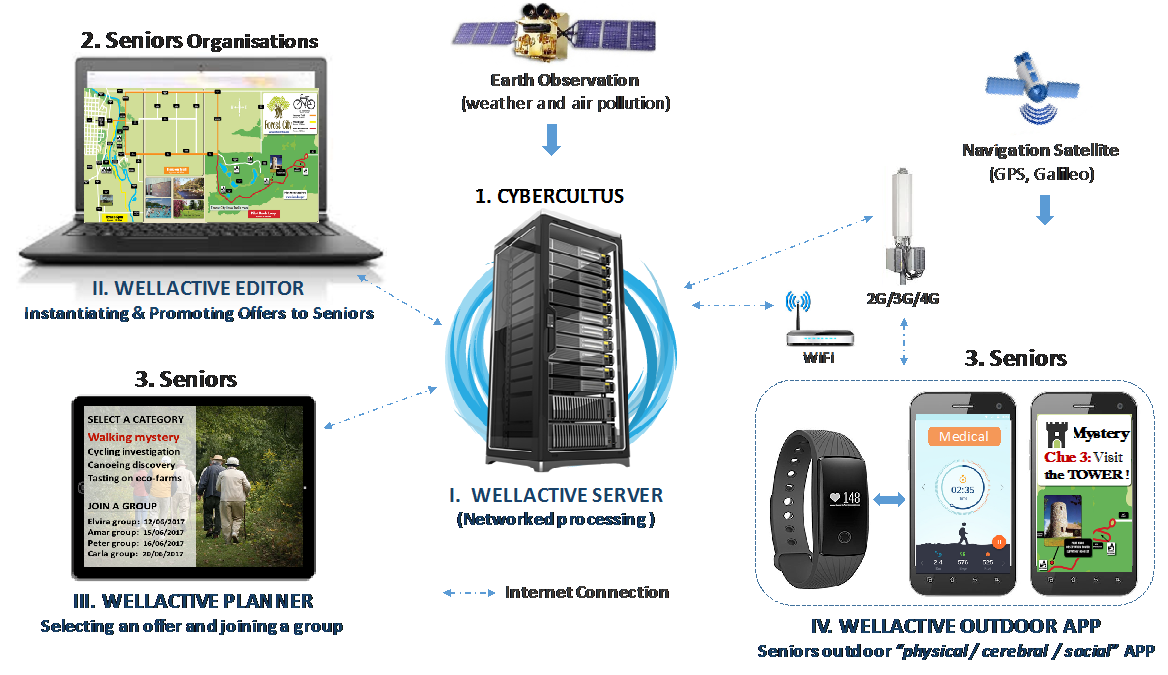 Space Added Value
WELLACTIVE relies on the following space assets:
Mainly on the use of Satellite Navigation (GNSS) for the geo-localisation, along an itinerary, of health and fitness monitoring data from exercising Seniors, of game actions taken by Seniors, of cultural and nature assets part of a game, of accessibility and impairment information, of processed weather and air pollution information, and of Seniors localisation.
and indirectly on the use of Satellite Earth Observation (SEO) data by third party external service providers delivering local weather and air pollution information.
Current Status
The WELLACTIVE kickstart study has run from October 2017 until March 2018 finished. The study has shown that WELLACTIVE is able to provide an adequate solution to the wellbeing needs of the Elderly. It has also shown that it is a comprehensive concept, enabling Seniors Organization to provide adequate support to their Members and allowing Seniors to engage into fun outdoor physical / cerebral / social activities helping them with their goal to enhance their personal conditions and stay fit as they get older.
The WELLACTIVE study has demonstrated the technical feasibility of this innovative silver concept and has received a strong interest from the participating market end-users. The study has been carried out in close collaboration with the WELLACTIVE stakeholders. Questionnaires have been submitted and teleconferences organised with the Seniors Organizations to collect the WELLACTIVE requirements. The collected requirements have shown the catalytic role to be played by Seniors Organization in helping Seniors find the most effective and engaging means to exercise and stay fit.
The contacted Seniors Organizations and the Seniors have welcomed the proposed WELLACTIVE services and have expressed their support for a potential follow-on demonstration project.
Prime Contractor(s)
Status Date
Updated: 14 December 2018
-
Created: 14 December 2018