Objectives of the service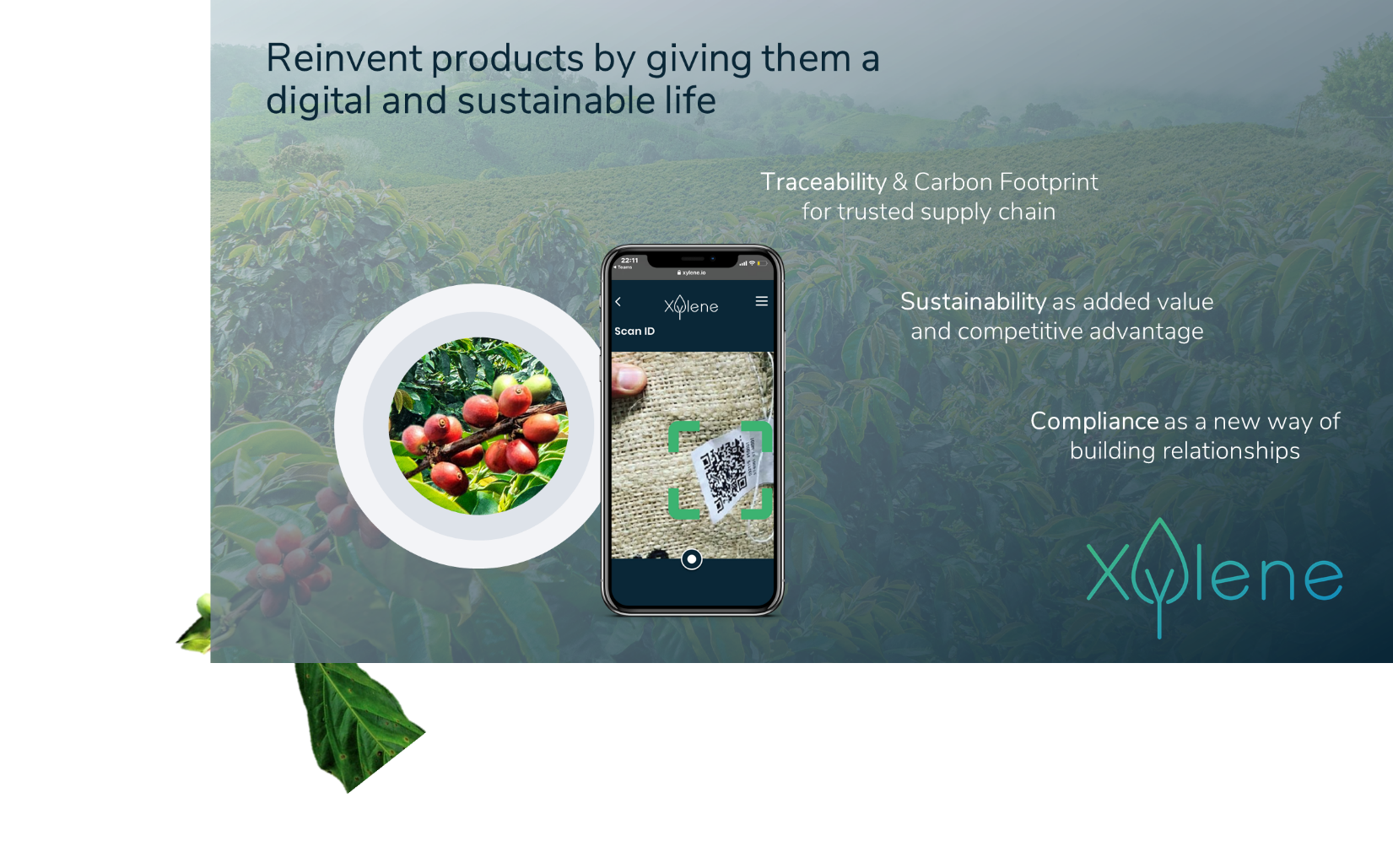 Xylene is a system for companies working with raw materials that act as importers and producers of finished and unfinished products, giving them transparency and control over their supply chain. This innovative approach combines supply chain management with satellite technology (Satellite Navigation and Earth Observation) and blockchain to create supply chain transparency for companies. This is achieved through three steps:
Supply Chain Mapping & Risk Assessment: visualising the supply chain offers central companies not only an overview of where suppliers are located and where material is sourced from, it also allows for decisions based on risk assessment.
Product Flow Tracking: physical products are labelled and tracked along the supply chain from the source to the consumer. Information is connected to the product; it is passed between stakeholders using blockchain and its authenticity is validated through satellite data.
Customer Engagement: being able to connect the journey of a product to the point of sales leads to added value of the final product. The consumer will also be able to connect to the origin of the product, support sustainable projects, balance its carbon footprint, and/or recycle the raw materials present in its product at the end of its life.
Users and their needs
Xylene targets the European import market for specialty coffee, cocoa, cotton, timber, and minerals. This market combines importers and producers of specialty products in which the proof-of-origin is driven either by regulation or consumer demand. All stakeholders in the supply chain interact with Xylene, while customers driving the system adoption are importers and producers in Europe because of their central position in the supply chain and due diligence obligation imposed to them by regulations. Governments, Certification, Auditors and Consumers will be given free access by the customers to reports and due diligence information.
The current challenges of the regulated raw materials market are targeted with three main value propositions:
Easier and faster Compliance: Complying with new and strengthening legislation plays a key role in market accessibility and acceptance for customers.
Supply Chain Transparency: Being able to visualise the supply chain enhances the internal understanding of delivery status of product flows while gaining insight into upstream supplier networks has a critical impact on assessing risks associated with specific areas of origin.
Insurance against exposure: A continuous threat for customers is being called out by NGOs on supply chain misconduct and the processing and sale of unsustainable, conflict, or illegal raw materials.
Service/ system concept
Xylene uses a fully validating and verifiable process, classifying sources as certified or non-certified and tracking volumes accordingly. Manual and automatic input of information coupled with the reconciliation of data between each stage wherever possible, reduces fraud to a minimum level by triggering real-time alerts of non-compliance and stopping any irresponsible sourced material from entering the supply chain.
Input collection comes from different sources within the operational field of Xylene:
Exchange customer and user data through manual input e.g. Delivery documentations.
Positioning, Navigation & Timing (PNT) data gathering on the field by the user.
Copernicus Land Monitoring Data.
This information is cross-checked and analysed by Xylene's algorithm. Certificates of origin, history of products, carbon footprints and compliance reports are generated and distributed between the parties through the system. Additionally, at any step of the supply chain, based on the history of the product from the raw material extraction, through product life cycle GHG (Greenhouse Gas) accounting and life cycle assessment (LCA) the environmental aspects and potential environmental impacts of the product can be quantified and associated to the product.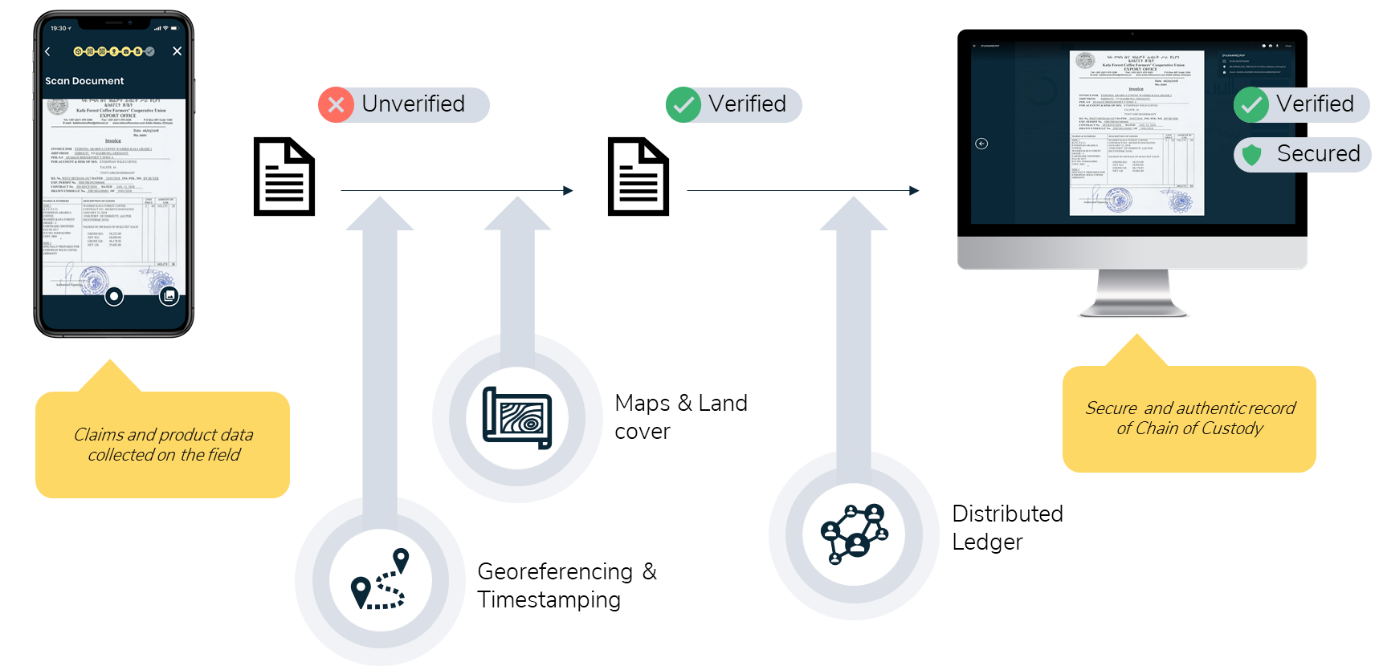 Space Added Value
Xylene combines Satellite Navigation and Earth Observation to achieve a highly accurate and authentic record of Chain of Custody. This is achieved in two steps: certified geo-referencing and timestamping of transaction data are collected through PNT information from Galileo; that is then put into context by Copernicus providing an authenticity validation.
Real-time geolocation and timing information are crucial to connect physical objects to the network and track their way on the journey from the source to the consumer. To achieve this, Positioning, Navigation and Timing (PNT) information through GNSS are collected. The European Galileo system offers a unique opportunity for Xylene, as its open and commercial services will bring essential advantages in terms of high precision and signal authentication. Part of the development is the design of tracking solutions and devices that meet the specific needs of the timber and mineral journey.
Xylene makes use of analysis of optical image data from Sentinel-2 providing evidence of position and state of assets and helping to reinforce trust between the involved stakeholders. With the use of Copernicus Land Monitoring Service (CLMS) geographical information on land cover characteristics and changes are used to monitor forests and mines and identify illegal actions taking place.
Current Status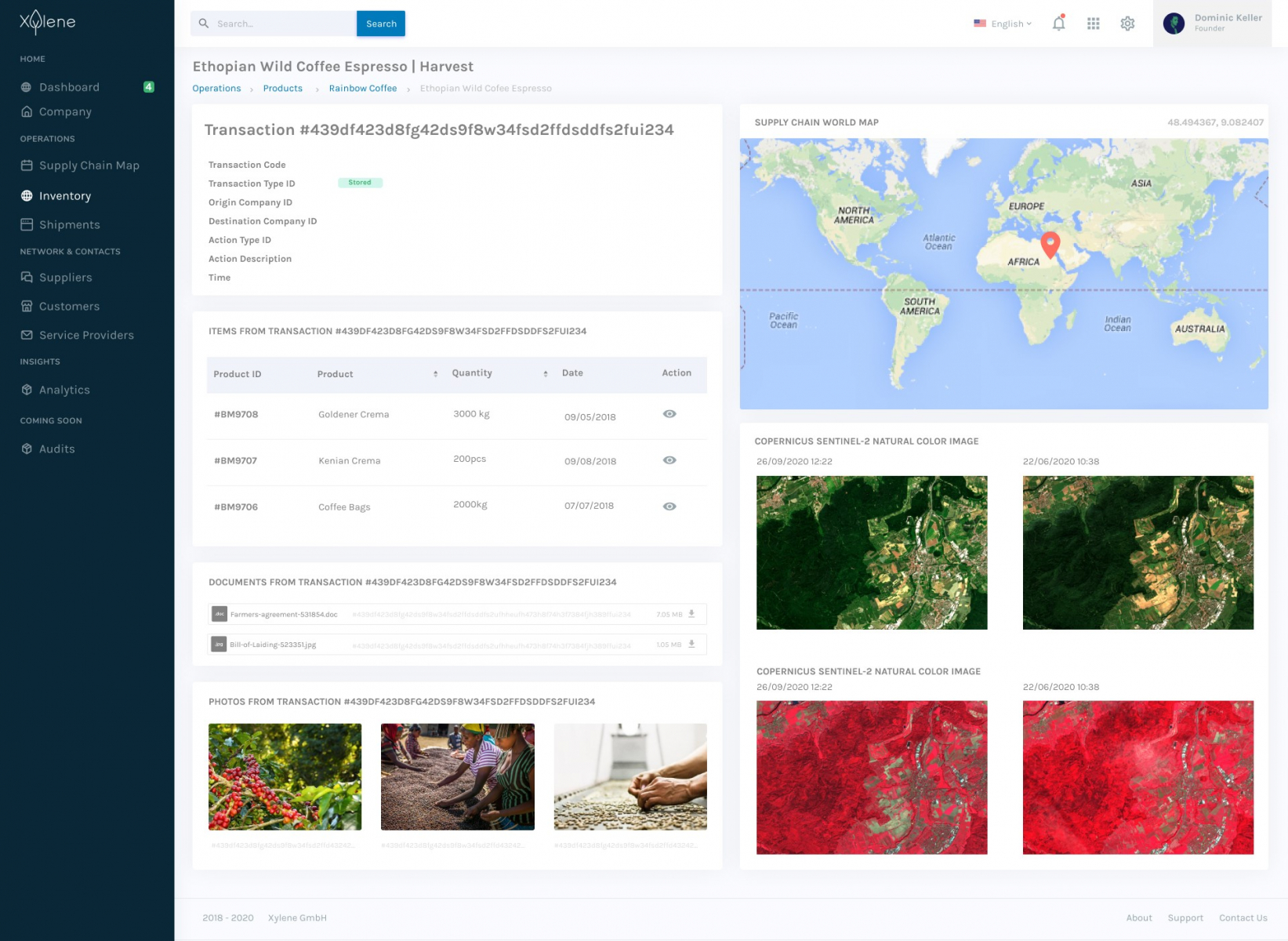 Xylene with its beta-version and basic functionality is planned to enter the market through early adopter programs in Q2-2021. During this piloting phase Xylene establishes customised pilot projects which are based on the requirements from early adopters in the defined industries. This will provide the required industry insight to develop a standard system for a scalable adoption across industries that will offer importers and producers in various industries the opportunity to onboard swiftly through easy-to-use applications for all supply chain actors.
Especially, the release of an integrated GIS system with the service requirements explored as part of this Kick Start activity is planned to be released in 2022.
Xylene is supported by the ESA BIC in Hessen & Baden-Württemberg. Xylene has been awarded the Galileo.Copernicus synergies challenge of the Galileo Masters 2019 and selected as one of the Top10 start-up of ESA in 2020.
Prime Contractor(s)
Status Date
Updated: 16 May 2021
-
Created: 16 May 2021