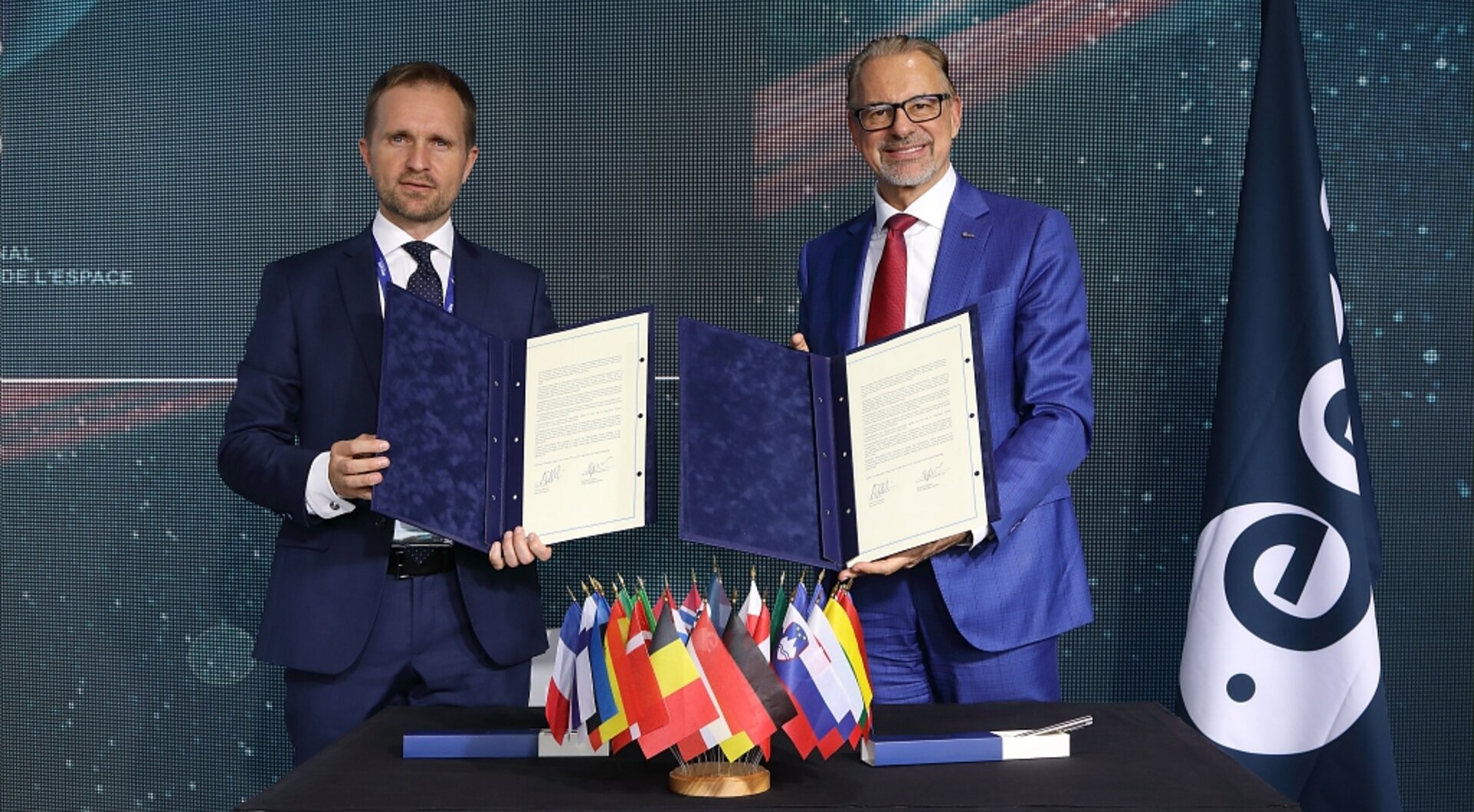 ESA, through its Business Applications and Space Solutions (BASS) programme, supports companies developing business ideas for space solutions that offer strong prospects in delivering sustainability in environmental, societal and economic terms. The ESA Green Dossier showcases the wealth of projects and success stories supported so far, and the number is steadily increasing. This includes budding deep-tech companies, whose products and applications are helping to drive global sustainability through the integration of space technology. One such company is Kayrros, whose Methane Watch Demonstration Project, developed under ESA's BASS programme with the support of the Centre National d'Etudes Spatiales (CNES), is having a major global impact.
Kayrros is now one of the companies in the portfolio of NewSpace Capital, a leading private equity firm in the space sector. An agreement, signed by ESA's Director General, Josef Aschbacher, at a special event at the Paris Air Show, launched a ground-breaking collaboration between ESA and NewSpace Capital, which represents a major development for the commercial space industry and a landmark moment for companies like Kayrros. NewSpace Capital, the 31st member of the ESA Investor Network, is the first space-focused growth stage investor in Europe and the alliance promises to break new ground in links between industry and investors.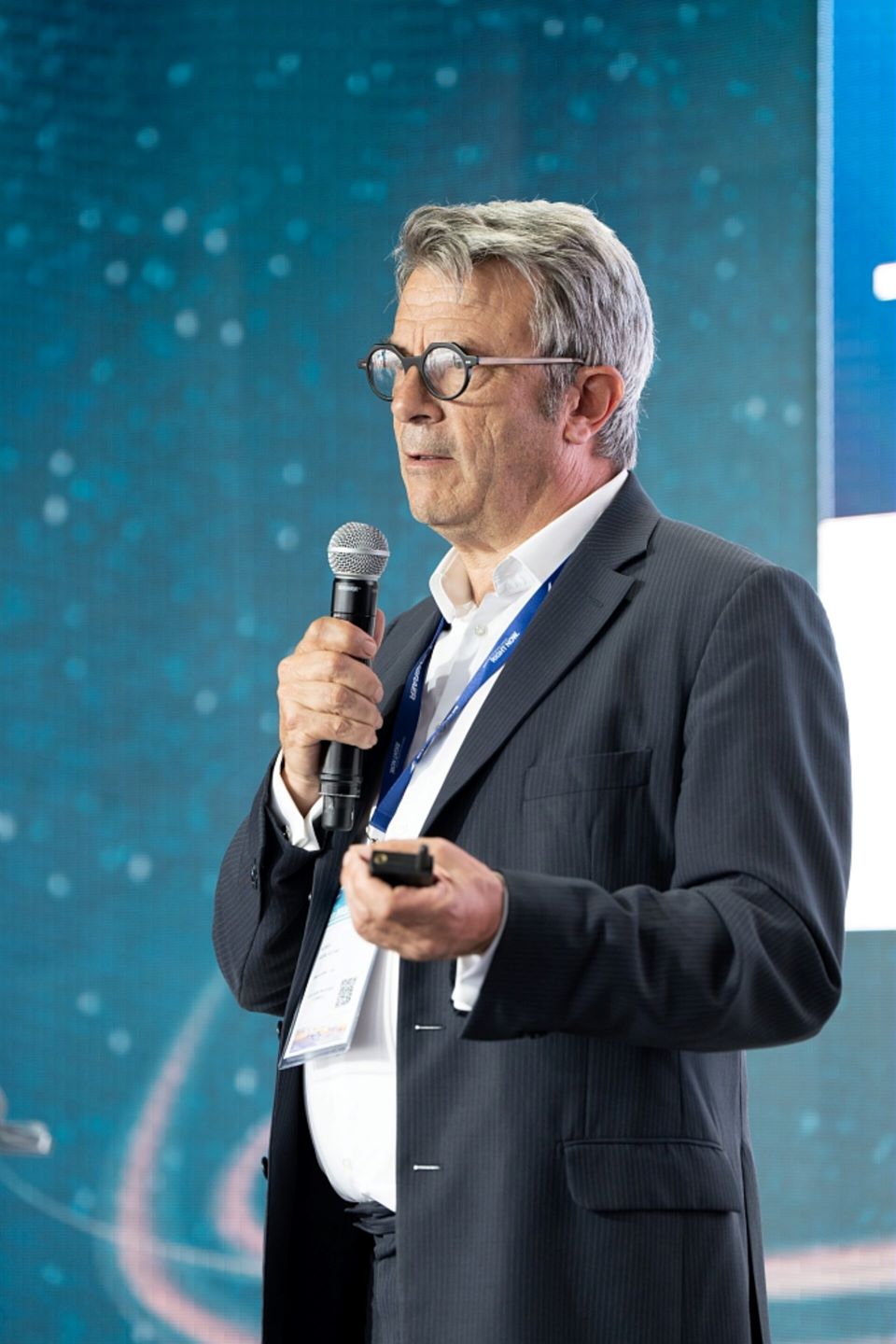 Following the signing, Kayrros presented its latest project, using the Methane Watch technology to track the impact of carbon credits on the health of the Amazon rainforest. The company's robust and scalable monitoring system combines data from the Copernicus atmospheric monitoring satellite, Sentinel-5P, with the Kayrros algorithms, to detect and quantify methane emissions. The system can rapidly identify super-emitting events from the oil and gas sector, as well as monitor aggregate methane emissions from regions across the globe.
Kayrros' ESA-backed Methane Watch project paved the way for the Global Methane Pledge, where 150 countries have now agreed to cut their methane footprint by at least 30% by 2030. In addition, the UN Environment Programme has implemented a Methane Alert and Response System based on Kayrros technology, with the EU set to follow suit. The International Energy Agency is using Kayrros insights to assess global emissions, while US regulators are also exploring the use of Methane Watch. The impact of the company's work has led to several awards and widespread media coverage, as its breakthrough approach to monitoring methane gas drives political momentum for climate action.
Rita Rinaldo, ESA's Head of Projects and Studies Implementation Division, said, "We are extremely pleased to witness the results achieved by Kayrros through the ESA BASS Methane Watch project, both in terms of environmental impact and business prospects. The ESA BASS programme enables companies to develop and demonstrate their service business ideas, supporting them further in their path to market. An increasing share of BASS portfolio of activities addresses the challenges related to the green and digital economy, in line with the priorities indicated by ESA Director General in the ESA Agenda 2025."
"I am very excited to witness this new achievement by Kayrros!" added Arnaud Runge, who manages the Methane Watch project for ESA. "Through this collaboration with NewSpace Capital, Kayrros confirms its journey towards delivering positive impacts for the preservation of our planet Earth. Kayrros delivered powerful messages during COP26 and more recently through publications in high-visibility media, demonstrating that the use of satellite data is instrumental in providing an inventory of greenhouse gases and evidently a key enabler for better decisions and actions on energy policy."
Kayrros President, Antoine Rostand, said, "For the first time in history, regulators, investors and companies can access independent measurements of actual greenhouse gas emissions across the global energy supply chain. Regulators can independently monitor polluters, investors can compare the footprint of operators, and companies can control emissions across their extended supply chains. Leveraging the European Copernicus satellite constellation, Kayrros' science-based measurements are a key enabler of the UN Integrity Matters framework. The expected impact of eliminating methane pollution is half a degree Celsius less in global warming by 2100. There is nothing comparable in climate impact."
Gianluigi Baldesi, Commercialisation Officer at ESA, said, "The new collaboration between ESA and NewSpace Capital promises a wealth of new opportunities for industry and a scaling of the space ecosystem by strengthening investment in nascent companies, whose pioneering technologies are primed to have significant real-world influence."
Kayrros' success is not only proof of this link between investment and environmental impact, but it is also in line with ESA's Agenda 2025 commitment to the green and digital economy. ESA's work with the company has laid the foundation for a major shift in global climate governance, and the latest agreement with NewSpace Capital ushers in yet more possibilities for the application of space technology to respond to the critical environmental challenges of our time and help safeguard life on Earth.
Last updated at 16 November 2023 - 15:26