The food and agritech sector is a $5 trillion global industry which is consistently growing. This provides a strategic and financial opportunity for investors in the space tech sector. Not only will innovative technology help improve efficiency and cut down on waste but also likely see large potential returns. As we stand, around 38% of the world's land and 70% of the world's water withdrawal is used for agriculture. It's predicted that by 2030, 40% of water demands are unlikely to be met. Here, we shine a spotlight on the sector, potential areas for innovation and current technology already making a difference.

Why Does Space Data Matter in the Agritech Sector?
When considering the benefits of space data on the agritech sector, it's important to consider both the big picture and smaller, more localised issues.
The Big Picture
Satellite data can be used to help predict environmental factors so farms and producers can adjust their activities accordingly. This includes accurate predictions on future conditions as well as season start and end dates. This helps farmers know what to grow and when to do so. This type of information on general agricultural trends could also be collated to help predict commodity markets and insurance premiums.
Smaller Issues
There are close to 11 million farms in the EU, with around 96% of these classified as family farms. This type of farm presents different obstacles to overcome which satellite data could help to alleviate.
Satellite data will help farmers act immediately on localised issues like irrigation and fertilisation. This will help maximise efficiency and reduce costs. Satellite imagery will allow users to monitor numerous agricultural activities while Global Navigation Satellite Systems (GNSS) technology will allow for easy navigation to points of interest. Satellite communications are also vital for agricultural work, including machine to machine communication in areas where terrestrial networks are not always reliable.

Potential Uses of Space Data in the Agritech Sector
Agritech funding reached $3.2 billion in 2016 and will likely rise in the coming years. There are many potential uses for space data in the agritech sector. Here are just a few examples:
Farm Water Management
In the years to come, water conservation is going to be a vital balancing act for farms. Crop field irrigation is not regular, some crops require more water than others. Earth orbiting satellites can help show where water needs to be distributed to help prevent over-irrigation. This technology will aid in conserving a potential of 18%-30% of a farm's water supply.
Crop Fertilisation
Crop health is not consistent across a field. Specific areas in a field require more fertiliser for optimum growth than others. With the assistance of Earth orbiting satellites, farmers will be able to use only the necessary amounts of fertiliser. GNSS will be able to help pinpoint areas in a field which require more fertiliser than others. This will aid in the reduction of costs and lessen the environmental impact of over-fertilisation.
This could be taken a step further by the use of drones. Earth orbiting satellite imagery will be able to indicate where extra fertiliser is required in a field once the usual fertilisation cycle is over. A drone could be dispatched to quickly address any problem areas highlighted by GNSS.
Autonomous Tractors and Harvesters
Through the use of satellite imagery, farmers will be able to calculate the optimal route and navigate through fields. There is also an opportunity for autonomous, driverless technology to help aid tractors and harvesters on larger industrial farms.
Farm Season Planning
Weather conditions will affect how different crops grow. This means that crop seasonality can, at times, be unpredictable. With the assistance of satellite data, farmers can receive suggestions on which crops to grow at which times. Season predictions and expected yields can be made based on medium to long term weather forecasts.

Farm Animal Tracking
For farms with livestock, satellite technology will help with tracking vital signs like temperature, activity levels, behaviour and sleep cycles. Imagine a FitBit style device for the animals which will alert a farmer if there's a problem with an individual animal and make suggestions on how to resolve this. This will help prevent the spread of illness among livestock and even reduce theft. GNSS technology will help to locate each individual animal while satellite communications will help alert the farmer of any unusual activity or health trends.
Fisheries
Satellite data could help to predict where fish-killing phytoplankton will bloom, this will enable workers to take preventative action at the earlier possible opportunity. Either the fish could be harvested early or oxygen in the fish pens could be diffused to reduce any unnecessary loss.
Additionally, the temperature and visibility of water can be predicted to assist food distribution. Fish eat less in water with lower temperatures and less visibility. This will reduce food waste and aid in the conservation of resources.

Global Crop Monitoring
The ability to monitor crops on a global scale will be vital in predicting future crop commodity market trends. This will present numerous financial opportunities, allowing investors to make informed business choices.
Crop Insurance
With the technology to accurately predict floods and droughts in the short to medium term, insurance premiums are likely to become more affordable. Access to this knowledge will also aid in more complex farming activities in developing countries.
How is Space Data Currently Being Used in the Agritech Sector?
There are plenty of businesses already using space data to drive innovation in the agritech sector. Here are some of the brands that have already been supported by ESA-BA.
Soil Condition Monitoring – SolumScire
SolumScire looks to understand soil conditions in relation to crop production through the use of satellite and positioning technology. The service is aimed at farmers and will offer spatially resolved soil information into a farm management system to adjust and improve field related precision farming activities. The aim is to add value for farmers by increasing yield or yield stability while decreasing emissions associated with crop management.

Phytoplankton Monitoring – Saltwater
Saltwater is a company which monitors water anomalies for aquaculture. The company uses satellite imagery to provide information to aquaculture companies about water quality, including incoming phytoplankton blooms. This prevents loss of fish stocks and improves efficiency. The data found is used to develop and validate algorithms to predict and detect phytoplankton.
Vineyard Irrigation and Fertiliser Management – Grapelook
Grapelook aims to promote sustainable optimal resource utilisation through helping grape farmers and governmental authorities with the management of scarce irrigation water resources and on-farm nitrogen applications.
This helps to reduce costs, protects the environment and increases the efficiency of water use on vineyards in Western Cape, South Africa. This is done through the use of satellite Earth observation, satellite communication and satellite navigation to monitor overall consumption and offer insights into how to best use the water and fertiliser available. This offers genuine commercial opportunities as it increases both the yield and quality of both grapes and wine.
Crop Yield and Quality Forecasting – Greenspin Agri Planet
Greenspin Agri Planet uses satellite data analysis and collected crowd information to offer near real-time insights on agricultural parcels, plants or region conditions. The company use machine learning and intelligent algorithms as part of big data analytics in Earth observation. This data helps decision makers in agricultural businesses such as producers, consultancies and national control authorities.
Precision Farming Enabling Technology – Agriloc
ESA-BA have been giving ongoing support to the Agriloc project which looks to show how satellite navigation and satellite telecommunication can offer solutions for highly precise farming. An example of real-world uses of this technology would be large-scale farmers growing small grains in crop rotations with mechanised production processes. Agriloc systems and services will boost productivity, machine availability and user-friendliness while reducing production costs and environmental impacts.
Crop Monitoring – DROMAS
DROMAS is developing an operational countrywide system to monitor agricultural crops in the Czech Republic. This will be based on a tool which will offer regularly updated information on crop types and cover. This will monitor and spot any anomalies, damage or degradation via thematic maps.

Fertilisation Management - Fertisat
There's a growing demand of cereal producers seeking a tool for precise and optimal fertilisation of crops which is both effective and affordable. FertiSat, supported by ESA-BA, looks to resolve this.
Efficient and correct use of expensive nitrogen fertiliser is key to a competitive advantage in the agricultural sector. FertiSat's maps takes into consideration specific crop requirements as well as moisture and weather conditions which are likely to affect the absorption of fertilisers. This is done by intelligent algorithms which make use of satellite optical imagery and weather forecasting.
Precision Agriculture Services – KORE
Kore makes use of Earth observation satellite data and unmanned aerial vehicles to advise farmers on how to effectively use their land. This information helps to:
Produce maps of crop health, used for advice purposes
Highlight which areas need more or less fertiliser
Demonstrate to farmers how to use their land more efficiently
This is just a few of the innovative technologies currently receiving support for ESA-BA, explore our other case studies in the Agritech sector here.

Satellite enabled technology is set to revolutionise the agricultural sector. In Europe alone, there are currently 4,500 agricultural machinery manufacturers which directly employ around 135,000 people. The integration of GNSS navigation services into this market is forecasted to reach around 35% by 2020, equating around 500,000 sales. This will predominantly be focused around tractor guidance and VRT.
Agricultural Sector Growth Forecast
The EU is putting a significant amount of investment in this area, with nearly €4 billion allocated to the Horizon 2020's Societal Challenge 2. This will enable research and development in food security, sustainable agriculture and forestry, marine, maritime and inland water research as well as bioeconomy.
Economic growth is not the only measurable when it comes to the integration of satellite data. Societal impacts play a huge role for companies looking to make use of space technology. For instance, 40% of European produced food is dumped and it's anticipated that world food needs will increase by 70% in 2050. The challenges facing food production are severe but can be alleviated by innovations which place farmers at its core. This is why space applications have such a huge role to play in the sector. Enabling farmers to map, monitor and better understand their land will help build more sustainable processes for food production.
ESA Business Applications offers funding and support to businesses in the Agritech sector looking to utilise space enabled technologies to develop new commercial services. We offer more than a simple funding opportunity. Businesses will benefit from zero-equity funding, tailored project management, access to our broad network and partners as well as the credibility which comes with the advocacy of the ESA brand. Find out more about our funding opportunities here.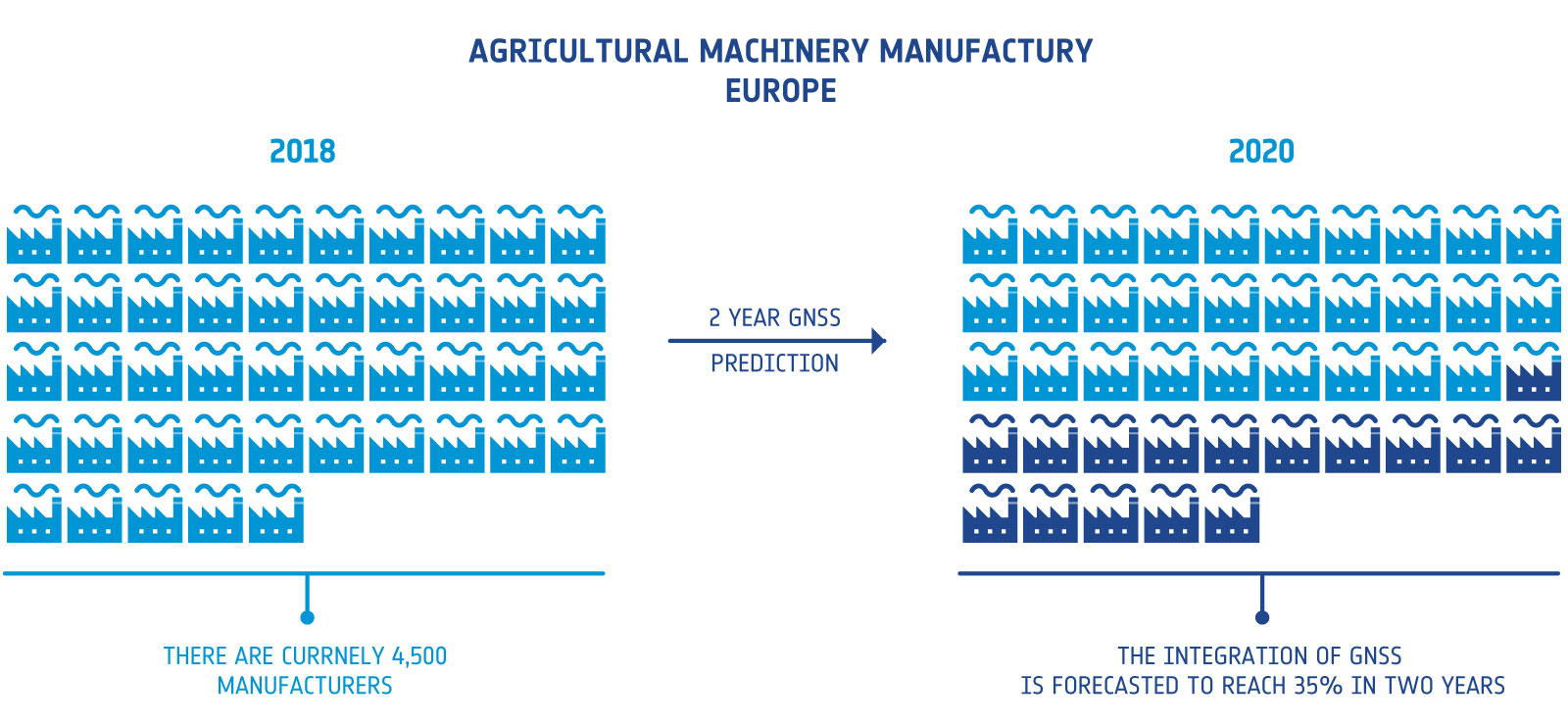 Last updated at 04 April 2018 - 15:41