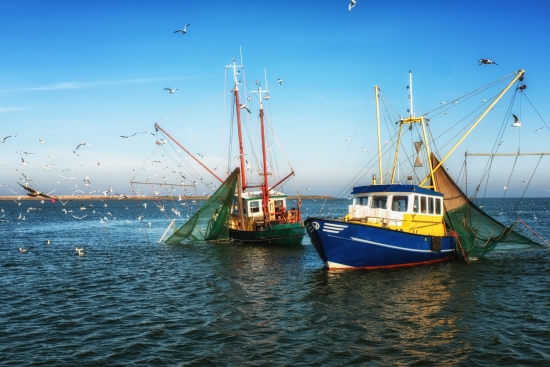 Sustainable fishing and a 21st Century system to support food regulatory demands were the goals of Frank Fleming, also known as 'Fisherman Frank', when he teamed up with ESA to tap into their Space know-how.
The result was the Verifish software platform, which uses space data to simplify processes, support certification and save precious time from catch to consumer.
With over 30 years in the fishing industry, Frank was keen to combine his sustainability credentials and experience as an advisory service to the seafood sector, with cutting edge technology.
Verifish helps fishermen to achieve certification by meeting critical food safety and sustainability criteria. It does this by using a cloud-based platform with mobile devices to record data on catching practices. The system also cuts down the time taken for catch information to reach the producers (wholesale buyers), enabling a more efficient onward transfer to market once ashore. In the process, it reduces the risk of the catch becoming spoiled due to paperwork delays.
Before Verifish, paper manuals and lever arch files weighed down vessels and fishermen who had to manually log data and record temperature from freezers or water in the hold to satisfy regulations. This ocean paper-trail can now be relegated to the recycling bin, as Frank and ESA's satellite-enabled solution allows for the capture of real-time data while the vessel is fishing. Although data can still be entered manually, increasingly this is done automatically when captured by sensors (for example the temperature sensors in the holds that store the catch during transit), and then relayed to the onshore database.
Marco Sartori, Technical Officer of the project at ESA explains: "We have managed to make standards more accessible to a wide variety of commercial fishermen, to improve management of certification data – and the quality of the data captured – to provide an efficient two-way 'information highway' between vessels and their sales agents/processors."
Fish without a footprint – conserving marine resources
Respecting the marine habitat is becoming increasingly important for consumers. "Retailers and consumers are very interested in where their food comes from these days," says Frank. "Is it sustainable? Are the stocks replenishing themselves? Retailers themselves want to make sure they are meeting those demands and Verifish allows them to do just that.
"The ability to demonstrate sustainability credentials gives fisherman better access to the market and better prices for their fish." Frank Fleming – 'Fisherman Frank'
The fishing industry contributes about one billion Euros per year to the Irish economy and is a very important source of employment, particularly in rural areas. The success of Verifish has earned Frank and his team the award for 'Emerging Company of the Year in Cork' but Verifish serves the whole of Ireland and also international retail chains and Non-Governmental Organisations. Even a US office in Rhode Island has recently opened as a result of the growing reputation of Verifish.
The project has also spawned a new contract with ESA, AquaEye, to develop both software and hardware products for the Aquaculture industry.
"We are in the fortunate position that the work we do with clients, while growing the business also contributes to the bigger picture of protecting our natural resources", says Frank. "On the journey so far we have received a lot of help and support and we are particularly grateful to the European Space Agency."
Last updated at 01 July 2019 - 14:44